38 Top Things to Do in Honolulu: Uncover the Best of the Hawaiian Capital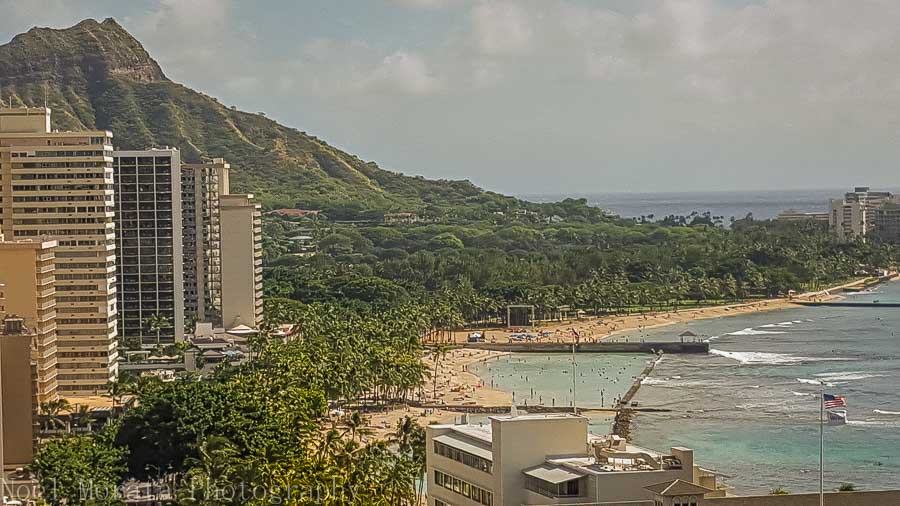 Honolulu is the main tourist hub in Oahu and a fun place to explore the many attractions on the island. With outdoor activities and adventure experiences available almost year round, there is something for everyone to enjoy in around Honolulu area. If you are visiting Oahu, check out all the top things to do in Honolulu for planning your visit. Hopefully, these fantastic suggestions and tips will fill up your must do list when you are visiting Hawaii.
Whether you're walking down the street on Kalakaua Boulevard and visiting Waikiki, sipping a Mai Tai at an ocean view bar, finding a perfect spot on Waikiki Beach or checking the panoramic vistas from Diamond Head, there's so much to see and do in this amazing city. It's a big list, so check all the best things to do in Honolulu and put them on your must do list soon.
Why visit Honolulu now?
Every season is perfect visiting Honolulu and around Oahu with so many different activities, fantastic beach scenes, shopping day and night, wonderful dining and bar scenes and a very active outdoor lifestyle, Honolulu offers so much fun, cool and fantastic places to explore. Outside of the glitzy and beach scene here in Honolulu, there's also amazing culture and events, Historic sites and unique neighborhoods, foodie hangouts and delicious mom and pop eateries along with everything to keep kiddies to Grandma busy and engaged.
The food scene in Honolulu is amazing with fantastic street and local food, specialty food and markets to explore and the fine dining scene in Honolulu is truly on fire with plenty of restaurants to choose from that caters to your every need.
If you're wondering what's the top things to do in Honolulu and Waikiki, check out all these must do things in town below.
How to get around Honolulu and surrounding area
The city of Honolulu is huge unless you just stay within the confines of the tourist district around Waikiki. But why should you when there's so much to see and do around the capital city and many areas are walkable or easy to get to on various modes of transportation.
Renting Cars: Many visitors opt for renting cars, which allows for easy exploration of the city and its outskirts. Numerous car rental agencies operate at the Honolulu International Airport and throughout Honolulu.
The Bus: Honolulu boasts an extensive public bus system known as "TheBus." It covers most areas of the island and offers an affordable means of transportation. You can find bus schedules and routes on TheBus website or at designated bus stops.
Waikiki Trolley: Particularly convenient for those staying in the Waikiki area, the Waikiki Trolley provides an enjoyable mode of transportation. It offers multiple lines, including scenic tours and access to popular attractions.
Biki Bikes: For short trips, Biki, a bike-sharing program, allows visitors to rent bicycles. With numerous docking stations scattered across the city, Biki is a great option for exploring Honolulu at your own pace.
Ride-Sharing Services: Uber and Lyft, well-known ride-sharing services, are readily available in Honolulu. Utilizing a smartphone app, you can easily request a ride and be picked up by a driver at your location.
Taxis: Although pricier compared to ride-sharing services and public transportation, taxis are still an option for getting around Honolulu. You can hail a taxi at designated taxi stands or book one in advance.
Walking: Honolulu is pedestrian-friendly, particularly in the downtown and Waikiki areas. Many attractions, restaurants, and shops are within walking distance, providing a pleasant means of exploration.
Shuttles: Some hotels and resorts in Honolulu offer complimentary shuttle services to popular attractions and shopping centers. Inquire with your accommodation to see if this service is available.
The main highways into Honolulu are typically congested during peak commute hours, so keep that in mind when planning your visits and mainly traveling off peak times or using the surface roads. Parking is also a little difficult and costly so consider some of the alternatives or having a rental car for just he crucial timeframes when exploring outside of Honolulu.
Here's the top 38 Honolulu attractions and activities to see and do in Oahu
There's a lot of fun things to do in Honolulu and surrounding areas around town. Most of these you can do on your own without signing up for a tour but you do have to make reservations at some places like Pearl Harbor, activity tours and events. Many of things to do in Honolulu are free, saving your budget for more splurges in town.
1. Visit Pearl Harbor and the USS Arizona
The most popular attraction and top things to do in Honolulu is to visit in the area, a visit to Pearl Harbor is a must to really absorb and experience the infamous Japanese attack at Pearl Harbor. The park is a national park monument that is filled with interesting artifacts, historic film background, museums and a water tour to the monument and the USS Arizona which is all fascinating to witness. You can also visit the Pacific Aviation Museum and the USS Bowfin submarine park for a nominal fee. Entrance to the park is free but there is a small fee to book a reservation which is advised.
Top things to visit at Pearl Harbor includes:
USS Arizona Memorial
Bowfin Submarine Museum
Pearl Harbor Aviation Museum
Battleship Missouri Memorial
WWII Valor in the Pacific Monument.
You can also book a nice tour of the Pearl Harbor and visit here for a guided tour of the park and visit to other attractions along the North Shore area.
2. Explore cool and hip Kaka'ako, Honolulu
The hip and fun district of Kaka'ako in Honolulu is where to hang out for all the fun bars, galleries, cool new restaurants and colorful street art. The once run-down warehouses in the neighborhood is now filled with vivid graffiti and street art and the area is a hot new entertainment zone filled with cutting edge art, shopping, dining and entertainment. If you are looking for one of the top things to do in Honolulu that's fun and cool, explore the Kaka'ako district now.
Check out our post on exploring the Kaka'ako district here for more information and images.
3. Hike up to Diamond Head
One of the fun top things to do in Honolulu is to hike up Diamond Head and experience the expansive panorama of Waikiki and Honolulu below. Popular time frames would be early in the morning for cooler temperatures or later in the afternoon for that golden light and sunset views (park closes at 6pm). Park is open from 6am to 6pm with the trail head closed off at 4:30 pm and parking fee is $5 per car. Check out the visitor information site here for more details.
Check out our post on hiking the Diamond Head trail here for more information and images.
For a guided tour of Diamond head, transfers and visit, check out this affordable tour here for more details.
4. Stroll down Kalakaua Boulevard
The main thoroughfare In Waikiki is Kalakaua Boulevard which contains all the popular tourist attractions filled with shopping malls, restaurants and entertainment venues on the street. It's fun to check out all the chic shops and galleries during the day time but Kalakaua Boulevard really comes alive at night when everyone seems to be out and enjoying the lively night scenes, people watching and dining al fresco in all the outdoor bars and restaurants around the street and beach areas at Waikiki.
Check out this post on exploring Waikiki at night here for inspiration and images.
5. Enjoy Kapiolani park in Waikiki
The large green park area on the edge of Waikiki is a nice and quiet respite to enjoy in busy Honolulu. But you can also check out the main attractions in Kapiolani park including the Honolulu Zoo, Diamond Head Crater, Queens beach, Waikiki Aquarium and also the bandstand at Waikiki Shell that has weekly free or paid events and concerts for visitors and locals.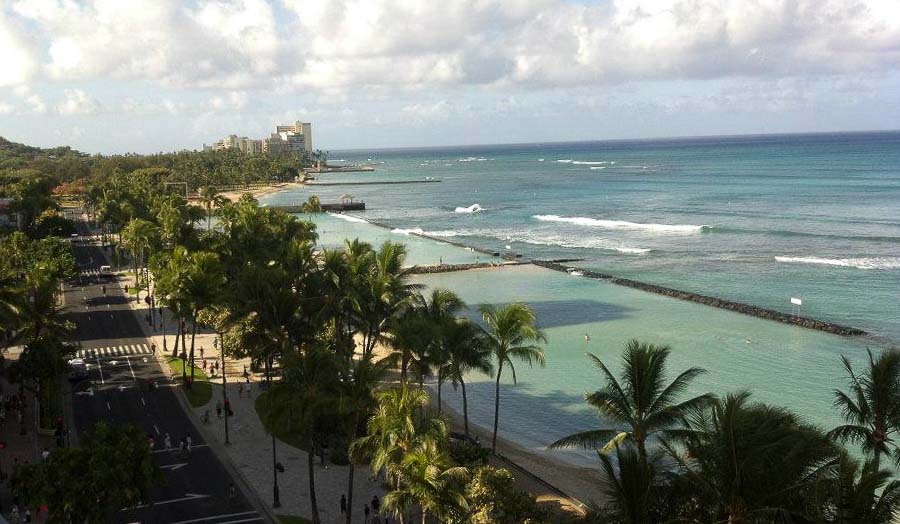 6. Free Hula show at Kuhio Beach
Regular hula shows are offered at Kuhio and visit Waikiki hosts a free hula show at Kuhio Beach which Is a fantastic way to enjoy a hula experience for free at the beach. You'll enjoy different types of hula styles being performed along with live music accompaniment and the visitors are allowed to hang out on the grass or beach area around the stage. Check the calendar here for any updates on the regular show schedule at Kuhio.
Check out our post on exploring the Kuhio Beach here for more information and images.
7. Enjoy free fireworks at night
Every Friday night between 7:45 to 8pm on the beach at the Hilton Hawaiian Village, a free firework display is staged for all to enjoy right on Waikiki beach.
Make sure that you get there early since the prime spots fill up quickly closer to the stage and the beach area for the best picture taking spots. For easier and good views of the fireworks at the distance, check out Ala Moana park with nice views to the fireworks display at Waikiki.
Check out our post on the Free things to do in Oahu here for more information and images.
8. Photo tour of Honolulu and region
A guided tour showing you the best spots around town and in the area with a guide and without the headache of driving, parking is a great way to spend the day and capture some of the best images and scenes around Oahu. I would recommend doing this with someone who knows the best locations and times to be at certain spots around the main attractions of Honolulu without all the hassles.
If your visit is limited or planning is a pain, check out this local tour photography experience that you can do without all the hassles and time to enjoy the photo process and focus your energies to creating beautiful impressions of your visit. Or you can enjoy a full day tour covering Waikiki, East Hawaii and also the North Shore in a full day photo tour experience.
9. Enjoy amazing malasadas at Leonard's Bakery
For a delicious foodie experience and one of the top things to do in Honolulu, go to Leonard's and try some of the famous malasadas (Portuguese inspired doughnuts and now a local favorite dessert). These fried goodies are best hot and just served fresh and you can have them filled with different custards or tropical inspired flavors.
Check out our post on the types of Hawaiian desserts to eat on the islands here for more inspiration and images.
A history and tour of Leonard's Bakery
Waikiki Beach is the perfect surfing beach in Oahu with shallow water that expands far out at a distance from the beach area and with a sandy soil bottom to land on when you fall. Learning to surf on Waikiki is a fantastic opportunity to enjoy a new adventure experience or even brush up on some of your surfing background.
Check out this fantastic surfing lesson experience on Waikiki Beach here for more information and planning for your surfing fun on the beach.
11. Honolulu Museum of Art
If you're into visiting museums, this museum is definitely worth visiting containing an eclectic mix of Polynesian inspired artifacts, artwork, sculpture and spanning from ancient tribal to contemporary styles of art and expression.
The Honolulu Museum of Art hosts and impressive collection along with some fascinating rotating shows highlighting the unique history and culture of Pacific Island lifestyle and interests. Check out their website here for more information and details to the current shows on their calendar.
12. Tour Shangri la
The famous American heiress Doris Duke created her own Shangri La Mansion that shines like a Persian jewel box in the middle of the Pacific coastline in Honolulu. Created entirely to look and feel like a Muslim palace, the home has been customized with spectacular marbles, hand-maid inlay tiles and intricate Islamic artwork showcasing the best art she purchased from various sources.
This amazing Shangri La fronting the Pacific Ocean is truly one of a kind filled with art, sculpture, artifacts and other treasures. Tours to this special place have to be arranged in advanced but you can easily book a reservation on their website here for visiting this amazing and historic home.
Here's a beautiful video tour of Shangrila below
13. Atlantis Submarine Tours
If you are looking to see the bottom ocean floor in Hawaii without getting your feet wet, then sign up for this Atlantic Submarine Tour which will take you under 100 feet of Oahu's coastline.
You can experience the real marine life, tropical fish and corals that exists around the coastlines of Oahu especially the hidden marine areas around Diamond Head's coast which is not easily accessible on your own.
Check out the Atlantic submarine experience here for more details to enjoying a different tour of the area.
Here's a look at the 100 foot long submarine in Honolulu
14. Visit Manoa Falls in Honolulu
Located in Honolulu area towards the university, Manoa falls is an easy hike through a lush jungle area called Rainbow valley with all the rain and rainbows occurring daily in the area. You'll know when your close when you reach the rock cliff areas where Manoa falls cascades about 150 feet from the top to the basin area to a shallow lagoon. When you are in the area already, check out the Lyon Arboretum which is close by. You can check more details about visiting Manoa Falls here for planning a hike to the falls and surrounding area.
If you are looking for more waterfalls, check out Waimea Botanical gardens and it's fabulous waterfalls that you can actually swim in. Located on the North Shore, it is a fun day trip to visit the garden and enjoy the beach scene across the street.
Check out our post on the beautiful Oahu waters here for more information and images.
Here's a gorgeous look at visiting Manoa Falls below
15. Snorkel/Dive experience
What's not to like with a snorkel or dive experience to round out the Waikiki fun. This snorkel tour here will take you on a sailing experience to some fun spots around Oahu to check out all the cool sea life, tropical fish, green sea turtles and coral reef to explore and snorkel through. Providing, transportation services, equipment and a nice meal you'll enjoy this guided tour and not have to deal with driving and parking issues around the island.
For a more extensive diving experience around Waikiki including two diving wrecks, this tour is unique and fun to do in Oahu.
If you are looking to visiting Hanauma Bay, check out our post to visiting this iconic spot for more information and images.
16. Explore a mature and lush Lyon arboretum in Honolulu
If you love natural gardens then visit the Lyon Arboretum – a beautiful botanical garden located very close to Manoa Falls. Entrance is free but a requested donation of $5 helps to maintain the expansive gardens in the park.
Lyon is a mature and lush garden areas and an inspiration point that really inspires, it is hard to believe that this is just in the city limits with all this tropical splendor and beautiful landscape to enjoy. Check out visiting the Lyon Arboretum here for more details and inspiration to seeing this lush and mature garden in Oahu.
Also, check out our post to the top botanical gardens in Oahu here for more inspiration and images.
Here's an easy tour around Lyon Arboretum in Honolulu
17. So many delicious Shave Ice
If you are looking for a really good shaved Ice experience in Honolulu then check out the best different shave ice locations around Honolulu here.
There's so many opinions on what makes the best tasting shave ice on Oahu, but check out post on which places to try and what some of the popular flavors are to mix and try when you get there.
Here's a post on finding the best shave ice in Honolulu
18. Visit the Honolulu Zoo
The Honolulu Zoo located at Kapiolani park is the perfect family friendly attraction that is colorful and filled with a fantastic assortment of animals regionally and from around the world. The gorgeous tropical settings and environments make this zoo fun to explore specially to capture in photographs with friends and family.
Check out the Honolulu Zoo's website here for more details and information to what's currently happening or any other special events currently going on.
Check out the Honolulu zoo highlights below
19. Duke Statue at Waikiki
The world-famous Hawaiian surfer Duke Kahanamoku has a bronze statue located on Waikiki beach right at the end of hotels. A well-loved water sports leader and spirit of Aloha, you will always find fresh leis adorning this sculpture with outstretched hands.
It's a perfect spot to take pictures of the surfer typically adorned with fresh and old leis. With fantastic views of Waikiki beach and ocean in the background, this is the perfect moment to capture with your friends and family along with the Duke of Waikiki.
Check out our post on free things to do in Waikiki here for more images and information.
20. Dining and shopping at Ala Moana Center
This is the largest open-air shopping mall in the Pacific and filled with high end designer shops, local galleries and art, souvenir and gift specialty vendors and the biggest food court you'll find around Oahu along with a cool Japanese food walking court.
There's plenty of things to see and do at Ala Moana Center and the outdoor venues and even outdoor food venues really complement the Hawaii lifestyle and shopping at its best.
Check out our post on visit Ala Moana Shopping Center here for more images and information.
Here's a quick video tour of the Ala Moana Shopping Center
21. Visit Hanauma Bay
One of the best snorkeling areas on Oahu and a marine preserve sanctuary, Hanauma Bay is quite spectacular and a well maintained bay nature preserve. You have to go through a video entry to the park first and then have access to the park and beach areas.
What you'll find at Hanauma Bay is a magnificent crescent shaped beach protected by small cliffs with beautiful coral beds, colorful tropical fish and some cool marine life that may unexpectedly show up. Definitely worth visiting and enjoying the beach and snorkel experience, check out the Haunama Bay website here for more details on entrance, conservation and other updated news to your snorkel experience in Waikiki area.
Check out our post on visit Hanauma Bay here for more images and information.
Check out this scenic tour of visiting Hanauma Bay below
22. A delicious Luau show and buffet
A fantastic one of a kind luau experience with a large buffet spread in Waikiki, this luau show and dinner here also includes entrance to the Waikiki Aquarium. Dinner includes a different farm to table experience with locally sourced local foods and other specialties.
Check out our post on the best Oahu Luau here for more images and information.
Check out the hula performance at Germaine's Luau below
23. Visit a local Farmers market in Honolulu
Check out local life, snacks and goodies, and fresh local produce at these local farmers markets in Hawaii. The farmers markets in Hawaii sell delicious Hawaiian fruits and vegetables, popular local foods of Hawaii, locally made arts, jewelry and crafts and shave ice, delicious Hawaiian snack foods and home made Hawaiian desserts for take out.
Held every Wednesday on the Lawn at the Blaisdell Center, the farmers market is held from 4 to 7pm. At the KCC farmers market facing the Diamond Head entrance, the market is on Saturday from 7:30- 11am and on Tuesdays evenings from 4 to 7pm. For a comprehensive list of farmers market here in Honolulu and the entire Oahu island.
Here's one of the largest markets in Honolulu at Kaka'ako market
24. Pali lookout point
For a unique and gorgeous vista of the eastern side of the island from Honolulu, you can get to the Pali lookout point. This historic site is also a famous battle site at Nuuanu that forces of the first king of Hawaii, Kamehameha the first secured his victory in gaining Oahu and unifying the Hawaiian islands. There are fantastic placards that document this historic battle and the warriors that were forced off the cliffs to their death.
If you plan on visiting the eastern side of the island, then this lookout point is an easy stop to admire the views and learn more about Hawaii's rich history in this area.
Check out this video tour of the Pali lookout point below
25. Sunset cruise on Waikiki at night
A sunset cruise is a great time to experience to enjoy sunset on the water and fantastic views of Waikiki and the golden hour. Many cruises do offer cruises with dining or drinking options to compliment the cruising experience. Most of the experiences launch right on Waikiki beach with catamarans that offer a typical 1 ½ to 2-hour tour cruising the coastline and passing through popular attractions in the area.
Check out this sunset sailing cruise tour with appetizers, drinks and a two hour cruise and launching right on Waikiki beach. Or check out this elaborate dinner buffet cruise with fireworks experience is a really way to do it up for the once in a lifetime experience cruising Waikiki.
Here's some tour highlights to cruising Honolulu at sunset
26. Tour Honolulu's Iolani Palace
The royal Iolani palace built in 1882 by King Kalakaua is where the last queen, Liliuokalani was living prior to the US coup that overthrew her government and installed an interim colonial government. This once royal palace was at its time, the most innovative and outstanding royal palace and the only one in the USA in its time.
Filled with magnificent furniture, artifacts, memorabilia and even fashion of the royals during that time frame, you'll get to see all of these wonderful collection within the palace rooms. You can visit the palace with a docent tour by registering for a set tour on the Iolani Palace website here for more details and instructions to the tour.
Check out our post on a visit to Iolani Palace here for more images and information.
Here's a nice overview of Iolani Palace in downtown Honolulu
27. Experience Hawaiian history at the Bishop Museum
The rich and cultural heritage and tradition of the ancient Hawaiians are well presented at the renovated Bernice Pauahi Bishop Museum in Kahili. This expansive museum houses Polynesian artifacts, historical treasures even royal adornments and fascinating exhibits to explore.
The museum shares the history of the early voyagers and Polynesian settlers, Hawaiian and cultural beliefs or exhibits and folklore along with features on Volcanoes, different cultures, even early sporting events on the Hawaiian Islands. Check out the calendar and new shows at the Bishop Museum here for updated information, entry and other events.
Here's a video walk through of the Bishop Museum below
28. Helicopter tour over Honolulu
A night tour above Waikiki and Honolulu along with an amazing firework display is one of the most spectacular helicopter experiences you can have in Hawaii. This helicopter tour offers a real one of kind experience cruising the south shore, Pearl Harbor and all over Waikiki.
A day helicopter tour over the Pali mountains, east side of Oahu and Waikiki is another fun option to see the spectacular attractions from above.
Check out this thrilling ride with doors off around Honolulu and Oahu island
29. Visit Honolulu's Chinatown district
On the outskirts of Honolulu and Waikiki is the large Chinatown district which has gone through a big change and now is a popular and hip area for cool art galleries, cafes and a monthly First Friday series event. You can also opt for the more traditional Chinese restaurants or dim sum scene, checking out the lei stands, traditional shops and produce markets that locals visit for cheap and fresh produce. Check out the Chinatown First Friday website here for updated information, pictures and calendar of fun things happening in this district.
Check out our post on a visit to Chinatown here for more images and information.
Here's a food tour experience walking around Chinatown area
30. Check out the Honolulu Aloha Swap meet
Just outside Honolulu at the Aloha Stadium is the popular swap meet that happens every Wednesday, Saturday and Sunday. You'll find lots of thrift and antiques, collectibles and even lots of cheap Hawaiian souvenirs to take home as gifts. Entry to the swap meet is only $1 per person.
Check out the swap meet website here for more details, hours and updates.
Find some good deals in Honolulu at the Honolulu Swap Meet Stadium
31. Waikiki Aquarium
Located in Waikiki off Kapiolani park, this family friendly venue has a lot of fantastic local animals and typical animals from around the world in tropical inspired environments. Admission for the aquarium is $12 per adult and $5 per child. Visit the museum's website here for more details, admission and current shows.
Here's a video tour of the Waikiki Aquarium
32. Honolulu's Punchbowl cemetery
The National Memorial Cemetery of the Pacific locally known as the punchbowl was built in 1948 as a cemetery for the US armed forces that died during World War II.
The Punchbowl is in a dormant volcano called Pouwaina and means the hill of Sacrifice. A beautiful area with gorgeous views, cemetery and monuments, it is very peaceful and a quiet respite from busy Honolulu. Check out more details to visiting the Punchbowl here for information and directions.
33. Enjoy sunset on the beach
A simple but inspiring way to end the day in Waikiki is a walk on the beach or just relax and watch the sunset come down with all the brilliant colors on the bay and beach area.
Afterwards the twinkling lights of Waikiki's shopping streets and restaurants beckon you to stop by and check out all the fun and delicious food venues waiting for hungry appetites.
Check out the best sunsets in Oahu here for more images and information.
This is a fantastic workout climbing an ancient tuff cone with an old abandoned railway that serviced bunkers that were built on top of the cone. You climb over these railroad ties (that's over 1000 steps ) all the way to the ridgeline and the trail truly a cardio workout if you don't take any breaks on the way to the top.
Once there, will be rewarded with fantastic views of the east side of the island and the Hawaii Kai area of Portlock.
Check out the Koko Head Climb in Oahu here for more images and information.
Check out these amazing views from the top of Koko crater trail.
36. Explore downtown Honolulu
The historic downtown district of Honolulu has so many fascinating cultural sites to explore. Starting with the State Capital Building, the royal palace at Iolani, the iconic Kamehameha statue and federal court building to the many historic churches and missionary homes you can explore in the area. History and culture buffs can explore and learn about Hawaii's rich past from visiting the downtown district of Honolulu on a tour or on your own.
Check out our post on visiting downtown Honolulu here for more inspiration and details to visiting the main attractions here.
37. Stroll Waikiki Beach
Strolling Waikiki Beach day time and into the evening is the perfect pastime and easy to walk the entire length of the beach. Checking out the world class shopping, delicious eating venues and ocean front bars, visiting the popular attractions along Waikiki Beach, hula shows and evening the free fireworks displays, there's a lot to see here. Waikiki Beach is actually 7 different beaches rolled into one long stretch of beach area and lined with so many attractions to enjoy.
Check out our post on visiting Waikiki Beach area here for more inspiration and images to visiting the tourist district.
38. Enjoy these free things to do in Honolulu (Or really dirt cheap)
There's a lot of free things to do where you won't spend a dime visiting this pricey city. Check out all the fun freebies below:
Visit Pearl Harbor and the USS Arizona
Check out the street art and vibe at Kaka'ako
Hike up Diamond Head for the best views
Window shop on Kalakaua Boulevard
Enjoy the sites at Kapiolani Park
Check out the free Hula show at Kuhio Beach
Fireworks night at the Hilton Hawaiian Village
Visit Manoa Falls
Check out the lush botanical gardens at Lyon Arboretum
Explore the Chinatown neighborhood
Take a picture with the famous "Duke" statue
Visit a farmers market in Honolulu
Check out the Aloha Bowl Swap meet
Visit the Ala Moana Shopping Center
Discover Honolulu's Punchbowl Cemetery
Do a climb challenge at the Koko Head Stairs
Not free but trying some delicious and cheap shave ice is sooooo good!
Sunset on the beach in Waikiki is a must!
Looking to save more money while on vacation?
Check out the Go Oahu Card which will save you with admission to the most popular attractions on the island with a 1, 2, 3, 5 to 7-day pass. This includes entrance to many must visit places like the Polynesian Cultural Center, Hanauma Bay, Iolani Palace, Bishop Museum, Dole plantation and a variety of snorkeling excursions and more. With a few of these bigger experiences you can easily save some money on this vacation. You can purchase the Go Card here.
** Check out our Oahu post on free or cheap things to do here for more inspiration on visiting on a budget.
Weather and best time to visit Honolulu
Honolulu is a year round destination and the weather tends to be a pleasant tropical environment that is t-shirt and shorts perfect anywhere you visit. This is enticing for visitors that come to the city throughout the year to experience the warm, sunshine and fun lifestyle and attractions.
The city experiences consistent temperatures, with highs ranging from 80°F (27°C) to 88°F (31°C) and lows ranging from 65°F (18°C) to 75°F (24°C).
For the most favorable conditions, the recommended time to visit Honolulu is during the dry season, spanning from April to October. This period offers abundant sunshine, minimal rainfall, and comfortable temperatures, creating an ideal setting for beach activities and outdoor exploration. It's important to note that the summer months of June to August attract the highest number of tourists, resulting in larger crowds and potentially higher costs.
From November to March, Honolulu enters its wet season. While temperatures remain pleasant, this period sees increased rainfall and humidity levels. Nevertheless, the rain showers are typically brief and scattered, allowing for frequent sunny intervals. Traveling during the wet season can still provide an enjoyable experience, particularly if you don't mind occasional rain and prefer a quieter atmosphere.
To strike a balance between favorable weather and fewer tourists, consider planning your visit during the shoulder seasons of April/May and September/October. These months generally offer pleasant weather while presenting a chance to avoid peak crowds.
Whether you desire sunny beach days or are open to sporadic showers, Honolulu's natural beauty and lively ambiance ensure a memorable experience regardless of the season.
Where to stay in Honolulu
With most of the hotels located in Waikiki, you can find the full gamut of hotel accommodations that can fit your needs and budget. Check out these highly rated Trip Advisor reviews of the best hotels in Waikiki below.
The Outrigger Beach Resort in Waikiki – is right on the beach and in a great location with excellent service, many rooms with ocean views/city views and excellent value for the money. Check the TA site here for the reviews and images of this highly rated hotel.
Prince Waikiki – on the edge of Waikiki and a close walk to the Ala Moana Center. This quiet hotel is away from all the bustle of Waikiki, excellent ratings, service and comfortable rooms. Check the TA site here for the reviews and images of this highly rated hotel.
Embassy Suites Waikiki Beach – features 1 to 2 bedroom suites and kitchenette. Also free breakfast, poolside reception and just steps to famous Waikiki Beach and shops. Check the TA site here for the reviews and images of this highly rated hotel.
Ilikai Lite – 5 star ratings to this quality 3 star hotel with excellent service, free wiki, good walking distance to beach and shopping, and really good value for Waikiki. Check the TA site here for the reviews and images of this highly rated hotel.
Check out more of the best rated hotels with Trip Advisor here for images, details and un biased reviews from visitors.
Other tips to visiting Honolulu now
Many of the activities and restaurants do need advanced reservation with limited seating due to Covid conditions, always plan in advanced to book any tours or dining.
Parking isn't cheap around Honolulu or hotels so consider public transportation, Uber or walking to get round town.
Sunsets are fantastic on Waikiki beach, Magic Sands and Ala Moana beach for less crowds.
Swimming at sunset to night time is fun with no crowds that tend to leave the beach areas late in the afternoon.
Window shopping is free, but shopping is pricey on Kalakaua Boulevard and Ala Moana Shopping Center.
Waikiki is fairly compact and easy to walk and to get to outlying areas you can catch public transporation or taxi/Uber to those attractions.
Definitely splurge on the things you want to do and have a fantastic and memorable time on the island.
Final thoughts on 38 things to do in Honolulu
Hopefully all of these fantastic suggestions and places to visit in Honolulu will give you ideas that will peak your interest so start planning your vacation to Honolulu now and you'll enjoy your trip to paradise!
If we missed anything from this top 35 things to do in Honolulu, please do share your experiences below.
Check out these other posts on visiting Oahu
Best restaurants to eat in Honolulu
Exploring the North Shore of Oahu
Free or cheap things to do in Oahu
A Diamond Head Hike in Honolulu
Family friendly beaches in Oahu
Explore and Hike Waimea Valley
Explore Kailua and Lanikai on the windward side.
Why explore Waimanalo in Oahu now
Pin this for later
Conclusion on top 38 things to do in Honolulu
Honolulu offers an array of diverse experiences and attractions for visitors. From paying respects at Pearl Harbor and hiking Diamond Head for stunning views, to snorkeling in Hanauma Bay and exploring the Bishop Museum, there's something for everyone. Enjoy Waikiki Beach, go shopping at Ala Moana Center and Chinatown, and attend a traditional luau. Explore nature at Manoa Falls Trail and the Lyon Arboretum, while history buffs can visit Iolani Palace and the National Memorial Cemetery. With cultural experiences like the Polynesian Cultural Center and Shangri La Museum, Honolulu ensures a memorable visit.
Thanks for visiting today and checking out this post on Top things to do in Honolulu. I hope you are inspired to plan a visit and enjoy these wonderful attractions. If you enjoyed the images and post, could you please share it with any of the social media buttons located around the post.
We want to know what you think?
Which attraction is going to be at the top of your bucket list of places to visit in Honolulu? Please do share it in the comments below.
If you liked what you see, please do share it on the social media channels on Instagram, Pinterest and Twitter on the sidebar, thank you.
Disclosure – some links in this article on Top things to do in Honolulu are affiliates which provide a small commission to support this site at no extra cost to you. Thank you for reading, and happy travels