A comprehensive Guide to Hawaii's airports and how to get around
Hawaii's airports feel and look like Hawaii the moment you arrive – a liitle sweet, a little dated and musty, no free wifi around the airport. All the Hawaiian airports all need some updating but they still exudes a sense of place that gives you a warm embrace that you've finally arrived paradise in any of the airports of Hawaii. Here's a quick Hawaii airport guide to help you in the process for your arrival or departure back to where you came from. Hopefully this can help you to navigate quickly through the airport from your plane to where you want to go to in paradise.
Hawaii's Top 6 Commercial Airports and airport codes
You'll find the main Hawaii airports below and the airport codes that are associated to that destination. When you use a general search engine for flights, you can easily put in the airport code or the destination in your search parameters below.
Honolulu International Airport – Honolulu (airport code: HNL)
Kahului Airport – Kahului (airport code: OOG)
Kona International Airport at Keahole – Kailua/Kona (airport code: KOA)
Lihue Airport – Lihue (airport code: LIH)
Hilo International Airport – Hilo (airport code: ITO)
Molokai Airport – Hoolehua (airport code: MKK)
Big Island Airports
The Big Island has two airports that accommodate major air traffic on opposite ends of the island. Most flights are inter island flights from the main hub at Honolulu, but there are also a few directly flights from the mainland and some international destinations.
Hilo International Airport (ITO)
You'll notice when you arrive the Hilo International Airport with the walkways open to tropical plants of gardenias, the entry arrivals and departures lines with tropical plants and flowers and after checking the seating arrangements with tropical print sofas and wood furniture give you a sense of comfort and Hawaiian hospitality that makes this airport feel so comfortable along with the friendly service you'll get from the check in agents, TSA entry and even when you board your flights.
Hilo airport services all of East Hawaii, the Hamakua coast, Puna district and down to Volcanoes National Park so if you are planning on basing yourself in any of these locations then Hilo is the place to be. Less than two miles to Hilo's downtown historic district, you'll pass through iconic places in Hilo including Liliu'okalani gardens, Coconut Island, Rainbow Falls and Hilo's scenic waterfront area.
In the front portion of the airport are lei stands, check in desks and across the street are the rental car offices with easy access to your rental cars. What's sweet about Hilo are the volunteer musicians and Hula dancers that frequent the main waiting lounge area and offer some beautiful hula dances and talk story to what life is like every day in Hilo and East Hawaii. There are Uber and taxis to take you where you need to go, Uber rides only pick up at the outskirts of airport and only drops off directly at the airport.
Address: 2450 Kekuanaoa St., Hilo, HI 96720
For more information check www.hawaii.gov/ito
Here's a cool landing video into Hilo International Airport

Kona International Airport (KOA)
Located less than 7 miles from downtown Kona, the Kona International Airport feels like an old school type of airport where you actually have to walk through the airport tarmac and climb stairs up to the plane entrances. This really feels like old Hawaii with palm trees swaying and fresh aromatic plants perfuming the air around the airport and open pavilion areas for passengers to wait or board during check in. It's a charming way of arriving or departing that the other airports do not have at their facilities and create a low key but welcoming presence to the airport experience. Car rentals have to take individual shuttles to their central location just a few miles from the airport area and long/short term parking are just across the street from the airport area. There are shuttles available to local hotels, Uber and taxis to take you where you need to go.
Address: 73-200 Kupipi St., Kailua-Kona, HI 96740
For more information check www.hawaii.gov/koa
Here's a quick tour of Kona International Airport in video
Kahalui Airport, Maui (OGG)
The Kahalui Airport is located right on the outskirts of town and less than 2.5 miles to the central business hub of Kahalui along with all the shopping conveniences, port, and government services in the area. A combination of open-air walkways and closed pavilions, you'll immediately see and smell the wonderful ginger and plumeria blossoms that greet you right when you arrive your gate. The 2nd largest airport in Hawaii, the vibe is still laid back and casual at all the gates, arrival pavilions and shopping arcades. The OGG is named to honor a local aviation pioneer Bertram J. Hogg, who is nothing short of a local legend in the area and eventually became director of flight operations at Hawaiian Airlines.
Once you check in and pass the TSA areas, visitors can relax in any of the waiting areas, check out the shops and kiosks around the main pavilion or look for a snack or heartier meal in the many restaurants and fast-food places there. Car rental facilities are conveniently located at a consolidated rental car facility close to the airport luggage claim area. There are shuttles available to local hotels, Uber and taxis to take you where you need to go.
Address: 1 Kahului Airport Rd., Kahului, HI 96732
For more information check www.hawaii.gov/ogg
Here's a quick tour of Kahalui airport in this video clip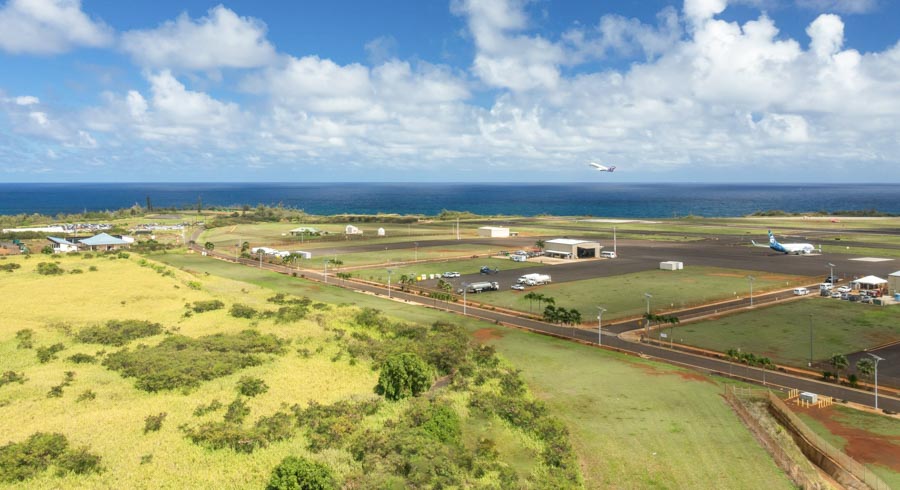 Lihue Airport (LIH)
Arriving Lihue airport is breath taking with views of the gorgeous coastlines and runway, rugged mountains rolling downhill to the bays and gorgeous beaches with palm trees. Less than two miles from downtown Lihue, the airport has easy access to places in the middle, north shore to south shore areas of the island in a very short drive. The one level terminal is casual and exudes an island heritage with occasional local entertainers singing or dancing hula for guests checking in or wandering around the airport. Car rentals from the airport are across the street in their own kiosk stands. Also, you can take Uber and taxis to take you where you need to go around the island.
Address: 3901 Mokulele Loop, Lihue, HI 96766
For more information check www.hawaii.gov/lih
Here's a quick look at Lihue in this video clip
Honolulu International Airport (HNL)
The entry into Honolulu International airport is spectacular with the crystal blue ocean, green and lush hillsides with Waikiki and Diamond Head welcome you when you splash down the runway. The central hub location for all the other islands, Honolulu airport is busy but located just 10 miles from downtown Honolulu and a little further out to Waikiki.
Tropical plants and landscaping and nice central outdoor parks allow passengers to walk outside and lounge in the two park areas of the airport along with fantastic shopping venues, food courts and nice dining venues with views of the airport scenes. Updated ticketing entries makes the arrivals and check-in pleasant even through the TSA areas into the main lounge and shopping venues. Car rental shuttles take you directly to your rental car brands from the arrival zones. There are shuttles available to local hotels, Uber and taxis to take you where you need to go.
Honolulu Airport has a separate check in arrival and departure area for interisland travel, so if you are traveling interisland you either have to take a shuttle from the main arrival areas or walk from the main terminal to the adjoining inter-island terminal close by.
Address: 300 Rodgers Blvd., Honolulu, HI 96819
For more information check www.hawaii.gov/hnl
Check out this video highlight to Honolulu International airport
Flying to Hawaii is always exciting and seeing the islands from above is such a rush, check out this awesome video on arriving at Honolulu International Airport on a smooth landing.
Hoolehua, Molokai Airport (MKK)
A small-scale airport interisland service servicing the main airport hub at Honolulu International Airport. Car rental center, taxi service, courtesy car service or pre-arranged passenger service can be arranged with your hotel or booking site.
Address: 3980 Airport Loop, Ho'olehua, HI 96729
For more information check Molokai Airport (hawaii.gov)
Welcome to Hawaii and enjoy your visit to the islands
Check out these other Hawaii stories to enjoy
Fun and interesting facts about Hawaii
Learn some Hawaiian slang or pidgin
Popular Hawaiian dishes you need to try
Traditional Hawaiian food favorite dishes
Pin this later to your Hawaii board
Thanks for visiting This Hawaii life and checking out this post on this Hawaii Airport Guide. If you enjoyed reading this post, please do share it with any of the social media buttons on the slider.