Explore Waikiki Beach (stroll, swim, adventure activities and entertainment on the beach)
Everyone visiting Hawaii always have this perfect vision of Waikiki Beach is all about with that gorgeous stretch of beach on the southern side of the island. But, did you know that Waikiki beach is actually a string of eight beaches that flow into each other and make up the whole beach vibe and culture here? With over two miles of beach fun and sun, you'll find all the right reasons to visit and enjoy Waikiki.
With its long stretch of white sand, turquoise to dark blue waters and waves that take you long distances to the shoreline, Waikiki is everyone's dream beach and rightly so.
Stretching from the Hilton Hawaiian Village all the way to Kapiolani park, Waikiki is an outdoor adventure lovers beach with swimming, snorkeling, surfing and yes, even canoe surfing as a fun pastime along with so many other fun water activities you can do here.
Let us show you the best of Waikiki beach and activities you'll enjoy here while visiting a fun day on the beach in Hawaii.
History of Waikiki Beach from past to present
Waikiki beach has always been the gathering place for outdoor activities, sports and a playground for Hawaiian royalty in the past.
Translated from Hawaiian Waikiki beach means spouting waters and has always been a popular spot for water activities because of perfect conditions here. The royals opened up small hotels for visitors around the 1800s and in 1901 opened up the grand hotel Moana Surfrider and to be followed up by the striking pink palace called the Royal Hawaiian Hotel and then to be followed by some more hotels.
This ensued with the development of what Waikiki is today, a playground for all to enjoy with world class hotels, restaurants and bars, shopping venues and enjoying nature outdoors on the beach at Waikiki.
Best time to visit Waikiki
Hawaii in general is a year-round destination and you can go wrong visiting any time of the year here on the islands. But in general Waikiki does have two major peak seasons for tourism being Winter time from December to March and summer time from June to early September. The rest of the year celebrates with holidays and events that does keep visitors and locals coming back to visit this area.
But the best time to actually come to experience Waikiki should be the shoulder season of the year when the weather is almost perfect, hardly any rain and of course not as many tourists crowding the whole scene and packing all the beach areas, bars and restaurants with visitors.
When is the shoulder season here in Oahu for those that do not know?
March through end of May is the typical spring shoulder season and fall time from September until November. This doesn't include holiday events and schedules where there would be more visitors coming during the holiday season for those timeframes.
Usually the weather is great, the crowds are less and the plane fairs are very competitive.
Getting there and amenities at the beach areas
Waikiki beach area is fairly compact and easy to walk to through different parts of the district. If you are coming from Honolulu International Airport then the drive to Waikiki beach is less than 9 miles to get to the main parts of town. Parking is difficult here so taking public transportation, shuttle or Uber into town is the preferred way of getting around the district.
Waikiki Beach Facilities
There are lifeguard stations located throughout the beach park to watch out for safety and patrolling the area. The other facilities to the beach area includes:
Bathroom facilities – you can find the public bathroom locations at Queens and San Souci beach, Kuhio ad Fort DuRussy beach. Outside of these areas you can head out to the many establishments to use the bathrooms
Showering areas – there are showering areas at all of the beach parks
Concession stands – located at Queens beach or directly at hotel or restaurant venues ocean front.
Barbeque grills and picnic tables – you'll find these amenities at San Souci, Fort DeRussy and Queen Kapiolani Park
Parking spots – mostly metered street parking fronting Kapiolani, San Souci and The Outrigger
Parking garage – located at Fort DeRussy Beach Park
8 Beaches rolled into one at Waikiki Beach
The beach scene here is fun and you have over 2 miles of beach area to explore, do some outdoor water fun or just relax and enjoy the vibe on the beach or try a cool tropical drink from the many beachfront hotel bars or restaurants close by.
Find your perfect beach area at Waikiki at any of these 8 fun beaches
Starting with the lesser-known parts of Waikiki to the heart of the beach scene and fun below
1. Outrigger Canoe Beach club
On the fringe of Waikiki sits the Outrigger Canoe Beach Club which is a little off the beaten path because it is the only way to access the beach is to walk through the rocky coral areas of San Souci beach or from a small alleyway next to the Colony Surf Hotel that will lead you to this smaller beach.
2. San Souci Beach
The beach at San Souci is also a little off the beaten part of the Waikiki beach scene and mostly a local beach. A little further out from hotel row, the beach follows Queen Kapiolani beach and has a sandy beach area with a long reef area that stretches out fifty feet and is a great spot for swimming snorkeling and water activities like surfing and boogie boarding.
San Souci beach is not as well known as the other beach parks so it is not as busy but parking is available street side with metered parking.
3. Queen Kapiolani Beach
Located next to Kuhio beach, Queen Kapiolani Beach has a large cement barrier wall called Waikiki wall that juts out into the water and a lot of kids jump off with their boogie boards to surf back to the beach area. It's also a great spot to catch some nice views and capture some pictures of Waikiki beach area.
Nicknamed the Queen's beach, there is a large outdoor screen area on the beach that is used for special movie nights at the beach. There's typically lots of food booths and different types of entertainment that is being presented before the movie typically gets shown.
4. Prince Kuhio Beach
One of the most popular and crowed public beaches in Waikiki, Kuhio Beach is one of the most popular and busy beaches due to the wider beach area, public facilities and the large protected lagoon areas that have break walls that protect the lagoon areas that front the beach.
These family friendly pools are safer and shallow areas for children to swim in safely with minor waves entering the lagoon areas which extend out 40 feet into the ocean area and makes a large pool area to swim in.
Kuhio beach has a popular entertainment and hula show that is free and a fun experience to hear and see authentic music and hula to enjoy on the beach.
5. Royal Hawaiian Beach
Located right next to Gray's Beach, the Royal Hawaiian Beach which is known as Waikiki Beach Center due to all the outdoor activity outlets in the area. From this beach area you can take a variety of catamaran rides right off the beach area, take a surfing class or even go on an outrigger canoe experience in the local waters.
If you are looking for a nouvelle experience, sign up for an outrigger surfing experience here to ride the waves around Waikiki.
Or you can take a fun surfing lesson here for a group lesson or a private lesson to learn some surfing techniques and get out and hit the waves.
6. Gray's Beach
Located in an area around the Cement section close to the Halekulani Hotel. Gray's Beach is one of the oldest beach areas of Waikiki and was name for the old hotel called Gray's by the Sea which once stood at this location. Extensive erosion of this section of the beach has left most beach gone with ongoing erosion projects not making any type of progress in this beach area which is almost gone.
There are future projects to improve the beach erosion programs and hopefully this beach area will be placed on the fast track based on the experimental program's updates.
7. Fort DeRussy Beach Park
Lying in between Gray's Beach and Duke Kanamoku Beach, Fort DeRussy Beach Park is beautiful and not as busy as the other Waikiki beaches in the upper areas. It also has a nice green grassy park areas with picnic tables, coconut trees, shade and volleyball courts, tennis courts.
It is considered a more local beach and family friendly spot to hang out in Waikiki beach area.
8. Duke Kahanamoku Beach
The Duke Kanamoku Beach section of Waikiki Beach fronts the area around the Hilton Hawaiian Village resort with the starting point at the Ala Moana Channel and harbor area. The beach area is also popular with visitors and because the area has a protected sea wall that fronts the beach area.
Beach inspiration – check out this drone fly through of Waikiki beach below – don't you wish you were here?
Other fun things to do at Waikiki Beach
Promenade the wide streets of Waikiki
This is definitely a fun pastime to enjoy the street scene, people watch, check out the menus and window shop famous Waikiki Beach
Watch the free hula entertainment at Kuhio Beach
When you hear the conch sounding on Kuhio Beach, that is the start of the free music and hula performances next to the large banyan tree and it is fun and spectacular – did we mention it is also free?
Waikiki Aquarium
Located next to San Souci beach on the waterfront, the Waikiki Aquarium is a family friendly venue to visit and see all the fantastic tropical fish, corals and marine life that you will find around the Hawaiian Islands. It's perfect for kids and a nice attraction that is great after all the beach fun at Waikiki.
Honolulu Zoo
The Honolulu Zoo is another family friendly venue that is located at Kapiolani park area with mostly metered street parking. The zoo and animals offer a nice break from the beach activities with tropical garden settings to view the many animals that are located in side for families to visit and enjoy a day at this fun venue.
Here's a quick look at the Honolulu zoo below
Torch lighting and Hula shows
Head out to Kuhio beach for the torch lighting and free hula ceremonies on the beach. This happens every Tuesday, Thursday, and Saturday under the banyan tree at Kuhio Beach, catch a ceremonial torch lighting and FREE hula show. The show usually starts about 6:30 PM (6 PM in the winter months).
Check out what the Kuhio hula shows are like below
Free Friday Firework show
Every Friday night at the beachfront of the Hilton Hawaiian Village, you can watch the firework display in the skies over Waikiki. Watch from the lagoon in front of the Hilton or anywhere in Waikiki really or catch an open spot on the beach area for a great show.
If you want to see the firework show on a cruise, check out this fun cruise here for more information on this experience.
Here's a peek at the Friday Firework display below
Enjoy sunset at Waikiki Beach
Pick any of the 8 Waikiki Beaches to enjoy the best sunset of your life or find one of the cool beach bars or ocean front restaurants and your set for a fabulous experience with cocktails or a delicious dinner experience.
A sunset experience in Waikiki is easy, fun and why not go for a swim or surf afterwards with no crowds and the water temperature is still nice.
Enjoy a Luau experience in Oahu
Oahu has some fantastic luau experiences you can go do in Oahu, there's plenty of choices of places and a few in the Honolulu area.
Check out my post on the best luau to do in Oahu here for inspiration and which ones to experience there.
Here's a look at Paradise Cove Luau, one of the popular favorite luau's on Oahu
Here's a quick look at the Paradise Cove luau below
Adventure sport and recreation at Waikiki Beach
Cruise around Waikiki Bay
A cruise around the bay in Waikiki is a lot of fun and shouldn't be missed to enjoy the water scene here, you'll enjoy the coastline views and cruise itself for a different experience here.
Check out this cruise experience here for more details and booking your tour experience
Take a surfing lesson
How about bragging to friends and family that you learned to surf and hone your skills right on Waikiki beach. That's a lot of fun and with expert guides that show you the best spots to surf and catch the perfect waves, you're going to love this entire experience.
Check out this surfing experience with group lessons here or for private lessons here for more details and booking your tour experience
Sunset cruise experience on Waikiki bay
If you are looking for something romantic or just fun to do at sunset into night, how about doing a fun sunset dinner cruise experience. You'll love cruising around Waikiki bay with fantastic views of the beach and city skyline all the way to Diamondhead on a beautiful ship.
Check out this sunset cruise experience here for inspiration and booking info.
Hike up Diamond Head
The large Diamond Head Crater and park that marks the base of Kapiolani Park is an iconic landmark at the end of Waikiki. A visit to the park grounds and hiking to the top for the magnificent views of Waikiki and the entire coastline of Honolulu is a fun activity day time into late in the afternoon before the park closes down.
You can catch a bus, trolley, Uber or do a self-drive directly to the visitors center before you get to start your hike to the rim of the crater walls.
Check out our post to hiking up Diamond Head here for more inspiration to visiting this historic national landmark.
Check out these other fantastic places to visit around Oahu
Visit to Iolani Palace in Honolulu
Check out the Kaka'ako district in Honolulu
Top things to do around Honolulu and beyond
Explore the top attractions around Waikiki area
Enjoyed the post – pin it for later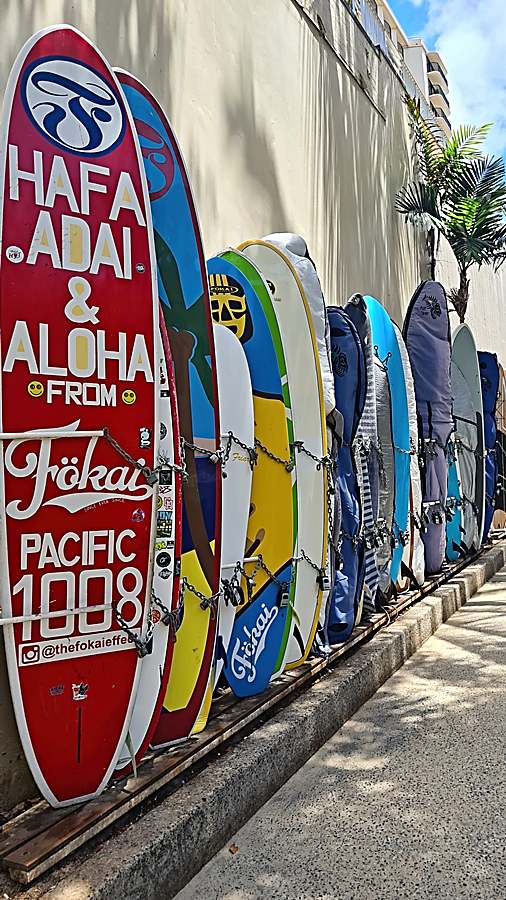 Conclusion to visiting Waikiki Beach and a short guide
If you want to be right in the center of all activity in Waikiki then head out to Waikiki Beach
If you enjoyed the post please share with your friends or family and or use the social media buttons around the post.
Disclosure – Some links in this article on this Waikiki Beach guide are affiliates which provide a small commission to support this site at no extra cost to you. Thank you for reading, and happy travels
Mahalo again for visiting This Hawaii Life.