Kuhio Beach Park: Goswim, water sports, landmarks and free hula on the beach(updated 2023)
One of the more popular sections of Waikiki Beach area is Kuhio Beach. Although most tourist cannot really differentiate where Kuhio Beach in relation to Waikiki, Kuhio does have a lot more landmarks and activities that do attract visitors to this particular area to take pictures with the Duke Statue. Swim in the protected waters or do some fun water adventure on the ocean areas.
The Beach is also known as Kuhio ponds because of concrete walls that stretch out 40 feet out into the ocean and create a protected enclosure area that is kid friendly to swim in.
Explore Kuhio Beach Park in Waikiki
Activities at Kuhio Beach
The area around Kuhio beach is popular for water sports and you can go swimming, snorkeling, body boarding, surfing and body surfing.
Amenities at Kuhio Beach
Around the beach area are some limited parking areas, concession stands, water recreation rentals, restrooms, showers, handicap access and lifeguards
Kuhio Beach Location
The Kuhio beach area starts around the Maoana Surfrider hotel and the Kapahulu groin or the cement wall that protects from the open ocean waters. The wall was built in 1951 to protect the beach area and now the area by the cement wall is a popular surfing and body boarding spot. The remainder of the enclosure is a family friendly water enclosure that is calm and shallow for swimming in.
Important Monuments
There are three other important monuments located at Kuhio Beach that are typically photo ops for visitors to take pictures. These include:
Duke Kahanamoku Statue – festooned with fresh flower leis and other displays, visitors come to see the statue and take pictures of this iconic ambassador of Aloha and the gorgeous Waikiki beach fronting the statue
The Prince Kuhio Statue was created by sculptor Sean Browne and was dedicated in 2002.
The Stones of Kapaemahu, also known as the Wizard stones which represents the four legendary Hawaiian men: Kapaemahu, Kahaloa, Kapuni and Kinohi, who came to Hawaii from a faraway land.
In Hawaii they were famous for their great wisdom and healing powers.
A brief history of Kuhio Beach
Kuhio Beach Park was named after Prince Jonah Kuhio Kalanianaole who was born in 1871. Prince Kuhio had a home called Pualeilani (meaning "flower from the wreath of heaven"). It was located here and he lived here with his wife Princess Elizabeth Kahanu and eventually opened a section for the public to use the beach. After his death the property was given to the city and the park was officially dedicated in 1940.
The beach area is now named in his honor for all the contributions and good deeds he did for the people of Hawaii including deeding this beach area for the general public to enjoy
Further outside of the protected enclosures are surfing areas at Queen's and Canoes where they hold annual surfing competitions in this area Waikiki.
Free events at Kuhio Beach
There are free music and hula performances at Kuhio beach area by the giant banyan tree where a variety of small bands and hula halau (hula troops) perform free to the public. The shows happen on Saturdays from 6:30 to 7:30. In winter from the months of November to January the times change from 6:00 to 7:00 pm.
The event starts close to the Duke Kahanamoku Statue and listen to the conch shell sounding for the start of the performance.
For information on the show, call 808-843-8002
Check more details to the shows here for more information
Here's a hula performance preview of the Kuhio shows below
Here's a video highlight to visiting Kuhio beach below
Details to visiting Kuhio Beach Park
Kuhio Beach Park Hours open 24 / 7
Location: 2453 Kalakaua Ave, Honolulu, HI 96815, USA
Hula Events here at Kuhio Beach
Find out more about ocean safety in Hawaii here.
The surfing and boogey boarding is good at Kuhio beach below
Weather and best time to visit Waikiki, Oahu
Waikiki, located on the island of Oahu in Hawaii, is a renowned tourist destination known for its beautiful beaches, vibrant nightlife, and a wide range of activities. The best time to visit Waikiki depends on your preferences for weather, crowd levels, and the type of experience you're seeking. Here's a breakdown of Waikiki's weather and the ideal times to plan your trip:
Weather Overview:
Year-Round Tropical Climate: Waikiki enjoys a tropical climate, with warm temperatures throughout the year. It has two primary seasons: a dry season (summer) and a wetter season (winter). However, even during the wetter season, rainfall tends to be brief and intermittent.
Summer (June to August): Waikiki's summer months are warm and relatively dry, with temperatures typically ranging from 75°F to 88°F (24°C to 31°C). These months offer plenty of sunshine and are ideal for beach activities, water sports, and outdoor exploration. However, it's also the peak tourist season, so expect larger crowds and higher prices.
Fall (September to November): Fall is a fantastic time to visit Waikiki. The weather remains warm, with temperatures between 73°F and 87°F (23°C to 31°C). Rainfall is minimal during this time, and you can enjoy Waikiki with fewer crowds. It's an excellent time for both outdoor activities and cultural events.
Winter (December to February): Waikiki's winter is mild, with temperatures averaging between 68°F and 80°F (20°C to 27°C). This is the rainy season, especially on the windward (eastern) side of the island. While you might encounter some rain, it's still possible to enjoy Waikiki's attractions, and you'll find fewer tourists during this time.
Spring (March to May): Spring is similar to fall, with pleasant temperatures ranging from 69°F to 82°F (21°C to 28°C). The island starts to dry out from the winter rains, and the landscape becomes lush and green. Spring is an excellent time to visit for both weather and smaller crowds.
Best Times to Visit Waikiki:
Late Spring (April to June): This period offers great weather with warm temperatures and minimal rainfall. It's an excellent time to enjoy outdoor activities, relax on the beach, and explore the vibrant Waikiki area without the peak summer crowds.
Fall (September to November): Fall is another fantastic time to visit Waikiki. The weather is still warm, and you can enjoy the city with fewer tourists, making it easier to find accommodations and enjoy popular attractions.
Considerations:
Peak Tourist Season: If you don't mind larger crowds and higher prices, visiting during the summer (June to August) can still be enjoyable, especially if you plan well in advance.
Water Activities: Waikiki is a paradise for water activities, including surfing, snorkeling, and paddleboarding. Be sure to check ocean conditions and surf reports for safety.
Festivals and Events: Waikiki hosts various cultural events and festivals throughout the year, so check the event calendar to see if any align with your travel dates.
In conclusion, Waikiki's tropical climate means you can visit year-round, but late spring and fall offer a good balance of pleasant weather and fewer crowds. However, any time of year can be a great time to explore this iconic Hawaiian destination and enjoy all that Waikiki has to offer.
Enjoy the post – pin it for later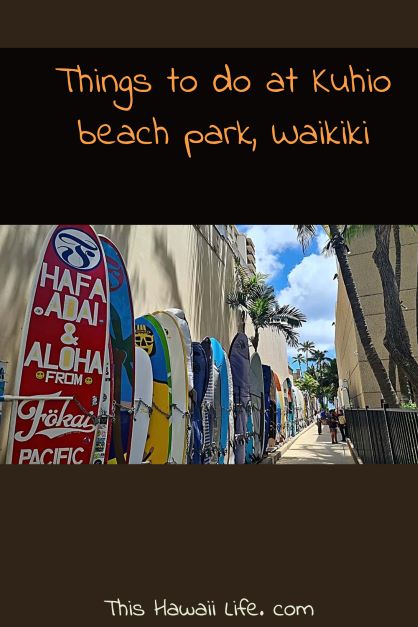 Check out these other fantastic places to visit around Oahu
Visit to Iolani Palace in Honolulu
Check out the Kaka'ako district in Honolulu
Top things to do around Honolulu and beyond
Explore the top attractions around Waikiki area
Conclusion to visiting Kuhio Beach Park in Waikiki
If you want to be right in the center of all activity in Waikiki then head out to Kuhio Beach Park
If you enjoyed the post please share with your friends or family and or use the social media buttons around the post.
Mahalo again for visiting This Hawaii Life.