Discovering and exploring Magic Island on Oahu: A Serene Oasis in the Heart of Honolulu
Nestled in the heart of Honolulu, Magic Island is the perfect respite in busy Honolulu. As its name suggests, this captivating oasis holds an irresistible allure that will transport you to a world of serenity and natural beauty. Located at the edge of Ala Moana Beach Park, Magic Island offers a perfect escape from the bustling city, where shimmering turquoise waters, pristine sandy beaches, and lush greenery converge harmoniously. Join us on a journey to discover the hidden treasures, mesmerizing sunsets, and endless possibilities for relaxation and recreation that await you at Magic Island.
Magic island beach is a small extension of Ala Moana Beach Park and is located between Waikiki and downtown Honolulu. A popular local beach park area, visitors also love to explore this area for all the outdoor activities, beach park and amazing views you'll get walking around the waterfront promenade.
You will love visiting this wonderful area of Magic Island and Ala Moana Beach park and stroll the waterfront area, enjoy a day on the beach, catch a magical sunset or even watch fireworks here off Waikiki beach close by.
Explore Magic Island: enjoy a day of swimming, surf, exercise, stroll & enjoy the views
People come to Magic Island to swim or snorkel, surf off shore in the many surf breaks in the area, bike or jog or just do an easy stroll like many visitors enjoy around the park grounds. You'll also see diving and surfing classes on the beach area and funny enough a lot of wedding pictures are taken on the beach here at Magic Island and Ala Moana Beach Park
A little history about Magic Island
This man-made peninsula called Magic Island was created with a lot of the sand, rocks and coral that was dredged from the shallow beach water areas of Ala Moana Beach. The dredging was done to create an extension of the Ala Wai Canal and harbor out to the ocean originally planned. Started in the 1960s and completed in 1964 the peninsula area including the protected lagoon beach area with rock barriers at the end of the peninsula.
The excess fill from the ocean dredging was used to create this peninsula area. It was originally slated for commercial and hotel development which didn't happen and the land was deeded back to the city and converted the area into a fantastic beach park area for everyone to enjoy. In 1972, the area was named Aina Moana meaning "Land from the Sea" noting most of the land was created from the coral dredge from the shallow areas of Ala Moana Beach. The name was later changed to Ala Moana Beach Park when the land was officially transferred to the city.
Most locals from the area called the peninsula Magic Island because of the man-made nature of the development and it being turned into a park for everyone and the name just stuck.
Weather and best time to visit Magic Island in Honolulu
Magic Island, located in Honolulu, enjoys a tropical climate throughout the year, making it a desirable destination for outdoor activities and beachgoers. Understanding the weather patterns can help you plan your visit to Magic Island more effectively.
The best time to visit Magic Island is during the dry season, which typically extends from May to October. During this period, the weather is generally warm, sunny, and relatively dry, providing ideal conditions for enjoying the beach, picnicking in the park, and engaging in various water activities.
It's important to note that even during the dry season, occasional rain showers can occur. However, they are usually brief and followed by clear skies. It's advisable to carry a light rain jacket or umbrella just in case.
The wet season in Honolulu typically spans from November to April, characterized by higher chances of rainfall and more humid conditions. While you may encounter some showers during this time, they are often intermittent, allowing for opportunities to enjoy outdoor activities between rain spells.
To avoid crowds, consider visiting Magic Island during weekdays or early mornings when it tends to be less busy. Weekends and holidays, especially during the summer months, can attract larger crowds due to the popularity of the area.
Whether you're planning a leisurely day at the beach, a family outing, or a sunset picnic, timing your visit to Magic Island during the dry season will provide you with the best chance to experience the island's natural beauty under sunny skies. Don't forget to pack sunscreen, hats, and plenty of water to stay protected and hydrated throughout your visit.
Magic Island overview and amenities
Protected Sandy beach lagoon area with a rocky barrier
The Beach Park has benches, picnic tables and shade trees on the large grassy areas.
A long-paved waterfront pathway starts from the Ala Wai harbor through Magic Island and eventually to the rest of Ala Moana Park.
There is a large parking area to Magic Island separate from Ala Moana Park. There are over 470 parking stalls allocated for beach parking use and the parking is totally free.
There are over 47 acres of the peninsula land in the area of Magic Island
Amenities includes:
Parking areas, restroom and showers, lifeguard stations, food concessions, bus transportation, Wiki Bike rentals
Recent improvements to Magic Island
The city of Honolulu and county has recently upgraded the park areas by making improvement to the parking area with repaving and restriping and creating a better dop off area for cars and adding more garbage cans, new gates, benches and trash cans.
They have also planted over 220 trees in the park area and created new sand volleyball courts off the beach areas of the park.
You can walk, bike or jog the main waterfront path around Magic Island and all the way to the end of Ala Moana Beach Park
You'll see fishing in the lagoon, along the beaches or off the rock barriers at Magic Island
Magic Island Lagoon FAQ
Can you swim at Magic Island?
Yes, the man-made lagoon and beach area at the tip of the peninsula is protected with a rocky barrier making the lagoon area with sandy bottom safe to swim in
Is the Lagoon area public?
All the park land and beach areas per Hawaii statute is open and free for the public to enjoy
How deep is the lagoon at Magic Island?
The entrance part of the lagoon starts off shallow and ranges in depth from 15 – 20 feet
Is fishing allowed at Magic Island lagoon and beaches?
There are no restrictions currently to fishing in the lagoon or rocks of Magic Island and locals typically fish for yellowfin tuna, Crevalle Jack, goat fish, bone fish and common dolphin fish
Ocean Safety conditions – check out the daily conditions of the beach parks around Magic Island and Ala Moana Beach Park here for more updated visitor information.
How to get to Magic Island
By Bus – you can catch any bus lines in Waikiki or Honolulu and all bus lines stop at Ala Moana Shopping Center. From there you just cross the main street to the beach park area of Magic Island
By Wiki bike – there are wiki bike stations located at Magic Island and Ala Moana shopping center where you can park your bikes or use the rentals directly from this area.
Taxi or Uber service – can take you directly from where you are staying to either Magic Island or Ala Moana Beach Park areas.
Here's a cool look at Magic Island from above
Here's some tips for a fun filled day at Magic Island
Beach Essentials: Pack your beach essentials such as sunscreen, towels, and beach chairs to ensure a comfortable and enjoyable day at Magic Island. Don't forget your swimwear for a refreshing dip in the crystal-clear waters.
Picnic and BBQ: Magic Island features picnic areas equipped with barbecue grills. Bring along your favorite snacks, drinks, and grillables to enjoy a delicious picnic or cookout with family and friends amidst the picturesque surroundings.
Water Activities: Take advantage of the calm waters at Magic Island for various water activities. Rent a stand-up paddleboard, kayak, or snorkeling gear from nearby rental shops and explore the marine life and beautiful reefs just off the coast.
Walking and Jogging: Magic Island is adorned with walking paths and jogging trails, making it an ideal spot for a leisurely stroll or a brisk jog. Enjoy the coastal views, the scent of tropical flowers, and the refreshing ocean breeze as you exercise and unwind.
Sunset Spectacle: Magic Island is renowned for its stunning sunsets. Plan your visit towards the evening to witness the sky ablaze with vibrant hues. Capture the magical moments and create lasting memories as the sun dips below the horizon.
Family-Friendly Fun: Magic Island offers a playground area, making it an excellent destination for families with children. Let the little ones enjoy the swings, slides, and play structures while parents relax nearby.
Relaxation and Meditation: Find a peaceful spot along the shoreline or in the park to unwind and connect with nature. Practice yoga, meditate, or simply enjoy the tranquility of Magic Island's serene atmosphere.
Photography Opportunities: Bring your camera or smartphone to capture the beauty of Magic Island. From the striking vistas to the colorful sunsets, there are endless photo opportunities that will help you preserve the memories of your visit.
Events and Festivals: Stay updated on any events or festivals happening at Magic Island. From cultural celebrations to music concerts, these events can add an extra touch of entertainment and excitement to your day.
Leave No Trace: Remember to respect the environment and keep Magic Island clean. Dispose of your trash properly and be mindful of the natural surroundings. Help preserve the beauty of this magical place for future visitors to enjoy.
With these tips in mind, you're all set for a fun-filled day at Magic Island. Immerse yourself in the natural beauty, engage in recreational activities, and embrace the relaxed atmosphere for a memorable experience.
Things to do close to Magic Island and Ala Moana Beach Park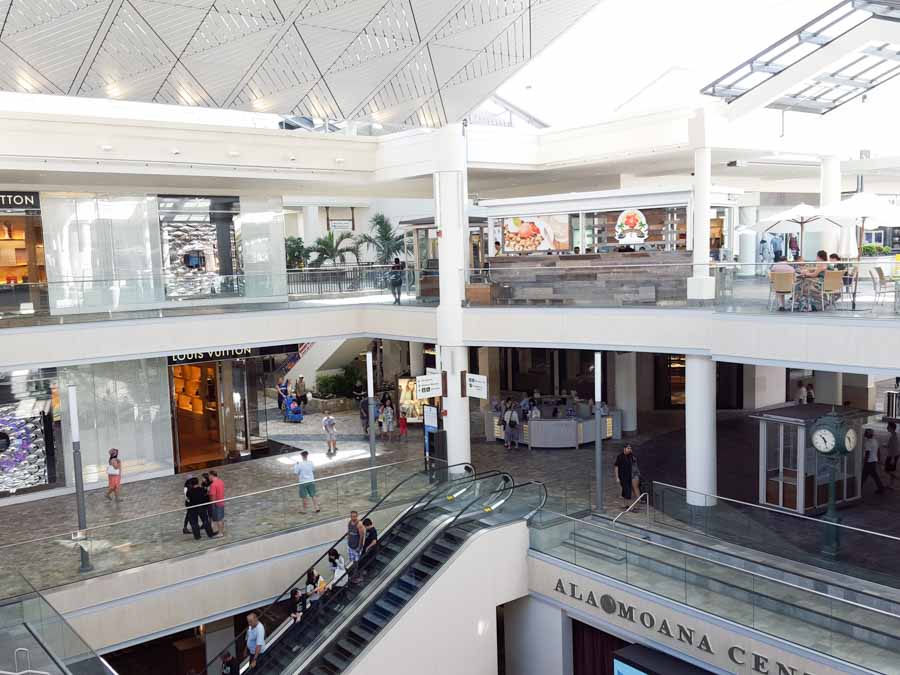 Ala Moana Shopping Center
The largest outdoor mall in all of Hawaii features local and international brand shops and galleries, three food court areas, bars and entertainment venues and even a large-scale grocery store, post office and other sundry venues. Located just across from Magic Island, it is an easy walk to explore, shop and eat at Ala Moana Center
Check out our post here on visiting Ala Moana Shopping Center for more information and images to visiting this area.
Kaka 'ako district
The Uber trendy and hip district of Kaka'ako is nearby with a variety of craft breweries in the area, world renown street artist come yearly to paint the many industrial areas with hip graphics and painted design in the style. The fun area of Salt hosts a variety of shops, eateries and hang out areas for locals and visitors to enjoy this cool area and explore all the different and fun attractions in Kaka'ako.
Check out our post on visiting Kaka'ako here for more information and images to visiting this area.
Downtown Honolulu
A short drive leads you to the historic downtown district of Honolulu where most of the cultural and historic treasures are located. Important buildings like the state capital building, Iolani Palace, the Mission Houses, Start Art Building, Kamehameha Statue and various churches and government buildings are centered here. The historic district is a compact area that is easy to walk around and explore the rich culture and history of Honolulu and the downtown district.
Check out our post here on visiting downtown Honolulu for more information and images to visiting this area.
Chinatown
Further down from downtown Honolulu is the Chinatown area which is fascinating to explore, not only for the many historic buildings that have been repurposed into cool shops and galleries but the cultural centers and shopping venues are fun to explore. You'll find an array of delicious Pan Asian inspired food venues along with traditional Chinese restaurants, dim sum houses and food marketplaces to explore and try some local foods, buy some cheap leis or find some souvenirs that you can take home from shopping in the area.
Check out our post here on visiting Chinatown for more information and images to visiting this area.
Check out these other places around Honolulu area
Family friendly beaches in Oahu
Free or cheap things to do in Oahu
Best restaurants to eat in Honolulu
Did we miss anything? Please do share!
Enjoyed your visit here or any other tips to share? Please share on the comments below.
Conclusion on visiting Magic Island
Whether you're seeking a fun-filled day of water activities, a peaceful picnic with loved ones, or simply a place to unwind and connect with nature, Magic Island has something to offer everyone. From swimming and snorkeling to jogging along the scenic trails, the island provides ample opportunities to engage in outdoor adventures and create cherished memories.
The tranquility and captivating views of Magic Island make it an ideal spot to escape from the bustling city and find serenity in the midst of paradise. Whether you're a local resident or a visitor, the island's beauty is sure to leave a lasting impression and beckon you to return.
Thanks for checking out this post on visiting Magic Island. Hope the post was informative and a must read article – if so please do share it with any of the social media buttons around the page.
Mahalo for visiting!