Where to find the best kid friendly beaches in Oahu (updated 2022)
Where are the best kid friendly beaches in Oahu you ask?
There are fantastic beaches around Oahu with fun and accessible and kid friendly places all around the island. Many are in sheltered areas or with very shallow beach/waters surrounding the beach areas.
But you still have to be aware of the unpredictable surf and swells that happen throughout the island and typically pick up in the later times of the afternoon. Fortunately, there are many family friendly beaches on to explore in Oahu to enjoy for the day.
Check out these fantastic kid friendly places for your beach day with protected areas that are specifically created or natural ocean spots for children.
Why go to a kid friendly beach?
Although many of Oahu's beaches seem safe, conditions here can change quickly so it's better to stick to safe beaches that have lifeguards that do watch the beach areas. Many of these beaches are also sheltered and have shallow beaches with sandy bottoms which is better for children. You'll also see many families gather here so there are lots of eyes always watching for any activities along with lifeguards stationed to see everything else happening in the water.
Top kid friendly ocean and beach locations in Oahu
With so many amazing beaches to choose from around the island, use this guide to showcase the best in the different areas of the island you want to spend more beach time fun.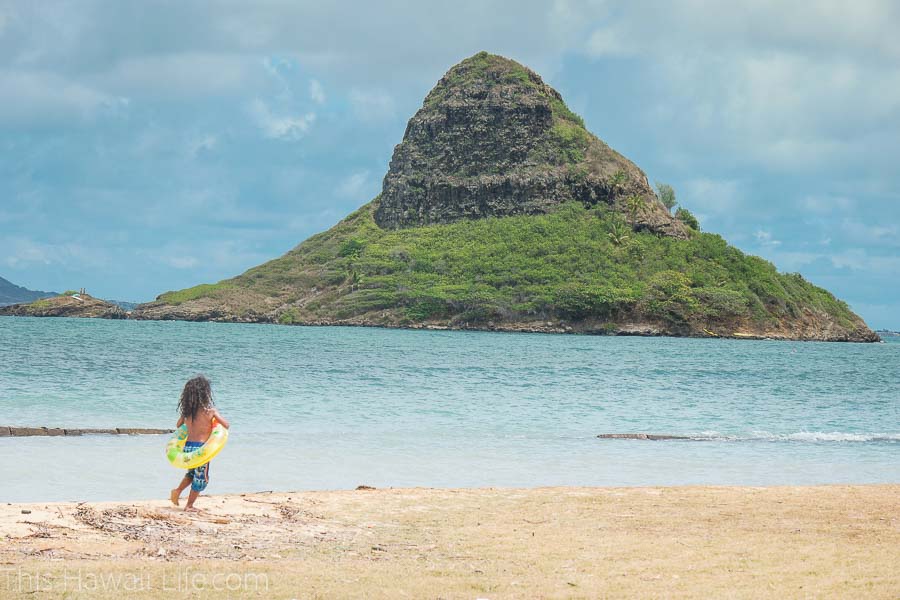 Kid friendly beaches on the East side of Oahu
Waikiki beach
The most popular stretch of beach on the east side happens to be protected in many areas and also have very shallow water and beaches which is perfect for families.
There are also barrier protected areas that are specific to little keikis (young children). Take a walk along the entire strip and look out for the areas that have more children playing in the waters so there are lifeguards and more parents in mass in these areas.
Ala Moana Beach Park
More of a local beach, Ala Moana Beach Park is located a short distance from the largest mall in Honolulu also called Ala Moana. This fantastic beach tends to be less crowded except for busy weekends when families come to hang out in the calm and shallow beaches with gorgeous views of Waikiki and Diamond Head in the background.
Halona Beach Cove
A sweet beach surrounded by dramatic lava rock outcroppings which was famous for the "Here to Eternity" movie scenes. Gorgeous cove with striking views, the beach area has aquamarine colored water and is perfect on calm days to bring children.
Kailua – Lanikai beach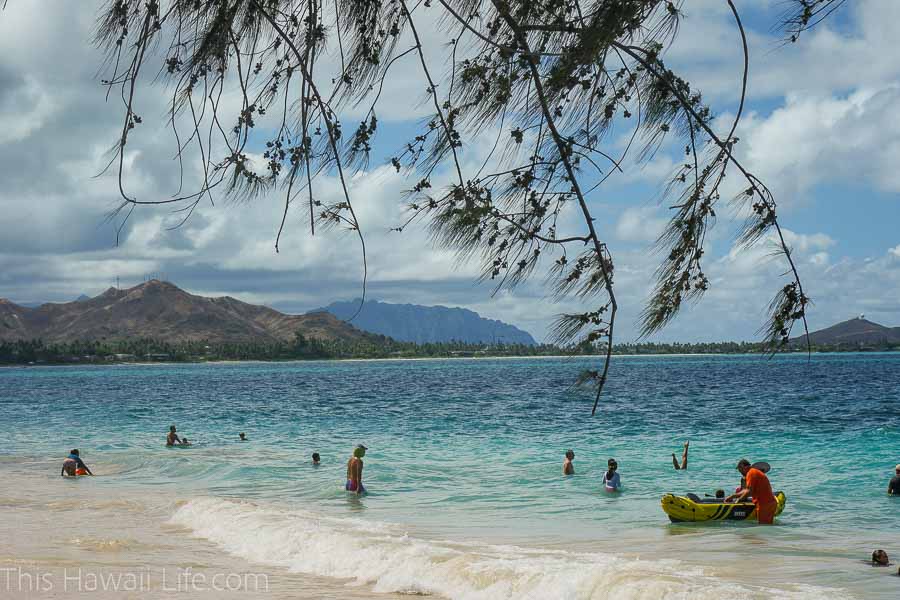 Located in the southeastern area, this popular and kid friendly beach has amazing soft sand, beautiful azure blue waters and gorgeous views of the coast and islands just across from the beach. The narrow sandy beach is extremely busy on weekends so the best time to enjoy this stretch of beach is mid week time frame.
Kualoa Beach park
A long stretch of quiet beach and sand with easy parking access and views of the popular China Man's hat island. Parking is free with great views of the coastline and the Ko'olau mountain range
Hanauma Bay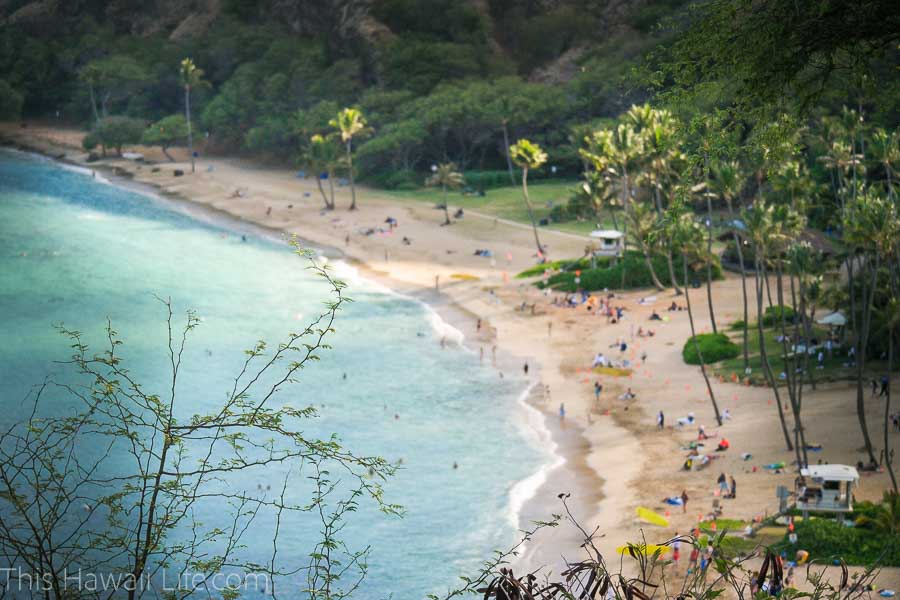 A horseshoe shape bay that is sheltered with cliffs, this beach is one of the best and safest snorkeling spots on the island and is very popular with tourist and locals alike. To enter the beach, you first have to watch a video at the tourist center to get access and also pay a small entrance fee to the beach. You'll be amazed at the abundance of tropical fish, marine life and gorgeous corals, so bring all your equipment and water cameras for a real treat. Check out the Hanauma bay website here for more details and information.
Waimanalo Beach Recreation park
A vast 75 acre park with a long stretch of sandy beach, Waimanalo is quiet and off the tourist map. Family friendly and water that is crystal clear and perfect for snorkeling.
North shore family friendly beaches
The North shore is well known for the huge swell and giant surf that happens during the winter months, but there are plenty of times when the ocean is more calm with kid friendly beaches and snorkeling spots to enjoy. Check out some of the popular kid friendly beaches to visit in the North Shore below.
Waimea Bay Beach park
One of the most visited beaches for the giant rock outcrops that locals love to climb and jump from, the beach scene is very family friendly with a parking area. But come early because those spots fill out quickly. The large stretch of beach is a nice walking, lounging and swimming beach with afternoon swells that pick up late in the day.
The bay is relatively calm during the spring to summer time frames. Winter time is more dangerous with the swells coming up to the windward side of the north shore area and swimming should be avoided for family fun.
Kuilima Cove and Turtle Bay
Located just on the northern tip of Oahu and at Turtle Beach park which is relatively quiet as far as beaches go and a good spot for kids to swim in the water. A protected cove area makes this a nice safe spot for kids and also a great place for excellent beach front dining at Turtle Bay.
This is definitely the kid friendly beach in the area during the summer to early fall time frame on the north shore.
Sharks Cove at Pupukea beach park
With the rocky Sharks Cove located on one side of the beach and the sheltered snorkeling spot called the Three Tables this perfect beach area for kids is definitely family friendly and safe. Very shallow water and turquoise color, this is a very popular spot for spending the snorkeling or checking out the different tide pools.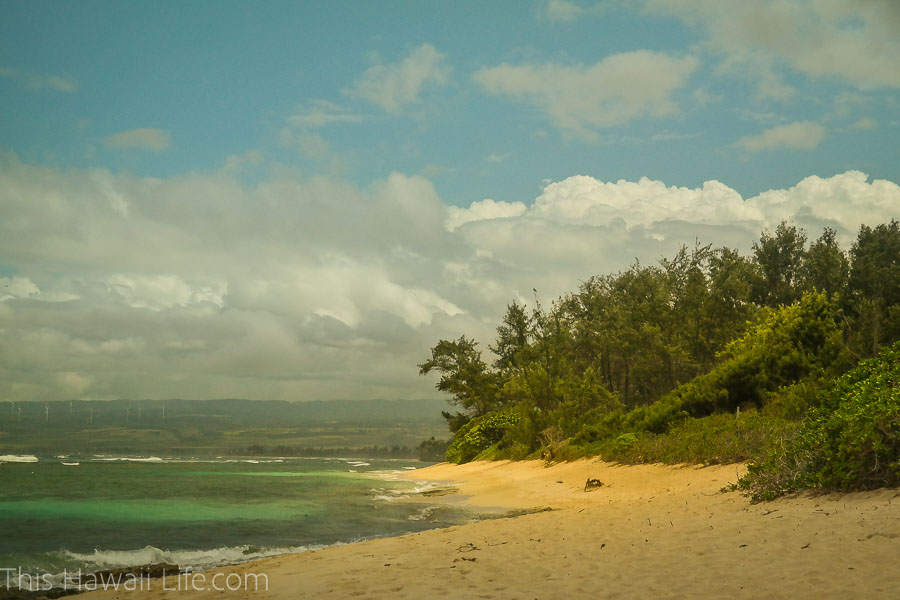 Kid friendly beaches on the west side of Oahu
The west side beaches of Oahu tend to be mostly local beaches with the exception of Aulani (Disney resort). Check out these family friendly beaches for a slice of local beach life on the west side of the island.
Lagoons at Ko'olina
With over 4 lagoons to choose from and nice easy protected beaches make these family friendly beaches easy and safe for children. The beach is perfect for water sports like Sup boarding, kayaking or even snorkeling in the calm coves.
Makaha Beach Park
A local style beach on the west side that is family friendly and mostly quiet, you'll enjoy spending time at this beach if you are also looking for some boogie boarding and surfing. Not so busy on weekdays, the beach park gets crowded on weekends. On calm days, the beach park is also an excellent spot to do some snorkeling off the rocky areas of the beach.
Check out these other posts on visiting Oahu
Exploring the North Shore of Oahu
Free or cheap things to do in Oahu
A Diamond Head Hike in Honolulu
Top things to do in Waikiki now
Explore and Hike Waimea Valley
Like this – pin it!
Let's hear from you now!
Did we miss any beaches that didn't get on the list that you love? Please share it on the comments below.
Conclusion to kid friendly beaches in Oahu
Hope that the best kid friendly beaches in Oahu are on your radar when you visit Oahu. There's plenty of kid friendly beaches in Oahu worth spending a few hours to the entire day to enjoy the outdoors, clear waters and protected beach areas.