32 Top Things to Do in Waikiki: Unforgettable Experiences Await in Hawaii's Vibrant Beachside Paradise (updated 2023)
Are you wondering what the top things to do in Waikiki now when you visit and maybe some cool up and coming places to explore? Well, keep on reading below to find out about our favorite activities and places to explore around the Waikiki area. In my experience, Waikiki is filled with so many attractions and fun things you can do below.
Waikiki is the main tourist hub and an exciting place to explore in Oahu. There's a lot to do visiting the historic places, scenic spots and outdoor attractions when you plan a visit to the area and discovery many other attraction around Honolulu area.
If you are interested in checking out all the top things to do in Waikiki for planning your visit, check out all the top 32 things to do in Waikiki below for inspiration – you'll be amazing how many of these are actually free or inexpensive to do here.
Here's 32 top things to do in Waikiki right now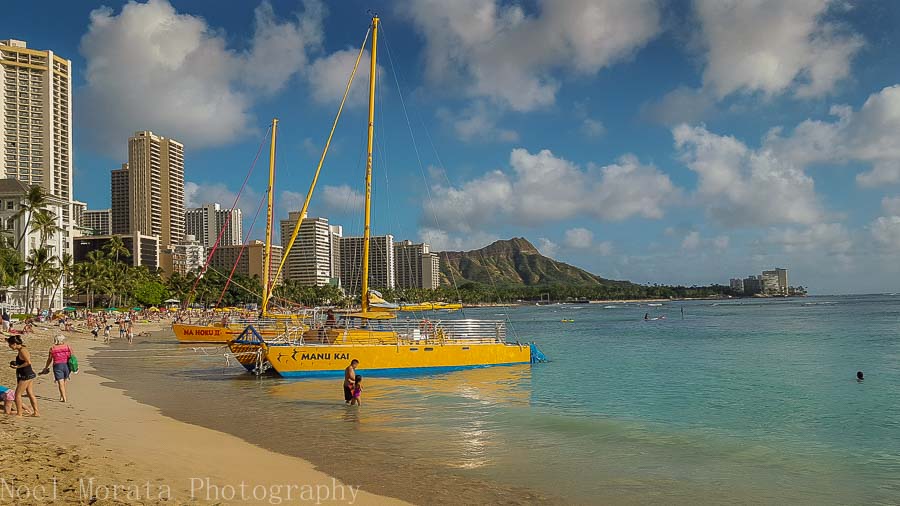 Why visit Waikiki in Oahu?
With so much happening in this fun and cool tourist district of Oahu, you'll love exploring all the fantastic attractions, easy to walk to activities and outdoor fun, fantastic food choices, world class shopping and window shopping, cool bars and night clubs and so many other wonderful things to do around Waikiki, there's something for all visitors in every age group to enjoy.
Where is Waikiki located?
Waikiki is the tourist district located in the City of Honolulu. Just east of the business and downtown district of Honolulu. The Waikiki neighborhood is on the southern tip of the city and bordered by the Ala Wai canal and Kapiolani park including the iconic Diamondhead.
If you are visiting Oahu, Waikiki is where you want to be based to experience the best of the attractions around the neighborhood and surrounding city of Honolulu.
It also has the majority of hotels in one condense area and at different price points for you to find something appropriate to fit your budget.
When is the best time to visit Waikiki?
Waikiki and Oahu are year round destinations that are popular to visit any time but there are two basic seasons for wet and dry season on the islands.
Wet season in Hawaii happens in the winter time from November until March with cooler temperatures and unpredictable daily weather. This is still a popular time to visit with snowbirds and visitors looking to get away from very cold destinations.
The dry season on Oahu tends to happen around April to summer timeframe and then until October. There is also a hurricane season, but most hurricanes have been fairly light with tropical storms and rare hurricanes that create damage throughout the entire Hawaiian chain. For warmer and sunnier days on your visit, then the dry season might be more ideal especially if you are outdoors oriented and want to do more eploring outside or get involve with adventure experiences in the area.
How to get around Waikiki
Waikiki is easily a walking town where you can walk to the major attractions around this district.
If you plan on visiting places around Honolulu in general you can easily take a taxi or Uber ride and also public transportation on "The Bus" system which is extensive around Honolulu.
There are also the various trolley cable cars that you can take that stop at many major attractions around the city that you can purchase daily passes to get to all the main attractions around the city.
You can do a cheap one day pass and it's cheap! Check out this bus video below
Just use Google maps and type in your destination and then click the bus icon and you will instantly get the bus routes and where the nearest bus stop is to get to your destination.
32 fantastic attractions and things to do in Waikiki now
There are so many places to see and things to do around Waikiki that fits every demographic and age group visiting Oahu and Waikiki. Check out all these fun and unique things to do around Waikiki and the general Honolulu and surrounding areas of the city.
1. Hike up to Diamond Head
One of the most popular and fun Waikiki attractions is to hike up Diamond Head and experience the expansive panorama of Waikiki and Honolulu below.
Popular time frames would be early in the morning for cooler temperatures or later in the afternoon for that golden light and sunset views (park closes at 6pm). Park is open from 6am to 6pm with the trail head closed off at 4:30 pm and parking fee is $5 per car.
For a first hand look on what the hike is like, check out my post on doing the Diamond Head hike here for more inspiration.
Why visit Diamond Head?
Known as Le'ahi by natives, hiking up Diamond Head is the perfect way to have a combination experience of a hike and climb and then some magnificent views of the city and surrounding coastline areas. Designated as a US Natural monument, you'll enjoy visiting and hiking up this spectacular volcanic cone. Once you get to the top of Diamondhead on the rim, you'll see expansive views below of Waikiki and beyond and on the eastern side, the coastline areas, the Pali mountains and views all the way down to the North Shore areas of Oahu.
Check out the visitor information site here for more details on visiting the state park.
Get inspired with this Diamond Head Video below
2. Explore cool and hip Kaka'ako
Looking for something fun and cool to do in Waikiki? Check out the hip and fun district of Kaka'ako in Waikiki's trendy district filled with colorful street art and graffiti walls, fun bars, galleries, and cool new restaurants.
This once run-down area of warehouses and a rough neighborhood is now uber trendy and filled with vivid graffiti and street art – it's considered the place to be and hang out with hot new entertainment venues filled with cutting edge art, shopping, dining and entertainment.
Why visit Kaka'ako?
It's fun to hang out where the locals go eat and entertain and the place is filled with cool street art to enjoy in the area. If you are into cool and trendy spots, then check out the Kaka'ao district now.
You can check out more details on my post about things to do in Honolulu here for exploring the Kaka'ako neighborhood. Or check out the cool new Salt center for innovative art, food, shopping and new events in the area.
Here's a quick and fun tour visiting around Kaka'ako below
3. Stroll down Kalakaua Boulevard especially at night time
It's always busy day or night time on this popular street at Kalakaua Boulevard. The main thoroughfare In Waikiki is filled with trendy shopping malls, galleries and boutique stores, cafes and restaurants, bars and entertainment venues on the street. The street is fun to explore day time but really comes alive at night when everyone seems to be out and enjoying the lively night scenes, window shopping, eating snacks and dining al fresco. Even the old style International marketplace has become hip, trendy and world class gathering place, shopping venue and foodie spot to explore on Kalakaua.
Why visit Kalakaua Boulevard
Filled with world classes designer shops and shopping, Kalakaua Boulevard is the main shopping, window shopping and entertainment venue in downtown Waikiki and fun to explore morning, noon to night time.
Window shopping the expensive boutique stores, people watching and just enjoy the busy and colorful street life and entertainers is what makes Kalakaua a fun street to stroll down and enjoy the local vibe.
Check out these colorful scenes of Kalakaua Boulevard at night time
4. Explore Kapiolani park in Waikiki Beach
If you are looking for some down time then large green park area on the edge of Waikiki is a nice respite to enjoy on the edge of Waikiki. You can also check out popular attractions in the park including the Honolulu Zoo, Diamond Head Crater, Queens beach, Waikiki Aquarium and also the bandstand at Waikiki Shell that has weekly free or paid events and concerts for visitors and locals.
There's plenty to do and see in the park or you can just relax and enjoy the views and beach scene overlooking Waikiki beach area.
Why visit Kapiolani park?
For some open space to relax on the green areas and beaches on the edge of Waikiki, Kapiolani offers some breathing space, lots of green grass and also popular attractions like the zoo, aquarium and Diamond Head to explore if you want more activity in the park area.
Here's a nice tour visiting around Kapiolani park area
5. Free Hula show at Kuhio Beach
One of the fun things to do in Waikiki is to watch the ongoing hula shows are offered at Kuhio and Waikiki hosts a free hula show at Kuhio Beach which Is a fantastic way to enjoy a hula experience for free at the beach.
You'll enjoy different types of hula styles along with music accompaniment and the visitors are allowed to hang out on the grass or beach area around the stage. Check the calendar here for any updates on the regular show schedule at Kuhio.
Check out my post on visiting Kuhio Beach here for more information and images.
Why Visit Kuhio Beach area?
The beach area is nice and protected from rough ocean swells for family fun and you get to enjoy hula shows for free on the beach which is a fantastic way to enjoy your time on the beach.
Cool statues to check out at Kuhio Beach
Here's a preview of the free Kuhio Beach hula program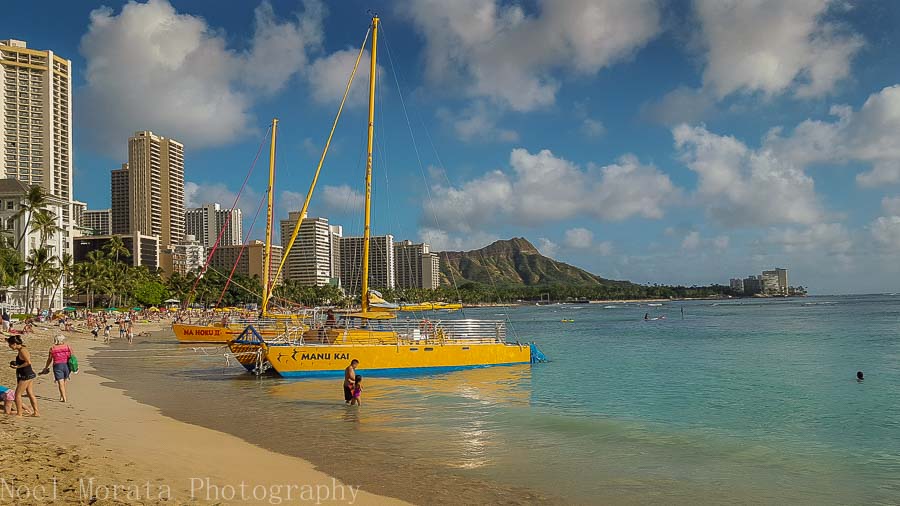 6. Explore the fun at Waikiki Beach
Probably the biggest draw to Waikiki is Waikiki Beach and the beach scene, outdoor attractions and adventure experiences you can have directly on the beach.
Waikiki beach is the most well known stretch of two mile beach on Waikiki fringed with oceanside bars and restaurants, world class hotels and gorgeous turquoise waters and surprisingly shallow areas that make surfing and beach fun relatively safe and family friendly.
Once just a haven for family royalty, Waikiki Beach was mostly swampland until world class resorts like the Ala Moana Surfrider and Royal Hawaiian Hotel put Waikiki beach on the tourist map. Strolling on Kalakaua Boulevards for the fun window shopping and swank shops or directly walking on Waikiki Beach itself is part of life's simple joys here in Waikiki and enjoying all the fantastic views all around.
*** If you want to go for a fun cruise around Waikiki, check out this cool catamaran sunset tour you can do here for more information.
Or check out this snorkel and cruise experience to Diamond Head here for more details on a fun cruise around the coast of Waikiki.
What to do in Waikiki Beach?
Waikiki Beach is world re-known for its magnificent beach, gorgeous sunsets, cruising on the many catamarans or dinner cruises and just an easy stroll and window shopping or find some cool bars with live music to even fine dining venues to enjoy world class cuisine. If you're into more active lifestyle you can snorkel, sail, surf, SUP board or do so many other fun outdoor adventures right on the beach area.
7. Free fireworks Waikiki activity
For a free and colorful night experience, check out the firework display on Waikiki beach. You'll find the show start every Friday night between 7:45 to 8pm on the beach area facing the Hilton Hawaiian Village, right on Waikiki beach. Come early on the beach to find a spot and maybe closer to the stage or beach area which is perfect picture taking.
Why watch the fireworks display on Waikiki Beach?
Well it's free and right on the beach. You can easily get to the beach area by sunset and have fantastic views all along the coastline to view the colorful show on Friday nights.
Tip – At a distance, you can park easier at Ala Moana park with nice views to the fireworks display at Waikiki and views of the coastline lit up at night. You'll get fantastic views and expansive coastlines that are lit up all the way to Diamond Head
The fireworks shows are back at Waikiki – check out these highlights below
*** Catch the fireworks while cruising around Waikiki here for a fun and different way to experience Waikiki at night with a fun show.
8. Photography Waikiki Tours
A guided tour showing you the best spots around town and in the area to experience without the headache of driving, parking and a knowledgeable guide is a great way to spend the day and capture some of the best images and scenes around Oahu. You can actually do your own walking and photography tour with these cool self guided tours of Waikiki here for inspiration.
A visit to the beach areas and the various attractions mentioned on this post are fantastic photo ops for you to visit and capture for your vacation time in Waikiki.
9. Enjoy amazing malasadas at Leonard's Bakery
For a delicious foodie experience, go to Leonard's and try some of the famous malasadas (Portuguese inspired doughnuts and now a local favorite dessert).
These fried goodies are best hot and just served fresh and you can have them filled with different custards or tropical inspired flavors. If you are looking for unique flavors consider trying the haupia, coconut, pineapple and guava filled malasadas for some yummy goodness.
Why try Leonard's Malasadas
Well this is an iconic bakery offering delicious malasadas along with other wonderful locally made pastries and desserts. They are local and simply the best on the island with so many tropical flavors to choose from. Leonard's is a popular institution that delivers and is worth the visit to try all their yummy baked goods.
Here's why Leonard's is Da Best below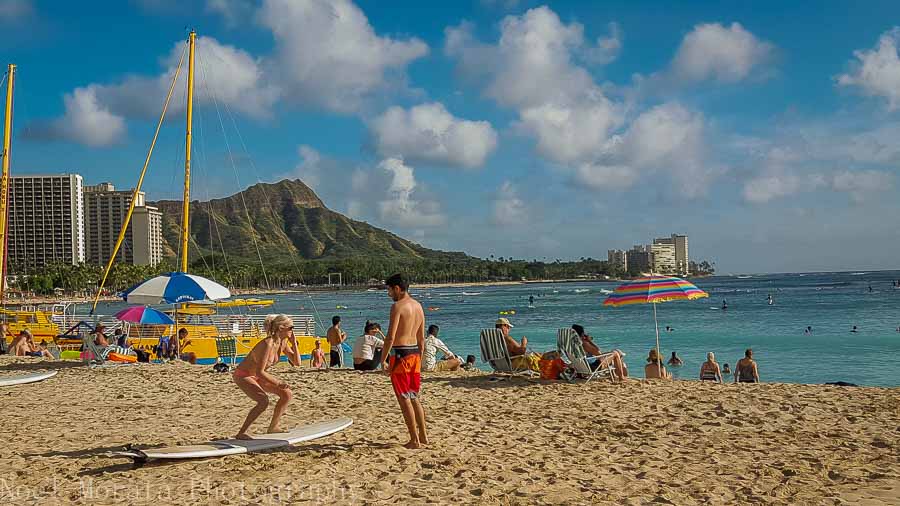 10. Learn to surf on Waikiki Beach
Waikiki Beach is a perfect surfing beach with shallow water that expands out at a distance from the beach with sandy soil to land on.
Learning to surf on Waikiki is a fantastic opportunity to enjoy a new adventure experience or even brush up on some of your surfing background. You'll enjoy the wonderful surf, sandy beaches and even bragging rights of spending a day surfing and picking up new skills when you take a surfing class in Waikiki.
Why go surfing on Waikiki Beach
Outside of bragging rights that you actually did this in Waikiki, the soft sands, long surf rides and friendly and watchful guides make the experience fun and easy to pick up for beginners to all different levels and can be customized depending on your needs.
Check out this surfing lesson experience on Waikiki Beach here with an outfitter with a cause for more information and planning for your surfing fun on the beach.
Check out this fun video tour surfing Waikiki Beach
**** Up your surfing game and take some private surfing lessons in Waikiki here for more fun and information.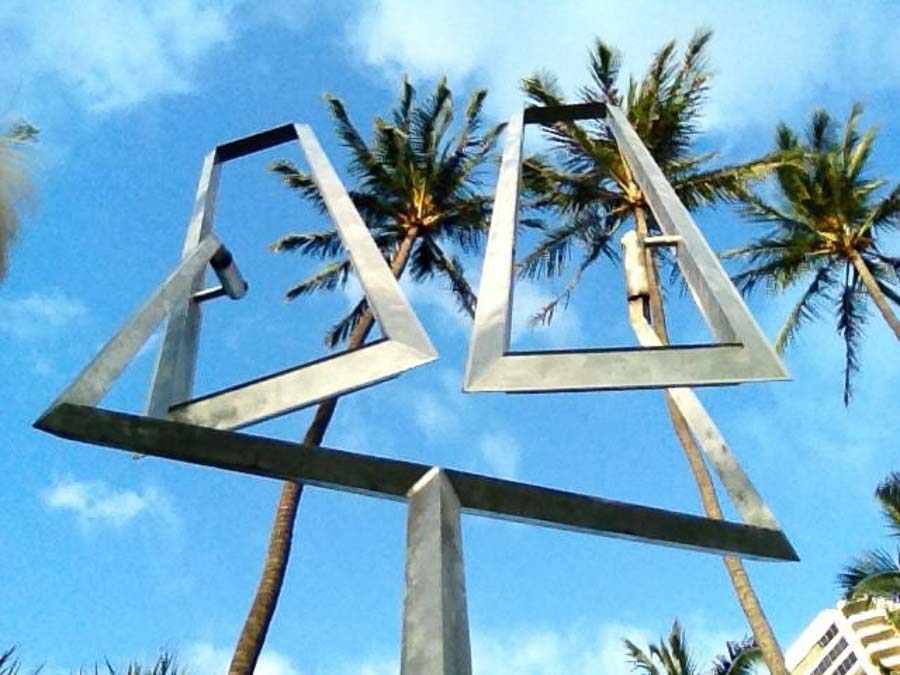 11. Visit the Honolulu Museum of Art
If you're into visiting museums, this one is definitely worth visiting with an eclectic mix of Polynesian inspired artifacts, artwork, sculpture spanning ancient to contemporary styles.
The Honolulu Museum of Art hosts and impressive collection along with some fascinating rotating shows highlighting the unique history and culture of Pacific Island lifestyle and interests. Check out their website here for more information and details to the current shows on their calendar.
Why visit the Honolulu Museum of Art
You don't have to appreciate culture and art to visit this magnificent museum which hosts many rotating shows and also regular exhitibits. But the museum features fascinating and fun exhibits that showcase many facets of traditional to contemporary art and creativity from local and Pan Polynesian influences.
12.Tour Shangri la from through Honolulu Museum
The famous American heiress Doris Duke created her own Shangri La Mansion that shines lick a Persian jewel box. Created entirely like a Muslim palace, the home is a customized with spectacular marbles, hand-maid inlay tiles and special artwork that showcase the best Islamic art she purchased from various sources to create an amazing Shangri La fronting the Pacific Ocean.
Tours to this special place have to be arranged in advanced but you can easily book a tour here for visiting this amazing and historic home. You can check out the schedules and prices here for tours.
Why visit Shangri la
One of the wealthiest Americans made Hawaii a home that really is unusual and exotic with a name to boot. The home tour delivers with this stunning location, exotic islamic design and artwork that isn't typical for Hawaii and a benefactor that gifted this special place for locals and visitors to enjoy.
Check out the highlights to visiting below
13. Whale watching show from Waikiki Beach
Winter to early spring time is the best time to enjoy the migrating whales visiting the Hawaiian islands. Best way to do this is cruising the wonderful coastline along Waikiki and outer areas in search of these majestic humpback whales.
This luxury catamaran cruise experience leaves from Kewalo Basin Harbor with expert crew onboard to make this a fun and cool way to enjoy the coastal views and marine life around Oahu.
14. Have a luau experience
What's not to like with a fun luau experience a short drive from Waikiki at Waianae. This luau called is The Paradise Cove Luau lets you experience the luau through a traditional Hawaiian village experience. With 3.5 hours of fun, go get a fantastic dinner show experience, hukilau, free hula lessons and henna tattoo, craft making and other interactive activities during the event.
If you are looking for a great luau experience in Oahu, check out our post on the best luau's to do on the island here for more details and pictures.
Check out the details to this one of a kind luau experience here for more details, calendar and current prices.
Here's a video highlight to the Luau experience in Waikiki
15. Visit Manoa Falls
Located in the Honolulu area towards the university, Manoa falls is an easy hike through lush jungle area called Rainbow valley for all the rain and rainbows occurring daily.
You'll know when your close when you reach the rock cliff areas where Manoa falls cascades about 150 feet from the top to the basin area. When you are in the area already, check out the Lyon Arboretum which is close by.
Check this website here for updates and timeframes that you can visit the falls during the week.
Here's a fun video tour of Manoa Falls below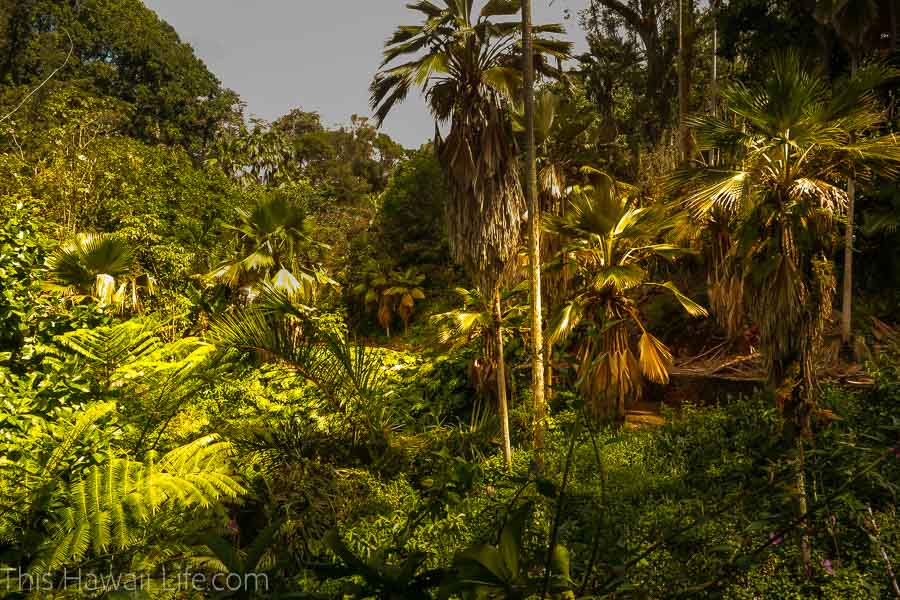 16. Explore a mature and lush Lyon arboretum in Honolulu
If you love natural gardens then visit the Lyon Arboretum very close to Manoa Falls. Entrance is free but a requested donation of $5 helps to maintain the expansive gardens in the park.
Large with lush garden areas and an inspiration point that really inspires, it is hard to believe that this is just in the city limits with all this tropical splendor and beautiful landscape to enjoy.
With over 6,000 indigenous and other lush tropical flora to get lost in, you'll enjoy a peace of quiet and solitude not far from the busy metro area.
Check out this website here for more details to visiting and their calendar of events.
Also check out our post on the best botanical gardens to visit in Oahu here for more gardens that give you an idea of what you will see and experience.
If you are in the downtown area the Lyon Arboretum is an easy visit to Waikiki area in this video experience
17. Experience a Shave Ice delight
If you are looking for a really good shaved Ice experience in Honolulu then check out the different land delicious shave ice locations on Oahu here.
You'll have a field day trying out all of the most popular shave ice spots around Waikiki and around the island and some of the delicious local flavors worth trying out at these fun vendors in town.
Check out this fun shave ice discovery experience below
18.Visit the Honolulu Zoo
The Honolulu Zoo located at Kapiolani park is the perfect family friendly attraction that is colorful and filled with a fantastic assortment of animals regionally and from around the world.
The gorgeous tropical settings and environments make this zoo fun to explore specially to capture over 1,200 animals in photographs with friends and family. Check out the zoo's website here for more details and information to what's currently happening or any other special events currently going on.
Check out the highlights to visiting the Honolulu zoo below
19. Take a picture with Duke Statue
The world-famous Hawaiian surfer Duke Kahanamoku has a bronze statue located on Waikiki beach right at the end of hotels. Duke known as the ambassador of Honolulu was a the greatest waterman and the father of modern day surfing in Hawaii.
The statue is in a perfect spot to take pictures with the surfer who is typically adorned with fresh and old leis as a symbol of friendship. With fantastic views of Waikiki beach and ocean in the background, this is the perfect moment to capture with your friends and family along with the Duke of Waikiki.
You can find the duke statue next to the Police station on Kalakaua Boulevard and across from the Hyatt Regency on Waikiki Beach.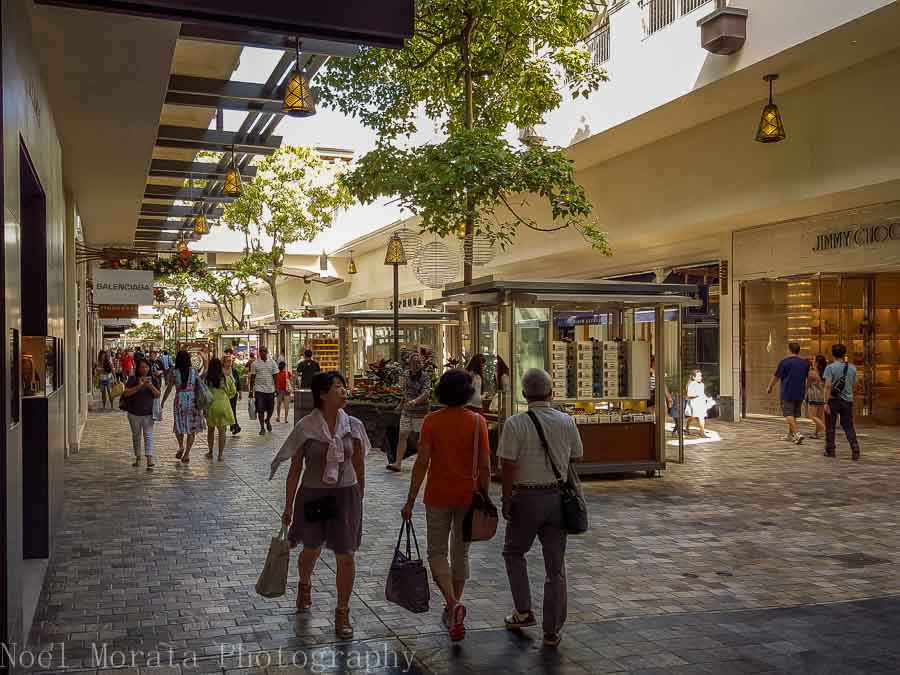 20. Dining and shopping at Ala Moana Center
The Ala Moana Center is is the largest open-air shopping mall in the Pacific islands. Filled with high end designer shops, local galleries and art, souvenir and gift specialty vendors and the biggest food court you'll find around Oahu along with a cool Japanese food walking court.
There's plenty of things to see and do at Ala Moana Center and the outdoor venues and even outdoor food venues really complement the Hawaii lifestyle and shopping at its best. Or just window shopping, people watching and enjoying the outdoor spaces here are part of the fun exploring this outdoor mall area.
Here's a quick visit to the Ala Moana Center below
21. Snorkeling fun at Hanauma Bay
Hanauma Bay is one of the best snorkeling areas on Oahu in this natural marine preserve sanctuary, Hanauma Bay is quite spectacular and well maintained.
You have to go through a video entry to the park first and then have access to the park and beach areas. What you'll find at Hanauma Bay is a magnificent crescent shaped beach protected by small cliffs with beautiful coral beds, colorful tropical fish and some cool marine life that may unexpectedly show up.
For more information on visiting Hanauma Bay State Park, check out their website here for more details and visiting.
Here's a fun video tour of Hanauma Bay and checking out the beach and snorkel experience
22. Visiting the Waikiki Aquarium in Waikiki
Visiting the Waikiki Aquarium in Waikiki is a fantastic family friendly attraction that caters to young and old alike.
Located in close to the Honolulu zoo, the Honolulu Aquarium has lovely tropical fish displays, a small shark tank, and other colorful exhibits to enjoy in this relatively small but fun aquarium. Check out the details to visiting and entry here for more information.
Here's a video tour of the Waikiki Aquarium below
23. Visit Pearl Harbor and the USS Arizona
The most popular attraction to visit in the area in Honolulu is a visit to Pearl Harbor which is a short ride you can from do Waikiki or even take a bus from there.
This is a must visit attraction to absorb and experience the infamous Japanese attack at Pearl Harbor. You can easily spend an entire morning or afternoon here to get historic insight to the history, culture and military presence in Oahu.
You can also book a nice tour of the Pearl Harbor and visit to the North Shore here for a guided tour of the park and visit to other attractions along the North Shore area.
Check out this highlight video tour of Pearl Harbor
24. Visit a local Farmers markets
If you want to check out local culture and eating fun, check out a local farmers market in the area. You can find a regular market held every Wednesday on the Lawn at the Blaisdell Center, the farmers market is held from 4 to 7pm. At the KCC farmers market facing the Diamond Head entrance, the market is on Saturday from 7:30- 11am and on Tuesdays evenings from 4 to 7pm.
Check the best 10 farmers markets to visit in the Honolulu area here for details of location and times when the markets are going on.
Check out one of the most popular farmers markets here at KCC market below
25. Explore the Chinatown district
Just located on the edge of Waikiki and downtown Honolulu, Chinatown is part of the historic and old part of Honolulu and a fun place to explore.
Now a more hip and cool place to visit in Waikiki with hip bars, pop up shops, galleries and restaurants, Chinatown still maintains all it's classic Asian charms. Filled with Lei flower shops, dim sum parlors and cheap souvenir stands, you'll find a variety of quirky, fun and kitchy things to explore at Chinatown.
I've written about visiting Chinatown here for more inspiration.
Check out this fun tour of Chinatown in this video below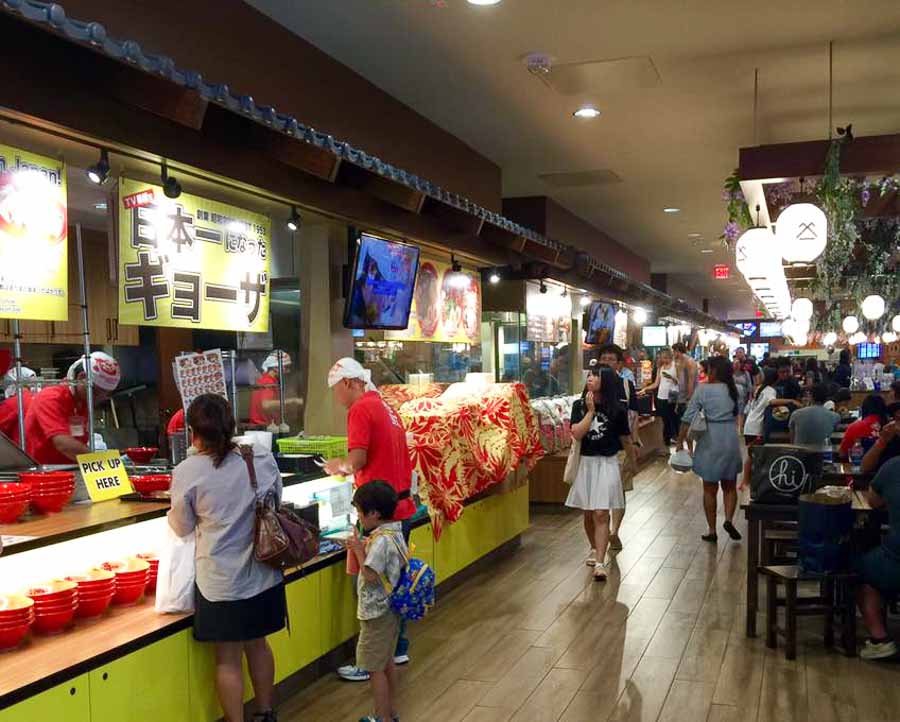 26. Japanese food experience at Shirokiya's Japan Village Walk
If you are looking for a fun and unique food experience close to Waikiki, check out the Shirokiya's Japan Village Walk at the Ala Moana Center. This mini village modeled after a typical old Japanese style village has over 30 kiosks serving typical and favorite Japanese foods and local beers. There is a cool set up buddhas in the back that serve as guardian spirit for the area.
** Due to the pandemic, Shirokiya Village is temporarily closed, stay tuned for re-opening
27. Take a Sunset cocktail cruise around Waikiki at night
If you are looking for a romantic or fun evening experience try a sunset cruise here. This is a great experience to enjoy sunset on the water and fantastic views of Waikiki and the golden hour. Many cruises do offer cruises with dining or drinking options to compliment the cruising experience.
Most of the experiences launch right on Waikiki beach with catamarans that offer a typical 1 ½ to 2-hour tour cruising the coastline and passing through popular attractions in the area. A more unique experience combines fireworks and a night sail here for a one of a kind experience in Waikiki on catamaran sail around the bay.
Check out this sunset cocktail cruise video below for inspiration
28. Tour the Iolani Palace
The royal Iolani palace is where the last queen, Liliuokalani was living prior to the US coup that overthrew her government and installed an interim colonial government.
This once royal palace built in 1882 was at its time, the most innovative and outstanding royal palace and only one in the USA of it's time frame. Filled with magnificent furniture, artifacts, memorabilia and even fashion of the royals during that time frame, you'll get to see all of these wonderful collection within the palace rooms.
Check out my post to visiting Iolani Palace here for more inspiration to visiting.
You can visit the palace with a docent tour by registering for a set tour on their website here for more details and instructions to the tour.
Here's a historic preview to visiting Iolani palace
29. Experience Hawaiian history at the Bishop Museum
Visiting the Bishop Museum in Honolulu will give you a fantastic insight to the history, tradition and cultural heritage of the ancient Hawaiians.
The Bishop Museum at Kahili represents the most expansive collection of Polynesian artifacts, historical treasures, artwork even royal adornments and fascinating exhibits to explore.
It's a great space to explore and see the history of the early voyagers and Polynesian settlers, Hawaiian and cultural beliefs or exhibits and folklore along with features on Volcanoes, different cultures, even early sporting events on the Hawaiian Islands.
To visit the museum, check out the details on their website here for more information, prices and other events happening soon.
Here's a quick highlight tour of the Bishop Museum below
30. Enjoy a classic tropical cocktail in Waikiki Hawaii
What's more enjoyable then ordering a tropical cocktail on the beach or with a view from above looking into Waikiki and the bay.
There's so many cool and popular places in Waikiki to hang out and order a tall Blue Hawaii, Mai tai, Pina Colada or any other popular drink that would quench any thirsty soul looking for entertainment, people watching and just enjoying a perfect tropical drink in Hawaii. Check out all these popular and unique bars here to enjoy a perfect tropical drink in Waikiki for more inspiration.
31. The Aloha Swap Meet
If you are looking for cheap souvenirs or unique treasures from Hawaii then head out to the Aloha Swap meet located at the Aloha Bowl.
You'll find this flea market with inexpensive souvenirs mostly made in china and a few local crafters, snack vendors, pop up food vendors and ad hoc mix of sellers plying something odd or cheap on site for you to take home. Entrance is just a buck (free for kids under 11) on Wednesdays and the weekends at the swap meet and you can check their website here for updates and events.
Here's a video tour of what the Aloha Swap Meet is like below
32. Enjoy a meal or drinks in a classic hotel by the beach
Want to do something extra special in Waikiki? How about planning a delicious dinner with sunset views or maybe a wonderful tropical drink at the bar with a music combo or some hula performance? Then head to the classic signature hotels at the Royal Hawaiian (Azure restaurant or the Mai Tai Bar), Dinner at the Halekulani (Orchids or House Without a Key) or the fabulous Moana Surfrider (The Veranda Beach House or Beach Bar Lounge)
More inside tips to visiting Waikiki
Beach Etiquette: Waikiki Beach is a popular destination, so it's important to be respectful of others. Leave ample space between your beach setup and others', and be mindful of noise levels. Additionally, remember to clean up after yourself and dispose of trash properly.
Sunrise at Diamond Head: Wake up early and hike up to the summit of Diamond Head before sunrise. Not only will you beat the crowds, but you'll also be rewarded with a breathtaking panoramic view of Waikiki and the surrounding coastline as the sun paints the sky with vibrant colors.
Explore Beyond Waikiki: While Waikiki has much to offer, don't limit yourself to just this area. Rent a car or hop on public transportation to explore other parts of Oahu. Visit the North Shore for its famous surf spots, hike through lush trails in the Koʻolau Range, or immerse yourself in the cultural sites of downtown Honolulu.
Happy Hour Deals: Take advantage of the numerous happy hour specials available in Waikiki. Many restaurants and bars offer discounted prices on drinks and appetizers during specific hours of the day. It's a great way to sample local cuisine and save some money.
Ala Moana Shopping Center: Just a short distance from Waikiki, Ala Moana Shopping Center is the largest open-air shopping center in the world. Explore its wide range of stores, boutiques, and restaurants, and take advantage of tax-free shopping on clothing and accessories.
Sunset Sail or Cruise: Treat yourself to a sunset sail or cruise along the Waikiki coastline. Enjoy stunning views of the city skyline, Diamond Head, and the Pacific Ocean as you unwind and soak in the beauty of the setting sun.
Local Food Trucks: Seek out local food trucks scattered throughout Waikiki for a taste of authentic Hawaiian flavors. From plate lunches to fresh seafood and tropical treats, these mobile eateries offer a budget-friendly and delicious culinary experience.
Visit the Honolulu Zoo: Located near Waikiki, the Honolulu Zoo is home to a variety of animal species from around the world. Take a leisurely stroll through the park, enjoy the company of exotic animals, and learn about wildlife conservation efforts.
Surf or Stand-Up Paddleboard Lessons: Waikiki Beach offers ideal conditions for beginners to learn how to surf or stand-up paddleboard. Sign up for a lesson with a reputable instructor to experience the thrill of riding the waves and connect with the ocean in a unique way.
Cultural Experiences: Immerse yourself in Hawaiian culture by attending a traditional hula performance, visiting the Polynesian Cultural Center, or participating in a lei-making workshop. These experiences offer insights into the rich heritage and traditions of the islands.
By keeping these insider tips in mind, you'll enhance your visit to Waikiki and make the most of your time in this tropical paradise. Enjoy the beauty, embrace the local culture, and create unforgettable memories in this captivating destination.
Where to eat for good food in Waikiki
There are so many amazing food choices of places to eat around the tourist district of Waikiki including the Ala Moana food court, Chinatown and various farmers markets. Check out these top choices from the video clips below.
Eat like a local around Waikiki at these popular restaurants
Helena's Hawaiian Food: Experience traditional Hawaiian cuisine at Helena's, known for its delicious laulau (pork wrapped in taro leaves), kalua pig (roasted pork), and lomi salmon (salmon salad).
Marukame Udon: Savor authentic Japanese udon noodles at Marukame Udon, where you can watch the noodles being freshly made in front of you. Customize your bowl with various toppings and enjoy the flavorful broth.
Ono Seafood: Indulge in the freshest poke bowls at Ono Seafood. Choose from a variety of marinated fish options, topped with flavorful sauces and served over rice. Don't miss their spicy ahi poke!
Duke's Waikiki: Located right on the beach, Duke's offers a mix of Hawaiian and American dishes in a lively atmosphere. Try their famous Hula Pie, a decadent ice cream dessert, and enjoy live music in the evenings.
Rainbow Drive-In: A local favorite, Rainbow Drive-In serves classic plate lunches and local favorites like loco moco (rice, hamburger patty, fried egg, and gravy) and garlic shrimp. It's a great spot for a quick and tasty meal.
Musubi Cafe Iyasume: Sample the popular Hawaiian snack, musubi, at Musubi Cafe Iyasume. They offer a variety of flavors, including spam, teriyaki chicken, and even dessert musubi with sweet fillings.
Alan Wong's Honolulu: For a fine dining experience, visit Alan Wong's, a renowned restaurant that showcases Hawaii's regional cuisine. The menu features locally sourced ingredients prepared with creativity and skill.
Leonard's Bakery: Treat yourself to malasadas, Portuguese-style doughnuts, at Leonard's Bakery. These fluffy pastries come in various flavors, such as plain, cinnamon sugar, and filled with custard or tropical fruit.
The Pig & The Lady: This trendy eatery offers a fusion of Vietnamese and Hawaiian flavors. Try their pho French dip, banh mi sandwiches, and innovative dishes that blend the best of both cuisines.
Waiola Shave Ice: Cool down with a refreshing shave ice from Waiola. They offer a wide range of flavors and toppings to create your perfect icy treat, a must-have on a warm day in Waikiki.
These popular local food spots in Waikiki will delight your taste buds and provide an authentic culinary experience. Enjoy the diverse flavors and embrace the unique blend of cultures that make Hawaii's cuisine so special.
Here's more cheap eats below
More cheap eats in Waikiki
A food tour in Chinatown
Weather and best times to visit Oahu
Oahu, the third-largest Hawaiian island and home to Honolulu, offers a diverse range of activities and attractions. The best time to visit Oahu depends on your preferences for weather, crowds, and the activities you want to enjoy. Here's an overview of Oahu's weather and the ideal times to plan your trip:
Weather Overview:
Year-Round Tropical Climate: Oahu enjoys a tropical climate, which means it's pleasant and warm throughout the year. It has two primary seasons: a dry season (summer) and a wetter season (winter).
Summer (June to August): Oahu's summer months are warm and relatively dry, with temperatures typically ranging from 75°F to 88°F (24°C to 31°C). These months offer plenty of sunshine and are ideal for beach activities, water sports, and outdoor exploration. Summer is considered the peak tourist season, so expect larger crowds and higher prices.
Fall (September to November): Fall is a fantastic time to visit Oahu. The weather remains warm, with temperatures between 73°F and 87°F (23°C to 31°C). Rainfall is minimal during this time, and you can enjoy Oahu with fewer crowds. It's an excellent time for both outdoor activities and cultural events.
Winter (December to February): Oahu's winter is mild, with temperatures averaging between 68°F and 80°F (20°C to 27°C). This is the rainy season, especially on the windward (eastern) side of the island. While you might encounter some rain, it's still possible to enjoy Oahu's attractions, and you'll find fewer tourists during this time.
Spring (March to May): Spring is similar to fall, with pleasant temperatures ranging from 69°F to 82°F (21°C to 28°C). The island starts to dry out from the winter rains, and the landscape becomes lush and green. Spring is an excellent time to visit for both weather and smaller crowds.
Best Times to Visit Oahu:
Late Spring (April to June): This period offers great weather with warm temperatures and minimal rainfall. It's an excellent time to enjoy outdoor activities and explore the island without the peak summer crowds.
Fall (September to November): Fall is another fantastic time to visit Oahu. The weather is still warm, and you can enjoy the island with fewer tourists, making it easier to find accommodations and enjoy popular attractions.
Considerations:
Peak Tourist Season: If you don't mind larger crowds and higher prices, visiting during the summer (June to August) can still be enjoyable, especially if you plan well in advance.
Water Activities: Oahu offers a wide range of water activities, including surfing, snorkeling, and scuba diving. Be sure to check the ocean conditions and surf reports for safety.
Festivals and Events: Oahu hosts various cultural events and festivals throughout the year, so check the event calendar to see if any align with your travel dates.
In conclusion, Oahu's tropical climate makes it an appealing destination year-round, but late spring and fall offer a good balance of pleasant weather and fewer crowds. However, any time of year can be a great time to explore this vibrant island and experience its natural beauty and rich culture.
Where to stay in Waikiki
If you are planning to spend more time exploring Waikiki and Honolulu, you should base yourself in Waikiki for easy walking and access to most of these attractions located around the district.
The number one rated hotel in Waikiki has affordable rooms and many different room categories with large terraced suites, comfortable rooms and excellent customer service.
Located right on Waikiki Beach, this beautiful property is an oasis of calm but still in the heart of beach, shopping and dining venues. Nice pool and outdoor amenities and comfortable rooms, many with ocean views.
The hotel also located on the beach is know for comfort, great customer service, good location to shops, dining and easy access to Waikiki Beach. With ocean views and clean modern lines, the stays here are effortless and comfortable.
Looking for more reviews? Check out the most popular and well rated hotels through Trip Advisor here for more details, rates and availability.
When you finally find a place to stay in Waikiki, make sure that it is somewhere easy and walkable. You'll have a great time visiting and hanging out in Waikiki with these cool and fun activities and places to visit around the area. Whether you love being out doors and doing adventure activities or easy things like happy hour on the beach and finding some interesting foodie venues, Waikiki has all the right things for everyone to experience. Enjoy your visit and hopefully you'll get to visit all these places and fun things to explore in the area.
More inside tips to visiting Waikiki
The sun and humidity can hit you easily here so bring some cover ups or have a lot of water to drink
Walking is a great way to enjoy both the beach areas and strolling around the main drag at Kalakaua Blvd.
Night time is also a very festive time to explore the street scenes, shopping venues and finding some cool bars and restaurants to hang out in. There's even the free Friday Fireworks to check out on the beach.
Definitely splurge for some fun tour experiences or that special dinner with a sunset view to make this a wonderful experience.
Prices are definitely pricy here in Waikiki, check out our tips here on free or cheap things you can do in Oahu here for more inspiration and sticking to your budget.
Definitely try some of the local favorite snacks and dishes here like musubi, shave ice, poke and other specialties you'll find at cafes, food trucks and even food venues around the district.
10 free things to do in Waikiki or cheap
Everything costs the moment you get out the airport and head out to Waikiki. But if you want stretch out your budget and go on the cheap here are a few suggestions and tips on how to do it and still have a great time.
Enjoy the Beach: Waikiki Beach is a stunning public beach that you can enjoy for free. Spend your day lounging on the sand, swimming in the clear waters, or simply soaking up the sun and the beautiful surroundings.
Take a Scenic Walk: Explore the Waikiki area by taking a leisurely stroll along the shore or on the scenic Kalakaua Avenue. Enjoy the views of Diamond Head, browse the shops, and immerse yourself in the vibrant atmosphere without spending a dime
.
Attend Free Events and Festivals: Keep an eye out for free events and festivals happening in Waikiki. Check local listings or ask at visitor centers for information about cultural performances, live music, or other free entertainment options that you can enjoy during your stay.
Explore Parks and Gardens: Visit Kapiolani Park, located at the eastern end of Waikiki, to enjoy its lush green spaces, picnic areas, and beautiful views. You can also visit the nearby Honolulu Zoo, which offers free admission on certain days.
Witness the Sunset: Waikiki is renowned for its breathtaking sunsets. Find a spot along the beach or at a beachfront park, such as Queen's Surf Beach Park or Fort DeRussy Beach Park, and witness the magical colors as the sun sets over the horizon.
Take Advantage of Hotel Amenities: If you're staying at a hotel in Waikiki, make the most of its amenities. Many hotels offer complimentary activities like hula lessons, lei-making classes, or live music performances. Take advantage of these offerings to immerse yourself in Hawaiian culture without additional cost.
Visit the Duke Kahanamoku Statue: Pay a visit to the Duke Kahanamoku Statue, located near the beach in Waikiki. This iconic landmark is a tribute to the legendary Hawaiian surfer and Olympic swimmer, and it's a popular spot for photo opportunities
Explore Local Markets: Visit the KCC Farmers Market on Saturdays or the Fort Street Mall Farmers Market on weekdays to explore local produce, crafts, and delicious snacks. These markets offer a vibrant atmosphere and a chance to experience the local flavors and culture.
Hike Diamond Head: While there is a small entrance fee to hike Diamond Head State Monument, it is relatively inexpensive and provides stunning panoramic views of Waikiki and the surrounding area. It's a memorable experience and a great way to enjoy nature on a budget.
Take Advantage of Happy Hour Deals: Waikiki is home to numerous bars and restaurants that offer happy hour specials on food and drinks. Take advantage of these discounted prices to enjoy a meal or indulge in a tropical beverage without breaking the bank.
By following these tips, you can experience the beauty and vibrancy of Waikiki without spending a fortune. Enjoy the beach, explore the surroundings, and embrace the aloha spirit while keeping your budget in check.
Here's a good starting point
Free or cheap things to do in Oahu
Save this Pin for later in your Hawaii Board
Check out these other posts on visiting Oahu
Things to do in Waikiki at night
Visiting Iolani Palace in Honolulu
Explore historic downtown Honolulu
How to get around Honolulu airport
A Diamond Head Hike in Honolulu
Family friendly beaches in Oahu
Explore and Hike Waimea Valley
That's it on Waikiki, did we miss anything?
Hopefully this short guide will be helpful for you and if you discovered other cool places to tips on things to do, please share them into the comment section below.
Conclusion of Top 32 things to do in Waikiki now
Waikiki offers a diverse range of activities for every traveler. Enjoy its pristine beaches, engage with Hawaiian culture, embark on thrilling water sports, and indulge in the local food scene. Whether seeking relaxation, adventure, or cultural immersion, Waikiki provides unforgettable experiences. Soak up the beauty, embrace the aloha spirit, and create lifelong memories in this tropical paradise.
For Waikiki fun, you'll love explore all fun activities and attractions around this easy and walkable district of Honolulu. Hope this gives you some great ideas of things to do and see around the tourist district here.
Thanks for visiting This Hawaii life and checking out this post on the Top things to do in Waikiki now. If you enjoyed reading this post, please do share it with any of the social media buttons on the slider.
Disclosure – some of the links above are to affiliate sites that are either revews or recommendations if you book helps to keep our site running. We appreciate your supporting our website meanwhile