Paradise Found: Exploring the Idyllic Waimanalo Beach (updated 2023)
Who doesn't love powdery white sands against aqua to deep blue colored ocean in the background and coconut trees swaying gently with all the sweet breezes coming across Waimanalo Beach on the east side of the island.
There's so many cool things to do at Waimanalo beach on the windward side of Oahu for everyone to enjoy. The beach scene and vibe is slow, relaxed and local with actual friendly faces from the area so different from the busy Waikiki Beach scene.
Discover the Hidden Gem of Oahu's East Side: Waimanalo Beach
Locals call the beach "Sherwood" for the soft powdery sand with giant ironwood trees on the border what offer fantastic shade for a nice and cool nap from the afternoon sun.
Facing Waimanalo bay, the beach is expansive at 5 miles in length and is a family friendly beach with life guard stations located at strategic spots around the beach.
The beach has full amenities detailed below.
Here's a gorgeous look of the expansive Waimanalo Beach below
Interesting Waimanalo Beach History and trivia
Waimanalo translated into Hawaiian means "potable water" for the all the brackish ponds in the area that was used for irrigation.
Waimanalo is thought to actually be one of the first areas of exploration of the ancient Polynesians to Oahu and some recent excavations of artifacts have been discovered at a prehistoric village site located in sand dunes at Bellows Air Force Base.
The beach is so popular and well known with locals that big television series shows including Baywatch Hawaii and Magnum PI where shot on the beach here along with a variety of movies and commercials.
Even with the influx of wealth on the east side primarily in Kailua and Lanikai, Waimanalo is still very low key with no major developments or towns which is just how locals love the area for its wild and natural state.
Waimanalo Beach FAQ
Where's Waimanalo Beach located?
Waimanalo Beach is located on the windward side or east side of Oahu and south of Kailua and Lanikai beach areas and has some gorgeous beaches and outdoor fun to enjoy. To get to Waimanalo beach, you'll pass the small town of Waimanalo along the way to the coastline area. Or you can head the coastal road from Hawaii Kai area.
How do you get to Waimanalo Beach?
You have to options to get to Waimanalo from Honolulu or the Waikiki area. From Waikiki you can take the Scenic route through Hwy 1 and around past Makapu'u lighthouse into Waimanalo or Or Take the Pali Highway Highway 61 which merges onto the Kalanianaole Highway 72 south towards Waimanalo. Both routes take about 45 minutes from town, but the H1 scenic route is more interesting and beautiful to drive through.
What are the amenities at Waimanalo Beach?
You'll find relatively easy parking with a big parking lot for this beach and full services to include: picnic areas, three separate restroom and shower facilities, lifeguard stations and nice shady areas with giant ironwood trees to hide under.
What's the weather like at Waimanalo?
Locatd onthe eastern side of Oahu, the weather at Waimanalo beach is mostly calm and quiet in the morning. The weather and surf in the afternoons along the coastline are breezy and cooler with the waves kicking up a bit and breaking closer to the shoreline. Weather and climate is typical from morning to afternoon time frame unless there is a weather front coming into the area.
For updated weather in the Waimanalo area, check out this website here for details and other updates.
What to do at Waimanalo beach?
Plenty of beach time at Waimanalo, here are just a few favorite things to check off the box.
You'll enjoy some nice long walks on this 5-mile beach with powdery sands
Take a nice nap in between the sheltering Ironwood trees with gorgeous views of the ocean
Swimming, body surfing and boogey boarding fun
Try to catch a fish on the water's edge, if you're into fishing
Try some pick up volley ball action on the sand if you see a game and they are open to pick up players
Explore the Makapu'u cliffs, tidepools and light house nearby to Waimanalo beach
Come early to Waimanalo and enjoy a sunrise experience in which there's no real crowds on the beach at this time of the morning.
Enjoy the wedding shot scenes of photographers and tourists (mainly Japanese) in their formal wedding wear on the beach – it's a hoot!
Check out this spectacular Waimanalo sunrise moment below
Check out these gorgeous visuals looking above to Waimanalo Beach
Other things an attractions around Waimanalo Beach area
After your done exploring Waimanalo Beach, there's plenty of other cool things to do and explore close by on the east side of the island to keep you busy. Here are some of our favorite activities and places to explore below.
Hike up Koko Head
If you are looking for an active challenge with a spectacular view at the end then do the Koko Head trail. It's a fun but steep uphill climb up railroad ties all the way to the top and from their you'll enjoy really amazing views of East Hawaii and the gorgeous coastline below.
Check out the Koko Head trail here for more information
Kaiona Beach park
The beach park is the one few places south of Waimanalo Beach park that is good for snorkeling and with shallow waters, you can easily reach the coral areas further out with large rocks, corals and fantastic tropical fish in the area. There's a nice protected barrier area with a shallow ocean pool is perfect for family fun and really a hidden treasure that only local's know about in this area.
Check out this cool video of Kaoina Beach park below, it's stunning don't you think?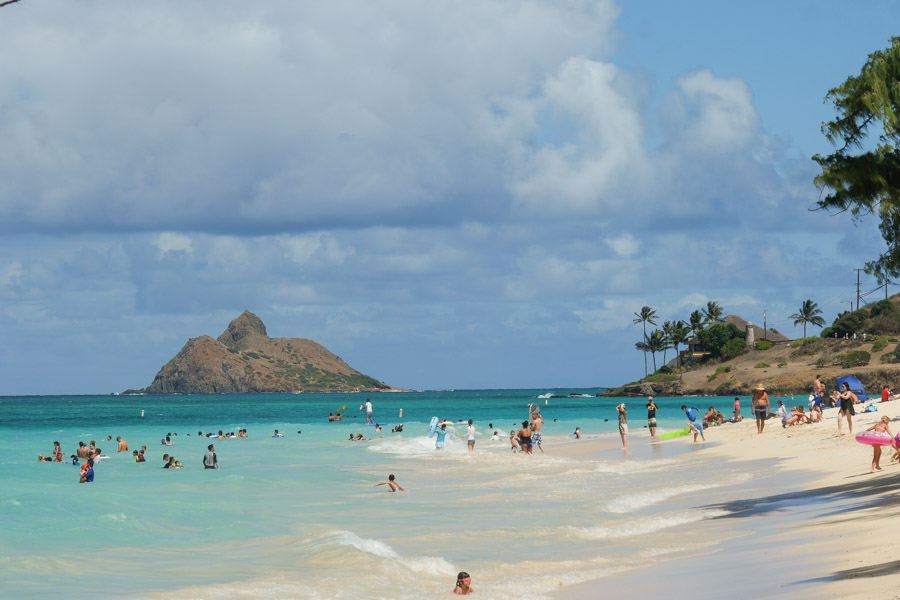 Explore the Kailua or Lanikai beach areas
It's fun to take a road trip and check out both Lanikai beach and Kailua Beach. The town area of Kailua has more food and shopping venues to explore if you are in the mood for checking out some cool bars, restaurants or just pick up a snack along the way. Or you can do some fantastic hikes to the Lanikai Pillbox, Maunawili falls or the challenging Olomana trail to the Three Peaks.
Here's a virtual tour of Kailua beach below
Sea Life Park
Just located below Waimanalo Beach is the family friendly Sea Life Park which is a marine mammal park, bird sanctuary and aquarium and just north of Makapu'u Point. You can watch a variety of shows, explore the aquarium and watch them feed the dolphins and turtles along with a variety of other special experiences like a dolphin and sea lion encounter.
Entrance is actually free with the purchase of a Luau ticket on the same day.
** Check out the details to visiting Sea Life Park here for more information and booking this site.
Here's a visit to Sea Life Park at Waimanalo area
Hike the Makapu'u Point Trail
A popular hike to the Makapu'u point, tidepools and the lighthouse is the fun thing to do at the edge of Waimanalo beach and the trail is an easy paved trail that you follow all the way to the point. An easy hike that is about a mile each way and takes about 30 minutes walk to the lighthouse.
Also, you can climb down to the tidepools with some really cool blow holes that are fun to watch when the tide comes in and forces the spray up through the lava rocks into a geyser like nature show which is pretty amazing.
Check out this post to doing the Makapu'u lighthouse trail for more information and photographs.
Here's a cool visual of the trail to the point, light house and other points of interest.
Rabbit / Manana island views or diving adventure
Rabbit island is a protected bird sanctuary located close to the coastline just northwest of Makapuu Point. You can easily view the island from the Makapuu overlook and into the eastern coastline of Waimanalo area. Even though visitors aren't allow to go on the island, you can actually sign up for a diving tour with this outfitter and spot marine, coral formations, white tip sharks, tiger sharks and other tropical fish. Locals and some visitors also kayak to the island and go fishing or diving directly from their kayaks.
Check out this cool video of what the undersea life looks like around Rabbit Island in this video below
Is Camping is allowed at Waimanalo Beach?
With two campsites located at different parts of the beach, you'll find camping popular here especially on the weekend. Run by the county Park and Rec, you can make reservations here to book a camp site for a minimum of a 3day or 5-day pass.
What's in Waimanalo town to explore
If you blink ,you'll miss it in Waimanalo, there's just a few places to mostly dine and shop in town. Visit Waimanalo shopping center with the golden bust of Akebono, the famous Hawaiian sumo wrestler who is from Waimanalo, the mall itself is a typical small strip mall
Good Eats in Waimanalo town
Ono Steak and Shrimp Shack – Hawaiian style food, greasy and sooo good, order at counter and sit and wait for your order which is generous and served in to go containers with plastic cutlery. Cheap and good, the way locals love their comfort food.
Coconut man – bordering Waimanalo beach and Kaiona Beach is the roadside stand selling icy cold coconuts that Kimo man tops off perfectly with a machete and places a straw for you to enjoy the water and later the yummy meat to eat when you give him the coconut back to open.
Shima's market – check out the fresh seafood salad and poke bar with options like fresh tako (octopus), Teriyaki squid and a variety of unusual poke take out to try like smoked marlin, kamaboko poke or furikake salmon poke.
Hawaiian Island Cafe – American/Hawaiian bistro style food
'Ai Love Nalo – Hawaiian fusion with vegan/vegetarian healthy dishes and priced well
Dave's Ice Cream Parlors – Local favorite and generous services, tropical and local flavors that you'll enjoy the best on the island.
Other tips on visiting Waimanalo Beach
There are Man O war jellyfish that frequent the beaches here and should be avoided for their painful stings in the water or even on the beach.
Life guard stations will post conditions at the beach, man o war sitings and other information worth noting when you are at the beach areas.
Even though body surfing is popular here, the shore breaks can also get rough especially the in later afternoon periods so plan accordingly.
If you're looking for some shade, look for the ironwood trees to protect you from the harsh sun.
For water fun, try and use a reef protected sun screen so there is no harm done to local fish and coral in the surrounding areas.
If you use sunscreen, only use coral safe and approved sunscreen to help protect the local reefs and tropical fish in the area.
Where to stay in Waimanalo Beach and surrounding area
There are no Waimanalo beach resorts and lodgings are pretty limited in the Waimanalo area with mostly private rentals and Air Bnbs. Waimanalo beach accommodations are limited so If you are looking for hotels or inns check the following below.
Manoa Valley Inn – tucked away in Manoa Valley, this Victorian style inn is quiet and a world away from Waikiki with full breakfast, free wifi, parking and spacious rooms.
Kahala Hotel and Resort – Hidden in the plush area of Kahala, this luxury hotel is quiet, sublime service and privacy, wonderful grounds and pool along with beautiful spacious rooms.
Waikiki Sand Hotel – Family owned and value priced located in a quiet section of Waikiki next to the canal with mountain views and close walk to the beaches, friendly front desk service.
Check out these other top rated hotel reviews on TripAdvisor here for more details, availability and current prices.
Recreation and activities around East Hawaii area
If you are looking for some fun adventure activities around East Hawaii, consider the following excursions:
Check out the Aloha Kai Luau at Sea Life Park here
Enjoy a grand circle day tour around Oahu and tour highlights.
Helicopter tour around Oahu here for main attractions from above

Enjoyed the post – Please pin it!
Check out these other posts on Oahu
Visiting the Kailua and Lanikai Beach on the Windward side
Visit the Hawaii Kai district
Exploring the North Shore of Oahu
Free or cheap things to do in Oahu
A Diamond Head Hike in Honolulu
Family friendly beaches in Oahu
Explore and Hike Waimea Valley
Conclusion on Visiting Waimanalo Beach and top things to do around the windward side
For Waimanalo beach fun, you'll love explore all fun activities and attractions around this easy and walkable and beach areas of Waimanalo on the east side. Hope this gives you some great ideas of things to do and see around the town and outlying areas to visit.
Thanks for visiting This Hawaii life and checking out this post on the Best things to do at Waimanalo Beach now. If you enjoyed reading this post, please do share it with any of the social media buttons on the slider.
Disclosure – some of the links above are to affiliate sites that are either reviews or recommendations if you book helps to keep our site running. We appreciate your supporting our website meanwhile