Top 25 Things to Do in Hilo: Unveiling the Beauty and Charm of Hawaii's Vibrant Coastal City
Wondering what the top things to do in Hilo now when you plan a visit to the east side of the Big Island?
Hilo, Hawaii is the state's third largest city and feels quiet, sleepy and unchanged from all the progress made in Hawaii. But seeing Hilo's past and present combined with same old town vibe is actually one of the best things to experience here on the island and why it really has a special charm and place to explore in Hawaii.
You'll find that slow island pace, easy lifestyle and a real Hawaiian culture exist with the Aloha spirit is still alive in Hilo. In fact, everyplace you visit in town and around the East side of the island is filled with friendly smiles and wonderful experiences to be had.
We share all the popular places to visit, unique parks and vista points along with some of the more unique and one of a kind places to explore. Many of these attractions are free or inexpensive places to explore on the east side of the island. When you visit Hilo, you'll find the real aloha here with friendly smiles and faces, easy to meet locals and an real authentic experience you'll enjoy visiting East Hawaii.
Why visit Hilo, Hawaii?
Hilo, Hawaii on the east side of Hawaii island is low key, almost unchanged and friendly. The lush side of the Big Island is sleepy, easy going and filled with aloha from the walkable and fun downtown area with the Bay Front area, Farmers Market and cool shops to explore to the expansive beach front area, Liliuokalani garden and Coconut Island to explore.
You'll love the unique and slower pace here with all of the fun activities and attractions to do around Hilo hawaii
A brief history to Hilo, Hawaii
Hilo, nestled on the lush east coast of the Big Island of Hawaii, is a place steeped in history and wonder. For centuries, Polynesian explorers navigated the vast Pacific Ocean to discover this enchanting land, and their legacy lives on today in the deep connection to the land and sea that characterizes Hilo's unique culture. As the sugar industry took root in the 1800s, Hilo became a bustling hub of commerce and innovation, with plantations and mills dotting the coastline. During World War II, Hilo played a crucial role in protecting the islands from enemy attacks, and brave soldiers were stationed there to defend their country.
But Hilo has also endured tragedy, as seen in the aftermath of the 1946 tsunami that devastated the town. Despite the hardships, the people of Hilo are resilient and determined, and they have rebuilt their town into a vibrant community that honors its past and embraces its future. With its lively markets, fascinating museums, and breathtaking natural wonders, Hilo is a destination that will captivate your heart and soul.
Discover the Best Things to Do in Hilo town
Part of the Magic of living or visiting Hilo Hawaii is to slow down and appreciate the simple things, daily occurrences, shopping at the farmers market, a walk around Liliuokalani gardens, smelling the amazing tropical flowers or just a lazy afternoon in an aqua colored lagoon.
You'll find wonderful things unravel and show you how special Hilo and East Hawaii is when you explore some of the beauty around the east side of the island. Whether you check out the waterfalls, farmers market or botanical gardens in the area, Hilo definitely has a lot of charm and that special Hawaii vibe that everyone dreams about.
The closest airport to Hilo is right at HIlo International Airport just outside of the downtown area.
Here's a quick tour through old town Hilo below
What's the best time to visit Hilo?
The BIg island and HIlo, Hawaii is a year round destination and tends to be busy during the summer holiday season and mostly winter season when visitors to the island want to avoid cold temperatures from where they come from. Visiting Hilo during the shoulder season in spring and fall time frames is actually when the weather is quite pleasant, there are less visitors because it is before the holiday season and prices for hotels and entertainment tend to be cheaper during those timeframes.
The summer is popular with highs in Hilo and East Hawai in the high 70s to low 80s and in the winter time the highs in the mid 70s range. Wintertime is the rainy season, so the weather tends to be more unpredictable and wetter on the east side of the island.
Here's the 25 things to do in Hilo Hawaii
There's so much to see around Hilo outside of just the old downtown district. Just around town are cool parks, waterfalls, lava tubes, botanical gardens and even the Hilo zoo called Panaewa that also a tropical botanical garden to explore.
1. Check out downtown Hilo
Start off your tour of downtown Hilo walking around the historic district with the Bayfront buildings, admire the beautiful architecture, cool shops and boutique stores, museums and a variety of the fun attractions around town and the surrounding areas of East Hawaii.
The small downtown district of Hilo is basically two parallel streets with the main waterfront buildings facing Hilo Bay. Filled with unique mom and pop shops, art galleries and boutique stores, delicious local food restaurants and fun snack shops peddling shave ice and mochi cakes, you'll love exploring the downtown district. One of the best things to do in Hilo freee is this fantastic walking tour of the historic architecture, parks and other attractions in town.
So much color and art even on the building facades with beautiful murals and street art depicting local scenes, culture and Hawaiian traditions around the entire historic district. There's also a profusion of art shops and boutique stores, a revised and colorful farmers market, and delicious food venues to enjoy.
Tip – while your walking around town, check out all the cool and colorful murals popping up unexpectedly around town. It makes for some fun Instagram spots around town to capture your visit down town.
For fun, check out my short Hilo video tour here
2. Visit Hilo's unique museums
The art scene in Hilo is alive along with some of the fantastic historic museums to visit some of the history, culture and lifestyle of this unique city. A visit to the unique Tsunami Museum, Lyman Museum and for kids the Mokupāpapa Discovery Center are perfect learning centers to understand Hawaii's past and public awareness of ocean conservation.
If you are into local arts, crafts and design on the island, check out the current exhibits and events at the Wailoa Art Center and the East Hawaii Cultural Center for more inspiration and and amazing art from the islands.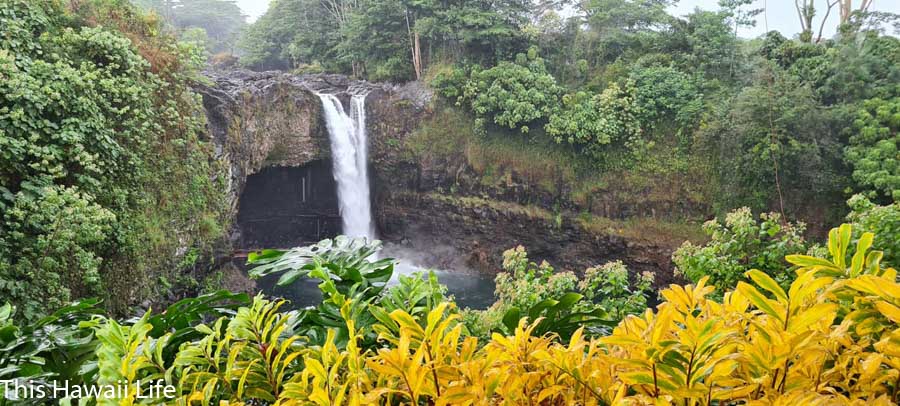 3. Hilo's beautiful waterfalls
One of the most iconic waterfalls and Hilo attraction to visit is Rainbow falls which is part of the Wailuku State park system, Hilo's waterfalls are plentiful and easy to explore. The top thing to do in Hilo and main attraction is visiting Rainbow falls just of Wainuenue avenue. Easy parking and short drive from the historic district, Rainbow falls is an iconic photo op and you can also climb up a set of stairs to see the falls from above and also walk into a forested area behind with one of the largest banyan groves on the island.
Another cool visit further down the road to the Boiling Pots and Pe'e Pe'e falls is another fantastic viewpoint to the lush canyons, rushing river and beautiful waterfalls in the background. If you are in the mood for a hike and viewing spectacular falls, check out Narnia Falls for something unique to visit above Hilo Town.
Tip – for a third waterfall to visit, keep driving up Wainuenue Avenue a half mile until you cross a bridge that will have views to another set of waterfalls called Wai'ale falls All the waterfalls are fantastic to view from the lookout points, but please do not wander off beyond the lookout points for your own safety.
Here's a sweet tour of Rainbow falls in Hilo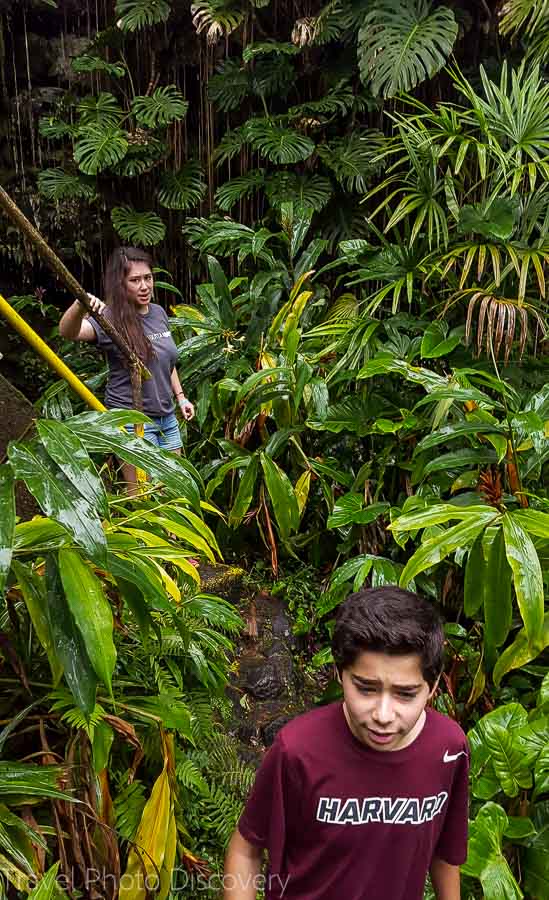 4. Explore Kaumana Caves
A unique Hilo activity is to explore the Kaumana caves just above Hilo town off Kaumana Drive are the Kaumana Caves . The caves are dank old, dark and mysterious for those that love visiting unusual, lush and unique attractions in any city.
The caves are part of Kaumana Caves State Park with free parking and entrance on site. Developed from a lava flow in 1881 from Moana Loa, this lava tube is broken into two sections that you can explore on your own. Down a short flight of ladders and stairs leads you through a lush canopy of vegetation into one of the main openings which is filled with boulders and an adventure to explore.
Tip – be sure to bring a flashlight, sturdy shoes and maybe an umbrella if weather is changing in the park area. There are picnic tables and restrooms at the park if you want to spend more time in the area.
5. Hilo Farmers Market
One of the fun Hilo activities is to visit the local farmers market. If you are in an exploring mode to discover some of Hilo's unique and delicious fruits, snacks and other take away foods or just looking for some souvenirs, then check out the Hilo Farmers Market. Open daily but more active and fuller during the Saturday and Wednesday market, you'll love exploring the market in downtown Hilo.
Make sure to sample some of the unique in season tropical fruits, a refreshing lilikoi ice drink, some mochi snacks or even more filling bento box treats for a bigger meal. Wednesday and Saturdays are larger with vendors selling arts and crafts, souvenirs or other locally hand made goods for visitors looking to take some inexpensive treasures, t shirts or collectibles from the islands.
Tip – there is a food court at the farmers markets with food trucks if you are looking for a bigger meal and local food to try from the area.
Check out visiting the Hilo Farmers Market video below
6. Visit Coconut Island
Wondering what else to see in Hilo that is fun, family friendly and just off Hilo bay? A visit to Coconut island (Moku Ola – meaning island of life) is a must and easy to do crossing a short footbridge to the isolated island that used to be a spiritual place of refuge on the bay. Considered a historic place of refuge in ancient times where villagers would swim to the island for refuge from committing a taboo or broken a rule that could easily be punished with immediate death.
Now the island is geared towards recreation and picnics, little beaches to lounge in and jumping off the lava rock pillars that local children flock to for a free thrill jumping from above the rock tower into the cool aqua cove that is fun to do or just enjoy watching.
Tip – a fantastic place for capturing pictures of Hilo Bay, historic downtown and views of neighboring Liliuokalani gardens and watching local kids jump off the popular lava tower into the small cove.
Here's a quick tour of Coconut Island
7. Scenic Queen Liliuokalani Gardens
One of the fun and scenic things to do in Hilo is to visit the Queen Liliuokalani Garden. The Liliuokalani Gardens are a beautiful and expansive Japanese botanical garden with stunning views of Hilo Bay and town. The largest ornamental Japanese garden outside of Japan, this almost 25 acre garden is named after Queen Liliuokalani who died the year the gardens were started.
The botanical park is also a tribute to all the Japanese immigrants that came to Hawaii to work in the sugar plantations on the island. Featuring beautiful fishponds, arched bridges and walking platforms over the ponds, Japanese inspired pagodas, lanterns and even an authentic tea house that offers a free tea service, you will almost be in Japanese visiting here. This is one of the most unique things to do in Hilo with great views, fantastic history and a fun walk around the historic garden.
Tip – walk the bride to nearby Coconut Island for a fun self tour of the island and lava tower that is a local favorite diving spot.
Here's a nice quick video tour of Liliuokalani gardens in Hilo
8. Hilo Mooheau Bandstand
One of the most unique things to do in Hilo is to visit this Victorian inspired bandstand on the waterfront area. The Mooheau Bandstand has a historic past and holds a variety of political rallies, music events, hula shows and other gatherings on a regular basis.
It's a good spot to for quiet picnics among the giant banyan trees surrounding the park and nice views of Hilo bay and photo ops of Hilo's scenic waterfront area.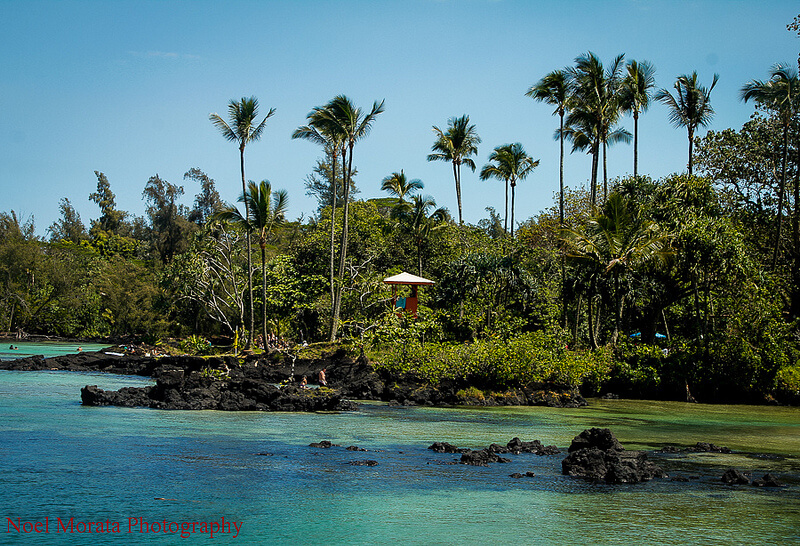 9. Sweet Hilo beaches
One of the fun Hilo activities is to visit some of the cool beaches which are small with family friendly spots, coves, lagoons and unique beaches in town and the surrounding areas. Most of the large canoe regattas and sailing happens right on Hilo Bay.
In town you can visit the main waterfront beach area of Hilo Bay, Coconut Island and Reeds Bay. Just down the road there is a string of lovely little beaches including Onekahakaha Beach, Carl Smith Beach and Richardson Beach where you can spot green sea turtles and colorful tropical fish hanging out just offshore.
Top beaches to visit in Hilo now include:
1 Onekahakaha Beach Park – kid friendly protected beach
2. Carlsmith Beach – beautiful lagoons and islands to swim to
3. Reeds bay – shallow water and lagoons and family friendly downtown
4. Coconut Island – small protected coves and gravel beaches with a tower you can jump from
5. Honolii Beach – a surfing, body boarding beach with mostly gravel beach
6. Richardson Ocean Park – A local popular beach with sandy and rocky inlets and lots of turtles.
Carlsmith is one of the jewel like lagoons to visit here in Hilo
10. Kamehameha statue and Wailoa park
Standing proudly in the center of Wailoa State park is the statue of King Kamehameha (the first king that united the Hawaiian islands). One of four statues made of the king, this one being the tallest at 14 feet, the statue was originally to be placed at a Princeville resort in Kauai.
But since Kauai was never conquered by Kamehameha, the statue was donated to the city of Hilo since it was one of his political centers of power on the island. Once a year on Kamehameha day, the statue is festooned with large gorgeous leis on his arm as a tribute to the king.
Tip – cross the unique bridges that span the Wailoa River and check out the Wailoa Art Center which features ongoing Hawaii inspired art exhibits and artists from the island and neighbor islands.
Here's a local tour guide sharing his views of Kamehameha
11. Hilo Zoo and botanical garden
The small Hilo zoo called Pana'ewa is small, sweet and a lovely visit to see some of the indigenous animals and 80 other animal species. Closed during covid, it has gone through renovations and is recently reopened for visitors to enjoy the zoo.
What makes this zoo special is the rainforest botanical garden that is fun to explore with all the animals located in this tropical garden filled with orchids, bromeliads, tropical rhododendrons, palm trees and various tropical plants and flowers that makes this a special place to explore. There is also a family friendly kid petting zoo that is fun to explore with children in the park.
Tip – the gardens and parking is free to enjoy, but they do accept donations to keep the grounds operating.
Here's some video highlights to visiting the Hilo Pana'ewa zoo
12. Mauna Loa Macadamia Farms
One of the one of a kind Hilo attractions is to visit the Mauna Loa Macadamia nut farm. If you haven't been to a macadamia nut farm, one of the largest is just outside Hilo at the Mauna Loa Macadamia nut farm. Offering free DIY tours of the facility plus free tasting of their complete line of chocolate, sweet to savory macadamia nuts, you'll enjoy the tour, samples and even a sweet garden in the back area of the tasting room for free.
Check out this other fun HIlo things to do video here
13 Enjoy the local Shave Ice in Hilo
There are so many fantastic Shave Ice places to visit and enjoy this frozen desert in the city or enjoy it at the beach. Top places to experience the shave ice scene here in Hilo includes:
Wilson's By The Bay: Wilson's is a well-known shave ice stand located in Hilo. They offer a variety of flavors and toppings to choose from, and they are often praised for their generous portions.
Da Hawaiian Brain Freeze Shave Ice & Ice Cream: Located in the Hilo Shopping Center, this local favorite spot offers both ice cream and shave ice treats that's yummy and a must visit spot.
Hilo Ice Shave: another local favorite spot on Manono street offering fantastic syrups and toppings to make your shave ice experience extra yummy and fun.
14. Try some local poke in Hilo
Hilo is where it is at to experience amazing poke with really fresh fish from the area. You'll find so many local favorites with poke bows and custom poke choices and toppings. Here are some of our favorite places to enjoy.
Suisan Fish Market: Suisan is a local favorite and is often regarded as one of the best places for poke in Hilo. They offer a wide variety of poke options, and their fish is fresh and high-quality. You can also purchase fresh seafood from their market.
Poke to Your Taste: This food truck offers a customizable poke experience. You can choose your fish, sauce, and toppings to create a poke bowl tailored to your preferences.
Island Naturals Market & Deli: This health food store has a deli section where you can find fresh poke options along with a variety of salads and other healthy choices.
15. Visit Honolii for local surfing
Honolii beach park just outside of Hilo is the local favorite surfing spot to watch or try your own hand at surfing here in East Hawaii. There's plenty of parking area along the street above and restroom/shower facilities along with lifeguards stationed to watch all the surfing action on the waters.
16. Friday night market in Hilo
Downtown Hilo has a festive Friday night on the corner of Kilauea and Wainuenue each Friday at the corner open lot that is converted into a fun night market with live music, entertainment, shopping booths and plenty of local food booths to try. This is an easy and fun way to enjoy the local scene and try some great foods for Friday night fun in Hilo
Things to do near Hilo and outside attractions
17. Visit Akaka Falls
An iconic Hilo attraction to visit right away is Akaka Falls. Take a nice easy road trip down the Hamakua coastline to visit the scenic botanical garden and dramatic Akaka Falls. Along the way is the sleepy but colorful town called Honomu which is worth a stop for snacks and curio shopping. But the star Akaka Falls which is one of the most majestic and scenic vistas with a botanical garden to explore with gorgeous bamboo, tropical flowers and lush vegetation.
On the way to Akaka Falls is the small town of Honomu which is fun to stop and try some local snacks, visit the shops and art galleries and support local businesses in the area.
18. Explore Onomea Bay and a lush botanical garden
Just outside Hilo along the Hamakua coast is the scenic Onomea Bay with beautiful overlooking points and a short hike lovingly called Donkey trail down to the bay below. The walk is easy on paved trails down to various water areas and a small waterfall feature in the end or you can explore more of the botanical garden next door at Hawaii Tropical Botanical garden with all the extensive and lush tropical gardens located in this private estate.
Further down the Onomea scenic drive is a cool tropical smoothie hut where you can sample some of the best tropical smoothies on the island with fresh Hawaiian fruits in season. Eventually the road connects back to the main belt highway that leads to Waimea or back to Hilo town.
Here's a visit to Onomea Bay and the botanical garden
19. Check out Honomu town
Just below the Akaka falls area, you'll be passing through Honomu. It's a great spot to explore some local galleries and shops or hang out at the bakeries or cafes for a nice break while exploring this cute little town in Honomu town.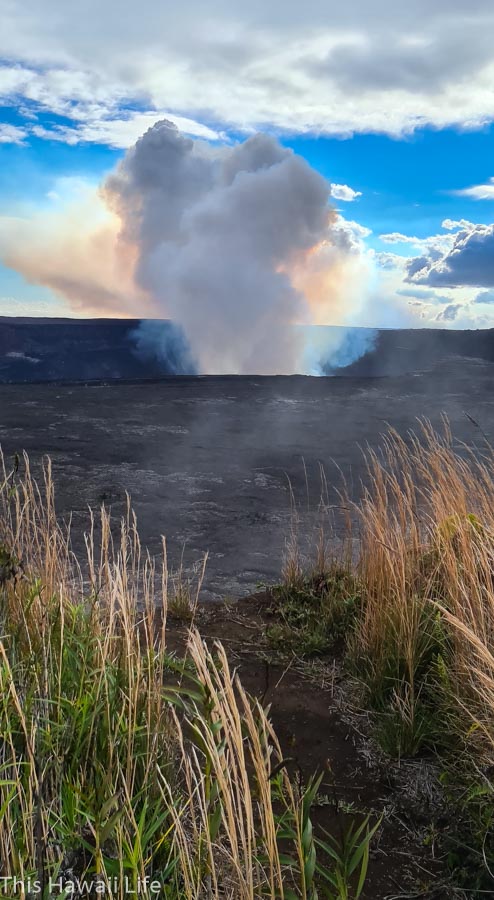 20. Volcanoes National Park
About forty minutes drive down Highway eleven leads to Volcanoes National Park, the top attraction to visit in East Hawaii. The national park is alive with volcanic eruptions, steam clouds mixed with lava, earthquakes happen constantly making this an ever changing national park. You can base yourself in Volcano Village which has all the amenities you need and also lots of fun attractions to explore in the village.
It is lively, colorful and historic with thousands of acres of lava fields, a huge caldera and crater in the center of the park to lush forests of Hapu'u ferns, Ohia trees and other native vegetation. Check out this post on visiting Volcanoes National Park now for more inspiration to seeing nature and the continual lava eruptions at Volcanoes National Park at its most dramatic best in the park.
21. Volcano Village
The Village area of Volcano is a great place to stay overnight, grab a bite or nicer dining venues in town just a short drive from the national park. Also in town, you can visit some of the cool art centers, galleries and other unique shops to explore in the town filled with many creative artists studios that feature local artists in the area.
22. Opihikao, Pahoa town and Puna's Red Road
Old Hawaii is alive along the red road, the scenic eastern loop road filled with beautiful tree tunnels, hidden beaches, roadside and fruit stands around the Puna District. Starting from Pahoa town, driving here will give you a real taste of old Hawaii from Pahoa to Opihikao and even to the new black sand beach at Pohoiki that was created with the lava eruptions on the east side of Hawaii Island in 2018. Along the way to the Red Road, make sure you check out the strange lava molds and botanical garden at Lava Tree State Park, the beautiful and spooky MacKenzie State Park, and the gorgeous folk style interiors of the Painted Church in Kalapana.
If you visit the the Red Road on Sundays, check out the Maku'u Market just outside of Pahoa town, it's the main thing to do in town on Sundays.
This is a drive to the Red road is fabulous and you'll love seeing the lush vegetation, newly created black lava fields and windy roads under tree tunnels with ocean views to enjoy along the way.
You can drive or even bike the Red Road Below
23. Fun activities and adventure on the Hilo side
If you are looking for more fun adventure and activities to do on the east side of the island, check out all these cool activities to do below.
HIlo turtle lagoon and black sand beach experience – this tour takes you to some of the fun swimming lagoons for the popular green sea turtle and some of the favorite local black sand beaches to explore around Hilo town.
Big Island hilo from above, rain forest, waterfalls and coastline tour – Check out this popular helicopter ride through the lush areas above the east side of the island.
Hilo Bay legends and waterfalls tour – check out the popular attractions around the bay, Wailuku falls on an inflatable around the bay.
24. Find a delicious food venue in Hilo
If you're hungry, check out these popular spots around Hilo town that will cater to all your foodie needs now.
Check out my post on the most popular places to eat in Hilo here for inspiration to eating around the east side of Big Island.
Here's some of our favorite spots
Ken's House of Pancakes – A classic Hilo favorite spot for popular favorite foods breakfast to dinner with daily specials
Suisan Seafood Market – the food take out counter offers seafood, sushi and poke rice bowls that are so delicious and to die for
Hilo Bay Cafe – Japanese and Pan Asian modern cuisine with gorgeous views of Hilo Bay from above. Amazing bar service and really delicious dishes makes this an amazing dining venue in Hilo.
Jackie Reys – a stunning bar area and dining spot with classic Hawaiian style dishes in an upscale location. The food is beautifully presented and quite delicious with Hawaiian inspired dishes.
Cafe Pesto – a local favorite Hilo institution with delicious food, yummy pupu appetizers and delicious drinks makes this a popular venue to enjoy on the Bayfront area.
Pineapples – Indoor/outdoor dining at its best with cafe/diner foods like pastas, fish and chips and seafood dishes that are popular and the bar cocktails and drinks are to die for.
Hawaiian Style Cafe – Hearty and big style dishes are offered for those looking for local dishes that you'll probably have leftovers because they are filling.
25. Enjoy the largest mall at Prince Kuhio Center
The largest shopping center in Hilo is located at Prince Kuhio Shopping Center with a large mall, food court and restaurants and a movie theater complex. If you want to find local products and souvenirs and shop local galleries and stores, then head out to Kuhio mall for some easy and fun shopping in the area.
Where to stay in Hilo
There are wonderful local inns, BnB's and hotels that are unique and easy to stay in Hilo as a base, check out all these well reviewed places below.
Grand Naniloa Double Tree – A fantastic location on Banyan drive with bay and ocean views and comfortable modern rooms and amenities. Includes free wifi and 9 hole golf course across from the property
Hilo Seaside Hotel – located on Banyan drive with easy access to beach, attractions and parks. Comfortable and spacious rooms, nice public areas and a wonderful and friendly staff, restaurant and services.
Hilo Bay Ocean Front Bed and Breakfast – Beautiful accommodations and location right on the bay in this classic Hawaiiana home with excellent service, strong wifi and a full Hawaiian breakfast.
Check out these top reviewed hotels on Trip Advisor here for more details, availabiity and prices.
Check out these other Big Island things to do around the island
Check out these other places to visit or some ideas and tips to exploring the Big Island of Hawaii.
Must visit Big Island Waterfalls
Free of cheap things to do on the Big Island
Check out the Top things to do in Kona and the west side of the island
A family friendly visit to the Big Island – a guide to family adventure and activities on the island
Kona snorkel and cruise experience along the gorgeous Kona coast to the Red Cliffs area in South Kona
A visit to the beautiful Kua Bay and beach area
A gorgeous hike and beach time at Makalawena Beach
Hiking around the Big Island of Hawaii
How to get around Hilo town
Getting around Hilo town is relatively straightforward, and there are several convenient options to explore this charming Hawaiian destination:
1. Rental Car: Renting a car is a popular choice for exploring Hilo and its surroundings. There are various car rental agencies available at Hilo International Airport. Having a rental car gives you the flexibility to visit attractions, go on scenic drives, and explore the island at your own pace.
2. Bicycles: Hilo is a bike-friendly town with bike lanes and paths. You can rent a bicycle and pedal around town to explore the local sights and enjoy the beautiful scenery. Just remember to follow traffic rules and wear proper safety gear.
3. Walking: Hilo town is compact and pedestrian-friendly. Many of its attractions, shops, and restaurants are within walking distance of each other. Take a leisurely stroll along Banyan Drive, explore the Farmers Market, or walk along the picturesque Hilo Bay.
4. Public Transportation: Hele-On Bus provides public transportation within Hilo and the island. It's an affordable way to get around, and you can access schedules and routes online. Keep in mind that service may be less frequent compared to larger cities.
5. Taxis and Rideshares: Taxis and rideshare services like Uber and Lyft are available in Hilo. While they can be convenient for short trips, they may not be as prevalent as in more urban areas.
6. Tours and Shuttles: Various tour companies and shuttle services offer guided tours to popular attractions and activities around Hilo. This can be a hassle-free way to explore the area, especially if you're interested in specific tours or excursions.
Opinion: The best mode of transportation in Hilo depends on your preferences and the places you plan to visit. Renting a car offers the most flexibility, especially if you want to explore the Big Island more extensively. However, for local exploration, walking and biking can be enjoyable and eco-friendly options. Public transportation is reliable for those looking to save on costs, and tours or shuttles can provide a guided experience to specific attractions. Ultimately, your choice of transportation should align with your travel goals and the experiences you seek in Hilo.
Pin or save this to your Hawaii Board
Visit Hilo FAQ
Is Hilo worth visiting?
If you really want to get that Hawaii vibe of old town Hawaiin unchanged then visit Hilo, the old town, farmers market, gardens, beaches and waterfont areas and parks are really spectacular here.
How do you spend a day in Hilo?
You can easily spend a day downtown, walking the waterfront area, gardens, lava tubes, little beaches, the zoo and fun drives around the east side of Hawaii from Puna to Volcano area.
Are the Hilo beaches swimmable and fun?
The HIlo beaches are fun and family friendly with many beautiful vistas, lava rocks and black sand beaches. The string of beaches on the east side of Hilo are perfect for families, picnics and outdoor adventures.
What foods is Hilo known for?
Visit the farmers maret and try all the tropical fruits, have some shave ice, eat at the cool fresh poke shops, local coffee and cacao spots, local malasadas, mochi desserts and delicious bento or lunch plate specials from local mom and pop shops.
Conclusion on the top things to do in Hilo Hawaii
You'll love exploring the Old town district of Hilo Hawaii and the surrounding attractions and fun places just outside of town. Stay in Hilo Hawaii as your base and enjoy some of the fun things to do in Hilo to be easy and fun in this small town that is uniquely Hawaiian and full of Aloha.
Thanks for checking out this post on Top things to do in Hilo now. Hope the post was informative and a must read article – if so please do share it with any of the social media buttons around the page.
Disclosure – this post on Top things to do in Hilo now may have affiliate related links to brand offers which helps our site keep operating – we appreciate any purchases through this link and your supporting This Hawaii Life.