25 Best Restaurants in Hilo: A Culinary Journey Through Hilo's Flavorful Delights
If you are looking for the best Hilo restaurants to check out and enjoy, we share all the popular restaurants along with some of the local favorites and delicious mom and pop type of eateries below as well as nicer establishments for a really special dinner out in Hilo town.
The restaurant scene in Hilo has been getting so much better with local food spots, truck food stands to nicer restaurants to eat at in the city. If you are looking for the best restaurants in Hilo to eat and enjoy the locally made food in the area, check out these favorite local places to eat around the city.
With so many restaurants in Hilo to try, you'll find a variety of mom-and-pop diners, cafe style venues to finer dining establishments offering a variety of local style, fusion and even healthy food options around the city that is absolutely delicious.
Here are the best restaurants in Hilo to try now!
Where is Hilo, Hawaii located?
Hilo is located on the eastern side of the Big Island of Hawaii, which is part of the Hawaiian archipelago in the central Pacific Ocean. It is one of the main cities on the Big Island and serves as its county seat. Hilo is known for its lush landscapes, rainforests, waterfalls, and is a popular destination for those looking to explore the natural beauty and culture of Hawaii.
25 top places to eat around Hilo, Hawaii
There are so many places to eat in Hilo and we share all of our favorites below.
These restaurants are in no particular order as the top 25 places to enjoy around Hilo, Hawaii
1. The Seaside Restaurant and Aqua Farm
It doesn't get any fresher with Seaside Restaurant located right of the lagoons in the beach areas of Hilo. This unassuming restaurant serves one of the best fish and seafood you will find on the islands.
Family owned and serving Hilo many generations, the Seaside Restaurant is a real gem and Hilo style eatery.
You should try their Mahi Mahi, fried Aholehole, shrimp scampi, furikake salmon, blackend ahi salad.
Address: 1790 Kalanianaole Ave Hilo, HI 96720
2. Moon and Turtle
Foodies love this place for the chef's innovative take on using basic and popular local ingredients and putting a new spin to regular comfort foods and local favorite foods in town. This is one of the best Hilo restaurants to experience farm to table at its best.
The focus of the cuisine here is local seafoods, Pan Asian fusion inspired dishes with bold, spicy and nuanced flavors with their sauces and various locally sourced ingredients.
Things to try at Moon and Turtle includes: Smoked Ahi Sashimi, Mushroom Risoto, Garlic Butter Belly, Wild Boar Fried Rice.
Address: 51 Kalakaua St Hilo, HI 96720
3. Pineapples
One of the most popular Hilo restaurants and located downtown in an open style venue, Pineapples is also a local favorite spot and popular with tourists. The fun bar scene, indoor / outdoor like environment and live music make this a really fun and easy place to hang out and enjoy some bistro style food with local flavors and ingredients.
Everything on the menu is good including their favorites like fish and chips, hamburger and some other local favorite foods from the area.
Address: 332 Keawe Street, Hilo
Website here
Check out the Pineapples kau kau below
4. Two Ladies Kitchen
A very popular spot with locals and tourists to this specialty food place that makes the local favorite mochi. This is mostly just take out and packaged nicely for gifts or souvenirs, Two Ladies Kitchen always has a line out the door for their delicious and unique mochi.
Not really an eating venue but more specialty Mochi desserts, you'll find really cool and unusual types of mochi being served for takeout service at this famous mochi spot to get gifts or eat right away.
Mochi fans will love visiting the Two Ladies Kitchen below
5. Hilo Bay Café
Located close to Liliuokalani Garden and fronting Hilo Bay, Hilo Bay Café is the local favorite fine dining spot. Not only are the craft cocktails, appetizers, sushi bar and Japanese/Hawaiian fusion food delicious, you'll also get a gorgeous setting and attentive service at the restaurant in this casual but more upscale dining venue.
Address: 123 Lihiwai Street
Website here
Let's check out Hilo Bay Cafe below
6. Hawaiian Style Café
You'll get totally full when done eating at the Hawaiian Style Cafe and even have some take home with your. Offering generous portions of local Hawaiian style food in Hilo, this restaurant is a local favorite place to go for an awesome meal.
Come hungry and order something different from the menu you've never had and you'll have a plateful of really good food. Try their local poke bowls and some of their breakfast specials on the menu.
Address 681 Manono Street, Hilo
Website here
Here's a look at Hawaiian Style Cafe below
7. Suisan Fish market
More take out style food to go to and have a picnic close by at Liliuokalani garden. You'll find local take-out here are typically poke bowls with fresh fish or other seafood specialties on their menu. You can also order fresh fish for cooking later for a meal to die for.
Address: 93 Lihiwai street, Hilo
Website here
Here's a quick tour of Suisan's and what's good to eat
8. Jackie Rey's
A classic restaurant and fine dining with also a fantastic happy hour, Jackie Rey's in Hilo offers fantastic pupus(appetizers) delicious entrees like their trio combo, pork chop, crab cake, local mahi mahi and a slew of delicious desserts. Friendly service, casual in a beautiful old-style building that is a classic dining venue in Hilo
Address: 64 Keawe St Hilo, HI 96720
Website here
9. Café Pesto
Locate on the waterfront area, Café Pesto is a classic presence in Hilo. Serving a variety of Italian inspired and Mediterranean cuisine with local ingredients and fruits and vegetables, you'll find a wide variety of bistro style food and service here from pastas, entrees and delicious desserts. Things to try out are crab cakes, pizza, hamburger, salmon fettucine alfredo and all their pasta dishes are amazingly delicious.
Address: 308 Kamehameha Ave Ste 101 Hilo
Website here
Guy Fieri goes to visit Cafe Pesto in Hilo Bay below
10. The Booch Bar
A local favorite spot in Hilo serving healthy food dining choices covering Paleo, vegetarian, Vegan and Gluten free along with meat that everyone loves to eat. Added healthy fermented foods with pickles, sauerkraut and kimchi to the main food orders makes it a healthy addition. Things to order here include ceviche bowl, French toast, Organic chicken, veggie burger, Tempeh Reuben
Address: 110 Keawe St Hilo
Website here
11. Poke N Sides
Located in the food court area of the Hilo Farmers market, Poke N sides is good cheap local style Hawaiian food and poke you can sample. Made fresh daily, their poke bowl and yummy Hawaiian sides are delicious, affordable and use locally grown ingredients and vegetables. If you are in the Hilo farmers market and hungry, check out the food court area and try Poke N Sides for some delicious local food.
If you are looking for a cheap lunch in Hilo, then consider trying Poke n Sides.
Address: 57 Mamo St Hilo
Website here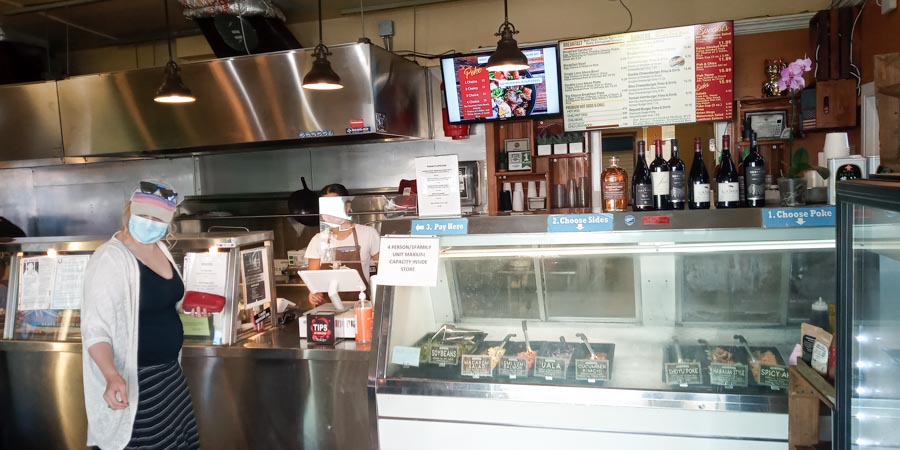 12. Miyo's Restaurant
A popular Japanese style restaurant in a clean and modern space. Miyo's service a variety of tasty bento box meals, tempura and a variety of their Japanese foods to enjoy at the restaurant or take out. Popular things to try on the menu include: Combination plates and bento box, sushi combinations, Ahi don and their daily special dishes
Address: 564 Hinano St Hilo
Website here
Here's a quick look at Miyo's below
13. Ola Brew Co
A popular brew pub on the island and a new location for Hilo, Ola Brew Co creates delicious craft beers, ciders and hard teas along with tasty local foods entrees, appetizers and other light meals.
You can try their sample tasting beers on tap, ciders or hard teas and also the foods that are popular to try here include the Ola burger, coconut shrimp, Banchan sampler, Dan Dan gnocchi, Lechon pork belly and the fried tofu sandwich.
The beer is great, but the food is also spectacular at this hilo restaurant so order up anything that sounds yummy!
Address: 1177 Kilauea Ave., Hilo
Website here
Let's check out Ola Brew below
14. Coconut Grill
Another local favorite dining spot that is casual and feels very friendly and natural and it is. The delicious things to try on the menu here includes their eggs benedict, coconut shrimp, mahi mahi plate, chicken and waffles or their loco moco
The perfect spot for lunch in hilo, Coconut Grill is a winner here.
Address: 136 Banyan Way Hilo Seaside Hotel Hilo, HI 96720
15. Café 100
If you are looking for easy and cheap take out style then Cafe 100 is the mom and pop place to go for local plate lunch style food. A local favorite spot to go to for every kind of Loco moco you can imagine if you are a loco moco fan and enjoy cheap bento style food. One of the most popular places to go for local food on the Hilo side along with Loco Moco on the menu, prices are cheap and food is flavorful and hearty.
Address: 969 Kilauea Avenue, Hilo
Website here
16. Kuhio Grill
A local and favorite eatery located in town with delicious local favorites to try and at decent prices.
Things to try here include local favorites like lau lau, loco moco, vegetable udon tempura or their delicious chicken Katsu
Address: 80 Pauahi St · In Century Building
Here's a look at the dishes at Kuhio Grill in Hilo
17. Ponds Restaurant
Fronting Reed's Bay is the unassuming and local style diner at Pond's restaurant. It's really a local favorite spot for brunch, lunch to even dinner time with a stellar food menu of fresh local dishes and seafood specialties along with really delicious drinks to enjoy your meal and stare out the beautiful windows to Reeds Bay.
Address: 135 Kalanianaole Ave, Hilo, HI
Check out a visit to Ponds restaurant below
18. New Chiang Mai Thai
This Thai restaurant does it right with a host of Thai competitors in the marketplace around Hilo. Thai style with western flavors and ingredients that's not too classic but very tasty and done right to your level of heat factor that you want to eat to. But be careful medium here is also pretty hot so be warned. Great dishes to order her for entrees and appetizers includes their green papaya salad, pad thai, green curry or pumpkin curry, fried spring rolls, Thom Ka Soup and their Chicken satay.
You can go wrong with anything ordered on the menu or their delicious drinks or cocktails to enjoy here.
Address: 110 Kalakaua St Hilo, HI 96720
19. Tetsumen Ramen
A fantastic noodle shop in the Manono mall area with fantastic and reasonably priced noodle dishes. The ramen is amazingly good with lots of different variations to choose from from Tonkatsu, Char Sui or even their veggie ramen bowl is delicious and the broth and very tasty.
Lunch in Hilo, is fanastic here if you are craving ramen or noodles and Tetsumen hits the spot.
You can sit in booths, tables or the ramen bar at the entrance.
Address: 697 Manono St suite 103, Hilo, HI 96720
Places to eat for Breakfast or sweet treats
20. Ken's House of Pancakes
Considered the best best breakfast in Hilo for it's generous breakfast food, Ken's House of Pancakes is where it is at.
The local favorite diner type spot in Hilo for breakfast food and practically all day and night with locals and also tourists wanting good food, friendly service and great portions. Ken's House of Pancakes has so many fantastic daily specials to try along with many of their local favorite foods including their extensive breakfast menu.
Address: 1730 Kamehameha Avenue, Hilo
It's kau kau time at Ken's House of Pancakes below
21. Wilson's By The Bay
This shave ice place gets four stars and is a local favorite place in Hilo to eat. Right downtown off a side street, you'll get fine shave ice with really cool and unusual pairings to experience like Hawaii Rainbow, Li Hing Mui and many tropical flavors to enjoy.
Lines are long here at Wilson's so enjoy the experience and find a nice shady spot to enjoy your delicious shave ice treat in HIlo.
Address: 141 Mamo St Hilo, HI 96720
22. Sweet Cane Cafe
A real treat in Hilo to visit is Sweet Cane Cafe on Kamana Street is perfect for breakfast service or all throughout the day. Everything is fresh to order, delicious smoothies, acai bowls and sandwiches.
Try their pittaya bowl, avocado toast, roasted veggie sandwich or delicious poke bowl made with taro and macadamia nut pesto. Vegetarian and vegans will love this place. Desserts, go for the lilikoi ube haupia cake or cacao acai bow.
Address: 48 Kamana St Hilo, HI 96720
23. Moonstruck
Located downtown and serving delicious baked goods and desserts, this is the sweet patisserie is the place to discovery in town off Furneaux Lane.
Sweet inspirations to try here includes: Lilikoi cheesecake, raspberry lattice bar, lilikoi pineapple rock bun and of course the chocolate croissants.
Address: 16 Furneaux Ln Hilo, HI 96720
Bars with pupu service
24. Hula Hulas
Great looking bar overlooking the pool area and Hilo bay makes this a fun destination spot by the water. The drinks are pricey but still tasty and inventive. You can order some delicious pupu appetizers and even dinner if you decide to extend this out into a full blown meal.
The bar area is fun, colorful and the staff is attentive and give good recommendations for food and drinks.
Address: 93 Banyan Dr Hilo, HI 96720
25. The Temple Bar
Hard to imagine that Hilo has this fun and hip bar that is cool and serves fantastic drinks and pupu service. It's fun to see a lively area of Hilo with such a needed and vibrant bar scene and The Temple Bar hits all the right notes in downtown next to Jackie Reys.
Fun drinks to try here includes: Da Bruce Lee Roy, Temple Chilada, Cucumber Mojito Cujito, Lime Inda Coconut
Address: 64 Keawe St Ste 102 Hilo, HI 96720
Check out these other posts visiting Hilo and surrounding area
Explore the Big Islands Waterfalls now
More inside tips to dining out in Hilo, Hawaii
Here are some inside tips for dining out in Hilo, Hawaii that you should consider before you start picking a spot and opening up that menu.
1. Local Ingredients: Hilo's food scene thrives on fresh, locally sourced ingredients. Explore menus that highlight dishes made with local produce and seafood. This not only supports the community but also ensures a unique and authentic dining experience.
2. Poi Exploration: Don't miss the opportunity to try poi, a traditional Hawaiian dish made from taro root. It's a staple of Hawaiian cuisine and provides a unique and authentic taste of the islands.
3. Farmers' Markets: Hilo hosts vibrant farmers' markets, such as the Hilo Farmers Market. You can savor fresh fruits, snacks, and unique prepared foods while mingling with the locals.
4. BYOB Restaurants: Some restaurants in Hilo are BYOB (Bring Your Own Bottle). If you enjoy a nice glass of wine or your favorite beverage with dinner, this can be a cost-effective option.
5. Respecting the 'Āina: Hawaiians have a deep connection to the land ('āina). Show respect for the environment by cleaning up after yourself and being mindful of your impact when dining outdoors.
6. Poke Varieties: Poke is a Hawaiian specialty, and you'll find many varieties. Explore different flavors and preparations, from classic ahi poke to more adventurous options with octopus or limu (seaweed).
7. Plate Lunches: Look for local spots serving plate lunches. These hearty and affordable meals often include a protein, two scoops of rice, and macaroni salad. They're a filling way to enjoy Hawaiian comfort food.
8. Dine with a View: Seek out restaurants that offer scenic views of Hilo's lush landscapes and the Pacific Ocean. Dining with a view enhances the overall experience.
9. Food Trucks: Hilo has a thriving food truck scene. Don't hesitate to try some of these mobile eateries, which often serve inventive and delicious dishes.
Opinion: Dining in Hilo is not just about the food; it's about connecting with the culture and embracing the island's culinary traditions. By exploring local ingredients, trying traditional dishes, and being respectful of the land and community, you can enjoy a more authentic dining experience. This approach aligns perfectly with your content creation goals, as it allows you to showcase the depth of Hawaiian food culture beyond the popular eateries.
Enjoyed the post – pin it!
Conclusion to the Best restaurants in Hilo
Of all the restaurants near me in Hilo, you'll have plenty of choices of great places to eat. So you can see there are spectacular places to eat Hilo now.
Thanks for visiting and checking out this post on 24 Best restaurants Hilo. Bookmark this post for future reference when you are looking for some Hawaii activities, adventure or fun experiences.
Please do share this post with any of the social media icons on the side bar and thanks for visiting today!
That's it, now it's your turn to share your favorite places to eat in Hilo now
Which of these fun places to eat have you been to or have we missed any locale favorites? Please share them it in the comments below so our readers will have some fantastic food places to explore in town.