Best restaurants in Hilo to try now
The restaurant scene in Hilo has been getting so much better with local food spots, truck food stands to nicer restaurants to eat at in the city. If you are looking for the best restaurants in Hilo to eat and enjoy the locally made food in the area, check out these favorite local places to eat around the city. Located around town, these mom-and-pop venues to finer dining establishments are the places to go in Hilo Now.
Top places to eat in Hilo, Hawaii
Ken's House of Pancakes
The local favorite diner type spot in Hilo for breakfast food and practically all day and night with locals and also tourists wanting good food, friendly service and great portions. Ken's House of Pancakes has so many fantastic daily specials to try along with many of their local favorite foods including their extensive breakfast menu.
Address: 1730 Kamehameha Avenue, Hilo
Website here
Café 100
A local favorite spot to go to for every kind of Loco moco you can imagine. One of the most popular places to go for local food on the Hilo side along with Loco Moco on the menu, prices are cheap and food is flavorful and hearty.
Address: 969 Kilauea Avenue, Hilo
Website here
Pineapples
Located downtown in an open style venue, Pineapples is also a local favorite spot and popular with tourists. Everything on the menu is good including their favorites like fish and chips, hamburger and some other local favorite foods from the area.
Address: 332 Keawe Street, Hilo
Website here
Two Ladies Kitchen
A very popular spot with locals and tourists to this specialty food place that makes the local favorite mochi. This is mostly just take out and packaged nicely for gifts or souvenirs, Two Ladies Kitchen always has a line out the door for their delicious and unique mochi. You'll find really cool and unusual types of mochi being served for takeout service here.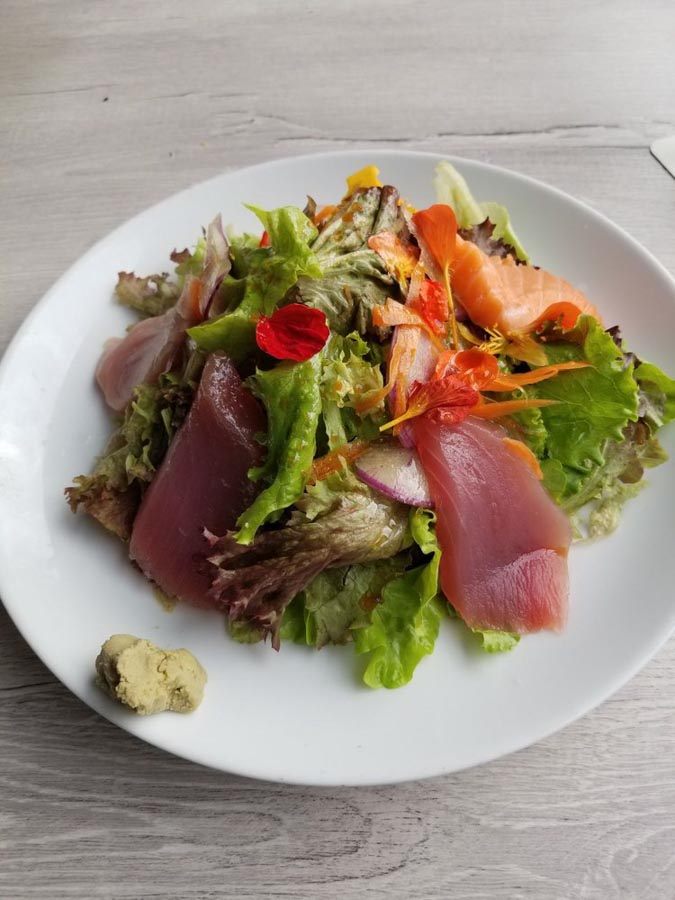 Hilo Bay Café
Located close to Liliuokalani Garden and fronting Hilo Bay, Hilo Bay Café is the local favorite fine dining spot. Not only are the craft cocktails, appetizers, sushi bar and Japanese/Hawaiian fusion food delicious, you'll also get a gorgeous setting and attentive service at the restaurant in this casual but more upscale dining venue.
Address: 123 Lihiwai Street
Website here
Hawaiian Style Café
Offering generous portions of local Hawaiian style food in Hilo, this restaurant is a local favorite place to go for an awesome meal. Come hungry and order something different from the menu you've never had and you'll have a plateful of really good food. Try their local poke bowls and some of their breakfast specials on the menu.
Address 681 Manono Street, Hilo
Website here
Suisan Fish market
More take out style food to go to and have a picnic close by at Liliuokalani garden. You'll find local take-out here are typically poke bowls with fresh fish or other seafood specialties on their menu. You can also order fresh fish for cooking later for a meal to die for.
Address: 93 Lihiwai street, Hilo
Website here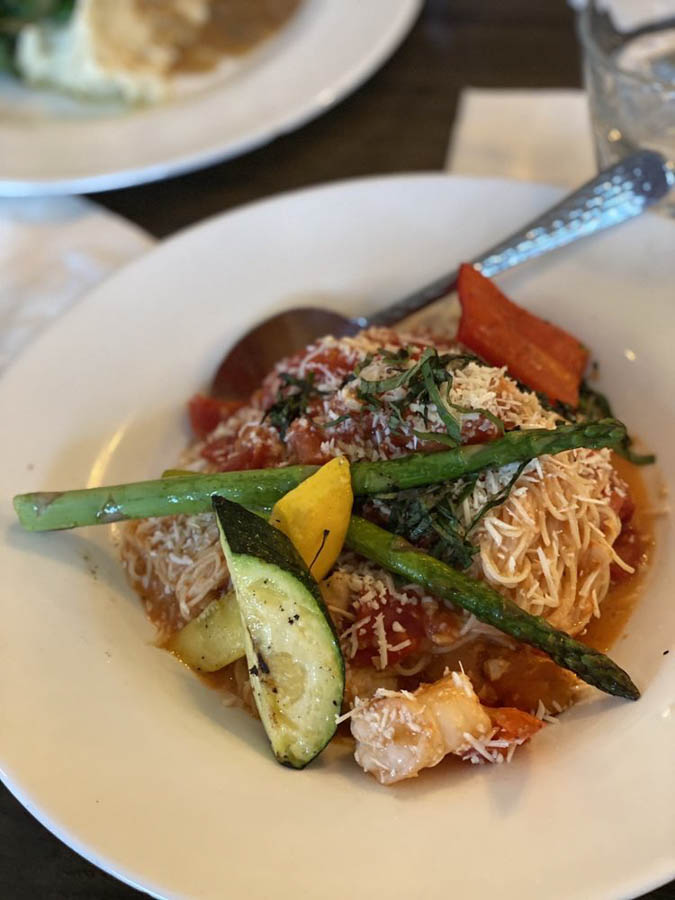 Jackie Rey's
A classic restaurant and fine dining with also a fantastic happy hour, Jackie Rey's in Hilo offers fantastic pupus(appetizers) delicious entrees like their trio combo, pork chop, crab cake, local mahi mahi and a slew of delicious desserts. Friendly service, casual in a beautiful old-style building that is a classic dining venue in Hilo
Address: 64 Keawe St Hilo, HI 96720
Website here
Café Pesto
Locate on the waterfront area, Café Pesto is a classic presence in Hilo. Serving a variety of Italian inspired and Mediterranean cuisine with local ingredients and fruits and vegetables, you'll find a wide variety of bistro style food and service here from pastas, entrees and delicious desserts. Things to try out are crab cakes, pizza, hamburger, salmon fettucine alfredo and all their pasta dishes are amazingly delicious.
Address: 308 Kamehameha Ave Ste 101 Hilo
Website here
The Booch Bar
A local favorite spot in Hilo serving healthy food dining choices covering Paleo, vegetarian, Vegan and Gluten free along with meat that everyone loves to eat. Added healthy fermented foods with pickles, sauerkraut and kimchi to the main food orders makes it a healthy addition. Things to order here include ceviche bowl, French toast, Organic chicken, veggie burger, Tempeh Reuben
Address: 110 Keawe St Hilo
Website here
Poke N Sides
Located in the food court area of the Hilo Farmers market, Poke N sides is good cheap local style Hawaiian food and poke you can sample. Made fresh daily, their poke bowl and yummy Hawaiian sides are delicious, affordable and use locally grown ingredients and vegetables. If you are in the Hilo farmers market and hungry, check out the food court area and try Poke N Sides for some delicious local food.
Address: 57 Mamo St Hilo
Website here
Miyo's Restaurant
A popular Japanese style restaurant in a clean and modern space. Miyo's service a variety of tasty bento box meals, tempura and a variety of their Japanese foods to enjoy at the restaurant or take out. Popular things to try on the menu include: Combination plates and bento box, sushi combinations, Ahi don and their daily special dishes
Address: 564 Hinano St Hilo
Website here
Ola Brew Co
A popular brew pub on the island and a new location for Hilo, Ola Brew Co creates delicious craft beers, ciders and hard teas along with tasty local foods entrees, appetizers and other light meals. You can try their sample tasting beers on tap, ciders or hard teas and also the foods that are popular to try here include the Ola burger, coconut shrimp, Banchan sampler, Dan Dan gnocchi, Lechon pork belly and the fried tofu sanwich.
Address: 1177 Kilauea Ave., Hilo
Website here
That's it, now it's your turn to share your favorite places to eat in Hilo now
Which of these fun places to eat have you been to or have we missed any locale favorites? Please share them it in the comments below so our readers will have some fantastic food places to explore in town.
Thanks for visiting and checking out this post on Best restaurants in Hilo. Bookmark this post for future reference when you are looking for some Hawaii activities, adventure or fun experiences.
Please do share this post with any of the social media icons on the side bar and thanks for visiting today!