Try Loco Moco – the ultimate comfort food in Hawaii
Loco Moco is a very popular local style meal on the islands that typically is served take out or fast-food style for cheap and easy lunch time fare for Hawaiian food that's so good to eat any time of the day. Loco Moco is that comfort food that everyone craves on the island and so good to eat.
Why try eating Loco Moco?
This is probably the ultimate favorite local food to eat on the island especially if you want easy to eat comfort food that is so delicious or Onolicious as we say in Hawaii. This dish is typically on the menu at any diner, take out or mom and pop cafe all around the island and always hits the spot any time of the day. It is a savory, salty, gooey and filling dish that everyone craves for local style food on the islands.
When can you order a Loco Moco?
Most people are surprised that Loco Mocos are on the menu for breakfast, lunch and dinner service because this food is a local favorite that covers all the typical ingredients to the three daily meals. This "ono" or delicious plate meal is so easy to make or just go to your favorite local diner to serve one up right away. It really is comfort food from Hawaii, fast and cheap to eat.
Origin of the Loco Moco
The first Loco Moco dish was created in downtown Hilo, at the Lincoln Grill Restaurant in 1949 from local teenagers with a sports club that wanted something different than a sandwich and was very cheap, easy to make and fast to prepare. They asked for a bowl of rice with a meat patty and some gravy and later an egg was placed on top.
Started in the late 1940s, the loco Moco quickly became a popular comfort dish ordered around take out places in Hilo and then the rest of the islands with different variations in between of this delicious dish.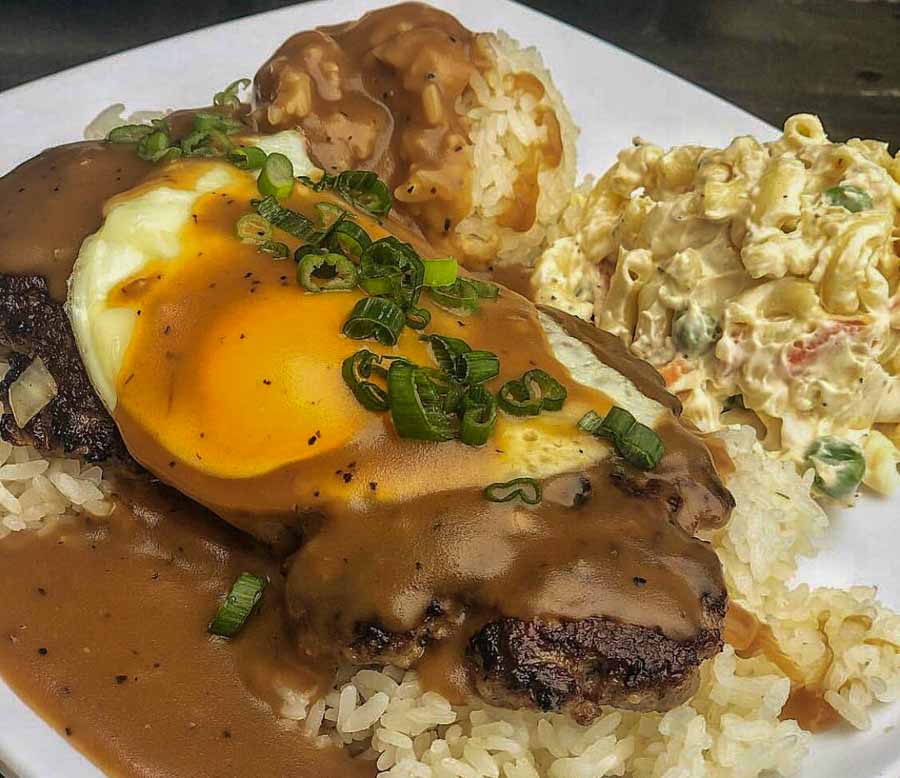 Why is it called Loco Moco?
The instant hamburger over rice meal became a hit at the Lincoln Grill, the teenagers dubbed the dish Loco Moco for one of the members who's nickname was "Crazy" also studying Spanish, the Term "Loco" fit right in along with moco which just rhymed with Loco. Although, Spanish visitors think it's weird because moco means mucus, so the actual translation is Crazy Snot dish in Spanish. Local slang and pidgin fits right in with the Loco Moco in today's food vernacular.
This burger on steroids is delicious and fast to eat especially with hungry locals, surfers or visitors wanting to eat something fast, local and cheap.
What is in a Loco Moco?
Basically, in a classic Loco Moco you'll find a big scoop of rice that is topped with a hamburger steak and then smothered with gravy and a runny fried egg of top. There are so many different takes and combinations made from the classic dish that would make your mouth spin. Most original references to the actual plate lunch were started with making and selling Loco Moco to hungry folks on the islands looking for some fast and cheap to eat from a surf shack on the islands. The basic ingredients that make the loco moco flavorful include: grated onions, shredded garlic, salt and pepper, soy sauce and were an egg is used as a binding ingredient for the patty and keeps it all intact. A runny egg on top is the perfect topping along with a generous scoop of delicious gravy sauce.
Comfort food at its best
Loco Moco is a favorite go to for locals on the island. The combination of gravy poured over sticky rice and an egg yolk broken into the dish adds to the creamy and mouth watering dish. But beware, loco moco's are cholesterol heavy as most comfort dishes are.
The Loco Moco represents Hawaii's melting pot at its best and representing the delicious mash up of Asian and Western cuisine on the islands. One one of the most popular plate lunch dishes offered at local mom and pop shops to even fine dining venues around the islands, Loco Mocos on the menu are always so good to eat.
Other interesting variations of the Loco Moco may include:
Portuguese sausage
Fried spam
Ham
Tofu
Kalua Pork
Teriyaki Beef
Teriyaki Chicken
Mahi Mahi, shrimp, oysters and other seafood
Where else is loco moco popular
Outside of Hawaii Loco Moco is also a popular dish in Japan and served in café style places called Yoshoku. The Japanese version of the Loco Moco has a thicker sauce made from ketchup and Worcestershire sauce or even a tonkatsu sauce instead of the gravy sauce typical of Hawaiian style loco moco.
Check out these cool recipe variations of the Loco Moco
Making comfort food in a Loco Moco is relatively easy with few basic ingredients to use. Here are some very easy recipes from the classic Loco Moco to some really delicious interpretations of the dish below.
The Moco Loco Classic Recipe
Loco Moco with a Miso brown gravy
Moco Loco done 6 different ways
How about a Loco Moco Burger
Other fun facts and trivia about Loco Moco in Hawaii
Loco Mocos make a good hangover dish after a heavy night of drinking
Chef Hideaki Miyoshi of Honolulu's Tokkuri Tei restaurant created the largest Loco Moco with over 600 pounds of rice, 300 pounds of beef, 200 pounds of gravy and 300 eggs to break the largest Loco Moco in Guinness World Records.
The popular Rice Fest in Hilo always sells Loco Mocos as the local favorite dish ordered at the festival.
One of the most unique eating venues selling mostly different variations of Loco Moco is found at Cafe 100 in Hilo, dubbed the Home of the Loco Moco
Check out these other delicious Hawaiian inspired food topics
Locals love these tasty Hawaiian snacks
Popular Hawaiian dishes you need to try
Traditional Hawaiian food favorite dishes
Delicious Hawaiian tropical fruits
Hawaii chocolate making and tour
Conclusion on eating Loco Moco
So does this post convince you to try eating a loco moco or have you actually tried eating one on the islands recently?
Thanks for visiting today and checking out this post on Loco Moco. I hope you are inspired to plan a visit and enjoy the amazing cuisine of Hawaii. If you enjoyed the images and post, could you please share it with any of the social media buttons located around the post.