Hilo Airport: Travel to the Big Island, Hawaii
Hilo Airport (ITO) is one of two airports on the Big Island, the second one is Kona International airport located on the west side of the island. The Hilo International Airport services all East Hawaii and the districts of Hilo, Puna, Hamakua, and Kau in general. A fantastic airport that feels comfortable, friendly and easy to maneuver around from check in, TSA and nice public lounge area and gate service. The airport has wonderful outdoor gardens and open-air plan that feels very Hawaii and laid back.
About Hilo Airport
Most of the flights to Hilo are from the main hub at Honolulu International Airport. There are some flights that arrive direct from the mainland with Southwest Airlines and United Airlines, but the majority are interisland flights with Hawaiian Airlines being the major carrier in the area. Originally established as an airport with a large military air operation, the demise of the military presence created a new civil airport that grew to encompass over 1300 acres of land and set up to accommodate large aircraft flying to the East side to Hilo. Visitors enjoy the airports indoor/outdoor concept and warm staff espousing that Aloha vibe that's very natural in this environment.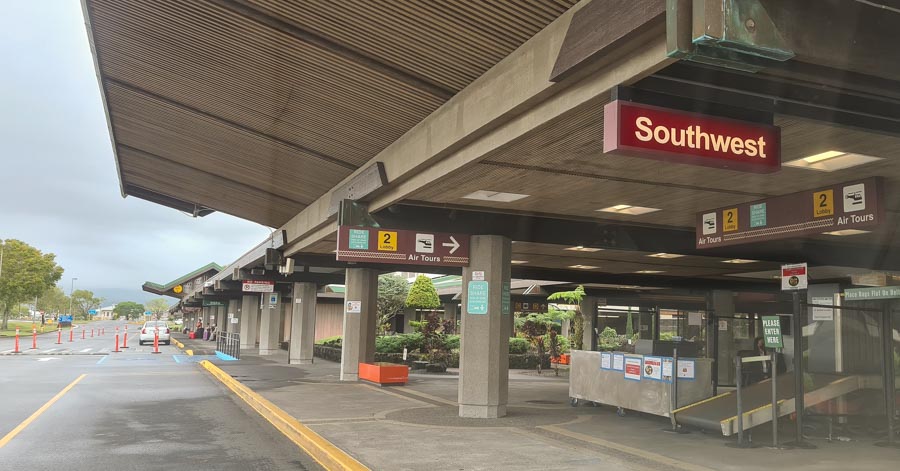 Transportation services from the airport
There is public transportation service at the airport with bus service from the airport to the main bus terminal in downtown Hilo, check the Hele-on service website here for more information hele-on website., There are rental car vendors at the island kiosks just across from the arrival area. Also, taxi service is available curbside on the far left and far right side of terminal. Uber and Lyft service are only available outside of the airport area unfortunately although drop off is fine to the airport.
Once inside the general lounge area you'll find the standard food services, souvenir/general merchandise store and some wonderful displays around the lounge area with this beautiful casual Hawaiian furniture with classic Hawaiian fabrics that really fit the comfortable vibe and feel of the airport. Air departures and arrivals are prompt and done very efficiently probably because of the lower volume the airport receives compared to its counterpart at the Kona airport.
Drive time from Hilo airport to major destinations on island
From airport to downtown Hilo is less than 15 minutes
Volcano Village – approximately 45 minutes
Pahoa town – approximately 2 ½ hours
Waimea area – approximately 1 ½ hours
Further Reading
Hawaii travel information and Covid travel