Paradise Found: Discover the Beauty of Anaeho'o-malu Bay or A Bay at the Waikoloa resorts area.
ʻAnaehoʻomalu Bay, also known as A-Bay or Waikoloa Beach located in the Waikoloa beach resort areas is a very popular beach area along the gorgeous Kohala coast to enjoy along with fantastic restaurants and amenities to enjoy in the area.
This beach area on the Kohala coastline is easy to enjoy a nice beach day, shallow water makes this family friendly with nice sandy bottom, life guards and full amenities on the beach to make this a fun beach to enjoy.
There's plenty to do around the beach area from watersport fun, hanging out at the beach club for drinks or dining, beach combing, exploring the fish ponds or just spending a nice day on the sandy beach areas with mostly calm waters around this bay. Whatever you are looking for beach day fun at Anaeho'omalu Bay or A Bay this is the place to go in the Waikoloa area.
Quick Plan your West side Big Island Itinerary
Are you in a rush on a last-minute trip to visit the West Side, Big Island? Well then, try our jump start guide to book the best tours and hotels below.

Pro Tip – Since you are planning to visit take this Full circle island tour and enjoy fantastic views along your BIg Island tour

Top Tours to Try in the West side
Volcanoes Naional Park tour – Day Trip Tour
Private Helicopter tour– Top Rated
Manta Ray Dive – Easy tour classes

Where to Stay in around the West Siden
Hilton Waikoloa Village – Family Friendly in Waikoloa Village
Fairmont Orchid – Kohala Coast Resort
Mauna Lani Auberg resort– Kona Resort
Weather and best time to visit Anaeho'omalu Bay
Anaeho'omalu Bay, often referred to as A-Bay, is a fun beach destination on the Big Island of Hawaii. If you're planning a visit, here's what you need to know about the weather and the best time to go.
Weather:
The weather at Anaeho'omalu Bay is typically warm and tropical throughout the year. However, there are some variations you should be aware of:
Dry Season (December to April): This is considered the best time to visit A-Bay. The weather is generally drier, and you can expect plenty of sunshine. Daytime temperatures range from the mid-70s to mid-80s Fahrenheit (24-29°C).
Wet Season (May to November): While it's still warm during the wet season, there's a higher chance of rain, especially in the afternoons. However, these are often brief showers, and it doesn't necessarily mean your whole day will be washed out.
Best Time to Visit:
The best time to visit Anaeho'omalu Bay is during the dry season, from December to April. This is when you'll experience the most pleasant weather with plenty of sunshine and lower chances of rain. It's ideal for outdoor activities like swimming, snorkeling, and enjoying the beach.
Additionally, A-Bay is less crowded during this period, making it a more peaceful and enjoyable experience. Be sure to check for any specific events or festivals happening in the area during your visit, as they can add a unique cultural touch to your trip.
Keep in mind that Hawaii, in general, can be a popular destination, so it's a good idea to book accommodations and activities in advance, especially if you plan to visit during the peak tourist season.
Anaeho'omalu Bay or A Bay (Beach day, adventure sports, eat & gorgeous sunsets)
How to get to Anaeho'omalu Bay or A Bay
From Kona airport drive Hwy HI 19 19.1 miles to Waikoloa Village. From Waimea, take HI 19 20.3 miles to Waikoloa and follow signs to get to A Bay area. From Kailua Kona, Anaeho'o malu bay is about 19 miles to the beach area.
Best 12 things to do around Anaeho'o-malu Bay (A Bay)
There's plenty to do around A Bay then just sit or swim around the bay, you can be more active and do some water adventure fun, explore the tidepools or even take a nice cruise in the area. Check out all these fun activities and details below.
1. Tide pool exploration
There's a lot of fun tide pools to explore around A Bay on the black lava rocks to check out. You'll find some interesting sealife and other discoveries just walking around the tidepools.
2. Rent a kayak, Sup or water adventure toy on A Bay
You can rent some of the water toys on the bay for some beach fun or exercise. Check out Ocean Sport Outfitter right on the beach fronting the Marriott resort for all different equipment you can rent by the hour or half day.
3. Go snorkeling around A bay
If you are into snorkeling fun, check out the rocky beaches on the far left or right of the sandy areas to check out the tropical fish and other sea life round the bay where the water is clearer and there are more fish and other marine life hiding in the rocky areas of the beach.
If you are looking for a fun cruise along the Waikoloa coastline, you'll enjoy this fantastic snorkeling experience in the area. A beautiful catamaran will take you to all the scenic spots in the area along with stops to the best snorkeling spots in the area.
5. Explore the fish Royal Fish ponds
The royal fish ponds at A Bay are nicely maintained by the Marriott Waikoloa resort and you can easily explore the grounds and boardwalk area and learn some of the interesting history and culture of the life here on the coastline and the significance of these important fish ponds. These anchialine ponds, were fed by freshwater springs as well as the ocean which allowed smaller fish to swim through and stay in the ponds for safety and eventually becoming a food source for the pond caretakers. in the ponds you will find mullet, milkfish, and shrimp in these open ponds with some eels, manini and papio also finding places to hang out in.
6. Take a sunset cruise around A Bay
You can do a sunset cruise experience starting at A Bay and exploring the Kohala coastal areas through The Spirit of Aloha outfitter located right on the beach area. You enjoy enjoy the water views of the area and experience sunset on a coastal cruise in the area along with drinks offered on the tour. Another outfitter on the Kawaihae area offers a sunset sailing experience here you can check out for comparison.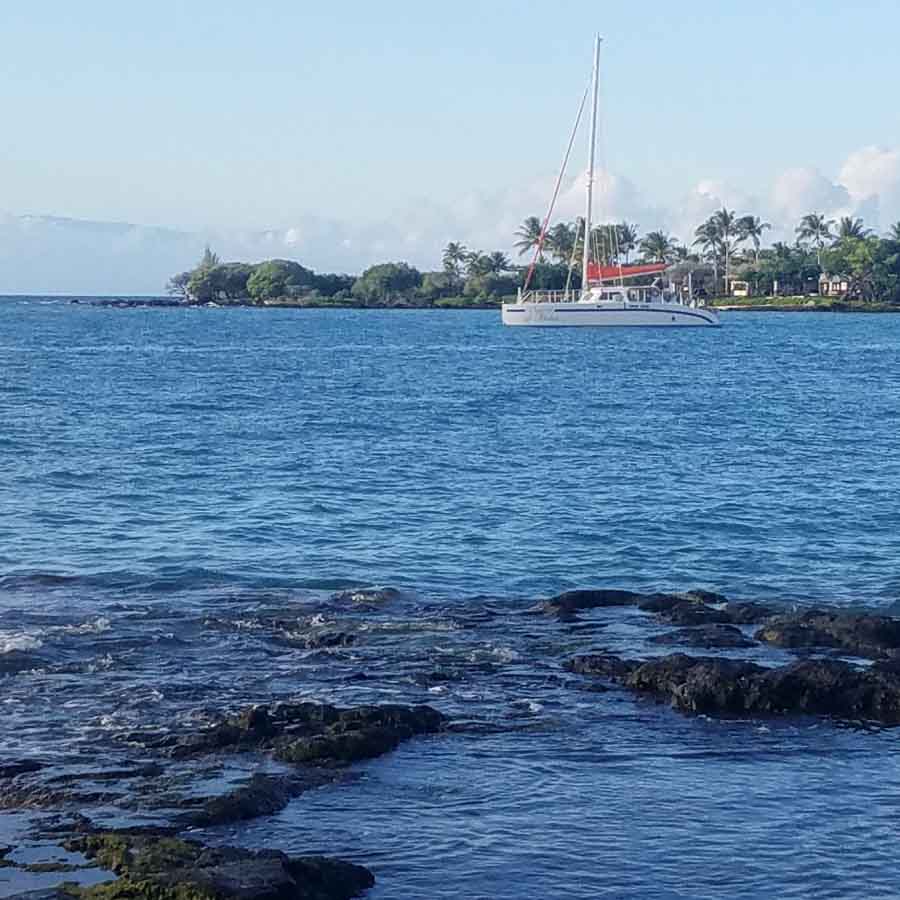 7. Enjoy a Luau experience at Waikoloa resort
If you are looking for a Luau experience to do in Waikoloa area, you can have a full experience at the Hilton Waikoloa called the Legends of Hawaii. Now reopened for visitors to enjoy a luau experience right at the Hilton grounds, check the link for availability and calendar.
8. Happy Hour time on A Bay
Happy hour is fun at A Bay if you are waiting for sunset on the beach, you can also hang out at the Lava Lava Beach club which has a fantastic happy hour starting from 3 to 5pm with special drinks and pupus at reduced prices and those great views and other cool hang out outdoor spots around the beach club. It does get busy at this time so plan ahead if you want to enjoy some time here during sunset.
Check out the Happy hour specials and times here for some Lava Lava fun in the sun.
9. Ultimate Helicopter Island experience from Waikoloa
You can do a variety of island tours to experience the best of seeing the Volcanoes, magnificent coastline and waterfalls through Blue Hawaii here. Check the details of the amazing once in a life time tours from their Waikoloa area.
You can take a fantastic helicopter tour here that hits all the top Big Island attractions and monuments from above in this spectacular ride. From touring above Volcanoes, the gorgeous Hamakua coastline, stunning waterfalls and lush rainforests above the Kohala mountains, you'll get a fantastic view that few will ever get to enjoy.
Check out this helicopter video tour of the area
10. Enjoying sunset at A Bay
Sunsets are easy and relaxed on A Bay with most of the crowds drifting off to the Lava Lava for happy hour so you can have a good part of the beach area to enjoy on your own. The water is nice and calm so there are still people swimming on the beach at this time or taking the local sunset cruise with the catamaran docked on the beach and ready to take you on a cruise if you want to enjoy some special sunset time on the water.
Enjoy a fantastic sunset sail around the Waikoloa area with a launch directly on A Bay here, you'll love the views from the water and coastlines here.
When it is winter season, the whales cruise out along the coastlines of Waikoloa and a whale watching tour is a must in this area. You'll enjoy cruising the areas off the Waikoloa coastline and spot some of the local marine life and humpback whales to the area.
12. Enjoy a road trip through Waikoloa and the Kohala coastline
Take an unforgettable road trip journey from the tranquil Anaeho'o-malu Bay to the captivating Kohala coastline in Hawaii. As you leave the bay behind, prepare to be mesmerized by the scenic drive along the coast. Feel the ocean breeze as you cruise along winding roads, passing by breathtaking beaches, rugged cliffs, and lush green landscapes. Take a moment to stop at scenic overlooks, capturing panoramic views of the sparkling blue waters and dramatic coastline. Continue your adventure towards the Kohala region, where you'll encounter charming coastal towns, historic sites, and beautiful stretches of golden sand.
Explore hidden gems along the way, such as Pu'ukohola Heiau National Historic Site, where you can learn about Hawaiian history and culture. Indulge in local cuisine at roadside eateries, and soak up the sun on picturesque beaches. This road trip from Anaeho'o-malu Bay to the Kohala coastline promises unforgettable moments, breathtaking scenery, and a deeper connection with the natural beauty of Hawaii.
More tips to visiting Anaeho'o-malu Bay at Waikoloa
Here are some additional tips to enhance your experience when visiting Anaeho'o-malu Bay at Waikoloa:
Timing: Opt for early mornings or late afternoons to avoid the midday heat and crowds. These times offer a more peaceful atmosphere for enjoying the beach.
Beach Essentials: Remember to pack essentials like sunscreen, hats, swimwear, beach towels, and snorkeling gear. The calm waters of the bay make it ideal for swimming and snorkeling, allowing you to explore the underwater world.
Picnic and Refreshments: Bring a picnic lunch or snacks to enjoy on the beach. Take advantage of the picnic tables and grassy areas available for a relaxing meal. Don't forget to bring an ample supply of water to stay hydrated.
Shade and Umbrellas: Consider bringing a beach umbrella or canopy to provide shade from the sun. Taking breaks from direct sunlight helps prevent sunburn and overheating.
Wildlife Consideration: Maintain a respectful distance from marine life, such as turtles or tropical fish, that you may encounter while snorkeling. Avoid touching or feeding them to ensure their safety and the preservation of their natural habitat.
Beach Safety: Be aware of any posted signs or warnings regarding ocean conditions. Familiarize yourself with the bay's currents and potential hazards. Swim in designated areas and follow the guidance of lifeguards, if available.
Explore Nearby Attractions: Take advantage of the bay's location and explore other attractions in the Waikoloa area. Shopping centers, restaurants, golf courses, and cultural sites provide additional activities to complement your beach visit.
Remember to respect and preserve the beauty of Anaeho'o-malu Bay by keeping it clean and free of litter. Enjoy your time at this stunning beach and create lasting memories of your Waikoloa experience.
Additional reading on Big Island attractions
Best beaches to visit in Hawaii
Must visit Big Island Waterfalls
Free of cheap things to do on the Big Island
A family friendly visit to the Big Island
Kona snorkel and cruise experience
kahalu'u beach park for snorkeling fun
Enjoy a hike and beach at Makalawena Beach
Save this to your Hawaii board
Have you been to Anaeho'omalu Bay or A Bay?
Please share your thoughts and other recommendations in the comments below with your recommendations.
Conclusion to visiting Anaeho'o-malu Bay or A Bay
In conclusion, a visit to Anaeho'o-malu Bay is a true tropical paradise experience that will leave you in awe of its beauty. The serene turquoise waters, palm-fringed shoreline, and picturesque sunsets create a tranquil and idyllic setting. Whether you choose to relax on the sandy beach, snorkel in the vibrant underwater world, or simply take in the breathtaking views, Anaeho'o-malu Bay offers a peaceful escape from the hustle and bustle of everyday life. Immerse yourself in the beauty of nature, soak up the sun, and let the soothing sounds of the ocean rejuvenate your soul. A visit to Anaeho'o-malu Bay is a true slice of paradise that will leave lasting memories of tranquility and natural splendor.
Thanks for visiting today and checking out this post on Anaeho'omalu Bay or A Bay. I hope you are inspired to plan a visit and enjoy these wonderful attractions. If you enjoyed the images and post, could you please share it with any of the social media buttons located around the post.
Disclosure – some of the links mentioned above are affiliate links that do help to maintain our site if you book directly here. We appreciate your help in keeping this site running and giving you the best information on visiting Hawaii.