Best restaurants in Honolulu (our favorites to eat from Divey good to upscale dining)
Visiting Oahu and wondering what the best restaurants to in Honolulu now? With so many visitors coming to stay and explore the Honolulu area, it's always on tourists minds on where to eat that is fun, delicious and cool to hang out in. There's quite a few new, trendy and fun places to eat in the city along with many traditional favorites that everyone loves to visit and eat regularly for the really good food here
Honolulu was typically on the tourist map for beach, shop, sun and fun places to explore outdoors and the food scene was just there to fill you up and not really exciting. But, within the past decade, the restaurant scene in Honolulu has changed with a variety of fresh, farm to table and locally sourced ideas that brings an exciting edge and experience to dining around town.
Check out these top recommended places to eat in Honolulu from travel journalist and bloggers on where to enjoy a fabulous meal in this exciting and food forward city. We share everything from divey drive in style to trendy and then fine dining experiences around the city.
You'll want to bookmark this post for later when you are hungry and really want to eat some delicious food in the city.
Best places to eat in Honolulu
You'll find many of these restaurants scattered around Waikiki and Honolulu area. The star system rating is from 1 to 4 stars in terms of price range that you will find on the average menu at each establishment.
Chef Chai's $$$$
Asian Fusion cuisine, the excellent food, healthier dish options and delicious preparations and presentations make this a must visit dining venue.
Must try dishes here includes: Oxtail lemongrass soup, scallops and risotto, grilled Mongolian style lamb chops, Grilled Kurabota Osso Bucco and for dessert chocolate lava cake or fried bananas. For an extra treat go for the tasting menu or the appetizer plate sampler
Address: 1009 Kapiolani Blvd Honolulu, HI 96814
Restaurant at the Cutlery $$$
New on the block this hip and fun resto is part salon and part eatery that somehow fits the cool vibe and food that is being presented. Located in the old town of Honolulu at Kaimuku, the American bistro but with Hawaiian flare and ingredients. There's indoor and outdoor dining available and the interiors are modern and sleek. The twist is that this is a hair salon and the other part of it is a restaurant to make this a fun and eclectic space.
Things to try out at the Cutlery include honey Macnut shrimp, Pork belly bao, shrimp garlic pasta, miso salmon, braised short ribs, crispy chicken. Follow that up with a delicious dessert of crème Brule, cheesecake or apple tart and you'll come home happy.
Address: 3435 Waialae Ave Honolulu, HI 96816
There is no website at the moment
Morimoto Asia $$$$
This is Asian fusion cuisine done well with Iron Check Morimoto in his beautiful restaurant located on Kuhio beach and gorgeous ocean views.
If you're into delicious pupus or appetizers try their Hamachi Tacos, Tuna pizza or the Spicy tuna on crispy rice.
For Entrees must order dishes includes Crispy Whole Fish w/ tobanjan chili sauce, Angry Lobster with a red curry sauce, or how about an A5 Wagyu Steak selection!
Address: 2490 Kalakaua Avenue, Waikiki (808) 922-0022‬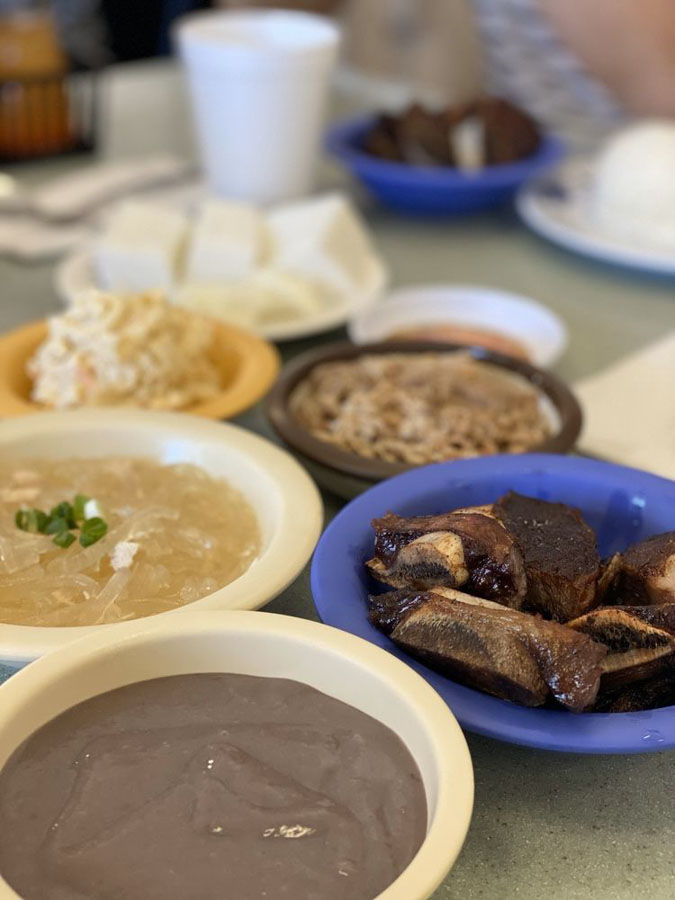 Helena's Hawaiian Food $$
It's not often that a low-key diner is the spot to go for traditional Hawaiian food but Helena's Hawaiian Food delivers and is totally Onolicious (delicious). You'll love the homey Hawaiian vibe and casual and friendly service and when you ask for what to eat, you'll get some fantastic recommendations. There are no reservations so you do have to put your name on the list and also cash is the only payment method here along with limited parking but definitely worth the effort if you do find parking.
Top things to order at Helena's includes Kalua pig, Lomi salmon, Pipikaula short ribs, fried butterfish collar, Lau lau, squid luau and then for a nice simple dessert an order of Haupia.
Located in the area of old town in a mixed commercial/residential area with street parking
Address: 1240 N School St Honolulu, HI 96817
Marugame Udon $
A ramen shop that is truly above par with tasty broths and noodles that are made to perfection and creating a delicious and tasty combination of flavors. With 7 different types of udon noodles to choose from you can decide on you can order yummy sides that will match perfectly to your dish.
Must try udon dishes here includes Kake Udon, Bukake Udon, Niko, Curry, Ontama or Kamaage Udon.
Address: Location – 2310 Kuhio Avenue, Suite 124, Waikiki Phone – (808) 931-6000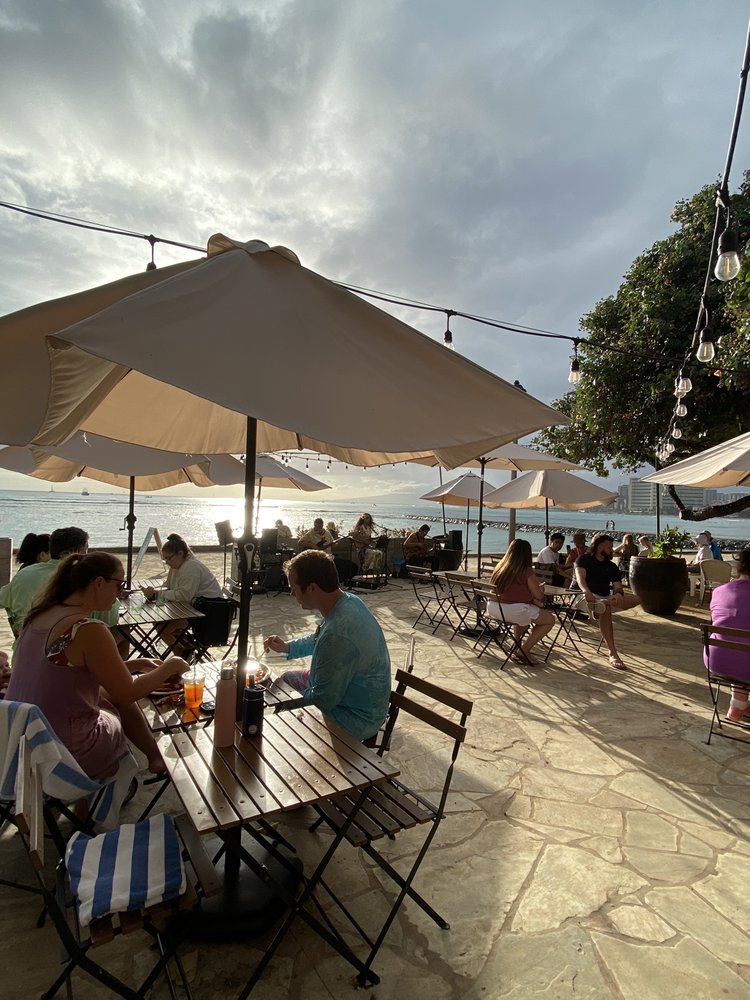 Barefoot Beach Café $$
Located right at Queen's Beach, enjoy the delicious views from this family run restaurant and casual friendly service. The café serves up a delicious breakfast menu but also does lunch and dinner service. Their menu is expansive with their breakfast dishes include Eggs Benedict, breakfast burritos or even fluffy buttermilk pancakes.
Location: 2699 Kalakaua Avenue, Honolulu
Opening Times: Open daily from 8:00 am – 8:30 pm
Paia Fish Market $$$
This restaurant is a Honolulu outlet of the famous Paia Fish Market in Maui and serves all the delicious seafood dishes from that island to Oahu. What makes people come back for more are the big portions on their dishes of seafood specialties that fill you up and are plain tasty. Everything on the menu is good especially the mahi mahi, snapper, Opah or Opakapaka blackened or Cajun style or fish tacos, or shrimp cocktail with a delicious cocktail for happy hour
For drinks why not order some local craft beer on tap, a delicious mai tais or margarita and you'll be happy you did wait out the lines here for your table service.
Address: 2299 Kuhio Ave Honolulu, HI 96815
Ocean Taste for tasty poke bowls $
The place to get the freshest poke bowls with their super tasty torched poke and sashimi bowls and over rice don bowls. Bowls are good portions and priced well for the size of the dishes. Parking in the new location is fantastic off Kapiolani Blvd.
Must try dishes here includes their local favorites seared garlic Salmon don, California Ahi, Salmon Toro Ikura Don or their Lava flow bowl.
Address: 2840 Kapiolani Blvd Honolulu, HI 96826
Phone : (808) 636-0877
Rainbow Drive Inn $
Located in kaimuku this former car wash turned into local favorite diner serves up huge portions of local style comfort food to eat in Honolulu. Now in four locations around various parts of Oahu, this popular eatery is well loved on the island for onolicious food that is priced reasonably. A comfortable style, nostalgic and friendly fast service.
Popular foods to try include their loco moco plate, mixed plate with mahi mahi and bbq beef, saimin, curry stew, pork cutlet, mahi mahi plate and a variety of breakfast plates to go or eat at the restaurant.
Address: 3308 Kanaina Ave Honolulu, HI 96815
Dukes Waikiki $$
A local island favorite and located right on Waikiki beach, Duke's is an institution for locals and visitors and you really can't beat the affordable prices for the area.
Their signature dishes like cajun fish tacos, coconut shrimp and prime rib are priced well and good sized eats and top it off with their famous Hula pie and your set for a satisfying dinner and view.
Address: 2335 Kalakaua Ave Ste 116 Honolulu, HI 96815
Opening hours 7am to 11 pm daily
XO Restaurant $$$$
Upscale Asian fusion style restaurant located a tWaialae Ave. offers innovative and beautiful created dishes that inspire and are also delcious to eat. Creative and modern cuisine that sources fresh and local ingredients and serving vegan, vegetarian and accommodating many different food allergy dishes.
Popular dishes to try at XO restaurant includes their pork belly, fois grass crispy rice, oxtail dumplings with fried chicken or oxtail truffle soup, crispy chicken, miyosaki roasted cauliflower and so many other delicious food offerings. Do save some appetite for their gorgeously presented butter mochi for dessert.
Address: 3434 Waialae Ave Ste 5 Honolulu, HI 96816
The Surfing Pig $$$
With an original and unusual name of a restaurant, The Surfing Pig is worth just checking out to see what it is all about. You'll be pleasantly surprised that the food and drinks here are also ono or delicious in local slang. Serving up a bevy of their Hawaiian tapa small plates to taste everything good about this fun resto located at Old Town on Waialae Avenue, the décor is bistro modern and comfortable.
Delicious food to try here at the Surfing Pig includes their calamari trio, slider trio, Siracha fried rice with porchetta, truffle New York strip, the Smoking Pig or a huge OBB burger large enough to feed two.
Address: 3605 Waialae Ave Honolulu, HI 96816
Where to go for breakfast in Honolulu


Leonard's Bakery $
Anyone craving something sweet especially malasadas should make a beeline fast to Leonard's here in Honolulu. This malasada institution is where its at for the sweetest malasada combinations to die for on the island. But don't take our word for it, it is always everyone's favorite place to go for a sweet treat and there's plenty to choose from.
Top of the picks to try at Leonard's is their whole array of Malasadas (Portuguese style donuts) with every type of tropical filling you can imagine from macadamia nut, Li Hing, Haupia and custard. Other popular pastries include breads, cookies, cupcakes and muffins, pies and a variety of coffee cake. Drinks you can also buy includes coffees, teas, soda, fruit drinks and hot cocoa.
Address: 933 Kapahulu Ave, Honolulu, HI 96816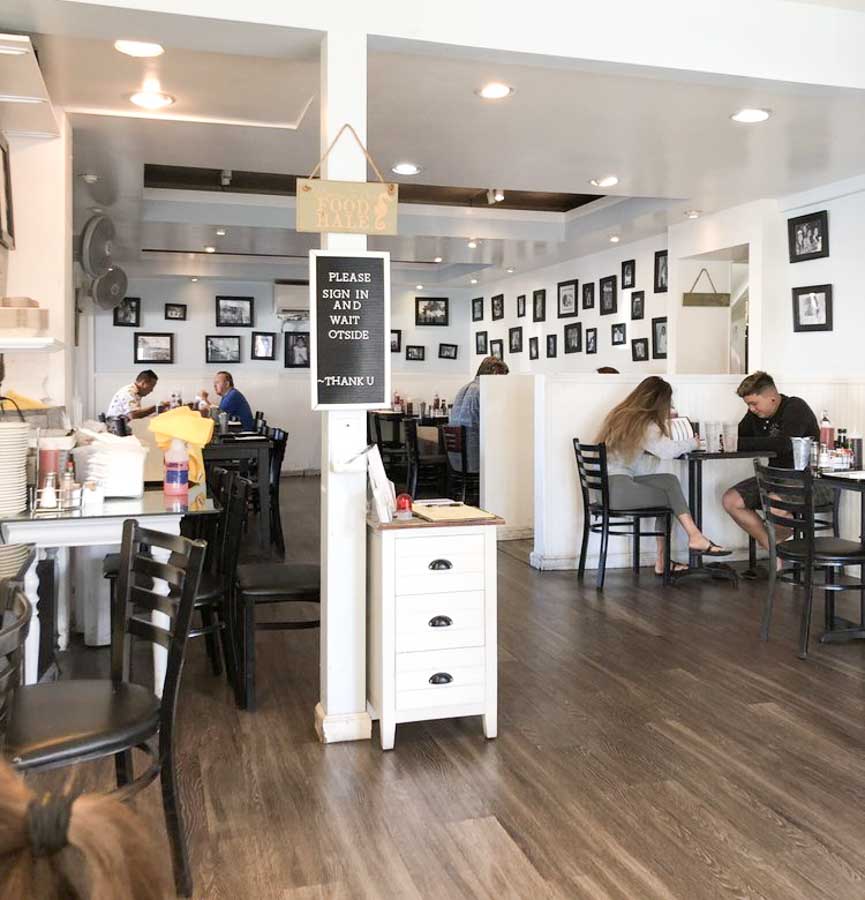 Sweet E's Cafe $$
Just the place you want to go to for a breakfast or brunch and even lunch. The service is friendly, attentive and they get your orders in fast. Diner style and casual just the way you like it and plate portions are generous here.
Things to try run the gamut from stuffed french toast, eggs benedict, breakfast burrito corned beef hash eggs to more unique like Kailua pork, the extreme mess, chicken pesto omelet to more traditional breakfast plates offered.
Address: 1006 Kapahulu Ave Honolulu, HI 96816
Koko Head Restaurant $$
Who doesn't like a breakfast place that serves popular brunch fare all day long in Honolulu? Koko Head Café specializes in brunch classics with a twist. Their signature skillet dishes are very popular with Asian flare that inspires to include: Bibimbap, Volcano Eggs are inspired by Shakshuka or their Ohayou Eggs with parmesan cream dashi sauce.
Inventive dishes also cover breakfast specials like their breakfast congee, conflake French toast, French scrambled eggs, Koko Moco, Portuguese sausage and breakfast bruschetta
Hours are from 8am to 2pm Wednesday to Friday and 7am to 2:30pm Sat & Sun
Address 1145 C 12th Ave Honolulu, HI 96816
Aloha Kitchen $$
A hole the wall spot located in Kaimuku, this popular breakfast and lunch place delivers a great meal for visitors or locals. Serving a variety of traditional breakfast food to lunch with local food dishes and some yummy dishes with a twist at reasonable prices. The restaurant is always busy but service is fast and the food comes out quick for turning over those tables on their breakfast service.
Things to try out at the Aloha Kitchen incude: coconut nut souffle, eggs benedict, loco moco, portuguese sausage and delicious acai bowls. If you want to try more decadent go for the homemade kalua benedict, eggs benedict with lobster or the berry berry souffle pancake. The souffle pancakes are different and really a nice fluffy pancake that is so good.
Address: 432 Ena Rd Honolulu, HI 96815
Sunrise Shack $
One of the best places to eat in Honolulu is The Sunrise Shack located in Waikiki. The Sunrise Shack primarily offers take-out Acai Bowls, smoothies, wraps, toasts, and coffee. It is located at The Outrigger Waikiki just steps from the beach, making it the perfect place to pick up a quick breakfast or lunch to take to the beach.
The highlight of their menu is definitely their Acai bowls. They come in a variety of flavors, and each one is brightly colored and presented beautifully. The inside of their shop is decorated equally as colorful and fun, and is a great spot to snap a photo while you wait for your food to be prepared.
If you can't make it to their Waikiki location, The Sunrise Shack also has two locations on the north side of the island- at Shark's Cove and Sunset Beach in Haleiwa. Sunset Beach is their original location and is equally as Instagrammable as their Waikiki location.
In addition to food, The Sunrise Shack sells fun merchandise including colorful shirts, coffee mugs, and hats with their unique laid-back beach style. They make the perfect souvenir to bring a piece of the island vibe home with you!
By Shannon of www.travelingteachergirl.com
Eggs 'n Things
Good hearty breakfast food with traditional breakfast foods or Hawaiian food style entrees like loco moco, Portuguese sausage eggs and potatoes, or fluffly pancakes with guava, coconut or maple syrup sauce. It's the popular breakfast spot at Honolulu and Waikiki locations.
Address: 343 Saratoga Rd Honolulu, HI 96815
How about some yummy desserts?
Ubae
For those in the know this unassuming dessert shop serves up the best Ube style desserts from their delicious ube tarts, ube soft serve ice cream, ube cheesecake, ube crackly cookies. Basically everything ube made and delicious – and it is a real local favorite spot for fab ube desserts.
Address: 2201 Kalakaua Ave Kiosk B-1 Honolulu, HI 96815
Opening Hours 10am to 9pm daily
Jejubing Dessert Cafe $
Probably one of the popular and best local spots for dessert, the Jejubing Dessert Cafe has a real cult following for their amazing desserts. Located at the Ala Moana shopping center, make sure to wait for a table when you enter, they will assign a table for you to sit.
Local favorite sweet inspirations to try here includes to Mango Bingsu, Korean shave ice, Tiramisu Bingsu and Oreo Milkshake
Address 1450 Ala Moana Blvd Ste 1201 Honolulu, HI 96814
Opening hours 12 to 8pm daily, closes 7pm on Sundays
Island Vintage Shave Ice
Located in a kiosk at the Royal Hawaiian Center, this is the definitive shave ice joint that everyone loves to visit and try their favorite flavors.
Why is it so popular? Probably the in house fresh fruit syrups that are made, extra fine shave ice and friendly service in this fast paced eatery / take out shave ice venue. Even though the line is long, it does move fast and you'll get called when your order is ready to go.
Penny's Waikiki Malasadas
Another local favorite sweet shop is Penny's Waikiki Malasadas which has built a real loyal following around the island and their new Waikiki location at the Royal Hawaiian Resort.
The local favorite to try here for their hot delicious malasadas includes their popular traditional malasadas and their fruit filled variations like ube, coconut custard and tropical flavors like mango, pineapple or guava.
For a different take on the malasada how about trying their ice cream sandwich, beignets or even a malasada sandwich with cream filling
Address: 2233 Kalakaua Ave Level 2 Honolulu, HI 96815
Liliha Bakery
A local favorite bakery and delicious local style foods to eat along with yummy pastries. This family-oriented business for over 40 years featuring their famous chantilly cakes, cupcakes, hot cross buns and delicious baked breads.
Try their coco puffs, malasadas, butter rolls, pies and many other tempting baked goods.
Address: 515 N Kuakini St Honolulu, HI 96817
Pin or save this pin for later
Looking for more Oahu or food inspiration?
What is traditional Hawaiian food?
What's in a Hawaiian breakfast
Conclusion on Best restaurants in Honolulu
Honululu is a fabulous place to visit and try some delicous local food to downright Onolicious (yummy) farm to table cuisine to ultra fine dining venues. Hope you bookmark this post for a future visit to the area and to try all the amazing restaurants and there unique and delicious foods.
If you enjoyed the post please share with your friends or family and or use the social media buttons around the post.
Mahalo again for visiting This Hawaii Life.