Experience the Rich Flavors of Traditional Hawaiian Food: Dishes That Reflect the Culture & History of Hawaii
The traditional Hawaiian foods always seems to get lost or infused with other local ethnic style dishes that get mixed into Hawaii cuisine. But the native Hawaiian food and the Hawaiian culture are unique and have remained the same with traditional cooking styles from the past. You haven't tried Hawaiian cuisine until you have tasted traditional Hawaiian food.
There has been some influence from plantation time foods that have been incorporated into the Hawaiian diet. If you're interested in tasting some traditional Hawaiian foods, look out for these delicious dishes and recipes below – they are the most tasty Hawaiian food favorites and popular comfort foods you'll want to try when you visit the islands and try authentic foods of Hawaii.
Hawaiian cuisine on the islands is ever evolving and a mixed palate of flavors but you'll find that traditional Hawaii food is basic, simple and really delicious with any Hawaiian meal or gathering.
What is traditional Hawaiian food?
The native Hawaiian foods that you'll probably know includes a few well known dishes like poke, Kailua pork, poi lau lau and breadfruit. Typically, these common Hawaiian dishes you'll get to taste from any of Luau events, local food take out places or little mom and pop eateries around the islands that feature traditional Hawaiian dishes to eat.
The local Hawaiian food dishes are the foods of the indigenous Hawaiians who created delicious foods from Hawaiian food staples like canoe plants brought to the islands, grown fruit and vegetables, local meat sources and other sweet inspirations to finish off a meal.
Some of these were also adapted from various missionary and plantation influences to create unique local foods of Hawaii. Hawaiian cuisine was a melding of different plantation foods shared by farmers during their lunch gatherings.
Look out for these delicious Hawaiian foods when you visit the islands and really want to try some traditional Hawaiian culture food.
Where to find traditional Hawaiian food to eat?
You'll find most of these traditional Hawaiian dishes at a variety of local eateries, mom and pop take out stands, delis and even some farmers markets that sell prepared foods to go around the islands. Y
These local favorite Hawaiian dishes are some of the best bites you'll have to eat for something delicious and authentic Hawaiian cuisine to try these foods in Hawaii. You also find many of these dishes at a popular luau or even a local gathering or potluck affair where many of these main dishes are always brought to a gathering for everyone to enjoy.
Many mom and pop shops will sell a variety of Hawaiian dishes into a plate lunch, cafes will offer some special dishes or you can find exclusive Hawaiian style food venues to try some of the popular dishes they have to offer daily.
Try these onolicious traditional Hawaiian foods below
These are the most popular Hawaiian foods you should try when you visit the islands and eat something that is indigenous and really onolicious (tasty).
Kalua Pork
So, what is Kalua pork – A favorite and typical Hawaiian food that is basically baked pig done in an imu using traditional kalua techniques (underground pit and covered with ti leaf and steamed) and gives a nice smoky steamed effect on the meat. Most Kalua pork nowadays is cooked in a slow cooker or instant pot to make this an easy and fast Hawaiian dish to make and serve.
Where to find this – most restaurants, take out places, even grocery stores sell Kalua pork because it is a staple meat on the islands for protein and a popular Hawaiian food to eat.
Most home-made versions are done in a slow cooker or baked in the oven and relatively easy to make with the recipe link above for this typical food in Hawaii that everyone loves to eat.
Check out this video on how to make Kalua pork – a fast traditional Hawaiian food
Lau Lau
What is Lau lau
When you think of Hawaii food, then lau lau really hits all the right buttons. A term meaning leaf, Lau Lau is wrapped goodness and a native Hawaiian dish that everyone craves on the island. Lau lau is made with taro leaves wrapped around fish and pork and steamed until it all melts in your mouth including the delicious taro leaf which is a staple green for Hawaiian dishes. This authentic Hawaiian food is a dish that all locals and even visitors love to eat this popular Hawaiian food. If you can find this on a menu somewhere in Hawaii, order it and you'll love eating this Hawaiian meal because it is one of the most popular and delicious traditional Hawaiian dishes to eat.
Where to find this – many local mom and pop take out places selling traditional Hawaiian food, grocery stores and café/restaurants serve this a high-end version come out with pupu (appetizer) style of Lau Lau
Check out this easy to follow video recipe below
Squid Lu'au
What is Squid Lu'au?
Of all the food in Hawaii that is delicious and so comforting to eat, squid lu'au is typical Hawaiian comfort food and worth finding on the islands. The squid is cooked in taro leaves and coconut milk and tender to the taste. Sometimes chicken is added to this dish to give more sweet and savory meat flavor. Not as well-known as a traditional Hawaiian food outside of the islands, try to find it at a local cafe or restaurant and you'll love this delicious comfort food on the islands.
Where to find – not always on take out menus but in local cafes or local mom and pop take out places that might have it on the menu. Try it, you'll like it!
Learn how to make this delicious squid lu'au now
Purple sweet potato
What is Purple Sweet Potato?
Of all the Hawaii food, the purple sweet potato is a staple of any traditional Hawaiian food. This was one of the Hawaiian canoe plants brought by early Hawaiians to grow as a starch. The purple sweet potato is boiled, steamed or baked. Can be eaten cut up or mashed up like a poi. Yams were also a popular and healthy canoe plant that was brought and eaten along with the sweet potato. Eaten as a side dish for all Hawaiian meals, sweet potatoes are the perfect starch to have with many of the salty and juicy Hawaiian foods you'll eat.
Where to find this – the sweet potato is typically a Hawiian side dish to many take out places and in many plate lunch specials that you can find at takeout places, deli stands and road side places selling Hawaiian meals.
** Check out our post on the Hawaiian sweet potato here for more inspiration and images to this delicious food of Hawaii.
Here's a simple sweet potato recipe to try
Poi
What is Poi?
Always present at every Hawaiian meal and one of the most basic Hawaiian dish you'll find at any Hawaiian meal gathering is Poi. Basically Poi is a staple starch food for Hawaiians which is a sticky paste made with taro root and pounded with a poi ponder and water added until it is the right gooey consistency. Left out a few days to ferment, the poi adds more of a sour taste to the starch
Where to find poi – most Hawaiian plate meals will include poi as part of a mixed plate special at many take out or mom and pop café style venue.
Poi is a Hawaii food that is popular on the islands and worth trying out with some of the rich foods here you can also eat with this starch.
** Check out our post on Poi here with the back story, recipes and cool trivia about this popular and sacred food of the islands.
Here's a video on the tradition of Poi making below
Haupia
What is Haupia?
A favorite dessert that is like a coconut pudding, Haupia is made with coconut milk, sugar and some cornstarch to create the thick dessert. The perfect way to cap off a delicious Hawaiian meal is to serve haupia or different versions of this popular coconut Hawaiian dessert.
Where to find haupia – sold in a mixed plate with other Hawaiian style food at many take out places, mom and pop shops. You can order haupia separately as a dessert and some come with different variations like sweet potato layered in with the Haupia
Make Haupia easy and fast with this recipe below
Lomi Salmon
What is lomi salmon?
Hawaiian cuisine and side dishes are not complete without having some lomi salmon. A mixture of diced tomatoes, onions and cured raw salmon or salted fish. This is typically served cold and mixed with poi to complement the salty flavors. Making Lomi salmon is very easy to make as a traditional Hawaiian recipe. Basically you find the best fresh ingredients above using salmon, onions, tomatoes and green onions and follow the recipe directions above. Lomi salmon makes a perfect complement to any other Hawaiian traditional food as a side dish.
Where to find lomi salmon – a staple dish included in any mixed Hawaiian plate, you'll find lomi salmon included with most meals as a delicious Hawaiian side dish.
Make your own Lomi Salmon with this simple to follow recipe below.
Chicken long rice
What is chicken long rice?
Made during the missionary timeframe when Chinese contract laborers added noodles and made this into a soup, chicken long rice has been incorporated into the Hawaiian style dish that is a local favorite with lots of ginger and garlic added to the soup. No Hawaiian meal is complete without having some chicken long rice for dinner as a side dish or even a main dish for dinner.
Where to find this – a typical dish you can order at the plate lunch place, farmers market food vendors, mom and pop shop, even local style grocery stores.
Another popular lu'au or potluck dish, you can learn to make easy chicken long rice below
Pipikaula
What is Pipikaula?
A delicious Hawaiian style jerky that is dried outdoors and is then fried or char-broiled in an oven and added to poi or rice in a combination.
Many versions of this hawaii foods are made with different ingredients and sauces to create a variety of flavors and oven drying to cure the meat faster. Hawaiian meals are more special when you serve this Hawaiian dish for lunch or dinner.
Where to find pipi kaula – a farmer's markets, road side stands or food trucks and local take out counters that sell this as an entree
Or you can actually make your own Pipikaula if you like the challenge below
Kulolo
What is Kulolo?
A baked dessert like a haupia but using grated taro instead of coconut and using mature coconut or coconut cream, sugar and with the taro and baked in an imu or oven for a few hours
Where to find Kulolo – sold at roadside stands, farmers markets and some local take out places selling Hawaiian style food and desserts
How to make Kulolo or Taro pudding
Breadfruit or Ulu
What is breadfruit?
A typical starch like a potato that Hawaiians brought with them, this starch is typically steamed, baked, boiled or even deep fried. Many different versions of breadfruit are being created to infuse more local starches into the food menu. Find out more about breadfruit in Hawaii and how to make some delicious dishes on that post.
Where to find breadfruit – you can buy at farmers markets or have this in a mixed Hawaiian plate at various take out places.
Ulu what do Hawaiians eat as their starch food and it is delicious!
Here's a breadfruit primer on preparing breadfruit with Sam Choy below
Luau stew
What is Lu'au stew?
A delicious comfort food that grandma made that is a popular Hawaiian dish and made with seasoned and cooked taro leaves and added protein, typically a beef brisket which oozes amazing flavors to the stew. Other typical ingredients that you will find in the stew includes: coconut milk, ginger, onion, pepper and seaweed.
Where to find Lu'au stew – popular take out food places, cafes and local mom and pop counter shops will sell this delicious comfort style food.
Here's a fantastic beef lu'au stew recipe to follow in an instant pot
Poke
What is poke?
Probably the most famous Hawaiian food to eat on the islands is poke. This popular raw fish Hawaiian poke is well loved here in Hawaii with many different versions, ingredients and sauces added to create a variety of taste and flavors. The traditional poke made used available ingredients from the ocean, basically raw fish chunks. The basic or classic Hawaiian style poke includes onions, sesame oil, soy sauce, chili pepper and garlic.
Where to find poke – there are poke specialty shops, grocery stores and take out places that all sell different versions of poke all over Hawaii.
Here's why we love eating poke around the islands below
Opihi
What is Opihi?
One of the most craved after native Hawaiian food found in rocky beaches around the islands is opihi. This is the local edible shellfish or limpet that attaches to rocks on a seashore and is typically pried from the rocks and eaten raw like an oyster. The raw ocean goodness of Opihi shellfish is mixed with sea salt and sometimes seaweed to add more flavor and texture. Sometimes opihi is grilled and mixed in the a variety of sauces and ingredients to create more flavor and taste.
Where to find opihi – not as easy to find on the menu, you can get opihi from sea food markets, road side vendors selling seafood or some local grocery outlets that sometimes carry these on the menu.
Gordon Ramsey tries Opihi with local chef Sheldon Simeon below
Experiencing traditional Hawaiian cuisine is an essential activity for those visiting the islands. The fusion of distinct flavors, ingredients, and culinary methods inherent in Hawaiian food showcases the profound cultural legacy of Hawaii.
Whether savoring classic dishes such as poke or exploring novel flavors like poi, one is bound to embark on a delectable culinary journey. So, be prepared with an open mind and a hearty appetite to relish the tantalizing pleasures of traditional Hawaiian food.
More Hawaiian food related topics
What is Hawaiian comfort food?
The local foods of many of the plantation farmers created a melting pot of favorite dishes shared during lunch, potlucks and many gatherings around the islands. This easily became assimilate to the local food tastes and flavors and you'll find comfort food at many cafes, mom and pop shops and take out food counters around the islands.
Check out our post on Hawaiian comfort food here for more inspiration to what locals love to eat around the islands.
Hawaiian breakast food
Find out what the popular and local island food favorites to try here in Hawaii. Covering the gamut from comfort breakfast style local loco moco, malasadas to portuguese sausage over rice, these are all local foods that are popular to eat for breakfast in Hawaii.
Check out our favorite breakfast food favorites here for more inspiration and images.
What is Hawaiian food?
Find out more about the melting pot of cultures that combined to create Hawaiian food what it is today. From local foods shared at pot lucks to Hawaiian fusion and regional cuisine, you'll learn a little more about the foods and culture by what we eat here on the islands.
Check out this post on Hawaiian food here for more information and inspiration on what foods we like to eat around the islands today.
More food focused topics
Hawaiian desserts to try on the islands
Popular Hawaiian dishes you need to try
Delicious Hawaiian snacks here
Enjoyed this post – please pin it!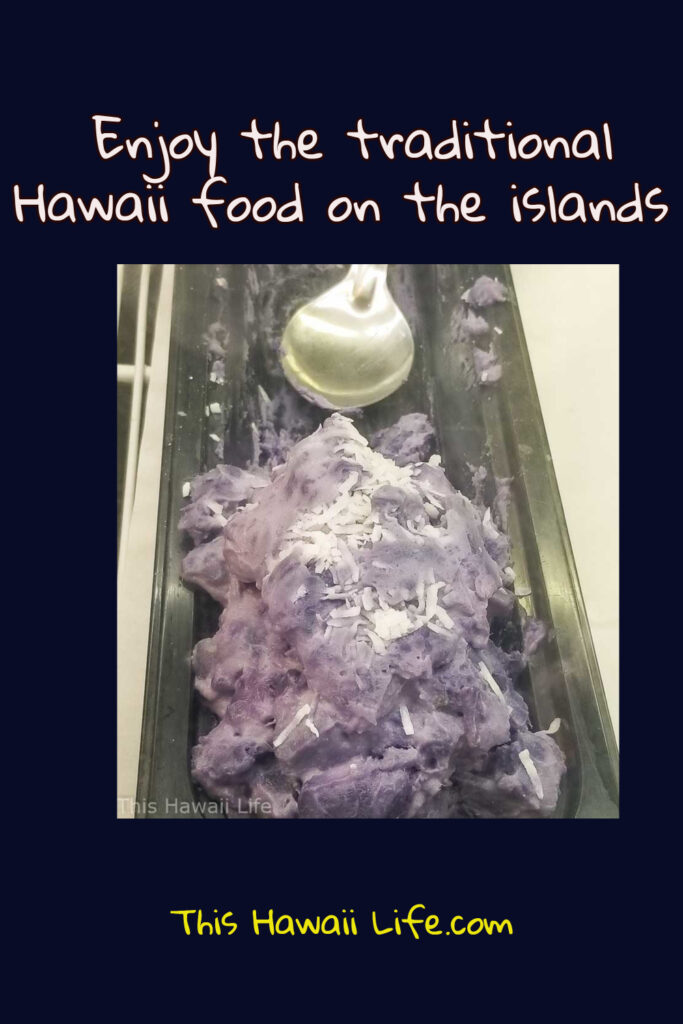 Check out these other food related posts from Hawaii
Popular Hawaii dishes you need to try
Traditional Hawaiian food favorite dishes
Hawaii chocolate making and tour
Hawaii love for Spam and recipes
Conclusion on traditional Hawaiian food
Have you tried any of these traditional Hawaiian foods? Did you like didn't like what Hawaiian foods you sampled or and did any of them stand out for you?
If you are looking for Hawaiian cuisine and food, look for any of these dishes suggested above served at your local café, take out counter, roadside stand, farmers markets or even a fine dining venue in Hawaii and you will really soak up the local flavors and taste of Hawaiian foods.
Thanks for checking out this post on traditional Hawaiian foods. Hope the post was informative and a must read article.
If you enjoyed the post, please do share it with any of the social media buttons around the page.
Thanks so much for visiting today.