Hilo Farmers Market (tasty fruits, souvenirs, snacks & must try foods)
The Hilo Farmers Market is the place to shop and experience local food and produce in town. There are a few farmers markets located in Hilo area with the largest Hilo farmers market located downtown on Mamo street close to the bayfront area.
The Hilo market is a fantastic place for eating cheap in Hawaii and you'll find some great deals shopping at the Hilo Farmers Market.
A new building area has been created on the original site to protect from the outdoor elements and adds a colorful background while shopping at the market.
While visiting the Hilo Farmers Market, you'll be able to taste and purchase fresh produce, local and artisanal foods, crafts, art and hand-made products and Hawaiian snacks or prepared comfort foods for quick take-out.
What to look for fresh produce or prepared foods at the market
Being the largest farmers market on the island, you have the best opportunity to try all the delicious locally grown tropical fruits and vegetables in season, buy some popular Hawaiian avocados, ripe pineapples in season, fresh Mangoes,lychee fruit and other exotic fruits in season.
On the veggie side, there are so many different greens and vegetables grown in the area but look out for fresh grown breadfruit, grown in Big Island tomatoes and many unusual and exotic types of veggies and greens to experiment with. Just ask the vendor what the best way of preparing those vegetables and they will be happy to share some cooking recipes.
Growing vegetables and fruit in Hawaii is fun but challenging, so shopping the local markets are easier and less work to growing your own.
Why visit the Hilo Farmers market
The new permanent site of the Hilo Farmers market is gorgeous with a colorful painted wall and permanent structure to protect visitors and vendors from the outside elements during inclement weather.
The beautiful facility supports all the local perishable, prepared and specialty food vendors in the location for daily farmers market sales and adjoining areas around the outside for the larger market days on Wednesdays and Saturdays and a food court area close by.
A little history of the longest running farmers market in Hilo, Hawaii
Check out the new permant facility for the Hilo Farmers market
Fruit, perishable, prepared and specialty foods for sale at the HIlo Farmers Market
Find some delcious baked goods at the Hilo Farmers Market
Look for the vendors that make a variety of Hawaiian style banana bread, delicious butter mochi and other baked goods and Hawaiian desserts, snacks, delicious jams and jellies, sauces, honey and of course Macadamia nuts and local chocolates grown in Hawaii.
In 1988 the market started with only 4 vendors and grew to today's fantastic market with over 200 vendors on the busy days on Wednesday and Saturday and the smaller market days happening daily in Hilo.
Things to enjoy at the Hilo market
On the busy extended Hilo Farmers market days on Wednesdays and Saturdays, you'll find additional tented sections that sell a variety of arts, crafts and souvenirs in a adjoining area and the food court area also hosts a variety of street food vendors and live entertainment in the seating areas of the court.
Check out the colorful stalls of lovely tropical flowers and Hawaiian lei flowers with orchids, anthuriums, heliconias and other flower bunch combinations that are inexpensive and nice to take home and enjoy
Stroll the art, crafts, jewelry and souvenir vendor stalls for some great gift ideas and souvenirs to give to friends and family.
You'll also find some specialty wood turners and wood crafts, photography pictures and even fresh leis and handmade hats for sale at the market.
There's a lot of Hawaiian made accessories and crafts or some cheap imported muu muu, dresses or t shirts for sale at various souvenir stands in the expanded market days.
Sample and purchase some of the delicious artisanal chocolates, macadamia nuts, honey, balsamic vinegars, cookies and other locally made products for sale and consumption
Food court and food trucks at the Hilo Farmers Market
Food trucks and a food court are on site for more food choices from traditional Hawaiian food favorites to more popular Hawaiian dishes to try at the market. Also, surrounding the market are a variety of small mom and pop eateries, shave ice shops and other Hawaiian snack vendors that sell things quickly on market days
Check out Poke and sides at the food court area
There's also an indoor food court market adjacent to the farmers market on the waterfront side.
Check out the different offerings below
Enjoy the vendors that sell delicious tropical teas, iced drinks and blended smoothies from fresh tropical fruits.
Sample and buy fresh in season tropical fruits grown in the area and enjoy some of the more exotic and rare fruits that come into season and sell quickly in the markets.
Check out this video on touring the Hilo Farmers Market in dowtown (things are slightly different with the new market being built) with a temporary one in the same area.
Here's an updated video of the new farmers market below
Where is the Hilo Farmers Market located?
The market is located on Kamehameha Avenue and Mamo street in downtown Hilo, Hawaii
Check the Hilo Farmers market website here for more updates. There is a brand new facility that is in the works now, but the various sections of the market will still be in use when the new building is ready for move in date.
Details to visiting the Hilo Farmers Market
The best shopping days to visit the HIlo Farmers Market are on Wednesdays, and Saturday from 6am to 4pm with over 100 vendors
The market is opened daily on Monday, Tuesday, Thursday and Sunday from 7am to 4pm, with a smaller presence of fruits, vegetables, prepared foods to go and flowers.
Other farmers markets in East Hawaii
If you can't make it to the Hilo farmers markets, there's farmers markets open different times of the week and some roadside stands that are open all week long.
Kinoole Farmers Market
Another local Hilo market is the Kinoole farmers market located outside of town and close to the Puanako shopping center area.
What makes the Kinoole special is that the market only sells 100 percent products and prepared foods or specialty products from Hawaii. This is the only unique market that does only Hawaiian grown, prepared or finished goods from the island. This local style market is less touristy but has a lot of support from locals and visitors alike. Vendors come early and sell out very quickly and leave, so do make an effort to get to the market early for the best choices.
Located at 1990 Kinoole Street and right next to the Kuwate Seed Shop
Market days are only on Saturdays from 6am to 11am
Check their Facebook page here for more details
Other farmers markets in East Hawaii regions
If you are looking for more Farmers markets, check out the Maku'u markets and other Puna markets here for more details on what's available and what days to shop around the Puna District.
The other large market located in the East side of Hawaii is located at Coopers Center in Volcano with market days early on Sunday from 6am to 10am.
Check out their website here for more details
Looking to explore around Hilo?
After visiting the Hilo Farmers market set aside some time to explore some of the unique places and things to do in Hilo while you are in the area. You can check out popular attractions like Rainbow falls and some of the waterfalls around East Hawaii. Further uphill is the cool and off the beaten Kaumana Caves State Park, that you can explore on your own.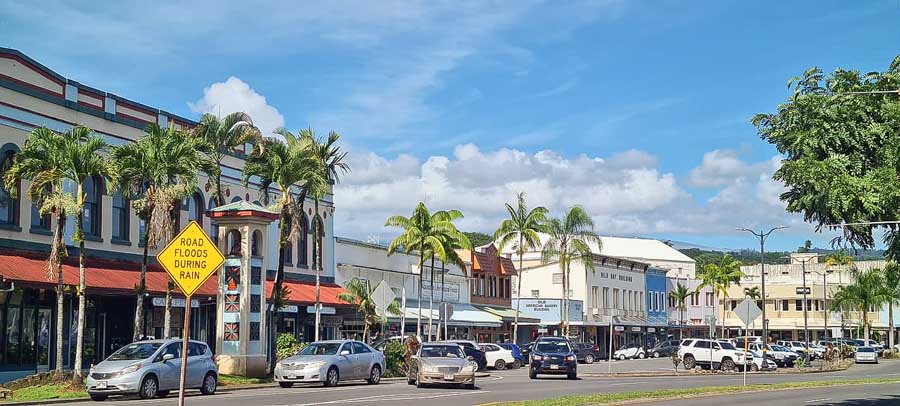 Further out on Banyan drive area is Coconut island and Lili'uokalani garden to explore in this scenic part of Hilo on the bay front area. Further down Banyan Drive is the family friendly beach at Reeds Bay which is shallow and perfect for kayaking, Sup boards and other water inflatable fun.
If you are hungry and looking for the best things to eat around the east side, check out my post on best restaurants in Hilo here for inspiration.
Hit up the beaches in HIlo
How about doing a nice drive on the south side of Hilo and check out all the cool little beaches, lagoons and hidden coves in the area. Some of our favorites includes family friendly Reeds Bay beach park, the colorful lagoons and pools of beautiful Carlsmith beach park or go looking for sea turtles, snorkeling and marine life at Richardson Ocean Park for a day of exploring the fun beaches of Hilo.
Explore the Puna District
If you're visiting the Puna district, check out downtown Pahoa, the cool botanical gardens at Lava Tree State Park or the colorful folk inspired interiors to the Painted Church in Kalapana (It has a very interesting history being move from lava destruction in the area of Kalapana). How about visiting the historic parks at MacKenzie state park and the new black sand Pohoiki beach for a fantastic drive on the Red Road in Puna.
Like this post – Pin it for later
Have you been to Hilo Farmers Market?
Please share your thoughts and other recommendations in the comments below with your recommendations.
Thanks for visiting today and checking out this post on Hilo Farmers Market. I hope you are inspired to plan a visit and enjoy these wonderful attractions. If you enjoyed the images and post, could you please share it with any of the social media buttons located around the post.