Things to do in Waikoloa Village on the Kohala Coast
What's are the fun things to do in Waikoloa Village you ask?
Located on the sunny Kohala coastline, Waikoloa Village has all the wonderful resorts and condo complexes that cater to visitors in the area.
There are so many fun things for locals and tourists alike to enjoy aroundd Waikoloa Village outside of just staying in the resort (Which most hotels try really hard to make you stay on their grounds for buying everything) and enjoying the resort lifestyle.
Check out what to do in Waikoloa village below for more inspiration, fun things to do and some off beat things to do here. If you are looking for more Big Island itineraries, check out the link for more inspiration to visiting the island.
A History of Waikoloa Village
The resort community of Waikoloa Village started as a master planned development community in 1986 with resorts, condominium complexes, shopping centers and other services around a 35,000 square foot area of basically lava rocks created from lava intrusions into the area from Mauna Kea eruptions. The vision of the planned community development included activities for visitors to enjoy around the area to include shopping, cultural and art activities, tennis, spa and health services and a variety of outdoor adventure experiences. The main resort originally planned was the Hilton Waikoloa Village which included large hotels, a large lagoon and waterfalls, dolphin shows, monorail system and a boat ferry ride along with a variety of high-end dining options within the resort.
How to get to Waikoloa Village
Located on the northwest section of the Big Island on the sunny Kohala coastline and accessed by Highway 19, the resort is located 28 miles from Kailua Kona and about 16 miles from the airport.
Top fun things to do and enjoy around Waikoloa Village
Shop, dine and hang out at the Kings and Queens shopping courts
The Kings shops at Waikoloa was the first shopping center planned in Waikoloa with unique shops and high-end galleries and international brands that fit the needs and lifestyle of visitors and locals alike in the area. There are also eateries, grocery and fine dining venues to enjoy at the Kings Shops
Exploring the Queens shops and foodie spots
Outdoor recreation and adventure at Waikoloa Village
Lot's of fun outdoor venues to hang out at Waikoloa, golfing, beach time, exploring tide pools or finding an oceanside dining or drinking venue. It is all outdoors focused and enjoy time spent outside around Waikoloa area.
Beach time at A Bay also known as Anaehoʻomalu Bay
ʻAnaehoʻomalu Bay, also known as A-Bay or Waikoloa Beach is beautiful with palm trees swaying, ocean front dining and outdoor adventures ready to explore the areas beyond. A Bay as the locals call is is always a fun and family friendly destination with sandy and shallow waters that makes it easy and safe to swim in, beach comb or do some fun water sports in the mostly calm bay.
Water sport fun at A Bay
You can rent a variety of fun watersport equipment and toys from the rental outfitters on the beach area called Ocean Sports Waikoloa. Drop by the check in desk to do by the hour sup, kayak or even water bikes that you can rent for some water fun activity.
Explore the ancient fish ponds at A Bay fronting the Marriott
The ancient fish ponds fronting the Marriott Waikoloa Resort is nice to explore and see all the active marine life in the pond area and learn a little bit of the history and this living ancient pond through the fantastic signage and information placards around the pond areas that you can walk around safely through wooden boardwalk pathways.
Do a coastal walk along A Bay all the way to the Hilton Waikoloa Village
You can actually do a nice walk on the coast through some of the small coves all the way to the Hilton Waikoloa and see some of the amazing multi-million dollar ocean front properties which is fun for looky loo's that love to see how the upper crust live with their pools and ocean front estates.
Visit the Waikoloa Petroglyphs
Located past the gas station at the Kings Shops, follow the pedestrian walkway towards the golf course and you'll quickly find the rolling and rocky lava terrain filled with ancient Petroglyphs from the Waikoloa fields. This is an easy walk and you can see a lot of the petroglyphs from the pathways. To find out more about ancient Hawaiian Petroglyphs here on the Big Island and Hawaii, check the site for a guide and information on what the early settlers did as a way of showing their art and culture on the lava rocks in the area.
Golfing at Waikoloa Village
You can enjoy a day of golfing at Waikoloa Village on the Waikoloa Beach Club. Other wonderful options for golfing along the Kohala coastline include the Mauna Lani Gold Club, Waikoloa Kings Course and the Waikoloa Beach Golf Course.
Go to a Luau at the Legends Waikoloa
Go do a fantastic luau at the Legends of Hawaii at the Hilton Waikoloa featuring a variety of fun interactive activities like tapa stamping, coconut husking and watching local artisans create along with the fabulous traditional foods of Hawaii and then followed by performance of music, dance and oral story telling at the HIlton Luau grounds. Check the details above for time, prices and availability.
If you are looking for a once in a lifetime experience from above, consider doing this helicopter tour of the gorgeous Kohala coastline. This 50 minute tour takes you along the majestic Kohala mountain and skirting the gorgeous cliffs and coastlines of the Kohala area with towering sea cliffs, stunning waterfalls, lush valleys and scenic places you can only see from above on this fantastic tour of the area.
Located at the HIlton Waikoloa is the Waikoloa Dolphin Encounter which is a twenty minute program to immerse and be with dolphins at their lagoon location which allows you to feed, touch, play and even swim. Each program is unique and one of a kind to experience with all age groups.
This fun four hour Zipline tour around the Kohala area is the adventure experience to do in the region with the Kohala Canopy Company. You get to do a 9 line canopy tour, suspension bridges, tree platforms and beautiful views around the Kohala mountain range. Includes pick up/drop off, snacks and drinks on the tour.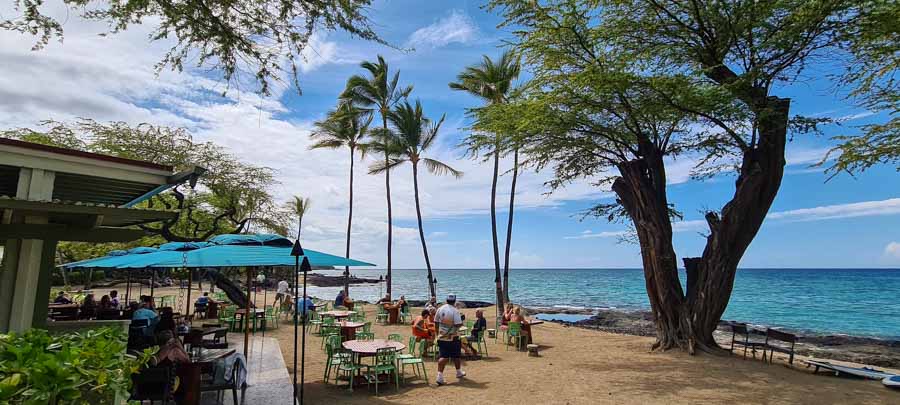 Where to eat at Waikoloa Village
There are plenty of fantastic dining options around Waikoloa Village from fast to do and dining venues, oceanside bar and restaurants to beautiful fine dining venues around the area to enjoy some delicious food and presentations. Check out all these favorite places to dine below.
Lava Lava Beach Club – ocean front dining and drinks in a colorful open air and funky seating and play areas around the property with mostly outdoor seating right on the beach and delicious food and beverages or just pupu fair for their happy hour time frame.
Roy's Waikoloa – beautifully appointed and modern comfort in this farm to table fresh cuisine, innovative and modern that you will enjoy.
Sansie Seafood and Sushi Bar – Contemporary Japanese and Asian inspired dishes in this Japanese inspired restaurant in a modern setting at the Queens shops
Kuleana Rum Shack – Rum inspired drinks to go with some local style and Asian inspired dishes with a twist – a popular place to enjoy in the Queen's Shops
Island Fish and Chips – Tempura style fish and chips with local fish, take out but with outdoor seating with lake views. Easy, cheap and good service.
Kamuela Provision Company – excellent indoor and outdoor dining experience with quality service, impeccable food and presentation at this Hilton Waikoloa establishment.
Where to Stay in Waikoloa Village
With a variety of resorts and condo complexes located in Waikoloa Village, you'll still find a variety of fantastic Waikoloa accommodates that may fit your needs for an overnight stay or a longer getaway here.
One of the most expansive resorts with boat ferries, a train monorail, gorgeous gardens, water slides and huge pools, lagoons and inside beaches and more. There are many nice restaurants also in the resort to cater to all different foodie types on site to enjoy.
The other large resort area located across from the Kings shops has beautiful ocean view rooms, large pool areas and outdoor spaces and a beach area and seating for those that want the option to be on the beach. You'll enjoy more of the adult friendly accommodations in this Waikoloa resort property.
Kohala Suites by Hilton Grand Vacations
Next to the gold course with shuttle service around Waikoloa and nice amenities and access to the Hilton Waikola resort facilities.
Check out all these top review sites in the Waikoloa beach resorts through TripAdvisor here with current prices, availability and booking calendar.
Enjoyed the post – Please pin it to your Hawaii board!
Check out these other posts of things to do on the BIg Island
Why Visit Volcanoes National Park now
Must visit Big Island Waterfalls
Free of cheap things to do on the Big Island
A family friendly visit to the Big Island
Kona snorkel and cruise experience
Conclusion of best things to do around Waikoloa Village
For Kailua fun, you'll love explore all fun activities and attractions around this easy and walkable and beach areas of Kailua on the east side. Hope this gives you some great ideas of things to do and see around the town and outlying areas to visit.
Thanks for visiting This Hawaii life and checking out this post on the top things to do in Waikoloa now. If you enjoyed reading this post, please do share it with any of the social media buttons on the slider.
Disclosure – some of the links above are to affiliate sites that are either reviews or recommendations if you book helps to keep our site running. We appreciate your supporting our website meanwhile