45 Things to do in Maui: Discover the Magic exploring around the island (updated 2023)
Maui has so many magical places, attractions and beaches to enjoy whether you are outdoors, in the water or just enjoying some time in a fantastic pool. But if you are looking for more fun things to do around the island, check out all the top 45 things to do in Maui below which definitely will fill up your calendar of Maui attractions and popular things to do in Maui now.
Hopefully these will inspire you to explore the whole island and see how many of these you can actually do in one or more trips to the island.
*** Please note all the visits to Lahaina are not allowed due to the recent fires and road closures. Please avoid this area as a respect to cultural and historical ties to the area.
What's the best time to visit Maui?
The most popular time to visit Maui is during the winter season when most visitors come from colder areas of the mainland from December to end of February. Summer is also the busy time frame for family vacations typically from June to end of August and back to school ends the summer period. The best time to actually visit Maui is on the shoulder season in spring time from March to May and then early fall from September until November.
The weather is warm and pleasant but not to hot and most of the tourist crowds have not arrived or have left before the fall window. The shoulder season for both tmes is also more affordable for hotels, events and tours along with availability of restaurants that you don't have to book years in advance.
How can you visit Maui without Breaking the Bank?
Although Maui can be an expensive place to visit due to high demand, limited availability of accommodations, and the high cost of importing goods, there are still ways to save money while enjoying the island. These include traveling during the low season, choosing affordable accommodations, cooking your own meals, using public transportation, and participating in free activities.
Check out my post on doing Maui on the cheap here for more inspiration, but don't skimp out on the some of these once in a lifetime experiences below.
45 things to do in Maui for exploring the entire island now
With so many place to discover and things to do in Maui, there's so much with activities and Maui attractions of the best things to do in Maui below and in no particular order.
1. Enjoy a sunrise or sunset at Haleakala
One of the best things to do in Maui is to enjoy a sunrise at Haleakala. You have to wake up early and bundle up for the very cold mornings at the top of Haleakala to witness the sunrise and fantastic views above Maui. Rising an impressive 10, 023 feet above the ocean, this majestic mountain delivers amazing views above the clouds and to the neighboring islands. Spend more time to explore or hike Haleakala National park or on the way down the slowly winding road, check out a rode bike to actually ride all the way down the mountain back to the valley floor. You can check out all these amazing outfitters here to choose from in doing a bike ride down Haleakala.
2. Explore the road to Hana
One of the top Maui attractions is to do the road trip to Hana. With over 600 turns passing through over 50 old one lane bridges, the drive is over 68 miles driving through lush terrain, peek-a-boo views of gorgeous cliffs and coastline views, bamboo forests and secret beaches.
You can check out some organic farms along the way, walk through serene bamboo forests, swim in fresh water caves and then in the end at Hana, explore and enjoy the 7 sacred pools. There's tons of places to hike, waterfalls, cool beaches and lot's of fun things to do along the way so pick and choose what interests you the most.
** If you prefer to go on a guided tour with a driver and guide consider this experience here for a fun and effortless experiences.
3. Cruise to Molokini Crater
The only way to visit this sunken volcanic crater in Maui is by boat. You can enjoy an easy trip through these tour outfitters or hire a private boat company to take you there. Once you arrive the protected marine sanctuary, you can see 180 feet down into clear water and filled with amazing sea life and tropical fish.
This is the place for one of a kind snorkeling or diving on Maui and you can book a fun Molokini and Turtle town snorkel here or how about Molokini with an amazing performance sail experience here for more details.
4. Hike through an amazing bamboo forest
Located on the back side of Haleakala National Park on the Kipalu side of the park is the lush bamboo forest which is a about 4 miles out from Hana. There is a fantastic 4 mile loop that you can take to experience of the cool forest on the Pipiwai trail going into the thick bamboo groves and then on to an impressive Waimoku falls which is over 400 feet tall. Check out more images and details to hiking the Pipiwai bamboo forest trail here.
5. Hang out in the surfing town of Paia
The historic town is small and cute and worth a stop if your driving up through to Hana or just driving through the area. Only a one road downtown, Paia town is this surfing and hippie town turned into a hip and trendy town filled with cool boutiques, bars and cafes, massage studios and art galleries. Close by is Ho'okipa beach park where you can check out some exciting windsurfing on the ocean or relax and have a nice picnic on the grounds.
6. Check out the cowboy town of Makawao
Paniolo (cowboy) culture is still alive and well at Makawao, which is upcountry and still old school friendly. You can check out the cool art galleries, try a favorite cream puff or donut stick at T. Komodo store & Bakery. A popular time to visit this cowboy town is during the largest rodeo in Hawaii on July 4th which is a Maui only experience.
6. Taste some local craft brews
One of the tasty and fun things to do in Maui is to visit a local brew pub. Maui is home to some wonderful craft breweries that you will enjoy visiting. Local favorites includes Maui Brewing company and the small independent brewpub at Kohala brewery where you can do a sample beer tasting flight or go for a nice cold pint of what's on tap at Waikiki Brewing Company in Lahaina.
7. Taste some wine made In Maui
Maui has a cool winery up country in Kula called Maui Wine and you can sign up for a tour or do some fabulous wine tasting on site. What makes this Maui winery unique is the use of grapes, pineapple and even raspberries to make wines. Check out more details to visiting Maui Wine here for more information. and booking a reservation.
8. Experience a fun snorkeling and sailing experience in Maui.
A fantastic way to enjoy the outdoors and adventure is to experience a snorkel and sailing experience. You'll have a fantastic time seeing the fabulous coastline, some marine life (whale watching in the winter season) and wonderful snorkeling spots to see some amazing tropical fish, corals and other marine life. There are a variety of excursions to Molokini, Lanai ,, Sailing with snorkel tours and other secret spots. Or how about doing a snorkel experience on a Kayak experience or even on SUP boards?
9. Pick some lavender and lavender products up country
A fun and cool thing to do in Maui is to visit a local lavender farm upcountry. You an enjoy the Ali'i Kula Lavender farm up country with a guided walk, cart tour or even a fun treasure hunt experience. With a variety of events, classes and lavender inspired products to choose from in their shop, you'll love all the scented experiences in this farm or just enjoy the lovely views of the lavender fields and Maui from above.
10. Shop at a local farmers market in Maui
One of the fun things to do in Maui is to visit a local farmers market on the island. You definitely need to visit a Maui Farmers market to taste some of the wonderful local foods, fruits and veggies and other take away foods along with souvenirs and other local finds you can try. There are quite a few farmers markets around the island, check out this website here for a comprehensive list of markets and times to visit and hours.
11. Check out historic downtown Lahaina
The waterfront district and historic center of Lahaina still retains it's Hawaiian and western appeal and worth exploring. If you're into historic sites, do the historic trail, or into the art scene – check out the cool galleries in town.
If your hungry, there's plenty of cool local food spots with views of the streets and harbor scene. There's plenty to do around Lahaina on Front street and the surrounding area and you can check out all these fun things to do in town here for more inspiration. Shave Ice is also the best in Lahaina, so try some.
You can start your tour with a free Lahaina walking tour experience here for more information.
12. Find your perfect sunset spot in Maui
You can't go wrong with finding a perfect spot to enjoy sunset and the gorgeous coastlines of Maui. Everyone has their own favorite spots to enjoy the end of day on the island. But or more inspiration of fun places to check out just for those wonderful sunset views, check out this post here on where to go in Maui for just that perfect sunset experience.
Want to know the local favorite sunset spots on the Island?
Here is a list of some of the most beautiful locations in Maui to catch a stunning sunset:
I. Haleakala National Park: A. Witness the sunset from Haleakala Crater B. Take a sunset stroll through Hosmer Grove C. Enjoy the view from Kalahaku Overlook
II. Lahaina: A. Watch the sunset at Lahaina Harbor B. Take a sunset hike on the Lahaina Pali Trail C. Relax on the sand at Baby Beach
III. Kihei: A. Catch the sunset at Kamaole Beach Park III B. Visit Kealia Pond National Wildlife Refuge at sunset C. Discover the secluded beauty of Secret Beach
IV. Wailea: A. Enjoy the sunset from Polo Beach B. Take a walk on the Wailea Beach Path at sunset C. Witness the sunset over the ocean at Makena Beach
V. West Maui: A. Watch the sunset at D.T. Fleming Beach Park B. Enjoy the sunset at Kapalua Bay Beach C. Take in the sunset from the beautiful Napili Bay Beach
VI. Paia: A. Catch the sunset while windsurfing at Hookipa Beach Park B. Watch the sunset from Baldwin Beach Park C. Relax and enjoy the sunset at Paia Bay Beach
13. Cool snorkeling spots
One of the best activities to do in Maui is to go snorkeling around the island. With so many beaches and amazing coves to choose from, you'll have your pick of many popular and even hidden spots to snorkel around Maui.
Check out all the local favorites like Kapalua, Napili and Ahihi Kinau Reserve on this website here for more details and fun places to explore just for snorkeling around the island.
14. Sunday alternative drum circle fun at Little Makena Beach
If you are looking for an alternative Maui experience, check out Little Makena beach – a clothing optional beach. Sundays are the popular drum circle where anything goes with drums, any music instruments and even your voice along with rowdy cheering, dancing and even some fire twirling later in the night. It's an anything goes spiritual or just fun event to mark the end of Sunday on Maui.
15. Check out the windsurf and surfing scene at Ho'okipa
One of the most thrilling Maui activities is to watch the big surf and wind surfing at Ho'okipa beach. Probably the most famous windsurfing spot of Maui is at Ho'okipa beach park. You'll find colorful wind suring, kite surfing and even crazy surfing going on on this beach with powerful winds and wave action that is fun to watch. The gorgeous beach and views are also a fantastic spot to see a lot of green sea turtles resting right on the beach. If your planning a visiting, check out the Ho'okipa website here for more details.
16. Sunset and surf watching at Kapalua
What to do in Maui towards the end of day – sunsets are fun at Kapalua area. Perfect for sunset, surf watching and even snorkeling fun at Kapalua beach. You'll find lots of big wave surf action to enjoy. Snorkeling is doable in summer time when the surf action is not so dangerous for snorkeling fun. Check out more of the details here for visiting this fun beach.
17. Do a Maui Luau
What more would be perfect than to enjoy a real luau experience in Maui and there's plenty to choose from the island. Which one to do, you might ask – check out all the top luau reviews and experiences on this Maui Luau post I did here for some highlights and what to choose from the various outfitters on the island.
18. Cliff jumping at Cliffhouse
A super cool spot for cliff diving fun if you're up for the challenge. Following the Kapaula ridge trail, you'll find some nice look out points until you get to end at the Cliff House, a popular cliff diving spot from large rocks you can jump from different levels into gorgeous clear waters below.
19. Maui Dinner cruise
Nothing like a four course dinner and a magical sunset cruise to enjoy on Maui to cap off the end of day. You'll enjoy a variety of cruises here starting with a nice cold Mai Tai and views of Lanai and Molokai on board with spectacular views of the coastline and sunset. Check out this Maui premium cruise experience here or this premium sunset sail and dinner here for more information.
20. Explore Iao Valley State Park
A 10 mile long park with over 4000 acres in central Maui is open for you to enjoy outside of the beach areas of Maui. This state park has gorgeous landscapes and verdant scenery, beautiful out rock crops like the striking Iao Needle rising dramatically 1200 feet into the air. There are fun wonderful hiking trails that you can enjoy your own DIY tour around the park with fantastic views around the area of central Maui. Check out the state park website here for more details to visiting the park.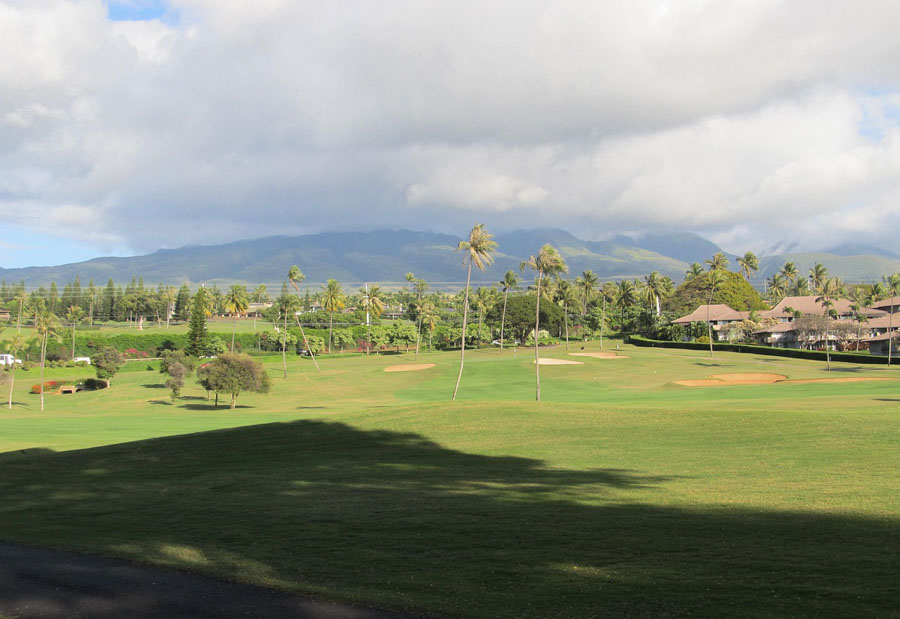 21. Do the ultimate golfing experience in Maui
You'll find some really spectacular golfing resorts and clubs all around the island to experience and enjoy on the island. Golfing in Maui is a must and one of a kind experience not to be missed with golfing enthusiasts with so many difference choices around the island to challenge every skill level. With some of the best golf courses in the world, it's no surprise that many competitions including the PGA Tour is held here in Maui. Check out the top Golf courses in Maui here for more details and information on the best golfing experience on the island.
22. Visit the Maui Ocean Center
A family friendly visit to the the Maui Ocean Center to learn about the underwater ecosystems around the island and introduce you to the nautical residents of the island. This includes fun places to experience like the glass underwater tunnel around a 750,00 gallon tank, some fun touch pools with marine life you can actually touch and some gorgeous aquarium tanks for you to enjoy around the center.
23. Experience the Kula botanical garden
Located up country in Kula, the botanical garden contains over 2,000 tropical species with many native Maui plants thrown into the mix to enjoy in this eight acre tropical garden. If you love visiting botanical gardens then this is a fun and mature garden to experience waterfalls, a koi garden, aviary, interesting rock formations and other unique features in the gardens.
Check out more details to visiting here for enjoying a day out in a tropical garden in paradise.
24. Have delicious shave ice at Ululani's
With over 6 outlets around the island Ululan's shave ice is popular and that good. Made with purified water and in house made purees with cane sugar, there are many combinations to choose from.
Or you can try their classic No Ka Oi signature shave ice combo with mango, passionfruit and coconut – top it with a scoop of local ice cream and it is a yummy local treat!
25. Find the best poke at these delicious venues
Not just any grocery store, but the local Foodland located on Front street in Lahaina is a local favorite spot to buy the freshest poke on the island. Lots of fresh fish, yummy sauces and different toppings, lets you pick and choose your own creations of delicious poke from this popular institution.
Or if you want to try some more good finds, check out these fantastic poke venues here for more inspiration.
26. Sport fishing fun in Maui
If you love fishing for some local fish, you can try some spear fishing, bottom fish, net fishing, sport fishing with a variety of outfitters on the island. You can choose any of the outfitters based on your budget, time and location for having a fun, fishing experience on the island. Check out this shared fishing charter experience here or even this private charter experience here for more information.
If you love going for the big fish, you'll have a wonderful time fishing offshore with spectacular views back to the Maui coastline and hopefully you'll land a big fish on your adventure.
27. Experience historic Bailey museum and home
The private Bailey home was converted into a seminary and then a museum that you can walk through creaky floors, worn doorways and portals of this home/museum. This museum houses a fine collection of artifacts and historic materials, art exhibits and personal collections of the Bailey Family – one of the early Christian missionaries on the island. You can check out more on their website here for details and when to visit.
28. Experience the West Maui Mountains in a road trip
For a Hana road trip alternative without the hassle, check out the West Maui road trip on Hwy 30 past Kalapua and around to the northern most point with gorgeous views of high cliffs against deep blue ocean. You can even stop at Mile marker 38 and do a short walk to see the Nakalele Blowhole. This is a fun road trip to enjoy and stop to enjoy the views without the crowds driving to Hana.
29 Take a surfing class in Maui
With so many fantastic beaches to enjoy, the surf is fantastic and learning to surf or picking up some new pointers is the best way to enjoy the wave action on the beach here.
With plenty of fantastic outfitters to choose from here, you can pick one that works with your location, budget and time frame. Most of the sessions are average two hours from beginning to more intermediate levels for those looking to up their surfing skills on the island.
Check out my post on finding the best surfing experience here for more information.
30. Go whale watching in Maui
The winter season is when whale watching becomes an all consuming adventure on the shore or on water. With all these fantastic outfitters here to choose from, your captain will find the perfect spots to witness some of the most spectacular gathering of Humpback whales that travel from Alaska and the Artic circle down to the Hawaiian islands and in spectacular numbers around Maui.
31. Experience Maui Ocean Vodka Tour
A visit to the Maui Ocean Vodka distillery is a fun and a fantastic experience in seeing organic farming and learning how this spirit is made with this family business on the slopes of Mount Haleakala. With fantastic views of Maui below, you get to tour the organic 80 acres of 30 varieties of cane sugar grown on the property and learn about their organic practices to making this spirit. You can find out more on their Facebook website here for more details.
32. Check out historic Wailuku and the Iao Theater
Wailuku has turned hip with cool boutique stores, enjoy a fantastic meal at a local restaurant and enjoy a performance at the historic Iao Theater created in a Spanish/Art Deco architectural style. They hosts stage plays and local performances, movie shows and other specialty events at the theater and you can check out the latest event on their website here for more details.
33. Maui Pineapple Tours
Maui golden pineapples are legendary and touring a fantastic farm Hali'imaile Pineapple Plantation is the way to go up country. This working pineapple farm tour shows you the eco friendly experience to learning about the history, process, havesting and final shipment of the golden delicious pineapple with a souvenir pineapple to take home after the tour. Check out the details of the tour from their website here for more information on visiting the pineapple plantation.
34. Rappeling off a waterfall in Maui
If you are looking for a unique adrenalin inducing experience, check out this rappeling adventure with the Maui Rappel Waterfalls Tours. Located on a private 26 acre botanical garden, you follow your guide and learning about the environment and rainforest and eventually get equipped with canyoneering gear and instructions for this amazing experience. Check out the details here for more information on doing this fantastic rappelling tour.
35. Take a helicopter tour in Maui
Why not cap your Maui adventure with an amazing helicopter tour in Maui. With so many different options of places to visit and outfitters to explore around the island, you can easily choose from any of these helicopter tours here to fit your budget, timeframe and location. What a fantastic way to see Maui from above and capture some spectacular images of places that you can see differently in a helicopter flight from coastline, lush mountain scenery to spectacular beaches you can see from above.
36. Swim with sea turtles
There are many popular snorkeling and beach areas that sea turtles are active in Maui especially around Oluwalu reef area or the popular Turtle town better known as Maluaka Beach. Now you are supposed to keep at a distance from these turtles in their natural habitat unless they actually are swimming to you.
37. Experience a real black sand beach
One of the best black sand beaches in Maui is Wai'anapanapa Black Sand Beach going towards the road to Hana. There's a very short but steep trail that leads to this fabulous black sand beach that is quite spectacular to experience.
38. Experience the 7 Sacred Pools of Ohe'o Gulch
The highlight to any road trip to Hana is the 7 Sacred Pools of Ohe'o Guch which is actually located on the eastern end of Maui and located in Haleakala National Park. The park, hikes to Pipiwai trail to enjoy the bamboo grove and the gulch areas and into the pools make up for a fantastic visit to the national park and the Hana area.
39. Adventure fun doing a Ziplining experience
There's nothing like ziplining above through some gorgeous scenery in Maui and there are a variety of cool outfitters around the island to do this. Check out the best zipline experiences here for more zipline fun on the island.
40. Have some delicious local pie at Leoda's Kitchen
In a sweet tooth mode, try some of the local pies made at Leoda's Kitchen located at Olowalu, Maui. So sweet and lots of different types to choose from, but they also sell savory comfort foods for a complete and delicious meal there.
41. Bike down fast on an actual volcano
If you are in the mood for an adrenaline rush, try biking downhill on Haleakala with Bike and winery tour here or a Maui Sunrise Volcano Tour here starting from the top of the mountain meeting point and traveling down the mountain 27 miles with fun stops along the way.
42. The ultimate Seafood dinner at Mama's Fish House
This world famous restaurant on the outskirts of Paia is seafood at its best with local fish brought in each morning fishermen and you'll enjoy stunning ocean views at this iconic restaurant. Mama's Fish House serves the best Ahi, Mahi Mahi, Ono, Opakapaka and whatever is caught fresh for the day.
43. Check out the Nakalele Blowhole
Located north of Napili Bay past mile marker 38 is the fantastic blowhole you can admire and capture in photographs. Once parked, walk down the trailhead to the blowhole and the heart shaped rock. A fun and easy hike with such a unique natural feature to experience in Maui.
44. The Sacred Garden of Maliko
This tropical green house nursery is open to the public and offers two walking labyrinths for meditation, various gardens including a Buddha garden and other meditation spots in the area. Check out The Sacred Garden here for more details, events and classes happening at the center.
45. Haliimaile Distilling Company
Located in upcountry Makawao, Hali'imaile Distilling Company produces delicious handcrafted and locally Hawaiian brand spirits. You can have a nice pineapple tour and also distillery visit in the same location at their Makawao tasting room. Check out the details here to book a tour and other information on the distillery.
More inside things to do in Maui
If you're looking for more inside things to do in Maui that don't involve visiting attractions or specific places, here are some suggestions:
Attend a Luau: Experience the traditional Hawaiian feast and entertainment at a local Luau. It's a great way to immerse yourself in the local culture.
Take a Hula Class: Learn the art of Hula dance, a beautiful and expressive Hawaiian dance form, from experienced instructors.
Visit Local Art Galleries: Explore the vibrant art scene in Maui by visiting local art galleries. You might find unique pieces that capture the essence of the island.
Try Farm-to-Table Dining: Discover the delicious local cuisine by dining at restaurants that emphasize farm-to-table practices, where the ingredients are sourced locally.
Attend a Cultural Workshop: Join a workshop that introduces you to Hawaiian traditions, such as lei-making, ukulele lessons, or traditional Hawaiian crafts.
Explore Local Farmers' Markets: Wander through the farmers' markets to taste fresh, locally-grown produce and interact with the friendly vendors.
Discover Hawaiian History: Dive into the rich history of the island by visiting museums or historical sites that showcase Maui's past.
Stargazing: Maui offers some incredible opportunities for stargazing. Head to a secluded spot away from city lights and admire the night sky.
Relax with a Spa Day: Treat yourself to a spa day at one of Maui's luxurious resorts, where you can enjoy massages, facials, and other relaxing treatments.
Yoga or Meditation: Many places on the island offer yoga or meditation classes in serene settings, allowing you to find inner peace and relaxation.
Learn to Surf: Sign up for a surfing lesson and ride the waves with the help of experienced instructors.
Book a Helicopter Tour: See Maui from a different perspective by taking a helicopter tour, which provides breathtaking views of the island's natural beauty.
Explore Bookstores and Libraries: If you enjoy reading, spend some time browsing through local bookstores or libraries to find books related to Hawaiian culture and history.
Volunteer for Conservation: Engage in eco-friendly activities by volunteering for local conservation efforts, such as beach clean-ups or environmental projects.
Attend a Local Event: Check out community events, festivals, or live performances happening during your stay. It's an excellent way to connect with the local community.
Remember, Maui is not just about the scenic spots; it's also about immersing yourself in the culture and lifestyle of the island. Enjoy your time exploring the hidden gems and unique experiences that Maui has to offer!
Enjoyed the post – Pin it for later
Check out these other posts on visiting Maui below
Best Luau to choose from in Maui
Top 20 things to do in Lahaina, Maui
Horseback riding in Hawaii and Maui
Things to do in Paia and Haiku now
Best places to eat in Maui now
Conclusion of 45 things to do in Maui now
Which of these fun things or attractions will you do first? Share it in the comments below.
Thanks for visiting and checking out this post on Top 45 things to do in Maui. Bookmark this post for future reference when you are looking for some Hawaii activities, adventure or fun experiences.
Please do share this post with any of the social media icons on the side bar and thanks for visiting today!
Disclosure – There are affiliates links on this posts which provide a small commission to support this site at no extra cost to you. Thank you for reading, and happy travels