Visit Lili'uokalani Garden: Immerse Yourself in the Serene Beauty of Hawaii's Historic Landmark and exploring the park (updated 2023)
Visit Lili'uokalani Garden, a captivating oasis nestled in the heart of Hilo, Hawaii. With its lush landscapes, tranquil ponds, and stunning flora, this historic landmark invites visitors to experience the serene beauty of the Aloha State. Named after Hawaii's last reigning monarch, Queen Lili'uokalani, the garden offers a peaceful retreat where nature and culture intertwine.
Whether you're seeking a leisurely stroll, a moment of reflection, or a picturesque backdrop for photography, a visit to Lili'uokalani Garden promises an enchanting escape into the captivating world of Hawaiian charm.
It is a fantastic park to explore and walk around the beautiful gardens, sweet bridges and lush plantings in a Japanese styled garden with gorgeous views of the area.
History of Lili'uokalani Gardens
Named after Queen Lili'uokalani who in 1907 donated five acres next to Hilo bay for a public park and this was later expanded to 17 acres by the legislative committee that increased the grounds to create a bigger park setting. The Queen died in 1917, the same month that the grounds were started for the garden which were named in honor of the Queen.
Under leadership of Mrs. T. Machada, the main mission of the garden board was to beautify the park grounds and add more Japanese features like a tea house, stone lanterns, sculptures, pagodas and a tori gate entrance for interest in exploring the park. The group planted Japanese shrubs, perennials and trees including bamboo, azaleas and pine trees to help to create a Japanese inspired themed garden. Eventually the garden started to include more ornate features like a stone arch bridge, a brightly painted red bridge, pavilions and additional tori gates around the entrances to the park.
Commemorated in memory of the late queen in 1919, the park also pays honor to the Japanese immigrant farmers that worked in the plantation farms around the island and helped build it's agricultural heritage on the island.
Where is Lili'uokalani garden in Hilo located?
Lili'uokalani Garden is located in Hilo on the Big Island of Hawaii, specifically along Banyan Drive, near the Hilo Bay waterfront.
Lili'uokalani Garden is approximately 1.5 miles (about 2.4 kilometers) from downtown Hilo on the Big Island of Hawaii. It's about a 5 to 10-minute drive, depending on traffic and your specific starting point in downtown Hilo.
Touring Lili'uokalani garden in Hilo, Hawaii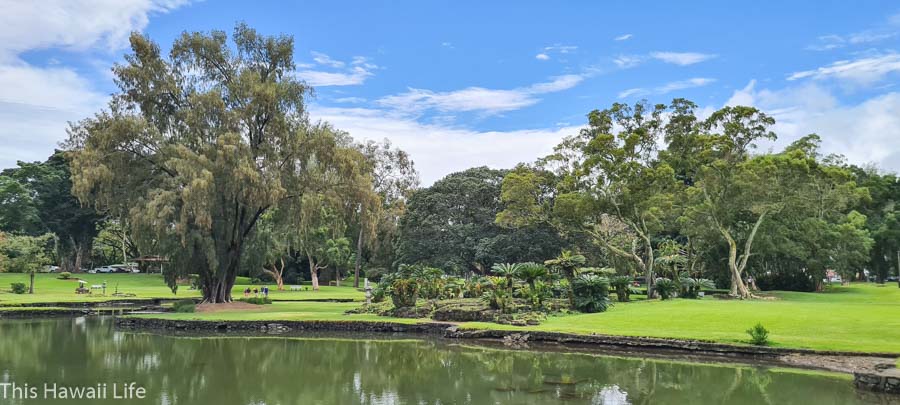 The gardens today
Today, the gardens are mature and sits on a total of 24.5 acres with a series of tidepool lagoons filled with koi and tropical fish. You'll find more rock formations and original lava rock patterns, beautiful stone lanterns and other Japanese garden features that are placed around the garden for interest and details to enjoy when walking through the various paths and elevated bridges.
The garden is a very popular spot with locals exercising, walking around the garden perimeter, doing yoga and Tai Chi in the morning. It is also used for doing family portraits and wedding photographs or even ceremonies.
Even the postal service loves Lili'uokalani gardens with a postal stamp created of the park grounds and red bridge.
Lagoons at Lili'uokalani

The Lagoons at Liliuokalani Gardens are a mesmerizing feature that adds an extra touch of tranquility to this enchanting destination. Nestled within the garden's picturesque landscape, the lagoons offer a serene oasis where visitors can bask in the natural beauty of Hawaii.
The lagoons, characterized by their calm and reflective waters, create a sense of harmony and peacefulness. Surrounded by vibrant greenery and colorful blossoms, these serene bodies of water serve as a haven for various aquatic plants and wildlife, further enhancing the garden's allure.
The stillness of the lagoons invites visitors to take a leisurely stroll along their shores or sit on benches strategically placed to offer breathtaking views. The gentle sounds of water cascading over stone bridges and the occasional chirping of birds create a soothing ambiance, making it an ideal spot for relaxation and contemplation.
The historic tea house
The planning of the tea house was detailed and well planned with replicating a beautiful and typical styled tea house named Shoroan from a Kyoto styled structure. The tea house is used for primarily special services and events and to have tea tastings at the tea house for the public to experience.
Large specimen trees at Lili'uokalani Gardens
Lili'uokalani Gardens is adorned with a diverse array of trees, each contributing to the enchanting ambiance of the garden. Visitors can marvel at the following notable tree species:
Monkeypod Tree (Samanea saman): With its wide, umbrella-like canopy and graceful branches, the monkeypod tree is a prominent presence in Liliuokalani Gardens. Its fern-like leaves provide ample shade, creating cool and serene areas throughout the garden.
Banyan Tree (Ficus benghalensis): The magnificent banyan trees at Liliuokalani Gardens are awe-inspiring sights. With their extensive aerial roots that drop from branches to the ground, they create a network of natural columns and archways, forming a unique and mystical atmosphere.
Royal Poinciana Tree (Delonix regia): Known for its vibrant orange-red flowers, the royal poinciana tree adds a splash of color to Lili'uokalani Gardens. When in full bloom, its canopy becomes a breathtaking canopy of fiery hues, providing a striking contrast against the lush greenery.
Plumeria Tree (Plumeria spp.): The plumeria tree is celebrated for its fragrant and exquisite blossoms. Adorning Lili'uokalani Gardens with their vibrant and fragrant flowers, plumeria trees create an enchanting and tropical ambiance.
Cook Pine (Araucaria columnaris): The tall and slender Cook pine trees can be found throughout the garden, adding verticality and an elegant touch to the landscape. Their distinctive form and dense foliage create an interesting visual element.
Japanese Maple (Acer palmatum): These ornamental trees, known for their delicate and intricately lobed leaves, contribute to the garden's aesthetic appeal. With their vibrant autumn foliage, Japanese maples add bursts of red, orange, and yellow hues to the scenery.
Coconut Palm (Cocos nucifera): Symbolic of tropical paradise, the coconut palms dotting Lili'uokalani Gardens evoke a sense of the Hawaiian coastline. Their slender trunks and feathery fronds sway gently in the breeze, transporting visitors to a serene coastal atmosphere.
These are just a few of the tree species that grace Lili'uokalani Gardens. As you wander through this enchanting oasis, you will encounter a rich variety of trees, each contributing to the natural beauty and peaceful atmosphere of the garden.
Fishing pier with views of Hilo Bay
The fishing pier at Lili'uokalani Gardens attracts individuals seeking a peaceful and leisurely fishing experience. Anglers can cast their lines into the waters and try their luck at catching a variety of fish species that inhabit the area. Whether it's the thrill of reeling in a prized catch or simply enjoying the art of fishing amidst the tranquil ambiance, the pier offers an opportunity to connect with nature and the sea.
Aside from fishing, the pier is also a favorite spot for visitors to take in breathtaking views of the ocean and the garden's surroundings. It provides an ideal setting to observe the ebb and flow of the tides, witness vibrant sunrises or sunsets, and appreciate the coastal beauty that Hawaii has to offer.
Afternoon walk around the perimeter
As you walk the perimeter like the locals, you'll gain a unique perspective on the garden's rich history and the significance it holds within the community. Engaging with the surroundings in this intimate manner allows you to appreciate the subtle details, from the intricate patterns of the pathways to the delicate blooms that adorn the garden throughout the seasons.
Walking the perimeter of Lili'uokalani Gardens offers a chance to connect with the essence of this enchanting oasis in a way that transcends a mere visit. By following in the footsteps of the locals, you'll create cherished memories and forge a personal connection to this beloved Hawaiian sanctuary.
Directions on how to get to Lili'uokalani Gardens
Follow the Kamehameha Avenue from downtown Hilo and make a left on Manono street and follow until you reach the park on the right-hand side with parking on the street.
Address Banyan Dr, Hilo, HI 96720
For more details about current events and happenings around the gardens, check their Facebook page here for the latest news and calendar of events.
Things to see a close to Lili'uokalani gardens
There are a variety of attractions that are an easy walk from the park to this section on Banyan drive where the hotels are mostly located for Hilo.
Banyan Drive – a street that is covered with mature banyan trees and planted by historic government and popular figures that visited the park. The trees are mature and create a beautiful canopy on the street where hotels for Hilo accommodations are plentiful
Coconut Island – close to Lili'uokalani gardens and a short walk through a bridge is this island that used to be a place of refuge in ancient times and is now a popular family-oriented park with two small bridges, a lava tower and gorgeous views looking out on the bay and Hilo town.
Suisan Fish market – a popular market for local seafood that is caught in the area. There is a deli counter for take out fish orders and different kinds of poke bowls and other prepared foods for sale including different kinds of seafood.
Public walkway to Hilo – you can follow the walkway that travels right next to Hilo bay all the way to downtown Hilo. This is a great way to enjoy the bay and scenery when you want to just walk to town and enjoy the outdoors here
Canoe club buildings – On Hilo bay, you can check out competing canoe clubs from the area practicing daily after hours and launching into Hilo Bay and doing their drills and other practice techniques for competition meetups around the island and state.
Reeds Bay – a larger bay located on the other side of Banyan drive past the hotels with nice grass areas and beach areas that are family friendly. The water is shallow at this beach which makes it a perfect place for sup paddling and kayaking the surrounding areas of the protected Hilo bay.
Weather and best time to visit Hilo
Hilo, located on the Big Island of Hawaii, has a tropical rainforest climate, making it lush and green year-round. However, the best time to visit Hilo largely depends on your preferences and what you plan to do:
Dry Season (April to October): Hilo experiences its drier months from April to October. This period offers more sunshine and is ideal for outdoor activities such as hiking, snorkeling, and exploring the town. The warm temperatures and relatively low rainfall make it a popular time for tourists.
Wet Season (November to March): Hilo's wet season falls between November and March. During this time, the town receives more rainfall, which can result in lush green landscapes and full waterfalls. It's a great time for photographers and those who appreciate the beauty of rainforests. Just be prepared for occasional showers.
Merrie Monarch Festival (April): If you're interested in Hawaiian culture and hula, visiting Hilo in April for the Merrie Monarch Festival is a must. It's a week-long celebration of hula and Hawaiian traditions, showcasing some of the best hula dancers in the world.
Whale Watching (December to April): If whale watching is on your agenda, visit Hilo between December and April when humpback whales migrate to Hawaiian waters. Take a boat tour to catch sight of these majestic creatures.
Avoid Crowds: Hilo tends to be less crowded than other Hawaiian destinations, but if you prefer even quieter times, consider visiting during the shoulder seasons (spring and fall) to enjoy a more peaceful experience.
Hurricane Season (June to November): Keep in mind that Hilo is susceptible to hurricanes during the hurricane season, which lasts from June to November. While hurricanes are relatively rare, it's a good idea to monitor weather updates if you plan to visit during this period.
In summary, Hilo is a beautiful destination with a pleasant climate year-round. The best time to visit depends on your interests and tolerance for rainfall. Whether you choose the drier months for outdoor adventures or the wetter season to experience Hilo's lush beauty, you're sure to find something to love about this charming Hawaiian town.
Other things to enjoy in the surrounding area of Hilo
A visit to Narnia north of Hilo town
Explore the waterfalls of the Big Island
A beach day at Richardson Ocean Park
Explore the Kaumana Caves State Park above Hilo downtown
Have you been to Lili'uokalani park in Hilo?
Please share your thoughts and other recommendations in the comments below with your recommendations.
Conclusion to visiting Lili'uokalani Gardens
Beyond its scenic allure, Liliuokalani Garden holds a special place in the hearts of the local community. Observing the locals as they enjoy the garden's splendor provides a deeper connection to the spirit of Hilo and the authentic Hawaiian experience.
The garden's timeless charm, named after Queen Liliuokalani, Hawaii's last reigning monarch, invites you to embrace the fusion of nature and culture. Whether you choose to take a leisurely stroll along the fishing pier, walk the garden's perimeter like a local, or simply find a peaceful spot for reflection, Liliuokalani Garden promises a rejuvenating escape into the beauty of Hawaii's natural wonders.
Thanks for visiting today and checking out this post on Lili'uokalani garden. I hope you are inspired to plan a visit and enjoy these wonderful attractions. If you enjoyed the images and post, could you please share it with any of the social media buttons located around the post.