Exploring Waimea in West Hawaii on the Big Island and finding cowboy culture (updated 2023)
Waimea, Hawaii is cowboy country and everything Hawaiian Paniolo style and living on the west side of the island. Waimea has two names here Kamuela and Waimea so there's no confusion with other Waimea's located on the island islands – this Waimea has the official name of Kamuela at the main post office which is one of the only few places with a reference to the Kamuela name. Known as cowboy country with the presence of the Parker ranch which used to be the largest cattle farm in the USA but now is more well known for a variety of different land uses like the Parker ranch shopping center, Pukalani stables, the Parker Ranch Rodeo fields and the main homes at located on the ranch itself along with vast parcels of land that still house cattle and horses in all their ranch lands.
There's a lot to see in and around town including the Gorgeous Waipio Valley and the sweet town of Honoka'a or you can enjoy the beautiful attractions around town visiting Church row with the large stands of Cherry blossom trees, the various farmers markets here or some of the historic sites of Parker ranch.
Quick Plan your West side Big Island Itinerary
Are you in a rush on a last-minute trip to visit the West Side, Big Island? Well then, try our jump start guide to book the best tours and hotels below.

Pro Tip – Since you are planning to visit take this Full circle island tour and enjoy fantastic views along your BIg Island tour

Top Tours to Try in the West side
Volcanoes Naional Park tour – Day Trip Tour
Private Helicopter tour– Top Rated
Manta Ray Dive – Easy tour classes

Where to Stay in around the West Siden
Hilton Waikoloa Village – Family Friendly in Waikoloa Village
Fairmont Orchid – Kohala Coast Resort
Mauna Lani Auberg resort– Kona Resort
Why visit Waimea on the Big Island
Visit Waimea on the Big Island for stunning landscapes, Parker Ranch history, farm-to-table dining, and outdoor adventures in a cooler climate. With so many cool cultural festivals and events in town, you'll enjoy your visit here.
History of Waimea, Hawaii
In 1793 a small herd of five cattle was first gifted to King Kamehameha and were very successful living in the Waimea area. Cowboys or Vaqueros from Mexico were brought over to train the early Hawaiian Paniolo to herd and teach them to take care of the cattle. Waimea is a cowboy or Paniolo country and lifestyle with rodeos, ranching ad horseback riding a popular activity as well as other outdoor activities to do around the region. Cowboy culture still has a strong influence with visiting ranches and doing horseback riding activities at Parker Ranch and also Kahua Ranch further upland in the Kohala mountain area.
Weather in Waimea
The weather patterns are always changing in Waimea because there is a dry side and wet side to the city. The weather does change constantly but on the dry side, it is fairly warm and you can expect warm summers unlike the wet side where temperatures and weather can change dramatically every day
Things to do in Waimea, Hawaii
You can enjoy the local lifestyle and do enjoy the various fun things that locals like to do in town including:
Shop at all the local farmers markets in town
There are three markets that occur regular during the week for the Waimea, check out the details to the Waimea farmers markets here for visiting them. They are all beautiful but the most fantastic with a local experience is the Kamuela farmers market at the Pukalani stables where the market is located all around the insides, courtyards and back areas to make this a very festive and fun market to enjoy twice weekly.
The Isaac Art Center Museum and Gallery
The Isaac Art Center Museum and Gallery celebrates arts and crafts from local artists in Hawaii. You can find revolving shows and Pacific art in the many galleries of the museum with the popular wood workers showcase and the Christmas displays which are the biggest draws for the gallery. You can even take home some of the valuable art to benefit the Hawaii Preparatory Academy school fund.
Visit a local church at Church Row
Church Row started in Waimea is very scenic with all the international churches lined up behind the large grass lawn and cherry blossom trees. You'll find the different church denominations to include: Mormon, Buddhist, All Hawaiian, Christian all in one area that embodies living religious life in Waimea and in cohesion.
Enjoy the cherry blossoms and trees at Church Row
Cherry blossom season in Waimea starts late February until March when the blossoms come out for Sakura. There is an annual Cherry blossom festival that happens all around the city and especially around Church Row where the blossoms are all in an area by the grass lawn for everyone to enjoy.
Shop at Parker Ranch area
The Shops at Parker Ranch offer dining venues, grocery, boutique stores and other convenience shopping in the area. The close by Kahilu Theatre offers world class art, music and special events programs in this multi-purpose theater.
Check out the art galleries in town
There are a few art galleries in town to explore to include the Isaac Art Center, the Gallery of Great Things and the Firehouse galleries for art, treasures and other collectibles
Go antique shopping in Waimea
A popular pastime for locals and visitors to Waimea is to go antique and consignment shopping in the area and there are a few cool places to explore including: Calabash Collectibles, Antiques By, Waimea General Store and the Habitat Restore for finding all those cool collectibles or reuse household items.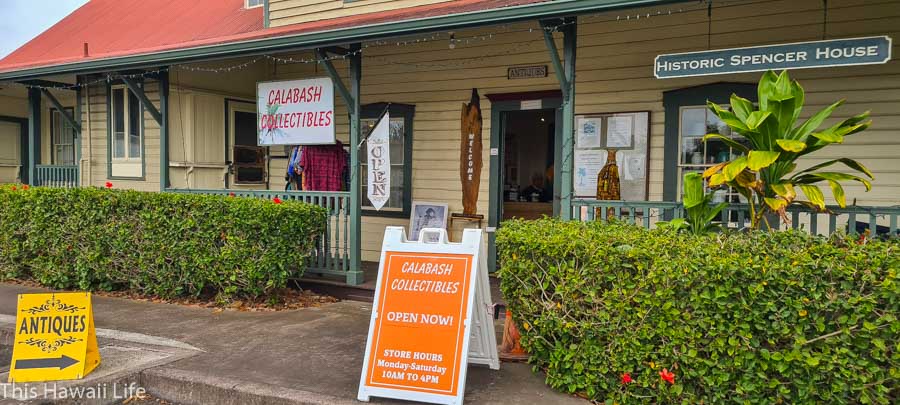 Watch a rodeo in Waimea
The big rodeo event happens on the 4th of July at the Parker Rodeo grounds and it is a big paniolo event with so many different rodeo activities with a twist of Hawaiian cowboy tossed in.
The Pukalani stables museum is a fantastic place to visit the actual stables that is now a living museum and the regular farmers market at Pukalani is held here every Wednesday and Saturday. You'll enjoy seeing all the cool exhibits, memorabilia and displays about life in Paniolo cowboy country at Waimea.
Things to do around Waimea, Hawaii
Drive up the Kohala Mountain road to Hawi
Visit Honoka'a town on the Hamakua coastline
Enjoy and hike Waipio Valley
Visit the area of Lapahoehoe Point
Enjoy the beach down at Hapuna Beach
Hike through gorgeous Makalawena Beach
Where to eat in Waimea
The Fish and the Hog – easy barbeque, poke and burgers work well in this casual and fun environment
Merriman's Waimea – American style farm to table and delicious, fresh with the best local ingredients and dishes to eat here
Moa Kitchen – Japanese inspired noodles, seafood, yakitori and fantastic sushi
Big Island Brewhaus – delicious Mexican food and craft beer makes a perfect combination here
Ippy's Hawaiian Barbeque – Hawaiian barbeque and some favorite local style dishes to enjoy here
Noodle Club – Pan Asian, noodles, small plates, soups, ramens and different Asian specialties
Where is Waimea, Hawaii
Waimea is located on the Northwest end of the island and at the base of Kohala mountain, the oldest volcano located on the island and also Kilauea Volcano, the largest mountain on the island. From Kona Town, Waimea is about 39.4 miles on Hwy 190 northwest, and downtown Hilo is 59.4 miles on Hwy 19 west.
The closest airport is Kona International Airport at 36.8 miles west of Waimea
Where to stay in Waimea
There are a variety of luxury hotels, small inns and mom and pop cottages for staying overnight or a longer stay in Waimea. Check out all these fantastic places to stay around town and explore the area slowly.
Westin Hapuna – Right on the beach front at Hapuna with stylish modern and renovated contemporary style accommodations that is Westin signature brand for the Big Island
Ocean Tower Hilton Grand Vacations – great value and location with a Hilton Brand at Waikoloa area.
Waikoloa Beach Marriott Resort – Located on A Bay and great shopping and dining next door, beautiful and comfortable rooms some with ocean views.
Check out all these reviews and details from TripAdvisor listings here for the best places to stay and current prices and availability.
Have you visited Waimea?
Enjoyed your visit here or any other tips to share? Please share on the comments below.
Thanks for checking out this post on visiting Waimea. Hope the post was informative and a must read article – if so please do share it with any of the social media buttons around the page.