Explore the 8 beautiful botanical gardens and arboretums in Oahu
Oahu has some really beautiful botanical gardens to explore around the island and visit when you are in town. The botanical gardens in Oahu are a slice of paradise right in the heart of Honolulu, an easy fun day trip or even tucked into unexpected places like the cavity of a sunken cinder cone.
You'll love visiting all of these fantastic botanical gardens in Oahu even if your not a plant freak. Many of the gardens are located in fantastic locations where you can drop by along the way from your main destination.
Hopefully these images of the following botanical gardens in Oahu will inspire you to visit these gardens for spring time in Oahu.
Why visit a botanical garden in Oahu
Even if you're not a fan of visiting gardens, some of these places have fantastic views, opportunities to hike to waterfalls and even take a dip on some of these fantastic places. if you're into tropical plants and flowers, indigenous or from all the exotic places around the world wrapped up into a gorgeous garden to explore then check out these amazing botanical gardens of Oahu.
Check these gorgeous botanical gardens of Oahu
Waimea Valley and Botanical Garden
Located on the North Shore of Oahu at Waimea, the Waimea Valley Botanical garden is a wonderful day trip to explore the gardens, historic and cultural villages and a fun hike and swim to Waimea falls. You can sign up for a docent tour of the gardens, mock village and ancient peoples that lived in the area or do your own DIY tour of the various gardens which hosts a variety of native plants, orchids species, heliconia and a host of beautiful tropical plants and flowers. Check out my post to visiting Waimea Valley Botanical garden for more images and details.
59-864 Kamehameha Highway, Haleʻiwa, (808) 638-7766, Check their website at Waimea Valley.net
Located in Manoa valley and next to the popular Manoa Falls, Lyon Arboretum is lush and dense even though it is not to far from the commercial and business center of Honolulu.
Within the two hundred acres of the arboretum, you can find over 5,000 tropical plant species. Within the arboretum, you can explore the various gardens to include a native garden, an herb and spice garden, The Betty Ho Memorial garden and even a sweet waterfall setting at Aihualama Falls on the property.
3860 Manoa Road, Honolulu, website at Lyon Arboretum | A University of Hawaii Research Unit
One of the most popular botanical gardens in Oahu mostly with visitors that love to take selfies on the palm tree lined streets and other popular venues along the garden, the Ho'omaluhia Botanical Garden is also popular with fish and release at its pond, feeding the ducks and just exploring the lushness of the gardens with the dramatic Ko'olau mountains in the backdrop.
This expansive 400-acre botanical garden is broken up into sections that feature plants of Sri Lanka, India, The Philippines, Africa and Polynesia.
45-680 Luluku Road, Kaneohe, check their website at HBG Ho`omaluhia (honolulu.gov)
Located in the town of Wahiawa, the botanical garden is filled with gorgeous tropical plants to include many orchid flowers blooming in season, Heliconia and ginger flowers and a host of other tropical plants that thrive in this beautiful environment. An intimate garden that is only 27 acres and located in a ravine that is cooler in climate, the garden feels like little jewel and is fun to explore some of the trails and jungle areas of the botanical garden especially on the edges of the ravine and walking down to the bottom section.
1396 California Ave., Wahiawā, Check updates to visiting on their website at friendsofhonolulubotanicalgardens.com/Wahiawa.htm
Located in the heart of Honolulu and a convenient drive from the city and Waikiki, Foster Botanical garden hosts mature tropical trees and many specimen plants from the islands and other exotic varieties of tropical plants and flowers in this 14-acre garden. Started in 1853, this garden hosts many of the oldest and tallest tropical trees and canopy plants in all of Hawaii. There are many rare plant collections to explore including the butterfly garden, conservatory and also an extensive orchid zone and collection of flowering orchids that is fantastic to experience on your visit here. The entrance fee to the garden is nominal and helps to support the ongoing care of the gardens.
180 N. Vineyard Blvd., Honolulu, check the website at honolulu.gov/cms-dpr-menu/site-dpr-sitearticles/568-foster-botanical-garden.html
Located close to its famous counterpart, the Koko Crater which it is located in (a very popular hiking spot to the top of the crater via some strenuous railroad steps to the top), the gardens specialize in arid, dryland and Mediterranean climate plants but also hosts an international collection of plants from around the world.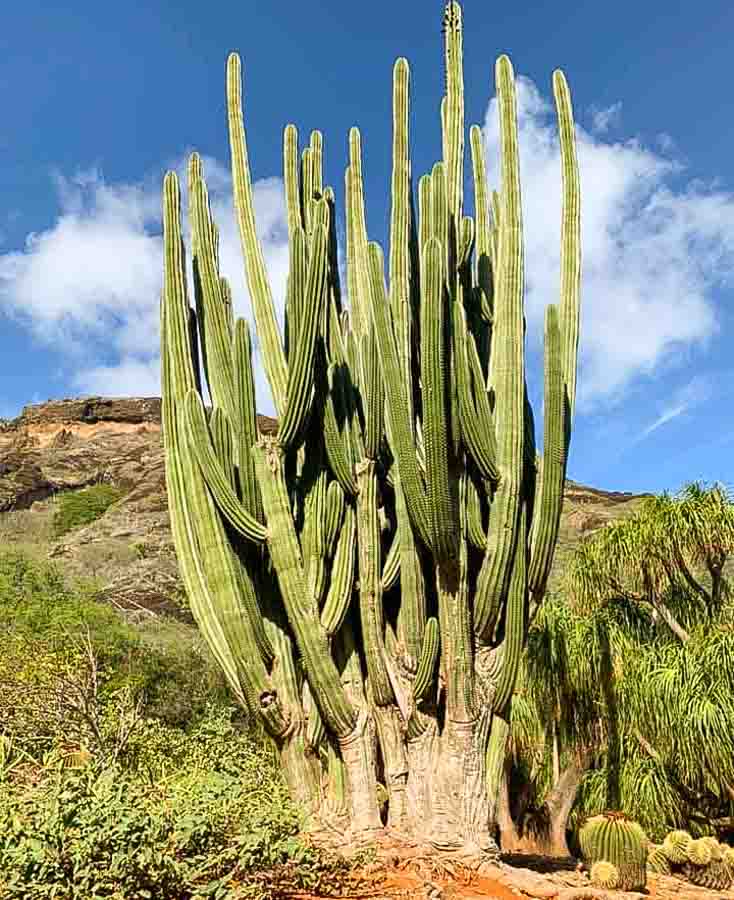 You can explore the two-mile loop trail within the 60 acres of gardens that makes this a fun experience to check out the extensive exhibits of plants and makes this one of the best botanical gardens to visit in Oahu.
7491 Kokonani St., Honolulu, visit their website for details at honolulu.gov/parks/hbg/honolulu-botanical-gardens/182-site-dpr-cat/572-koko-crater-botanical-garden.html
Liliu'okalani Botanical Garden
Located in Honolulu is named for the last queen of Hawaii, Liliu'okalani and hosts a variety of native plant species. This was her garden to the people of Honolulu and Oahu and the garden is free to enjoy and open daily from 7am to 5pm.
123 N. Kuakini Street, Honolulu, visit their website at HBG Liliuokalani (honolulu.gov)
Created by King Kamehameha V, the king built the historic Kamehameha V Cottage with the huge Hitachi tree named for the giant Monkeypod tree that is over a hundred years old with huge limbs that spread out over the garden. The gardens are a popular venue for weddings and events that can be held on the property grounds.
Moanalua Road, Honolulu, website at MOANALUA GARDENS
Tips for visiting the botanical gardens of Oahu
Bring bug repellent – many of the lush gardens are filled with mosquitos that are vicious so plan on bringing spray and protecting yourself while exploring these gardens
Locate the garden on your google app or GPS to locate each garden and parking lot more efficiently
Grab a map of the garden – check out the information center and grab a map layout so you don't get lost and go around in circles
Support the botanical garden – many of these gardens offer gift shops, café foods or hand made snacks or desserts and operate on shoe string budgets – it would be fantastic to keep them operating for everyone to enjoy and supporting them with a purchase would be easy enough
If you enjoy this – pin it for later!
Thanks for visiting This Hawaii life and checking out this post on the best 8 Botanical gardens in Oahu. If you enjoyed reading this post, please do share it with any of the social media buttons on the slider.
I'd like to hear from you!
If you found some other cool places to explore from this post, please share your experiences in the comments below for everyone to enjoy. Or even if you have any questions about visiting, I would be more than happy to answer them below.