Explore the top Waterfalls of Oahu now
The waterfall scene around Oahu is varied with some easy trails or more challenging and muddy with falls that are a fun destination to experience on the islands. You'll enjoy being outdoors, exploring lush tropical jungle to open trails and amazing mountain and valley views exploring these wonderful waterfall experiences around Oahu.
Before you visit the waterfalls around Oahu
Hiking to a waterfall and enjoying it is a wonderful experience. But if you do intend on getting into the water, there are precautions and things you need to be aware of.
Cuts or bruises – do not attempt to go into the water if you do have any open cuts or bruises due to the fact that many streams, ponds and lagoon areas contain bacteria and Leptospirosis disease may be present in these situations. Avoid going into the water if you do have cuts, open sores or even bruises.
Always wear water shoes or gripping sandals that help in navigating slippery rocks, rushing water and help to keep your balance in the water.
Do not attempt jumping off rocks or using swings – If you have no gauge on the water levels below like locals, you can get hurt quickly
Do not drink or swallow any water due to bacteria living in the water which can make you sick.
** some of these waterfalls may be closed during times of Covid so do a search on the waterfall to see if it is still open presently
Waterfalls around Oahu to hike from easy to more challenging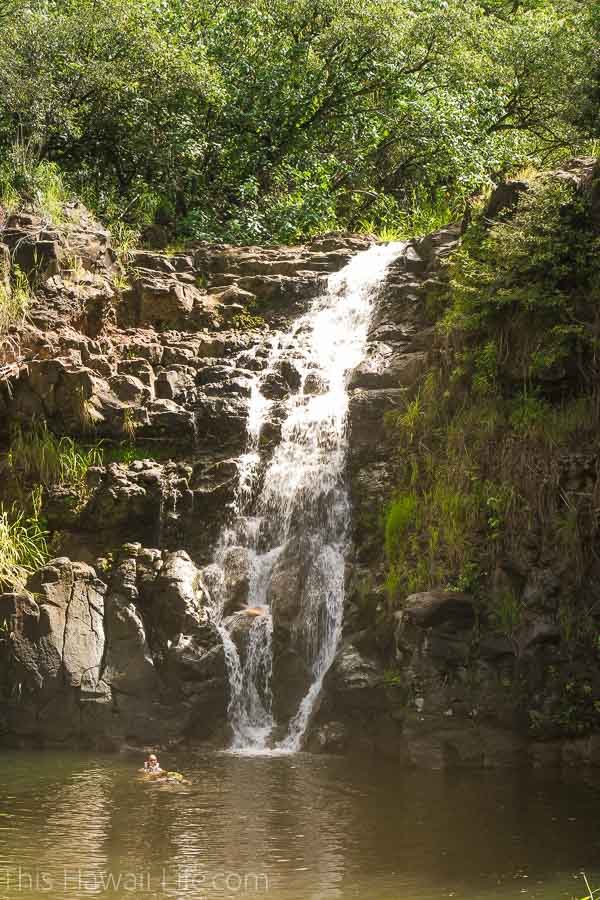 Waimea Falls
Located in Waimea Valley on the North Shore of Oahu, this botanical garden and educational center with a family friendly hike to Waimea Falls. One of the safest family oriented 40-foot waterfall and pond area, there is a lifeguard stationed here and you are required to wear life vests to enter the water. There is a paved road and trail that is 1.5 miles roundtrip and relatively flat and a great way to see the gardens and visit some of the reproduced ancient villages if you want to do a detour and learn more about early Hawaiian culture and daily life in this valley.
Entrance – there is a fee to visit the gardens and enjoy the waterfalls. Adults are $20/$12 Kids and you can take a docent tour and visit the rest of the area at your leisure. You can also do a luau experience and then enter the gardens and waterfall for free.
Good to know – across the street is Waimea Bay which is one of the nicest and iconic beach areas to visit along the North Shore and worth spending time in.
Maunawili Falls
Located on the windward side of Oahu in the Maunawili Estates neighborhood, the hike to the falls is 3 miles roundtrip, it's all about the journey here. Walking through lush jungles and often muddy areas brings you directly to a smaller waterfall 20-30 feet in height with a deep pond and surrounded by beautiful tropical plants and scenery.
Good to know – the trail is often very muddy and slippery so wear stable shoes and keep a watch for muddy areas that you can walk around. Locals jump through the rocks into variable water levels and hidden objects in the water so it is not advised to also jump on the rocks for your safety.
Note – Maunawili falls is now closed and will be closed for the next two years to control trash, vandalism and massive crowds visiting these waterfalls.
Manoa Falls
One of the most accessible falls to visit from Honolulu, Manoa Falls is an easy 20-minute drive from downtown Honolulu. Depending on the season the waterfall is spectacular and dropping over 150 feet to the bottom. The trail to the waterfall is about 2 miles roundtrip passing through the lush tropical terrain and jungles of Manoa which is well kept and a family friendly site to hike to and enjoy.
Good to know – Swimming is not allowed at Manoa Falls, please do not try to enter the pond area. Also, the photo op at the waterfalls is the main effort so do take your pictures and let others take a photo. afterwards.
Likelike Falls
Also located on the windward side of the island and close to Maunawili Falls, Likelike is a short 25-minute hike and about 1.6 miles roundtrip. The hike has gorgeous forested views, valley lookouts, mountain vistas and lush tropical plants and flowers. You can combine both the falls and lookout visit at the same time. The waterfalls are less than 15 feet in height and the pond area of the waterfalls is very shallow and not really swimmable and more just for cooling down and wading around. You will be crossing streams and muddy areas so be prepared with water shoes.
Good to know – parking is available at the Ko'olau Golf Club and it is $10 to park. Make sure you do not leave any personal effects inside the car exposed and can be broken into.
La'ie Falls
Located on the eastern side of the island at La'ie, you need a permit to hike to the falls. Permit are available at the La'ie shopping center at Hawaii Reserves Office. The hike is challenging and around 8 miles roundtrip with an elevation gain of 15 feet. It can be very rocky and slippery and takes an average of 4 hours or so to complete. You will find amazing vistas and lush forest visiting this beautiful hike on the eastern side of the island.
Good to know – You need to get a permit to hike the falls from the Hawaii Reserves Office in La'ie
Hamama Falls
Located on the eastern side of the island at Kaneohe, Hamama Falls is off the beaten from the other waterfalls above and located in a small neighborhood on Kaikee road to the end where the trail head starts . Less than a 4-mile roundtrip hike which takes about 45 to 50 minutes. It finally ends at a 40-foot striking waterfall which is quite spectacular and not crowded. The trail gets muddy in the lush part and also rocky at serveral points and you'll pass through a cool fenced in area that looks like a gate that was used for filming a segment of the movie, Jurassic Park.
The trail and falls are on state land and a permit is required technically but most locals and visitors don't bother doing this to access the falls.
Aihualama Falls
Located at the Lyon Arboretum the waterfall is sweet and less than a two-mile roundtrip trail, but the walk-through forested area and a visit to the gorgeous arboretum, wonderful landscape and mountain valley views makes this a wonderful visit. There is a fantastic trail map of the gardens and trails that you can visit to this wonderful garden that is an easy drive from downtown Honolulu. To find out more about visiting, check out the Lyon Arboretum website here for more information and also visiting Aihualama Falls. There is no swimming allowed here, you can only view and photograph the falls.
Good to know – the trail is well marked with fantastic signage that shares the biodiversity, plant identification and indigenous plants of Hawaii.
Kapena Falls
With a 20 foot waterfall that is a local spot, Kapena Falls is a typical favorite spot for locals to enjoy. Located a short drive 10 minute drive from Honolulu to the Nu'uanu Valley. You drive through a service road at the Nu'uanu Cemetery to a shed and parking located in the back area where the trail head starts. The trail is relatively short and under 10 minutes walk to the waterfalls passing through lush tropical jungle and stream to the side and a set of smaller waterfalls until you get to the main waterfall area further down.
Many swim in the pond fronting the small waterfalls which on average is about 12 feet deep. You'll see locals jumping into the pond from the rocks and boulders which is dangerous and not advisable. Enter the Falls area at your own risk.
Other things to know on these waterfall hikes
Some of these waterfalls may be closed during COVID times, please keep to your social distance which is still mandated by the state.
Bring bug spray – you will be walking through lush jungle areas and will be eaten alive with insects and bugs.
Bring water and snacks for breaks in between and the end when you want to take some time to nourish yourself
Having a rain jacket – if you want to see more dramatic falls after a rain, also bring a jacket for intermittent rain in the area.
Many of the trails are rocky and also muddy so wear sturdy shoes and also water shoes if you plan on hiking through some of the trails especially after a wet rain in the area.
Check out these other Oahu travel and topics
How to get around Oahu with transportation options
Best snorkeling spots around Oahu
Explore the North Shore beaches
Visit the botanical gardens of Oahu
Top things to do in Waikiki, Oahu
Top things to do in Honolulu now
Conclusion on Waterfalls of Oahu
Oahu is one of those places that once you set your foot in, you're taken by the thrill of the tropical landscape, outdoor activities and attractions around the island.
That's all for our visit and guide to Waterfalls of Oahu. Do tell us if you found the post helpful and drop in any questions in the comments section below. We also appreciate any social media shares below, mahalo.