It's a great time to explore the best hikes in Oahu now
You can't help but to be outdoors and enjoying some fantastic adventures in Oahu. Doing some of the best hikes in Oahu is a great way to experience the outdoors in Hawaii and enjoying all the surrounding landscape from the ocean up to the mountaintop areas. Oahu has so many wonderful places to explore and hike through some lush valleys, gorgeous waterfall hikes, pali and ridge mountain treks or even climbing challenges to the top of some of the most scenic cinder cones and mountains around the island.
Check out these amazing hikes from travel writers and their favorite spots to trek and enjoy some fabulous views and experiences on Oahu now. Hope this post on the best hikes in Oahu inspires you to go out and explore the island on foot and be one with nature and Oahu's beautiful outdoor venues.
Top hikes around Oahu
Makapu'u Trail
Distance – 2.5 miles roundtrip
Difficulty – easy on sloped paved road
A very easy hike on the east side of the island on paved road with just a slight incline, Makapu'u lighthouse trail is less than 2.5 miles roundtrip. Fits all skill levels and ends up at the observation area with views to the lighthouse below, coastline views of the eastside of the island and Makapu'u beach. You can also take a detour trail below to head out to the tide pools and blowhole below which is on dirt and gravel road and is more challenging downhill and the uphill climb back up.
There is parking but it does fill up early so go first thing in the morning or later in the afternoon time frame. There is no shade on the trail which is all exposed so plan accordingly for this easy to moderate hike. If you are for more of a challenge, then include the detour downhill hike to the tidepool area and back to the top.
Noel with Oahu Travel Now
Diamond head hike
Distance – 1.6 miles roundtrip
Difficulty – moderate paved at the bottom and then gravel and dirt uphill climb
One of the most iconic landscapes around Honolulu, Diamond head stands in the middle of Waikiki and was mistaken by early British sailors as shiny diamonds on the slopes instead of the bright calcite crystals that resembled diamonds.
The hike to the rim and observation areas of Waikiki area and downtown Honolulu offers magnificent views of the district and city below all the way down to the gorgeous coastline and waters. The base areas are on paved trails until you hit the base of the cinder cone area and the trails transition to gravel and dirt with chain fence to secure the edges on steady uphill climb. The hike itself is about two hours or 1.6 miles round trip and also requires a series of uphill steps and a circular staircase to the top of the observation areas.
Once pass the cool and dark tunnel areas and circular staircase you get out to concrete bunkers that you can climb to the observation areas with views to Waikiki and Honolulu below. You can continue downhill on a separate route with views to the eastern side of the island until it connects back to the main trail.
Here's a quick highlight tour of what you'll see from the top of Diamond Head
Ala Moana Beach Park
DIstance – 1.9 miles roundtrip
Difficulty – easy on paved pathway
This an easy coastal hike along the Ala Moana Beach Park area that is on a paved asphalt walkway and goes along the beach walking path all the way to Magic Island and back. The trail is paved, flat and covers about 1.9 miles roundtrip from end to end.
Parking to the beach park is easy with free parking access and you can hit the beach walking trail easily with wonderful views of the coastline to Waikiki and also skyline views towards Waikiki when you get to the peninsula point at Magic Island looking back out to Waikiki.
Noel with Oahu Travel Now.
Koko Crater Botanical Garden
Distance – 1.9 miles
Difficulty – easy mostly flat on dirt paths
Located near Waimanalo on the back side of the Koko Stairs hike, the Koko Crater Botanical Garden is a loop trail that is 1.9 miles roundtrip. The trail has an incline of about 337 feet and is accessible year-round on this mostly dirt walkway.
The garden is mostly desert, arid landscapes and is beautiful to visit but it is also dryland and hot, so best done in the morning or later in the afternoon time frame. It is a lovely nature walk with wonderful smells from flowering plumerias and other scented plants in the area along with gorgeous back drop views of the mountain ranges. The trail is dusty and hot so be prepared with clothing to protect from the heat. If you are in the mood to do a combination hike within a botanical garden setting then Koko Crater Botanical Garden is a fun and fast trail to do on the island.
Koko Head Crater stairs hike
Distance 1.6 miles roundtrip
Difficulty – moderate mostly climbing old railroad steps to the top
The Koko Head Crater hike is more of an extended stairmaster type climb on old railroad tracks up the cinder and ash cone, one of the best preserved cones in Oahu. There is over 1048 steps to climb to get to the top of the rim of the crater which is about a mile long and takes approximately 30 minute to climb. The elevation gain of 1020 feet make it a great work out and when you get to the top, you will be rewarded with gorgeous views of the Hawaii Kai area, the eastern side of the island with views of the landscapes sloping down to the ocean and even Haunama Bay close by.
Koko Crater was used primarily as a a military defense with several bunkers built on the rim and accessed by these railway tracks to bring up supplies and personnel up to the bunkers. The tracks and bunkers have remained once Koko Head was turned over to Honolulu and the county parks systems and renamed Koko Head Regional Park.
Tip – area is exposed and hot, best to hike in the early morning or late afternoon time frame.
Waimea Valley Waterfall
Distance – 1.5 miles roundtrip
Difficulty = easy on gentle hill and paved road
An easy waterfall hike that is on paved asphalt road and is less than .75 miles to get to with an incline of less than 272 feet. The added benefit is that you get to swim in the pond area fronting the waterfall that is supervised with required life jackets provided for the swimming portion. Along the way on the trail are wonderful garden areas with indigenous plants and also some exotic collections and even peacocks parading around the grounds. You can take additional docent tours to the various gardens and the ancient village mock up with some fantastic cultural and historic perspective of the area and the types of structures that were typically built in the area.
Lanikai Pillbox trail
Distance – 1.8 miles roundtrip
Difficulty – moderate on dirt/gravel pathway
Kaiwa Ridge and the Lanikai Pillbox trail is a very popular hike located in East Oahu and close to Kailua town. The trail is about 1.8 miles roundtrip and is open year-round with spectacular views of the coastal areas below at the bunkers and lookout point. There is a 650 feet elevation gain hiking the trail on rocky dirt and gravel terrain and a very steep start but levels off.
You get to the informal trailhead through a private driveway along Kaelepulu Drive and opposite the Mid Pacific Country Club and before a gated community. It is a sunny exposed area and best times to explore would be early morning or later in the afternoon timeframe to avoid the heat and crowds on this popular hike. Also wear sturdy hiking shoes to protect from loose gravel and some steep terrain.
Tip – best to hike this trail in sunrise or late afternoon time frame to avoid the direct sun, heat and all the crowds visiting.
Manoa Falls Trail
Distance – 1.7 miles roundtrip
Difficulty – easy on dirt trails to the waterfalls
Located in Manoa valley and a short drive from downtown Honolulu on Manoa Road. Manoa Falls trail is a relatively short hike to the base of the waterfalls. The trail is 1.7 roundtrip and goes through lush tropical rainforest which means muddy trails to traverse through. There is no swimming allowed at Manoa Falls but you can visit the nearby Lyon Arboretum if you are into more lush tropical gardens and gorgeous views of the area.
Here's a nice and quick tour highlight to hiking the Manoa Falls trail.
Hanauma Bay Ridge Hike and Rock Bridge
Distance – 4.3 miles roundtrip
Difficulty – easy hike that takes about two hours
This is a beautiful ridge hike and loop trail on mostly paved and also dirt pathways offers fantastic ocean, cinder cone and Hanauma bay views and rocky coastline to enjoy on this hike that leads to Hanauma Bay Rock and the Rock Bridge. Good for all different ages with lots of places to enjoy views, visit hidden beaches and walk through diverse terrain. The hike is all exposed so wear sunscreen, covers and bring plenty of water.
Mount Lahilahi hike
Distance – 1 mile roundtrip
Difficulty – easy and takes about 30-60 minutes
This short hike takes you to the top of Mount Lahilani with gorgeous views of the surrounding hills and valley area to the beaches below. The left side hike is more fun and scenic to a mini ridgeline hike and views that you can follow all the way to the end with spectacular views and fantastic photo ops you can take from above.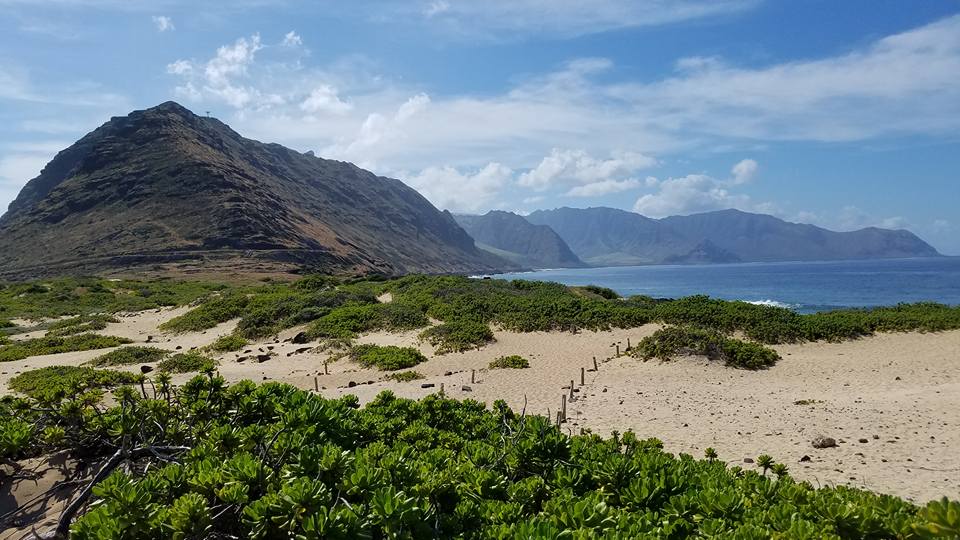 Kaena Point Hike
Distance – 5.6 miles roundrip
Difficulty – moderate
One the western end of the island, Kaena Point is rugged, isolated and not so well visited so you get to enjoy the coastline and hike on your own mostly. A walk through mostly coastline areas will leave you inspired with all the coastline views, the varied wildlife and marinelife that you will also encounter along the way that makes this unique and connects you immediately with the natural elements. The area is all exposed and sunny so the best times to visit are early morning or late afternoon to avoid the heat and direct sun. Plus late afternoon into sunset timeframe gets you some nice sunset views in the area.
Tip – make sure you do not leave any valuables or anything exposed in your car for easy break ins in this isolated area.
Tips for hiking around Oahu
Rainy days in Oahu combine into muddy and humid conditions on the trails which can be slippery and uncomfortable. Use your best judgement for hiking in raining conditions especially around waterfalls, streams, rivers or hillsides.
Bring mosquito repellent for hiking any of the the waterfall or forest hikes in the wetter parts of the island.
Sunny exposed hiking areas definitely require hats or cover, sunscreen and plenty of water on your hike
Many of the trails have variable terrain and conditions, always wear good hiking shoes with supports
Hydration packs are always good to use to control your drinking/sipping and cold water that is insulated in those packs.
First aid kits are always a good thing to have for any situation that may come up on your hikes that are unexpected especially bruises, cuts and falls requiring bandaids or other medications.
Check out these other Oahu topics
Best Snorkeling areas around Oahu
Exploring the North Shore Beaches
Visit the botanical gardens of Oahu
Conclusion to the Best hikes in Oahu
For Oahu fun, you'll love explore all fun activities and attractions around this hiking experience explore around the entire island. Hope this gives you some great ideas of things to do and see around the town and outlying areas to visit for cheap and on budget. If you can think of other suggestions or tips, please share them in the comment section below, thanks.
Thanks for visiting This Hawaii life and checking out this post on the Best hikes in Oahu. If you enjoyed reading this post, please do share it with any of the social media buttons on the slider.
Disclosure – some of the links above are to affiliate sites that are either reviews or recommendations if you book helps to keep our site running. We appreciate your supporting our website meanwhile