Restaurants in Kailua Kona (local style, breakfast, ocean views & fancy eats)
If you are looking for some delicious places to eat on the west side of the Big Island surrounding Kailua Kona or Kona town as most locals call the area, there's plenty of delicious places to enjoy around town. Ranging from local mom and pop venues, food truck venues to better dining restaurants around town, there's plenty of options that won't break the bank or to a nice splurge for a perfect dining experience in town.
Check out all these fantastic top places to eat in Kailua Kona to put on your bucket list of places to enjoy around Kona now.
Top 20 places to eat in Kailua Kona now
Affordable dining options around Kona
Friday night food truck experiences at the Kona HPM parking lot
If you like food truck venues, then head out to Kona and the HPM parking lot for Friday truck food nights With plenty of options for some good and cheap eats for a Friday night, you have your choice of local food vendors offering custom pizza, Kombocha floats and drinks, Thai food, Mexican food, local coffee and specialty foods along with some delicious pastry and dessert vendors.
Check out the Facebook Food Truck Friday page here for more details and updates to a delicious and inexpensive outing on Friday nights.
Kona Grill House
Delicious fish burgers, poke and other fish specialties draw a local and tourist crowd to this popular and affordable venue that delivers on taste, quality and price. Other specialty grilled items include burgers, prime rib, duck, and yummy lobster mac and cheese
81-951 Halekii St, Kealakekua, HI 96750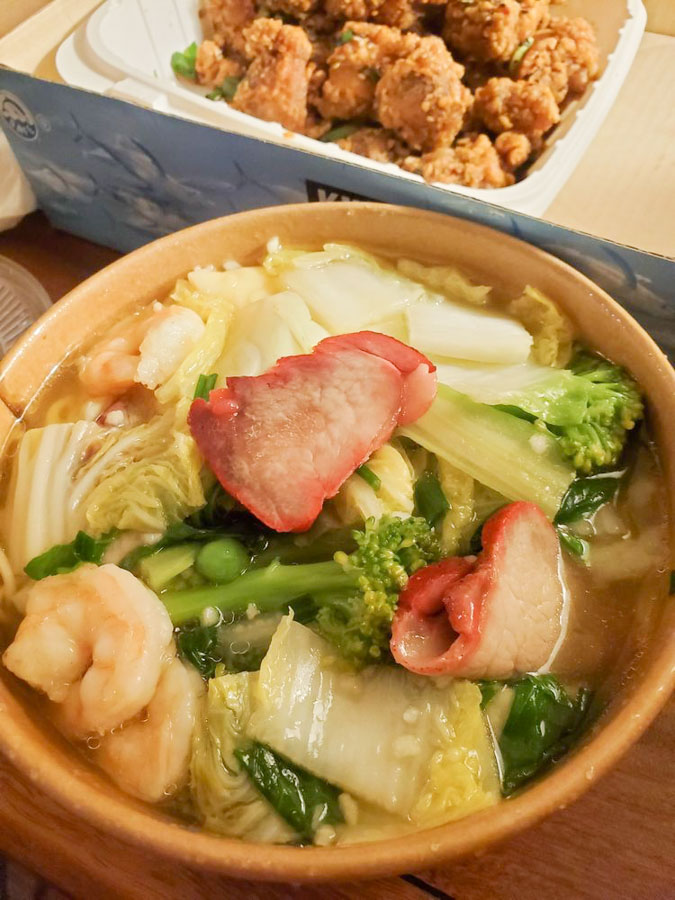 Ono Home Kitchen
Chinese and breakfast/brunch fare in this tasty and affordable establishment located in Kealakekua. A fusion of Chinese and Hawaiian flavors, try their chicken chow fun, walnut shrimp, saimin, loco moco, beef June and furikake chicken along with other signature Chinese style dishes that are tasty and affordable.
81-6587 Mamalahoa Hwy Ste A 201 Kealakekua, HI 96750
Da Poke Shack
Everyone's favorite poke to go spot in Kona with so many delicious options to choose from. Da Poke Shack serves many different bento options, poke bowls and other local foods at affordable prices all to go with just a few outdoor tables to eat from outside the eatery or take it to the beaches close by.
76-6246 Ali'i Drive, Kailua-Kona, HI 96740
Cultivate Good Food
Fresh farm to table vegetarian to vegan choices that are plant based. in this delicious restaurant. Mostly offering salads, wraps, chick pea soup, healthy sandwiches and delicious tropical flavors and drinks
79-7411 Mamalahoa Hwy, Kealakekua, HI 96750
Moderate priced eating in Kona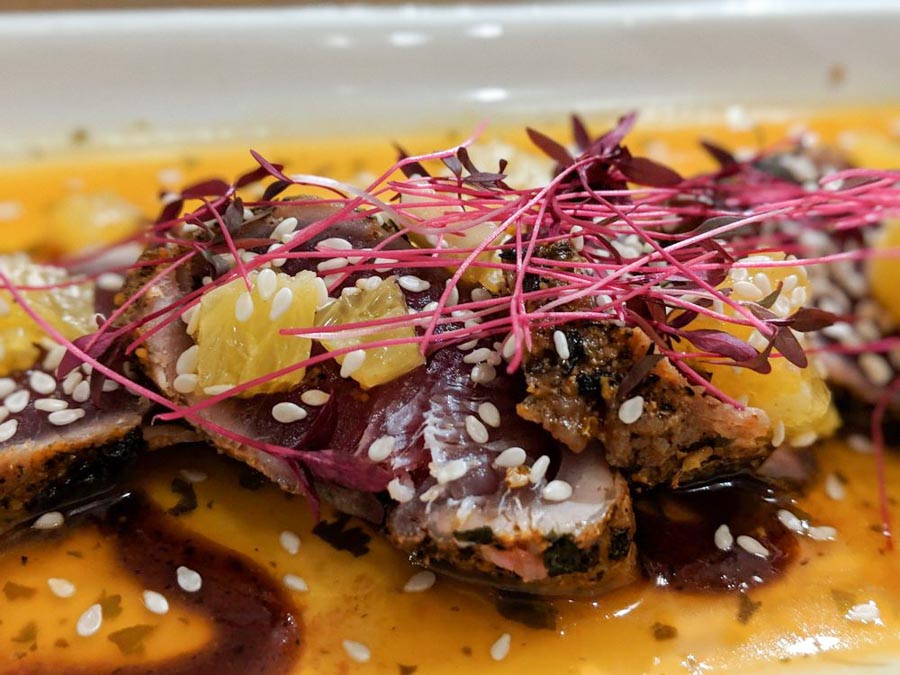 Foster's Kitchen
Serving American bistro fare and located across from the ocean with gorgeous upstairs dining, the restaurant offers fantastic local flavors with quality ingredients and dishes made from scratch in a beautiful environment. Ranging from tasty burgers, crab cakes, local mahi mahi, delicious fish and chips and their signature lychee martini, you'll have an exceptional dining experience here.
75-5805 Ali'i Drive, Kailua-Kona, HI 96740
Ola Brew
Offering world class local brews, hard teas and ciders along with delicious local style foods, you'll enjoy a visit here. Using island grown ingredients for their brews, drinks and foods, try their beer flights or delicious ciders. The food choices are above par with flat bread choices that are yummy, blackened tacos or chicken tacos, pizza and elevated bistro fare to match the yummy drink choices.
74-5598 Luhia Street, Kailua-Kona, HI 96740
Umeke's Fish Market and Grill
A local favorite in Kona town with popular fish dishes, poke, fish tacos, ahi katsu and many other local favorite foods in this popular establishment. Most dishes are offered in bowls that you can custom order your entrée, sides and other ingredients to fit your flavor profile and taste buds along with choice of sides.
74-5599 Pawai Pl Kailua-Kona, HI 96740
Kamana Kitchen
Delicious Indian style cuisine is what you'll get at Kamana Kitchen at their Kona location with a spice level that you get to decide on your dishes.
You'll enjoy all their favorite classics done well like their Chicken Tikka Masala, Tandoori Chicken, Butter Chicken and even for vegetarians, try their vegetarian Thali plate and you'll be satisfied. Appetizers to try here are their delicious samosas, vegetable samosas and Raita.
Address: 1235 Kilauea Ave Ste 180 Hilo, HI 96720
Willie's Hot Chicken
Everyone love's this spot for Nashville style chicken served in a multitude of ways. Try their chicken tenders, fried chicken, chicken sandwich, Hawaiian sweet spicy chicken wings or their Jerk chicken and it is all good and tasty.
74-5599 Pawai Pl, Kailua-Kona, HI 96740
Fish Hopper Seafood and Steaks
A local favorite restaurant on the bay front area of Kona serving mostly fresh fish and seafood with their signature steak entrees. Try their delicious coconut shrimp, shrimp trio, mahi mahi, Big Island fish tacos, crab cakes or their ultimate seafood pasta and you'll be in seafood heaven.
75-5683 Alii Dr, Kailua-Kona, HI 96740
Fumi's Kitchen
Serving Korean and Japanese cuisine in Kona, the food here is basic and good and prices are reasonable in this traditional styled eatery. Try their popular dishes including: sushi, Hawaiian ahi roll, nigiri, shrimp tempura, beef teriyaki and many other classic Japanese dishes to choose from that are all good to eat.
75-5799 Alii Dr, Bldg. A7
Kailua-Kona, HI 96740
Kaaloa's Super Js Authentic Hawaiian
Why drive all the way to Captain cook area for local grindz, because it is authentic and good food at good prices. Super Js is real local style food serving typical local favorites like lau lau, Kalua pork and cabbage, lomi salmon, and macaroni salad.
This small mom and pop shop is real local and the lines do get busy during lunch time but friendly smiles and aloha service makes it worth the wait at this local diner.
Try anything in a two item plate or some haupia chocolate or their sweet potato haupia pie and your set for a great meal.
Address: 83-5409 Mamalahoa Hwy Captain Cook, HI 96704
Kenichi Bento Box
If you love eating Bento Box style, then head over to Kenichi for some yummy food and take out to go. Located in the Keauhou shopping center, you'll enjoy a fabulous meal here at affordable prices. Things to try here include: shrimp bento, karaagi chicken bento, combo salmon, saba, nishimi and everything here is delicious and beautifully packaged as a bento box. A nice modern space makes this a fun dining experience or take out for some outdoor eating experience close by.
78-6831 Alii Dr, Ste D145
Kailua-Kona, HI 96740
Huggo's on the Rocks
This favorite and famous drinking and eating spot right on the bay has fantastic views of the bayfront with delicious drinks and foods to match. Offering a variety of bistro style fare, try their Kailua pork nachos, mahi mahi, fish and chips or burgers along with their signature Mai Tai or Pina colada tropical drinks and you are all set for a fantastic meal with views to match.
75-5824 Kahakai Rd Kailua-Kona, HI 96740
Huggos Restaurant
Huggo's Restaurant is one of the those classic seafood restaurants that is always consistent and having been around for over 50 years, the food here is spot on for seafood, salads, cocktails and even steak if you are craving something different.
You'll find that the gorgeous views, casual vibe and friendly service matches the food offered to eat here at Huggos.
Address: 75-5828 Kahakai Rd, Kailua-Kona, HI 96740, Phone: 808-329-1493
Kona Brewing
A popular favorite and local craft brewery on Kona and in the industrial area of town. You'll enjoy trying all the favorite brews here to include their tastng flights, Wailua Wheat, IPAs, Longboard and many seasonal flavors to enjoy.
Outdoor / indoor dining with lots of food to compliment your tasting experience here at the brewery.
Address: 74-5612 Pawai Pl Kailua-Kona, HI 96740
Fine dining experiences around Kona
Jackie Reys Ohana Grill
A delicious and beautiful dining venue in Kona town, Jackie Reys is a classic place for a wonderful meal. Try their signature dishes like the crab cakes, seafood trio, fresh catch of the day, pork chops, Mac Nut Ahi tartare and you'll enjoy your dining experience here. Happy hours are also fun and affordable to visit prior to their regular dining service daily.
75-5995 Kuakini Hwy Kailua-Kona, HI 96740
Magics Grill
In between moderate to fine dining with exceptional dishes served in innovative and fresh ingredients, Magics Grill is a beautiful dining venue on the beach. So many delicious dishes to try here from their pork belly, fish tacos, ahi seared steak, roasted beef poke and the yummy dirty ulu wedges.
77-6452 Alii Dr, Kailua-Kona, HI 96740
Specialty foods and dessert places in Kona
Scandinavian Shave Ice
A real local favorite and fixture here in Kona, you'll find your perfect shave ice combination to try here.
Favorite combinations to try here includes Lava Flow, which had strawberry, pina colada, and ice cream, Hawaiian Sunset (papaya, mango, and passion fruit), Maui Wowie and Hawaiian Sunrise
Address: 75-5699 Alii Dr Kailua-Kona, HI 96740
Paradise Bakery Hawaii
You'll enjoy trying all the delicious baked goods here at Paradise Bakery in Luhia Street. Unique donuts, fritters, malasadas, chantilly cake, really any of their yummy desserts and baked items.
Unusual donut combinations includes: Smores, banana / bacon / peanut butter, strawberry shortcake, dragon fruit berry and pineapple mac nut fritter.
Address: 74-5533 Luhia St Kailua-Kona, HI 96740
Other Kona topics to explore
Kona Farmers markets to explore
Body Glove Kona snorkel and cruise
Snorkeling around the Big Island
Conclusion to eating out in Kailua Kona
Those are some of our local favorite places to eat around Kona. If we missed any other good dining spots to share around town, please share them in the comments below. I'm sure our readers would love to read about other local favorites that we have missed in town.