Reeds Bay Beach Park: Ideal for Families Seeking a Relaxing Beach Experience and Nature Adventure
Reeds Bay Beach Park is one of the easiest and family friendly beaches to enjoy around Hilo's Banyan Drive area. With nice calm and shallow waters, this is the perfect beach for kids to play in and with nice amenities, picnic areas and bathrooms with shower facilities this is an easy Hilo beach that is also a very popular spot to visit on the weekends.
How to get to Reeds Bay Beach Park
Just a short walk from the various hotels on Banyan Drive, from Hilo it's a relatively fast drive down Kamehameha Blvd and then a right on Banyan Drive passing through Lili'uokalani gardens and the hotels on Banyan Drive. Parking is basically on the streets or some free open parking areas and the beach is on the left-hand side.
If you're traveling by car, you can take [insert specific road/highway name] and follow the signs leading to the park. Ample parking facilities are available on-site for your convenience. Public transportation is also a viable option, with bus routes [insert relevant bus numbers] stopping near the park entrance. If you prefer cycling or walking, there are designated paths and sidewalks that provide easy access to the park. No matter your mode of transportation, reaching Reeds Bay Beach Park is a straightforward and accessible journey, ensuring a hassle-free arrival for your enjoyment.
The beach park and facilities
The mostly pebble and gravel beach is fairly shallow and easy for families to swim around the different lagoon areas of the beach park.
he park features well-maintained restrooms and changing facilities, providing convenience for beachgoers. You'll also find picnic areas equipped with tables and grills, perfect for enjoying a delicious outdoor meal with family and friends. For those seeking recreational activities, the park offers volleyball courts and playgrounds, providing opportunities for active fun.
Additionally, there are designated walking paths and jogging trails, allowing visitors to explore the park's natural beauty while staying active. Ample parking spaces are available for both cars and bicycle.
Things to do at Reeds Bay Beach Park
An easy and popular beach area especially on the weekends, recreation and water sports is the thing to try out here and you can also rent out water toys like kayaks, SUP boards from some of the local hotels in the area. Beach fun includes:
Snorkeling the beach and rocky cove areas
Kayaking the small inlets and out around the bay
Practice your SUP board skills or floating on a fun inflatable
Barbeque areas with Picnic tables are also available around the park area
Watch local kids jump off the railings close to Ponds Restaurant
Have a nice meal close by at Ponds, Coconut Grill or any of the hotel restaurants in the area.
Must bring packing and essentials for the beach
You can't go to the beach without some of these essentials to enjoying your beach time.
Cell phone water proof case – if you want to take some underwater pictures, get one of these easy and cheap water proof cases.
Ocean reef protected sunscreen – You'll need this in Hawaii to get in the water and it's required usage for Hawaii reefs and ocean. Get it in SPF 50 or SPF 30 here
Rash guards for water fun – a great way to protect yourself from the elements and water fun. Check out these women's rash guards and men's rash guards here for reference.
Cooler backpack – the perfect picnic and drinks carrier to the beach or any outdoor fun on the islands.
Places to see around Reeds Beach Park area
There are a variety of attractions that are an easy walk from the Reeds Beach Park various areas around Banyan drive where the hotels are mostly located for Hilo.
Banyan Drive – a street that is covered with mature banyan trees and planted by historic government and popular figures that visited the park. The trees are mature and create a beautiful canopy on the street where hotels for Hilo accommodations are plentiful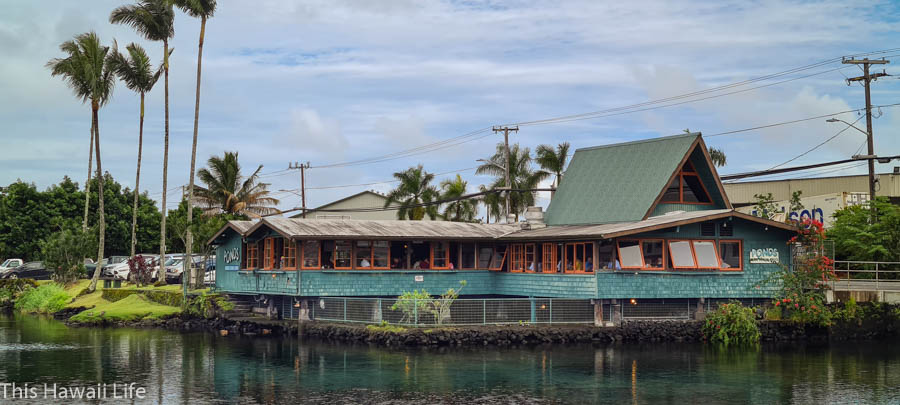 Enjoy the many restaurants – in the Banyan Drive hotels or surrounding area with Ponds, Coconut Grill, Suisan market and Hilo Bay Cafe
Coconut Island – close to Lili'uokalani gardens and a short walk through a bridge is this island that used to be a place of refuge in ancient times and is now a popular family-oriented park with two small bridges, a lava tower and gorgeous views looking out on the bay and Hilo town.
Lili'uokalani Gardens – a beautiful historic Japanese garden with beautiful landscape filled with tori gates, bridges and pagodas, stone lanterns and large Japanese foo dogs and even a beautiful authentic tea house to visit in the park.
Suisan Fish market – a popular market for local seafood that is caught in the area. There is a deli counter for takeout fish orders and different kinds of poke bowls and other prepared foods for sale including different kinds of seafood.
Public walkway to Hilo – you can follow the walkway that travels right next to Hilo bay all the way to downtown Hilo. This is a great way to enjoy the bay and scenery when you want to just walk to town and enjoy the outdoors here
Canoe club buildings – On Hilo bay, you can check out competing canoe clubs from the area practicing daily after hours and launching into Hilo Bay and doing their drills and other practice techniques for competition meetups around the island and state.
Carlsmith Beach Park (4-Mile) – A unique beach area that is family friendly with pools, islands and lagoons to explore and enjoy the gorgeous aquamarine pools with tropical fish and green sea turtles.
Richardson Ocean Beach – a the end of beaches in Hilo, this beach is black and green sand with cool marine life and tropical fish perfect for snorkeling, swimming and exploring.
Explore Hilo town and all the cool things to do around Hilo area from a short drive or Uber into town.
Further reading to visiting Hilo and surrounding areas in East Hawaii
Visit to Rainbow Falls
Check out the cool Painted Church in Kalapana
A visit to Lava Tree State Park in Pahoa
Exploring Hawaii Volcanoes National Park
Have you been to Reeds Bay Beach Park?
Please share your thoughts and other recommendations in the comments below with your recommendations.
Conclusion to visiting Reeds Bay Beach Park
In conclusion, a visit to Reeds Bay Beach Park promises a remarkable experience for all. This family-friendly destination offers a serene escape where you can unwind on the sandy shores, enjoy fun-filled activities, and immerse yourself in the beauty of nature. With its picturesque scenery and welcoming atmosphere, Reeds Bay Beach Park is the perfect getaway to create cherished memories and rejuvenate your spirit. Whether you're seeking relaxation or adventure, this coastal haven has something for everyone, making it an ideal destination for a memorable excursion.
Thanks for visiting today and checking out this post on Reeds Bay Beach Park. I hope you are inspired to plan a visit and enjoy these wonderful attractions. If you enjoyed the images and post, could you please share it with any of the social media buttons located around the post.
Disclosure – This post may contain affiliate links which means if you click through and make a purchase I will make a small commission at no extra cost to you and you help to keep our site operating and updated – thank you!