Hawaiian Poi – Why we love it eating it on the islands (updated 2023)
What does the above fingers have in regards to Poi you ask? The one, two or three finger dip refers to the consistency of Poi and how many fingers you'll actually need to scoop it out (If eating pure Hawaiian style with your fingers). Poi in general can range from more fluid to a doughy type of consistency.
An acquired taste for many visitors, it is a staple and favorite dish for Hawaiians to be eaten with salty dishes like fish, seafood, meats and other mixed plate specials, poi is that perfect side dish with many of the salty and flavorful Hawaii dishes.
A little history on Poi
Polynesians considered Poi a sacred dish and the taro plant which contains the spirit of Haloha who was the child of two Hawaiian gods. Haloha means "long stalk," "long breath" and "long life," and is the breath of life and Haloa is worshipped daily with chanting, hula and festivals.
All disputes between family members must stop at the table when poi is being served so it doesn't create any disrespect to the spirit of Haloha. The first born child in Hawaiian ancestry was Hāloa and it is short for Hāloanakalaukapalili, born of Wākea and Papahanaumoku.
The taro plant is versatile with most of the plant edible, it is only the Hawaiians that mash the main bulb into a pulp to make poi out of it and also ferment it into a process that creates sour poi.
Although poi is traditionally made by hand, today's methods are made in large scale machines that can create over 1,000 pounds of poi in less than six minutes instead of the typical labor-intensive process of mashing the pulp to a creamy texture.
Made in poi Hawaii is definitely tied to all the traditional Hawaiian foods you will taste on the island.
Why try eating Poi in Hawaii?
The popular starchy food matches all the other traditional Hawaiian food in place of eating rice and is the food of choice with the salty and savory Hawaiian dishes of Kalua pork, lau lau and squid luau which warrants a nice starch to combine with the different flavors and ingredients.
How to eat poi? Just dig in with a little of the salty Hawaiian entree's to balance the mild poi flavors you'll taste in this starch.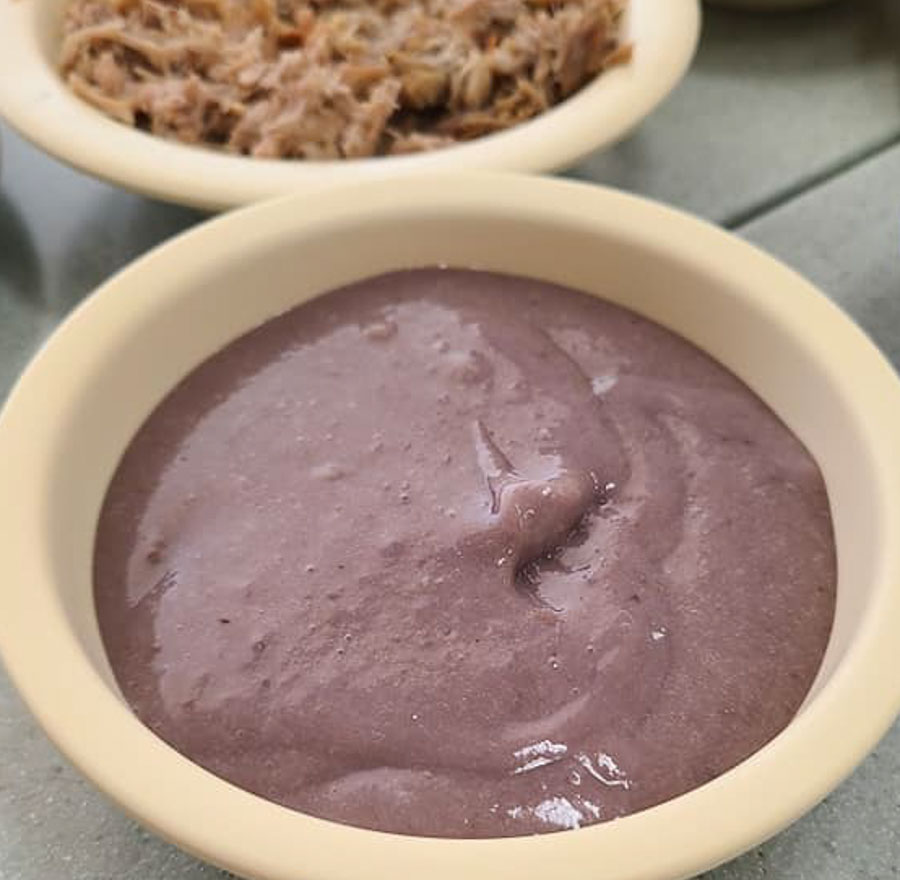 What is Poi and how it is made?
Of all the handfuls of traditional Hawaiian foods that are predominant in the culture, Poi stands above as the main starch and binder to the rest of these traditional foods. Poi is made traditionally from taro plants and more specifically the root bulb. The bulb is first peeled and then cooked and later mashed into a paste with water added until it forms to a desired consistency and personal taste.
The finished results are a blueish gray paste that can be eaten fresh or allowed to ferment. The large green leaves are also cooked and called Luau and used as a vegetable. The term luau was eventually used for the gatherings or events where these dishes were consumed.
At the fresh poi stage, it is considered sweet or it is allowed to ferment a few more days until it develops into a sour poi taste. The sweet poi is combined with sugar into a dessert type of dish, while the sour poi is eaten with other traditional favorite foods like Kailua pork, Lomi-lomi salmon, poke, smoked meats and other salted fish.
Poi is also a healthy and nutritious food that is low in fat, high on Vitamins B, A and Calcium, digestive enzymes, other good nutrients and complex carbohydrates. Poi has also been used as a milk substitute and given to young babies to enfants as an easy to eat and digest.
Taste of Poi – an acquired taste
What is poi, even though many consider poi be bland to taste like a wall paper., most should try eating poi and combined with any salty foods and treated like a starchy food.
When you replace bread, rice or potatoes with Poi, the health benefits are tremendous as one of the healthiest foods you can eat and helps to keep cholesterol levels down and even fantastic as a weight reduction food.
Poi is the perfect and healthy starch that is a good complement to the many traditional Hawaiian foods or even local comfort food made on the islands.
What is poi taste like for you, please do share in the comment section below.
What to eat with Poi?
Since poi is the starchy component of any Hawaiian meal, all of the traditional Hawaiian foods works perfectly with this dish. Most of the cooked meats like kailua pork, huli chicken, squid luau and all the salty seafood dishes complement the mellow and starchy poi. In between the bites of your entree dishes, you get a nice spoonful of poi to mellow out the flavors so everything is not too rich and saturated in taste.
Mixing poi with your dishes really helps to clean the palate of flavors and complements all the different ingredients and foods eaten at the same time frame.
More Hawaiian food topics for you to enjoy
Check out these other favorite traditional Hawaii foods below to enjoy and eat with Poi.
Hawaiian sweet potatoes
The original canoe plant and staple food, Hawaiian sweet potatoes are locally grown with Okinawan purple sweet potatoes. These healthy foods are used for a variety of sweet to savory dishes or simply eaten freshly steamed with their earthy and sweet taste.
Check out our Hawaiian sweet potato post here for more inspiration, recipes and the story about this very important crop grown around the islands.
Hawaiian breadfruit or Ulu
Locally grown breadfruit is a staple Hawaiian food that is used for savory to sweet dishes on the island. This plant that grows so well on the islands produces a variety of breadfruit that can translate to so many delicious dishes and we share our favorites on the islands to try.
Check out our post to Hawaiian breadfruit here for more inspiration and images.
Poke
One of the favorite food items that works well with poi is poke, the raw fish that is used and prepared with a variety of local ingredients. This briny and fleshy seafood typically is local fish like tuna, mahimahi or ono and prepared with a variety of ingredients that are favorite ingredients that accent the raw fish flavor.
Find out more about eating or preparing poke here for more information and images on this delicious dish.
Kalua pork
One of the most popular Hawaiian foods you'll find at a potluck gathering, luau or special event is Kalua pork. Typically cooked in an open fire pit wit layers of bananas leaves, the modern day equivalent is easily baked or even done in an instant pot for fast and ready to eat goodness of the delicious meat dish staple.
Kalua pork is what is poi best paired with and a nice compliment of salty and starchy combined.
Find out more on our post about Kalua pork here for more inspiration, recipes and the background to this favorite local food of the islands.
Check out these other delicious Hawaiian inspired food topics
Locals love these tasty Hawaiian snacks
Popular Hawaiian dishes you need to try
Traditional Hawaiian food favorite dishes
Delicious Hawaiian tropical fruits
Hawaii chocolate making and tour
Have you ever tried Hawaiian Poi?
So now you know what is poi is all about right?
Thanks for visiting today and checking out this post on Poi. I hope you are inspired to plan a visit and enjoy the amazing cuisine of Hawaii. If you enjoyed the images and post, could you please share it with any of the social media buttons located around the post.