Must visit Big Island Waterfalls – here's our favorites to visit
Must visit Big Island waterfalls to experience – there are so many to choose from!
A perfect time to see the amazing waterfalls in spectacular display is during the rainy season or winter time mostly on the Big Island.
Big Island waterfalls are abundant and easy to view but not really safe for swimming except for just a few that mostly locals know how to get to. You can easily drive to a few for look outs, walk around some botanical gardens, or do an easy hike to get to a few of these must visit Big Island waterfalls for you to experience and enjoy.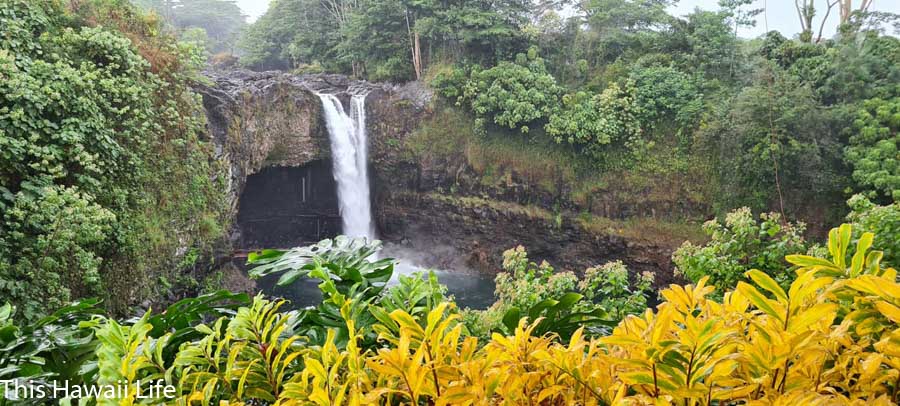 Whether you have time for just an easy drive and viewing or want to take a more active adventure visit to see a spectacular waterfall, you'll love visiting any of these waterfalls of the Big Island below. Most of these waterfalls can be viewed from an observation area or a short hike to view – swimming is not recommended due to changing conditions to many of these waterfalls unless you are with an expert local guide.
Visit the waterfalls of the Big Island now
In no particular order –
Easy visit to Rainbow Falls in Hilo
One of the most popular and easy to visit waterfalls is located just above Hilo's historic district at Rainbow Falls. Named for the abundant rainbows that always display on the water spray below the falls into the pools below, the scenic overlook is easy to get to with ample parking. There are some fun staircases you can climb on the left side to get to the top of the waterfalls for more views and even further down the trail into a forested area with huge banyan trees that feel like a magical forest lived in with Menehune or the ancient dwarf little people of the Hawaii.
Tip – parking always fills quickly but changes fast and there are bathroom facilities and a gift shop close by.
Check out this view and tour of Rainbow falls in Hilo some of the history of this falls
Pe'e Pe'e falls and Boiling pots in Hilo
Just above Rainbow falls is Boiling Pots with a view of Pe'e Pe'e falls in a distance. This historic area is easy to drive to with a parking lot and viewing area but not safe for walking around or swimming. You can just view and take pictures from the overlook and enjoy the lush and quiet setting. Pe'e Pe'e means hidden or concealed waterfalls which are only partially shown in the viewpoint area. In the immediate viewing area to the right are the Boiling pots or cascade of smaller pools that are carved out of the fast moving waters which circulates and fills with bubbles filling the pools and giving the name to the area.
Tip – do not attempt to walk past the viewing area into the falls and Boiling Pots – it is illegal and extremely dangerous
Check out Pe'e Pe'e Falls and Boiling pots in this video tour below
Off the Beaten Wai'ale Falls
Another waterfall from the Wailuku river that you can view from the bridge lookout is Wai'ale also known as Pi'ihonua. From Boiling Pots on Wainuenue avenue, travel about another mile up river until you pass a bridge which is the lookout point to the waterfalls. This is basically a spilway with the waterfalls in the background that falls into a larger pool of water.
Tip – there is a small amount of parking off the bridge side and you can walk safely on the bridge viewing for taking photos.
Check out this video of Wai'ale Falls below
Narnia Spilway and falls
Mostly a popular water swimming spot for locals in the know above Hilo, this waterfall area known locally as Narnia in Hawaiian is Ho'okelekele stream. There are five waterfalls that converge and cascade to various pools and a spillway that some swim in when the water is low and safe. It is a popular hiking spot but not easy to get to if you are not familiar with the area. You can check out my Narnia post here for more details on what it looks like and the main hike through a fire road to get to the viewing area and surroundings.
Tip – Dangerous in rainy season and when the water level is high and running. Only go to visit with someone that can give you easy directions on how to get there.
Akaka Falls in Honomu
A spectacular waterfall set in a botanical garden Akaka Falls is also a state park. Probably one of the most scenic spots with a beautiful lush garden to explore, Akaka Falls delivers with a majestic 442 foot drop into a deep pool and lined with tropical plants for fantastic viewing and picture taking. The .4mile loop around the two waterfalls is scenic and fun to explore, but you do need to walk down a series of stairs to get to the trail and this is not handicapped safe.
Tip – parking is easy with parking lot, restroom and a self check ticket booth for entry. Also stop at the sweet little town of Honomu for snacks, shopping and finding some cool treasures from the area.
The loop trail around Akaka falls below
Uma Uma Waterfalls
Best viewed from the Uma Uma adventure Zipline viewing area or even off the main highway bridge look out point, Uma Uma waterfalls is beautiful with a series of waterfalls plunging into various pools below with lush surroundings. Better viewed on the zipline experience offered by the Uma Adventure experience along with some other atv and waterfall plunge experiences. You can also do a self walk through their gardens and waterfall viewing area for a nominal fee.
If you want to see Uma Uma falls you can see it from the visitors center of this adventure tour outfitter
Or sign up for a zipline tour here and you can actually glide past the falls as the highlight of this tour experience.
CHeck out Uma Uma falls highlights here
Hi'ilawe Waterfalls at Waipio Valley
One of the tallest waterfalls in all of Hawaii, Hi'ilawe located in Waipio Valley falls about 1450 feet to the valley floor below. You can only view Hi'ilawe from above in a Helicopter, taking an ATV tour on private lands or from the valley floor with a short hike to a viewing spot to the spectacular waterfalls at the end of the valley. To get to the valley floor, you have to hike down a steep road that descends 900 feet for almost a mile and is a work out to climb back uphill.
Check out the tallest waterfalls in Hawaii at Hi'ilawe falls below
Check these Big Island experiences or waterfalls tours
Free or cheap things to do on the Big Island
Family Friendly Visit to the Big Island
Disclosure/warning to visiting the waterfalls on the Big Island
Visiting waterfalls is safe from a distance or observation area, conditions change quickly with rain, clouds or changing weather that can easily bring down flash floods. Hiking and witnessing the magestic falls of the Big Island is fun but any swimming, walking the shoreline or climbing on rocks is not recommended for visitors or even locals that are not familiar with each waterfalls current condtions. Please respect the aina and the power of our waterfalls in Hawaii, they are dangerous to swim or witness close up.
Pin this to your Hawaii board
Did we miss anything?
Any of these you want to visit soon or we missed on the list? Please share on the comments below.
Thanks for checking out this post on Must visit Big Island Waterfalls. Hope the post was informative and a must read article – if so please do share it with any of the social media buttons around the page.
This post on Must visit Big Island Waterfalls may have affiliate related links to brand offers which helps our site keep operating – we appreciate any purchases through this link and your supporting This Hawaii Life.