Looking for a fun and family friendly snorkel cruise tour in Kona? Then consider doing a fun snorkel and cruise tour for the day sailing along the coastal waters of Kona, seeing historic and ancient sites on your way to Red Hill marine preserve. The Body Glove cruise is a fun, easy, and carefree way to explore the beautiful Kona coastline on water with your family and friends. The snorkel experience is enjoyable and very safe with the attentive and experienced crew onboard the Body Glove taking care of every need and detail. You'll enjoy this Kona ocean adventure cruise on the Body Glove and cruising down the gorgeous Kona coastline for the day.
If you're interested in tour details for this cruise, check the Body Glove tour here for their calendar and prices.
Enjoying a Kona snorkel cruise experience with Body Glove tours
Where to park in town
Parking is easy and just a short walk from the parking lot area to the Kona pier where the Body Glove ship is docked. The ship, called Kanoa II, is a large-scale catamaran at 65 feet with plenty of seating areas, shady interior sections, cushioned seats and well equipped with sound/TV programs onboard. There is no parking at the pier where the ship is docked, but you can park in the parking lot area of the Body Glove tours office. Guest parking is free at Illima Court Shopping Center, you can check into the office and also get your temperature checked at this time. The walk to the Kona Pier from the parking area is about five minutes from the office.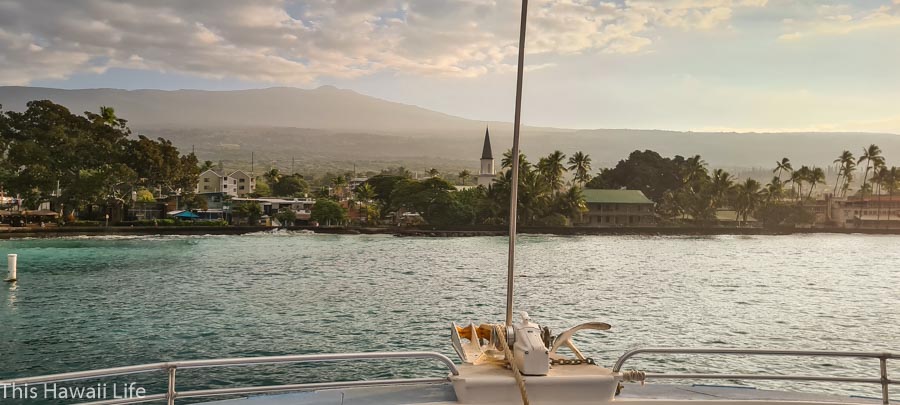 Getting started and boarding the Konoa II
It's a quick wait to board the vessel and first thing is to get temperature check and then find a spot for seating. Your breakfast meal comes out quickly and is served along with coffee, juice or soda drinks. While the vessel is still boarding, you can easily walk around the ship and take some fun selfies on deck with views rising just above Kona's historic district. After the ship sails a full bar set up for bar service is opened for any premium drinks you would like to enjoy on the cruise.
Breakfast and beverages are served before launch
Cruising outside of Kailua Kona harbor
While cruising on board the captain offers some narration about Kona's history, the beautiful coastline, any of the typical marine life you can encounter. He even scouts and shares any even some whale spotting during seasonal migrations on the islands on the entire cruise. The captain shared some fantastic historic, cultural and marine observations while also offering some safety, snorkeling instructions and other information about the ship and cruising the Kona coastline to the Red hill marine preserve.
Beautiful rainbows over Kailua Kona harbor area
The morning cruise is nice and easy with the sun coming up over the mountains over Kona town with the landscape eventually coming into view along the coastline areas. A beautiful rainbow appeared magically from the harbor along Kanoa's wake making a beautiful morning even more spectacular.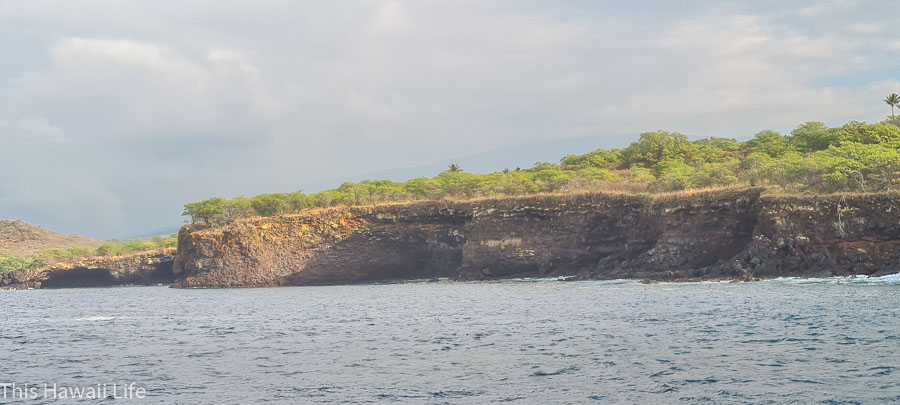 Docking and Safety pow wow
When we finally arrive at the snorkeling spot at Red Hill, all the guests were given an orientation on what safety measures and easy to follow rules are in place to keep everyone in check and easy to follow measures. There were even free snorkeling classes for beginners on the top deck to learn some of the easy and basic techniques of snorkeling. Red Hill is a marine preserve and beautiful, their are few visitors to this area, making it an ideal snorkeling spot away from any crowds.
Safety overview procedures on board
Snorkeling fun time
The crew is active and busy mooring off the snorkel site, helping with with snorkeling beginning sessions, and putting out snorkel gear for you to use along with other water floats and toys to for the guests to use for free. There is also a fun 20-foot waterslide from the 2nd story straight into the refreshing aqua colored waters below or you can even dive from the diving platform into the bay. There are experienced crew personnel that are also in the water to watch out for guests to make sure they are safe and helping in any situations on the water along with helping guests get in and out of the ship's main ladders.
The crew set up large inner tubes, Sup board and large blue floating relaxation station were a nice relaxing alternative to just hang out for those that wanted to just take a break from all the snorkeling action and just lounge for a while.
Lunch is served
While out the guests are out in the water enjoying the water and marine life in the snorkel portion, the crew is also prepping up a delicious and easy lunch with chicken and coleslaw with chips. It's nice to know that all the packaging and utensils used are also bio degradable and easy on the environments which is a nice complement to all the water fun activities. During this time frame and the return, the bar is also open for guests to indulge in some nice tropical drink for the return trip to Kailua harbor.
Return trip to Kailua Kona.
After a nice snorkel time and lunch break, it's time to head back to Kona harbor and look out for more marine life, whales or dolphins on the way back into town.
Searching for Dolphins and Whales
The early afternoon cruise back is smooth and pleasant with everyone relaxed and happy with the snorkel and lunch program. The easy cruise trip is very pleasant with time to enjoy some sun time on deck, enjoying the coastline views and then entering the outskirts of Kona and into the harbor area. Body Glove cruises offer a free return guaranty on their dolphin snorkel cruise if none are spotted during cruise day. There is no swimming with dolphins allowed on any of the snorkel cruise programs.
If you are interested in the cruise check out the link for more information here.
Other adventure cruises offered by Body Glove
The popular snorkel/cruise to the Red Hill area is one of the popular snorkel cruises with Body Glove. But if the timing doesn't work for you, check out these other outdoor adventure cruises that they offer below for different cruising experiences on the Big Island. These are easy to book and are a fun way to enjoy Kona's wonderful coastline and abundant marine life.
Whale Watching Cruise
The Whale watching cruise here follows the coastal areas to spot where the most active areas are along the Kona coastline to enjoy some whale watching, dolphins or other marine life that maybe spotted during the cruise. This is a two-and-a-half-hour hour cruise around the harbor area to various coastal areas and listen to their sounds through underwater speakers. Body Glove cruises offer a free return guaranty on their whale watching cruise if none are spotted on the day that you cruise with them.
Deluxe Snorkel and Dolphin Tour
Check out this snorkel cruise offered above on the Kanoa II cruise to the South Kona area and Kealakekua coastal area for a fun filled snorkel and dolphin tour.
Sunset cocktail and dinner cruise
The Sunset cocktail and dinner cruise is set to start sometime in February for their wonderful sunset cruise around the Kailua Kona coastline. Stay tuned for updates to book their fabulous dinner cruise when it starts up again in February.
Other Tips to enjoying your Kona snorkel cruise
Free Parking at Ilima Court Shopping Center, 75 5629 Kuakini Hwy, Kailua-Kona, HI 96740
Tour start time is 8am sharp so get to the pier early for boarding.
Make sure you bring your camera, cell phone or water camera all charged up and ready to go.
Bring your own towels with you for wiping down.
The snorkel cruise provides a light breakfast and lunch with beverages, there is bar service for alcohol and fun tropical drinks at an additional cost.
The cruise experience provides for the following during the cruise:
Reef protected Sun screen and hand sanitizer provided
Snorkel gear and some prescription googles close to your range
Water toys like noodles, Sup board and giant inner tubes to hang out in.
COVID-19 UPDATE
This cruise is operating (for those in compliance with any applicable State & local quarantine requirements), and the cruise takes the health & safety of all guests and staff very seriously. Capacity has been reduced in half. Also wearing face masks are required onboard outside of eating/drinking and water sport activity.
Check out this Video experience on the snorkel cruise
Check out these other posts on Visiting the Big Island of Hawaii
Why Visit Volcanoes National Park now
Must visit Big Island Waterfalls
Free of cheap things to do on the Big Island
A family friendly visit to the Big Island
Pin or save this to your Hawaii Board
Conclusion
For a carefree and fun experience on the water, leave it to Body Glove cruises to take you on a fun cruise and snorkel experience along the Kona coast and see the island from a water vantage point and other beautiful landscapes you can only see my boat.
Thanks for checking out this post on Kona ocean adventure cruise on the Body Glove. Hope the post was informative and a must read article – if so please do share it with any of the social media buttons around the page.
Disclosure – this post on Kona ocean adventure cruise on the Body Glove now may have affiliate related links to brand offers which helps our site keep operating – we appreciate any purchases through this link and your supporting This Hawaii Life.