As the second oldest island in the Hawaiian chain, Kauai boasts some of the most beautiful and expansive beaches to explore and enjoy in Hawaii. You'll love visiting all of the beaches in Kauai for their unique characteristics and individual beauty to relax and do some fun water activities. You'll enjoy exploring all of these Kauai Beaches all around the island for you to visit and have a fun beach day.
With over 63 miles of accessible coastal shoreline, it's not hard to find a nice sandy beach around Kauai to enjoy some sun and fun time. Check out the best beaches in Kauai to visit now.
Explore the best beaches in Kauai now
Kauai's North Shore Beaches
The north shore beaches receive most of the big waves during the winter months from October through March and is relatively calm with easy waves to play in during the spring to summer seasons. The gorgeous north shore beaches offer fantastic snorkeling, surfing or just amazing views and even sunsets from this side of the island.
Hanalei Bay
The iconic north shore beach is a nice long stretch of white sandy beach that tourists and locals alike love to hang out, surf or just beach comb on this lovely beach with shallow wave action. The crescent shaped beach is popular for snorkeling on the edges, surfing in the middle areas or swimming and water fun and even diving an old shipwreck at the bottom of the bay. A popular thing to do is walk the pier for some nice views and even enjoy sunset on the pier and hang out with locals jumping off the pier into the ocean waters.
Anini Beach Park

Anini Beach Park is the perfect beach for families, campers, and those wanting a laid back day. To get to Anini, you'll simply follow Highway 56 all along the Eastern coast of Kauai, past Kilauea until you arrive to Kalihiwai Road, where you'll take a right. You'll come to Anini Road, where you'll turn left until you reach the beach. Parking is typically easy to find since you can park along a lot of the road that lines the long beach. This is said to be one of the best places to camp in Kauai and you will surely find plenty of people with their tents.
Families also love Anini because of its gentle, shallow waters, which are created from one of the longest (and widest) fringe reefs, not just in Kauai, but in all of Hawaii. The reef allows for great and easy snorkeling and the beach itself is nice, sand until you reach the shallow reef in the waters. While there are restrooms and outdoor showers available, the rest of the beach is pretty rustic. There are no restaurants, places for food, and nowhere to rent water sports equipment, therefore if you want to eat or do any snorkeling, SUP, or kayaking, you will need to bring your own gear. If you want a more "off the beaten path" and quiet beach, Anini is a great place to look for a stretch of sand with stunning sunsets, easy going vibes, and great snorkeling.
LeAnna from Economical Excursionists
Larsen's Beach
Larsen's Beach (also called Ka'aka'aniu Beach) is a small, secluded beach located on Kauai's northeastern shore. The turnoff to the beach is near mile marker 10. Turn onto Koolau Road and then northeast on Larson Beach Road. It's important to note that the road is an unpaved, dirt road which can be quite difficult for vehicles that don't have high clearance. Parking is available at the end of the road in a dir turnaround, with a short hike to the beach. Larsen's Beach access road has been in the middle of controversy because it crossed over private land. Because of this, some people have reported the road being closed – just be prepared for this if you visit!

Because of the strong rip currents on this beach, it is not suitable for swimming or snorkeling. However, it's an incredible place to watch the sunrise and have a small picnic on the shores. Very few people visit this beach because it takes a bit more effort to reach than other Kauai beaches. This means that if you are looking for quiet seclusion, this is the beach for you!

I would recommend this beach for couples, people who enjoy quiet walks on the beach, or people who like uninterrupted time in nature. Larsen's Beach is a peaceful escape for all who visit.
Submitted by Emily Mandagie From TheMandagies.com
Hanakapiai beach
One of the first beautiful beaches to explore on the Kalalau trail of the Napali coast is Hanakapiai beach which is a two hour hike on the trail to this stunning beach. You can have a nice break on this lovely beach or explore inwards on an additional 2 miles from the beach to Hanakapia Falls which is also a challenge through dense forest, muddy trails and crossing the stream at various points to get to the gorgeous falls. Or you can continue on the 11 mile hike covering all of the Kalalau trail. Just note that you will require reservations to park, day hike or camp at designated places on the trail and you can get that information here to get started.
Kauai's East Side Beaches
Kauai's east shore beaches are the go-to place for the island's best sunrise spots on the island. You'll find nice and long stretches of beach, fantastic snorkeling and surfing areas along with beach parks that have full amenities to cater to all needs enjoying a beach day in Kauai. April through September, the waves are rougher so you will see surfers flock to the local beaches here to enjoying some of this version of big wave action during this time frame.
Kalapaki Beach
A family friendly beach that is partially protected from the ocean and fronts the Marriott Beach club, the beach is usually calm and safe for swimming. Full amenities with parking, restroom and shower facilities with life guard stations, it's easy to pick a nice spot on the beach, watch the surfers or even snorkel on both ends of the beach.
Shipwreck Beach
Shipwreck beach is often overlooked on the island of Kauai, but it can very well become one of your favorites! The beach runs along Keoniloa Bay for nearly ½ mile.
Since Shipwreck beach is located in front of the Grand Hyatt, many people assume it is a private beach or public access is difficult. Not true! You can park just beyond the hotel's main entrance and enter the beach on the far east side. From this entrance, you can also access
Maha'ulepu Heritage Trail which meanders along the Makawehi Bluffs offering excellent views of the ocean.
Shipwreck beach is a local favorite for surfing. Usually, large surf that pounds the shore making it difficult for boogie boarding or swimming, but it's excellent for surfing. The sand here is excellent making it a perfect place to listen to the waves and feel the ocean breeze.
If you have kids or want to get away from the large waves, walk the Maha'ulepu heritage trail along the coast to the far west side of Shipwreck beach where rocks and coral absorb the waves and create calm, warm pools of water. Here you will find tide pools to delight the kids. Spy some sea cucumbers, crabs or sea anemone along the plentiful rocky coves here. The water laps in nice and easy so you can try skimboarding and play in the shallow pools. Check out this itinerary for Adventures around Kauai with Kids.
For a gorgeous view of Shipwreck beach, continue west on the Maha'lupu Heritage trail to the beach lookout.
Shipwreck beach offers a variety of experiences and gorgeous walking trails. You will love exploring the tide pools here.
Jamie Harper with Fly by the Seat of our Pants
Lydgate Beach
Lydgate Beach is one of the most family-friendly beaches on Kauai. It has two protected lagoons for swimming, making it a very safe choice for families with young children. The beach is sandy and the water stays very calm behind the rock walls of the lagoons.
The larger lagoon gets a good variety of fish, and is a great spot for young kids to try snorkeling for the first time. The smaller lagoon is even more protected from waves, and only gets about 3 feet deep. It is perfect for the youngest children to splash around in.
In addition to the great swimming areas, Lydgate Beach has full facilities, including barbeques, picnic areas, restrooms, and showers. There is ample parking, and lots of nice spots to sit under the palm trees.
Lydgate Beach is located within Lydgate Beach State Park, which can be found just south of Kapaa by turning off of Kuhio Highway onto Leho Drive. You'll want to head as far north into the State Park as you can to find the protected swimming beaches.
While you are visiting, be sure to stop by Kamalani Playground. This is across the parking lot from the beach, just a bit south from the lagoons. This massive wooden Gothic-style playground was built by the community and is a great place to play when you are ready for a break from the water.
Lydgate Beach has everything that a family needs for a great day out in the Kapaa area. It is a must for any family traveling to Kauai with young kids!
Dani from Diapers in Paradise
Kauai's South Shore Beaches
The island's south shore beaches are typically the sunnier spots of the island and popular with full amenities (Poipu beach) to more rugged and desolate with difficult access making them more local beaches to discover.
Poipu Beach Park
The sunny side of Kauai has the beach scene covered with popular beaches to visit in the area like Poipu which is the go-to beach in the area. A full serviced beach with picnic pavilions, restroom and shower facilities, parking and life guard stations, all the beach amenities are covered. Poipu is also family friendly with a natural wading pool and life guards watching over the beach area.
Baby Beach
On the western end of Poipu beach is Baby beach with a sand bar that is popular with marine life. This is a good spot for kiddie play with the softer sand and protected ocean and shallow water.
The maha'ulepu Beaches
A string of beaches that occupy the rugged and undeveloped coastlines on the south western side of the island. This includes Gillen Beach, Kipu Kai Beach and Kawailoa Bay. Less touristy because access is through rugged gravel and dirt roads or walking to the beach areas, these are the best beaches to avoid the crowds on the island and awards you with beautiful sandy beaches mostly unspoiled and quiet.
Kauai's West side beaches
The rugged west side beaches are just that, wilder and not typically a swimming beach but more for surfing and lounging in. The wave action is active during the months of April through September when the waves are bigger in the area, so it's a perfect spot to enjoy surfing or just watch surfers from the beach.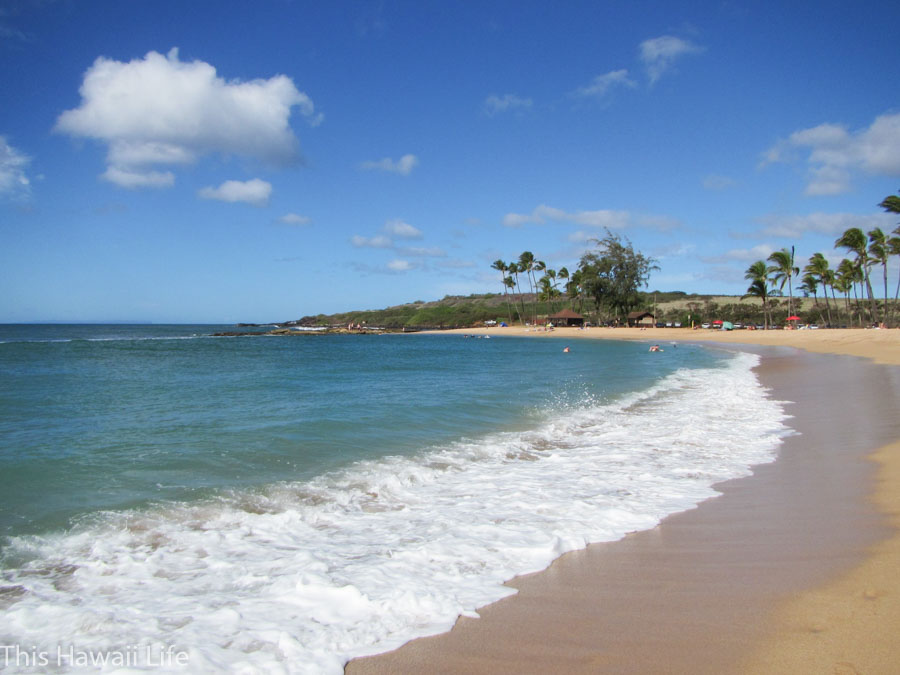 Salt Pond Beach Park
A family friendly beach with tide pools, parking and facilities with life guard stations, this is the go-to beach on the West side of the island near Hanapepe area.
Kahaka Beach
A popular local beach on the west side for fishing and surfing, the swimming is dangerous with strong undertow. But the beach is great for taking walks on the nice expansive white sands and enjoying a beautiful sunset on the west side of the island.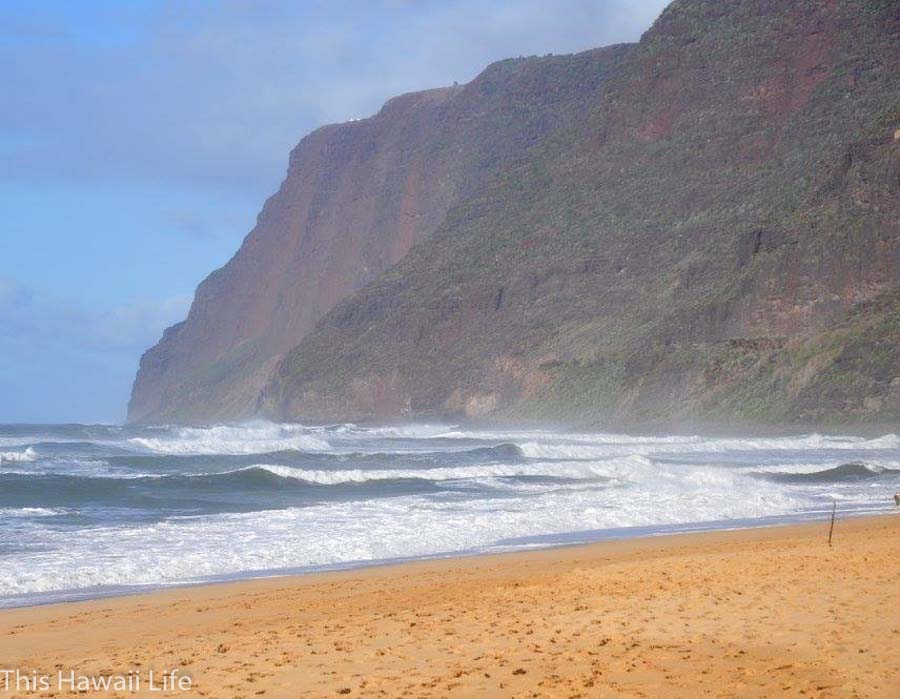 Polihale Beach
A rugged expanse of beach that is park of Na Pali State park and is the longest beach in the state at 17 miles long. Only 10 miles is open beach area that the public can enjoy for long beach walks and finding a nice spot on the beach for yourself to relax and unwind. Less crowded because access is only through dirt roads and no services and lifeguards in the area. The beaches are not swimmable due to rough surf and strong undertow.
Additional details to beach time fun in Kauai
Always check with the lifeguards on duty or other official sources with changing conditions on the beach due to changing conditions that rapidly effect any local visits to each beach areas.
Not all beaches are staffed with lifeguards or have amenities on the beach, check online at each beach park for services.
Camping is available at some of the beach parks, check directly with each park online site for details.
Check out these other topics on visiting Kauai now
Visiting beautiful Wailua Falls
Explore the north shore and Hanalei area
Have you explored any of these Kauai beaches?
Please share your thoughts and other recommendations in the comments below with your tips and suggestions for which Kauai Beaches on the island was the best to explore.
Thanks for visiting today and checking out this post on Kauai Beaches. I hope you are inspired to plan a visit and enjoy these wonderful attractions. If you enjoyed the images and post, could you please share it with any of the social media buttons located around the post.