Experience Paradise on Earth: Discover the Breathtaking Beauty of Kapalua Maui (updated 2023)
Kapalua, situated on Maui's western coast, is a remarkable haven on earth. Its exquisite natural scenery, immaculate beaches, and extravagant resorts make it a top preference for tourists in search of a peaceful retreat from their hectic lives.
Kapalua caters to everyone's desires, whether you seek a laid-back day by the seashore, cultural immersion, or fine dining and entertainment. From its awe-inspiring sunsets to the luxuriant foliage that envelops the nearby hills, Kapalua is an unparalleled haven of beauty that will captivate you and leave you yearning for more.
Why visit Kapalua and West Maui?
Kapalua, Maui is a destination that not only promises a relaxing and rejuvenating vacation but also offers an opportunity to immerse yourself in the rich culture and natural beauty of Hawaii. Kapalua's pristine beaches, crystal-clear waters, and stunning landscapes offer a unique opportunity to explore and learn about the island's diverse ecology and geology. The nearby Kapalua Coastal Trail provides an excellent opportunity to hike and explore the area's unique flora and fauna. The trail also offers breathtaking views of the Pacific Ocean and surrounding islands.
Kapalua's cultural heritage is equally fascinating, with opportunities to learn about ancient Hawaiian traditions, local agriculture, and cuisine. Visitors can also enjoy traditional music, hula, and other cultural performances. Additionally, Kapalua's resorts offer opportunities to learn about sustainability and conservation efforts through eco-tours and educational programs. So, if you're looking for a vacation that combines relaxation with education and cultural enrichment, Kapalua, Maui is the perfect destination for you.
Where is Kapalua, Maui located
Kapalua is located on the island of Maui in western side of the island. It is situated closer to the northwest coast of Maui, not far from Lahaina and approximately 33 miles (53 kilometers) from Kahului Airport, the main airport on the island. Kapalua is known for its stunning beaches, luxury resorts, golf courses, and natural beauty, making it a popular destination for travelers to Maui.
How to get to Kapalua from Kahalui airport
Kapalua is located on the western coast of Maui, approximately 33 miles from Kahului Airport. Here are some options for getting to Kapalua from the airport:
Rent a Car: The most convenient option is to rent a car from one of the car rental agencies at the airport. The drive to Kapalua takes approximately 45-60 minutes depending on traffic.
Shuttle Service: Several shuttle services operate on the island, offering shared or private transportation to and from the airport. Reservations are recommended.
Taxi: Taxis are available outside the baggage claim area at the airport. The ride to Kapalua can be quite expensive and takes about an hour.
Public Transportation: Public buses operate on the island, but the route from the airport to Kapalua can be time-consuming and may require transfers. Check the Maui Bus website for schedules and fare information.
No matter which option you choose, the drive to Kapalua offers stunning views of the island's natural beauty, so be sure to have your camera ready!
Here are the top things to do in Kapalua:
After visiting Kapalua, you'll be amazed at how relaxed and comfortable you will be and connected to the environment here especially all the wonderful beaches, coastline trails and amazing landscacpes
Soak up the Sun and Surf at Kapalua Beaches
Enjoy Kapalua Bay Beach, DT Fleming Beach Park or Oneloa Bay Beach
All of these outstanding beaches are fantastic to explore with soft sandy beaches spilling out to gorgeous aqua colored beaches with coral and snorkeling venues to swim and explore underwater.
A beach day at Kapalua Beaches can be a wonderful experience. Kapalua is located on the northwest coast of Maui in Hawaii, and it is known for its beautiful beaches, crystal-clear waters, and stunning scenery.
When you arrive at the main Kapalua Beach, you can expect to find soft golden sand and warm tropical waters. There are several beaches in Kapalua, each with its own unique character.
Napili Bay Beach is a popular choice for families because of its calm waters and gentle surf. Oneloa Beach, also known as Ironwoods, is a bit more secluded and ideal for those looking for a quieter and more relaxing day at the beach.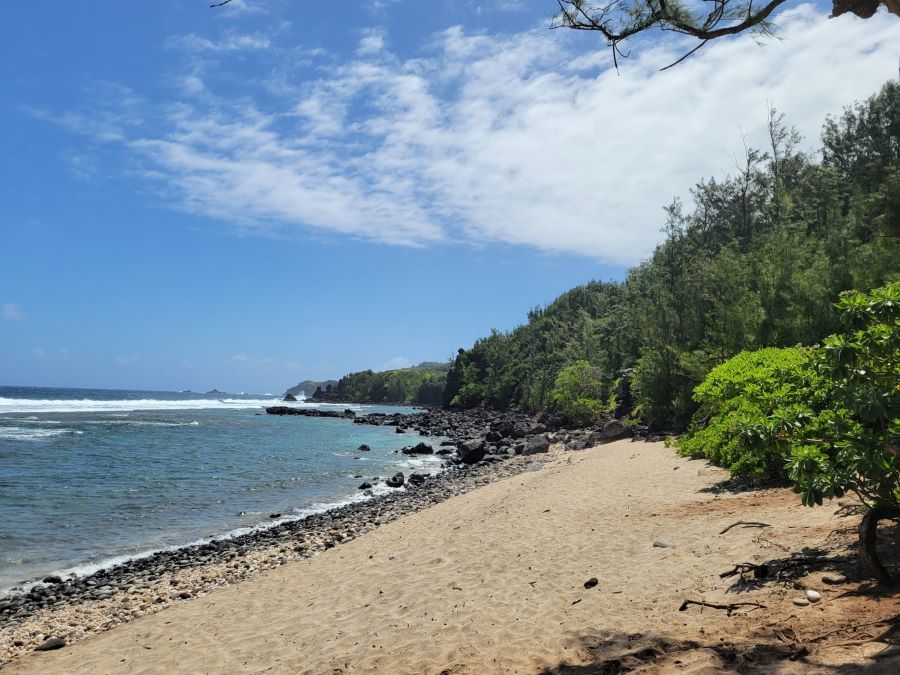 During your beach day at Kapalua, you can spend your time swimming, snorkeling, sunbathing, or simply relaxing under the shade of a palm tree. The beaches are also great spots for picnics or barbecues, and there are plenty of facilities available, including restrooms, showers, and picnic tables.
If you're feeling adventurous, you can also rent equipment like paddleboards, kayaks, or surfboards from local vendors and explore the waters at your own pace.
Explore the Great Outdoors
There are so many wonderful outdoor trails to unique and rugged landscapes along the coastline or pristine beaches that you can enjoy some fun beach time.
Do the gorgeous Kapalua Coastline trail
The Kapalua Coastal Trail, located on the northwest coast of Maui, Hawaii, is a popular destination for outdoor enthusiasts and hikers due to its picturesque views of the ocean, cliffs, and nearby islands.
This 1.76-mile trail runs along the coastline, linking Kapalua Bay Beach to D.T. Fleming Beach. It is a relatively easy trail to hike, and typically takes around 45 minutes to complete one way.
Throughout the trail, hikers will encounter a variety of landscapes, from sandy beaches to rocky cliffsides. The area is also home to a diverse range of wildlife, such as sea turtles, humpback whales (during whale season), and various seabirds.
One of the highlights of the Kapalua Coastal Trail is the Dragon's Teeth, a unique geological formation consisting of jagged, lava rock formations that rise from the ocean. Additionally, the trail passes by the historic Honokahua Preservation Site, a sacred Hawaiian burial ground and cultural site.
Overall, the Kapalua Coastal Trail is a must-visit for those visiting Maui, as it provides a serene and scenic experience that highlights the natural beauty of Hawaii's coastline.
Check out Makaluapuna Point for Scenic Views
Makaluapuna Point is a scenic location on the west coast of Maui, Hawaii. This area is known for its stunning views of the Pacific Ocean, neighboring islands, and natural rock formations.
At Makaluapuna Point, visitors can take in the sights from above, as the point overlooks the ocean and nearby cliffs. The natural rock formations here create unique shapes and patterns that add to the beauty of the area.
Additionally, this area is known for its spectacular sunsets, which paint the sky with shades of pink, orange, and red. Many visitors come to Makaluapuna Point in the evening to witness this breathtaking display of colors.
Makaluapuna Point is also a popular spot for whale watching during the winter months, as humpback whales migrate to the waters off the coast of Maui. Visitors can often spot these magnificent creatures from the point, as they breach and play in the water.
Do the fun Kapalua Labyrinth
Yes, there is a labyrinth located in Kapalua, Maui, Hawaii. The Kapalua Labyrinth is a spiritual and meditative experience that is open to the public.
The labyrinth is located in a grassy area near the Ritz-Carlton hotel and is modeled after the Chartres Cathedral labyrinth in France. It is made up of a winding pathway that leads to the center of the labyrinth, where a small altar is located. The labyrinth is designed to provide visitors with a sense of peace and tranquility as they walk the path.
Many visitors to the Kapalua Labyrinth report feeling a sense of spiritual renewal and clarity after walking the path. The labyrinth is often used for meditation and spiritual practices, but it is also a popular destination for tourists who are interested in experiencing the unique and peaceful atmosphere of the labyrinth.
Hike to the Dragon's Teeth
Located on the western coast of Maui, Hawaii, the Dragon's Teeth is an exceptional geological formation that draws both tourists and locals to hike its trail. The hiking trail to the Dragon's Teeth is situated alongside the Kapalua Coastal Trail, which extends for around 1.76 miles along the coast.
The Dragon's Teeth are rough, sharp lava rocks that protrude from the ocean, creating an extraordinary and captivating landscape. Visitors can park at the Kapalua Bay Beach parking lot to access the trailhead and walk along the coastline. It's recommended that hikers wear sturdy footwear and bring along sunscreen, water, and a hat since the trail can be hot and exposed.
The hike to the Dragon's Teeth is relatively easy, and it should take approximately 20-30 minutes each way. Throughout the hike, hikers will be treated to breathtaking views of the ocean and nearby islands. Upon reaching the Dragon's Teeth, hikers can take a closer look at the unique rock formations and enjoy the stunning beauty of the area.
Explore the Olivine Pools
The Olivine Pools are a popular natural attraction located on the western coast of Maui, Hawaii. These pools are formed by ancient lava flows and are situated near the town of Kapalua, which is known for its stunning beaches and resorts.
The Olivine Pools get their name from the mineral olivine, which can be found in the surrounding volcanic rocks. These pools are natural tide pools that have been created over time by the crashing waves of the Pacific Ocean. The pools are filled with seawater, and some of them offer opportunities for swimming and snorkeling.
It's important to note that the Olivine Pools can be dangerous and should be approached with caution. The area can experience strong waves and powerful surges, making it potentially hazardous, especially during high surf or rough sea conditions. Visitors should always prioritize their safety and be mindful of the ocean's unpredictability.
Honolua Store
This iconic general store at Honolua is the equivalent of the ABC chain but this is specific to Kapalua with general merchandise, deli and food items and souvenirs. All of the general merchandise and necessities you'll find when staying in the Kapalua area.
Next door is a small downtown venue with eateries and other essential services offered and not provided by any of the hotels.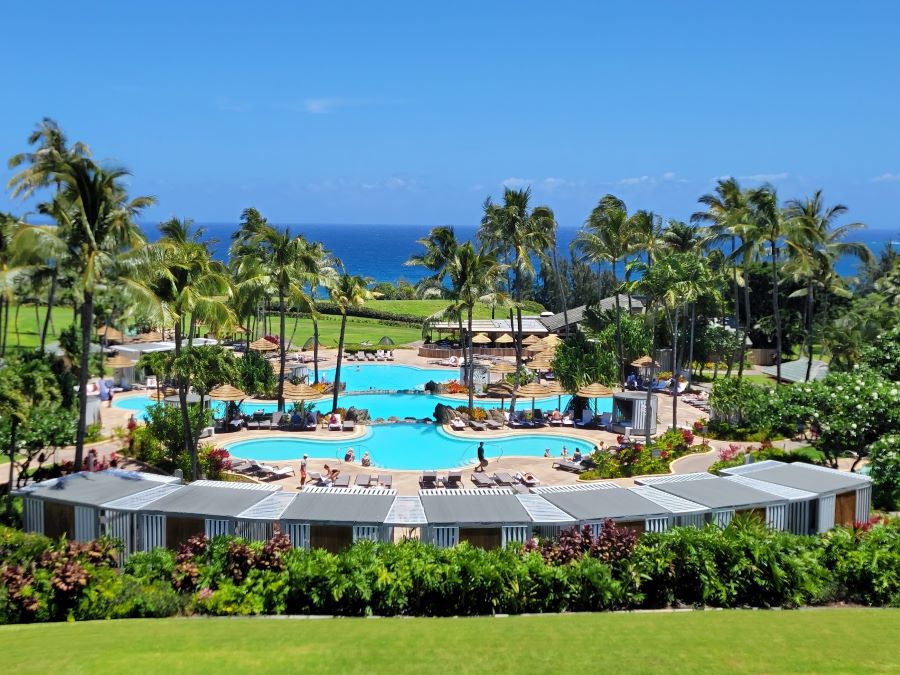 Relax and Recharge at Luxurious Resorts
Kapalua, Maui is renowned for its exquisite luxury resorts, offering visitors an unparalleled experience of indulgence and relaxation. Nestled along the pristine coastlines and surrounded by breathtaking natural beauty, these resorts provide a haven of opulence and tranquility.
One of the prominent luxury resorts in Kapalua is the Montage Kapalua Bay. This elegant retreat embodies the essence of Hawaiian hospitality, with its luxurious accommodations, world-class amenities, and stunning ocean views. Guests are treated to spacious suites and villas adorned with upscale furnishings, private lanais, and modern conveniences. The resort boasts a variety of dining options, including gourmet restaurants that serve delectable cuisine prepared with locally sourced ingredients. The Montage Kapalua Bay also offers a spa, fitness center, and multiple pools, ensuring guests have ample opportunities for relaxation and rejuvenation.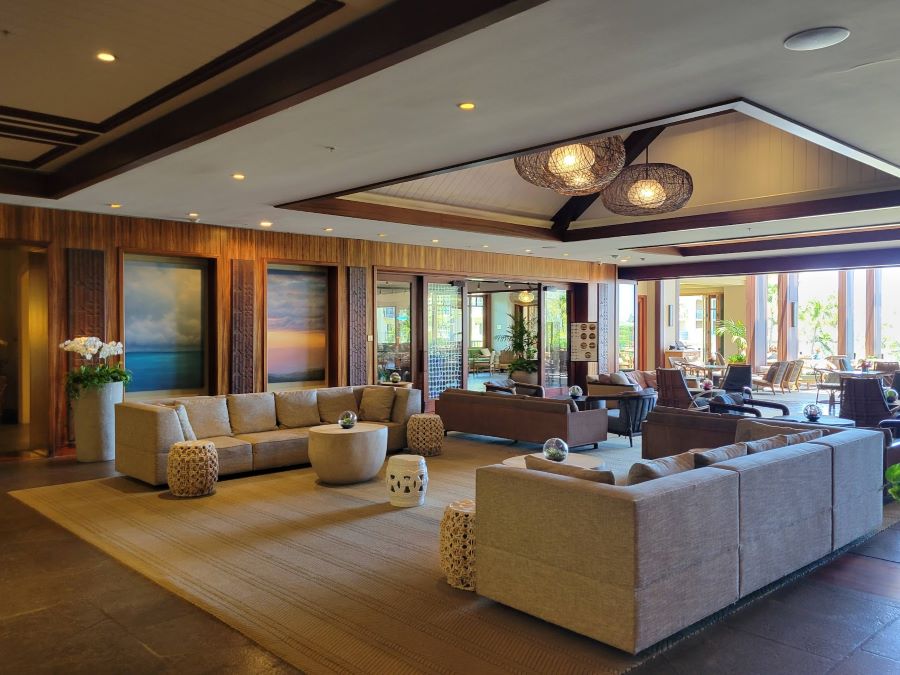 Another exquisite resort in Kapalua is The Ritz-Carlton, Kapalua. Set amidst lush tropical gardens and overlooking the Pacific Ocean, this five-star resort provides a truly immersive luxury experience. The spacious rooms and suites exude elegance, featuring high-end furnishings, lavish bathrooms, and private lanais to enjoy the stunning views. The resort offers an array of amenities, including a championship golf course, tennis courts, a full-service spa, and a selection of acclaimed restaurants and bars. Guests can also partake in cultural activities, such as lei-making classes and traditional Hawaiian ceremonies, adding an authentic touch to their stay.
Tee off at World-Class Golf Courses at Kapalua
Golfing at Kapalua is an extraordinary experience that attracts avid golfers from around the world. Located on the picturesque western coast of Maui, Kapalua is renowned for its championship golf courses, scenic views, and perfect weather conditions, creating an idyllic setting for a memorable golfing adventure.
Kapalua Plantation Golf Course
The most notable golf course in Kapalua is the Plantation Course. Designed by Ben Crenshaw and Bill Coore, this world-class course is consistently ranked among the top golf courses in Hawaii and the United States. The Plantation Course is famous for hosting the PGA Tour's Tournament of Champions, where the year's previous winners compete. With its wide fairways, undulating terrain, and stunning ocean views, it offers a challenging yet rewarding golfing experience. Golfers can expect to encounter strategic bunkers, lush vegetation, and elevation changes that add excitement and intrigue to every round.
Kapalua Bay Golf Course
The gorgeous golf course in Kapalua fronting the ocean area is the Bay Course. Also designed by Arnold Palmer and Francis Duane, this course offers a more forgiving layout compared to the Plantation Course. The Bay Course showcases beautiful coastal views and features a variety of holes, including those set against the stunning shoreline and others that wind through lush foliage and rolling terrain. This course provides an enjoyable experience for players of all skill levels, while still offering enough challenges to keep the game interesting.
Indulge in Hawaiian Cuisine and delicious food
Kapalua, Maui is renowned for its diverse and delectable cuisine, offering a range of dining options that cater to various palates and preferences. From casual beachfront eateries to upscale restaurants, Kapalua showcases the vibrant flavors of Hawaiian cuisine and international culinary influences. Here are some notable restaurants and culinary experiences you can find in Kapalua:
Merriman's Kapalua: Located overlooking Kapalua Bay, Merriman's is a celebrated fine dining restaurant that focuses on using locally sourced ingredients. Their menu highlights the flavors of Hawaii with dishes like Macadamia Nut Crusted Mahi Mahi and Big Island Grass-Fed Beef. The oceanfront setting adds to the dining experience, offering breathtaking views while enjoying a superb meal.
The Plantation House: Situated at the Plantation Golf Course, The Plantation House offers panoramic views of the fairways and the Pacific Ocean. This upscale restaurant features a diverse menu that blends Hawaiian, Asian, and European influences. From fresh seafood to prime cuts of meat, the culinary offerings are complemented by an extensive wine list, making it an excellent choice for an elegant dining experience.
Sansei Seafood Restaurant & Sushi Bar: If you're a fan of seafood and sushi, Sansei is a must-visit. Known for its innovative and creative approach to Japanese cuisine, Sansei serves up an array of fresh sushi rolls, sashimi, and Asian-inspired dishes. The vibrant and energetic atmosphere adds to the overall dining experience, making it a favorite among locals and visitors alike.
The Banyan Tree: Located at The Ritz-Carlton, Kapalua, The Banyan Tree offers a sophisticated dining experience with a focus on Pacific Rim cuisine. The menu features a fusion of Asian, Hawaiian, and international flavors, using locally sourced ingredients. The restaurant's elegant ambiance, impeccable service, and stunning ocean views create a memorable dining atmosphere.
Taverna: For those craving Mediterranean flavors, Taverna provides a delightful dining experience. This casual yet chic eatery serves up authentic Italian and Greek dishes, including wood-fired pizzas, homemade pastas, and fresh seafood. The warm and inviting atmosphere, combined with the flavorful cuisine, makes Taverna a popular spot for both lunch and dinner.
Pineapple Grill: Nestled at the Kapalua Bay Golf Course, Pineapple Grill offers a relaxed yet refined dining experience. The menu highlights Pacific Island cuisine, with a focus on fresh local ingredients. From seafood specialties to grilled meats and innovative vegetarian options, the culinary offerings at Pineapple Grill are diverse and flavorful.
In addition to these restaurants, Kapalua also boasts charming beachside cafes, casual eateries, and grab-and-go options where you can savor delicious Hawaiian dishes, tropical fruits, and refreshing beverages.
Whether you're seeking fine dining, local flavors, or international cuisine, Kapalua's culinary scene has something to satisfy every taste bud. The combination of exquisite ingredients, talented chefs, and breathtaking settings ensures a memorable dining experience during your visit to Kapalua.
Explore the top hiking trails around Kapalua
Ranging from fantastic and scenic coastal trails to more, village and then ridge trails, you'll want to challenge yourself of easy, moderate to more difficult hikes and enjoy those amazing vistas and landscapes.
I. Honolua Bay Trail
Length: 1.4 miles roundtrip
Difficulty: Easy
Highlights: Coastal views, historic sites, and snorkeling opportunities
II. Kapalua Coastal Trail
Length: 3.5 miles one-way
Difficulty: Easy to Moderate
Highlights: Ocean views, scenic outlooks, and access to beaches
III. Mahana Ridge Trail
Length: 5.8 miles roundtrip
Difficulty: Moderate to Difficult
Highlights: Panoramic views of Kapalua, Honolua, and Mokule'ia bays, and native plant life
IV. Village Walking Trails
Length: Various lengths
Difficulty: Easy
Highlights: Landscaped gardens, water features, and views of the Kapalua coastline
V. DT Fleming Beach Park Trail
Length: 0.5 miles roundtrip
Difficulty: Easy
Highlights: Scenic views of the beach and coastline, and access to picnic areas and restrooms
VI. Pu'u Kukui Watershed Preserve Trail
Length: Various lengths
Difficulty: Difficult
Highlights: Stunning views of the West Maui Mountains, rare plant and bird species, and conservation efforts
These are just a few of the many hiking trails available in the Kapalua area, offering a range of difficulty levels and stunning natural beauty. Remember to bring sunscreen, plenty of water, and appropriate footwear, and be sure to respect the natural environment by staying on designated trails and packing out all trash.
Other places to visit around the Kapalua area
There's plenty of outdoor adventure, gorgeous landscapes and beautiful drives to explore around Kapalua. Check out these inspiring places below.
Road trip to Nakalele Blow Hole
Visiting the Nakalele Blowhole is an awe-inspiring experience that showcases the raw power of nature. Located on the rugged northern coast of Maui, Hawaii, this natural wonder captivates visitors with its dramatic spouts of water shooting into the air. The blowhole is formed by powerful ocean waves rushing into an underwater lava tube, creating a stunning display as the water is forced upward.
To reach the blowhole, take the drive along the coastline Honoapiilani Highway or highway 30 to reach the observation area.
You can view the blowhole from above or hike through scenic coastal cliffs and rocky terrain below. As you approach the blowhole, be cautious and maintain a safe distance, as the waves and spray can be unpredictable.
Witnessing the Nakalele Blowhole in action is a reminder of nature's incredible forces and an unforgettable experience for those who venture to this captivating location.
Visit Napili Bay and snorkeling
Napili Bay is a stunning crescent-shaped beach located on the western coast of Maui, Hawaii. It is known for its crystal-clear turquoise waters, soft golden sand, and tranquil atmosphere, making it an ideal destination for beach lovers and snorkeling enthusiasts.
When you visit Napili Bay, you'll be greeted by gentle waves and a vibrant underwater world teeming with marine life. The bay is home to a thriving coral reef, which provides an excellent opportunity for snorkeling. Strap on your snorkel gear and venture into the water to discover colorful fish, graceful sea turtles, and fascinating coral formations. The visibility in Napili Bay is usually quite good, allowing you to fully appreciate the beauty beneath the surface
It's worth noting that like any snorkeling activity, it's important to practice responsible snorkeling and respect the marine environment. Avoid touching or damaging the coral, refrain from chasing or harassing marine life, and follow any local guidelines to ensure the preservation of the reef ecosystem.
Explore Kaanapali area
Kaanapali is a resort destination on Maui's western coast, offering attractions like Kaanapali Beach, Whalers Village for shopping and dining, Black Rock for snorkeling and cliff diving, championship golf courses, Kahekili Beach Park for a quieter beach experience, and sunset catamaran cruises. Just a short drive from Kapalua, Kaanapali provides a perfect blend of relaxation and adventure, surrounded by the beauty of Maui's coastline.
Check out these other posts to visiting Maui
Top places and attractions to visit in Maui
Best 20 things to do in Lahaina
Check out these tips on visiting Kapalua
If you're planning a trip to Kapalua, Maui, consider these helpful tips:
Make reservations in advance for accommodations and activities, especially during busy seasons.
Rent a car to easily explore the island's hidden gems, as public transportation options are limited in Kapalua.
Pack essentials for outdoor activities, such as sunscreen, a hat, and a reusable water bottle, as the sun can be intense and dehydration is a concern.
Show respect for local culture and traditions by removing shoes before entering homes or temples, and supporting conservation efforts.
Sample the local cuisine, including fresh seafood, shave ice, and traditional Hawaiian dishes like poi and kalua pork.
Take the Kapalua Resort Heritage Trail to learn more about the area's history and culture.
Utilize the free beach shuttle to explore different beaches in Kapalua.
Bring a camera or smartphone to capture the awe-inspiring scenery and natural beauty of Kapalua.
Follow Leave No Trace principles by packing out all trash and recyclables to help preserve the environment.
Embrace the relaxed pace of island life in Kapalua by trying new experiences and activities.
Conclusion on visiting Kapalua Maui
To sum up, Kapalua, Maui presents an incomparable vacation experience for those in search of a tropical paradise. Boasting stunning natural landscapes, thrilling outdoor activities, cultural immersion, and lavish accommodations, Kapalua caters to all types of travelers. Whether you're seeking rest and relaxation or excitement and adventure, Kapalua provides a one-of-a-kind opportunity to discover the fascinating culture and magnificent scenery of Hawaii.
If you like what you see, come and check out my other social media channels for more updates, including Instagram, Pinterest and Twitter
Disclosure – Some links in this article on visiting Kapalua, Maui are affiliates which provide a small commission to support this site at no extra cost to you. Thank you for reading, and happy travels