Hawaiian tropical flowering plants for your garden
Hawaii is blessed with wonderful climate, fantastic sunshine and rain that nourishes the aina or land that we live in. The Aloha State is filled with such gorgeous landscapes, botanical gardens and scents and you will find these popular Hawaiian flowers in every home garden, parking areas and hotels and public gardens around the islands..
Whether you stay at a hotel with a fantastic garden to explore, wild landscapes and orchids or ginger plants scents wafting around the area or even a tropical botanical garden filled with exotic flowers, you'll be amazed by all the vibrant colors, textures and even scents you'll experience when seeing these wonderful tropical flowers.
Passionflower or lilikoi
Not only is the fruit from the lilikoi or passionflower delicious and popular in a variety of desserts, but the plant and striking flower makes quite an impact in the garden with its robust green foliage and alien looking flowers with striking petals that are very attractive overall. This showy flower is typically found on a fence or running up a tree in its aggressive and almost overwhelming growing patterns in a Hawaiian garden.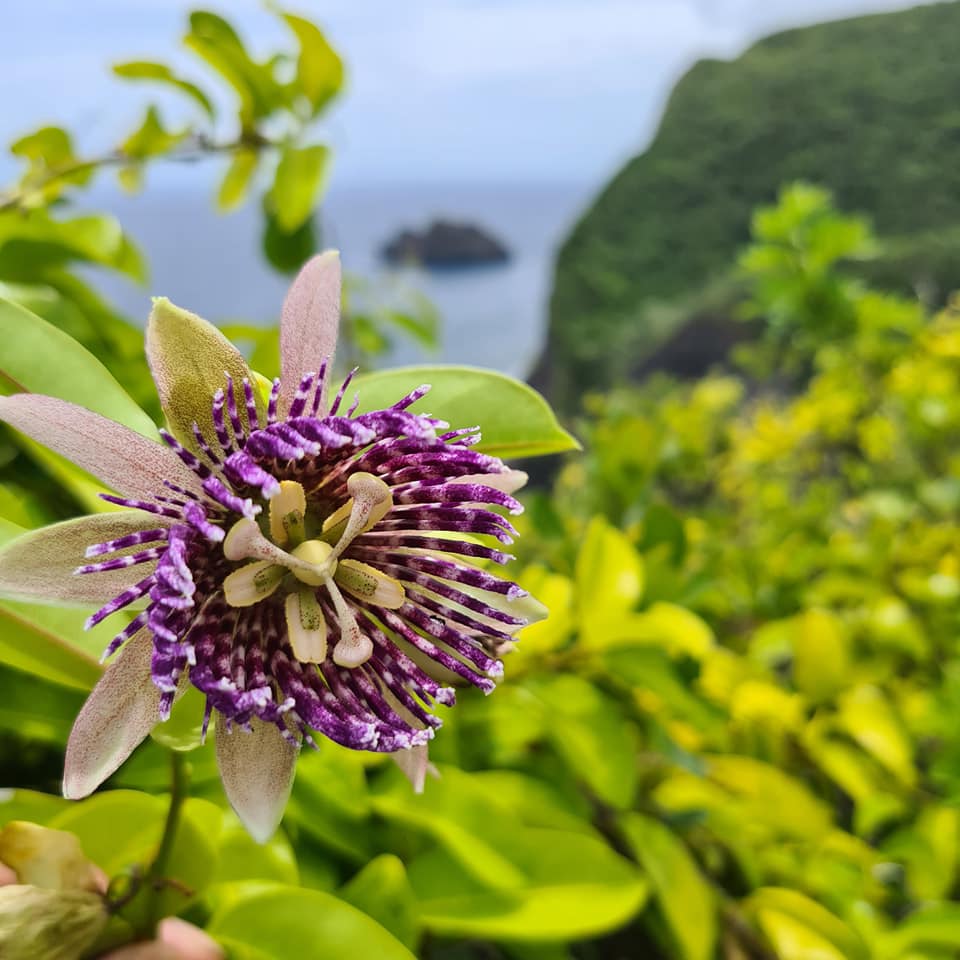 Growing Passionflowers/lilikoi
Passionflower is a vine and you need a strong and steady support like a fence to grow this very aggressive plant when it is established and starts to flower and then fruit for you which is a win-win situation in the garden. After the flowering the fruit starts to develop into small to medium sized fruits that can be eaten raw or used in a variety of different tropical ingredients popular on the islands.
Jasmine
A wonderful scent in the garden always leaves such a fantastic impression and have easy and carefree jasmine in the garden is a no brainer with so many varieties of jasmines that you'll see around the islands. The Hawaiian pikake jasmine is also known as Arabian or Indian jasmine and the flowers used in leis and oils made into perfumes with its aromatic aroma that is very popular on the islands.
Growing Jasmine in the garden
You might look for a vine type of pink or star jasmine or the more bush oriented Arabian or pikake in which there are several varieties to choose from and most of them are fairly easy to grow outside of the double Arabian jasmine that offers a lot of wow factor but is a little fussier than the other jasmines to grow in your garden. In any case having a wonderful scented jasmine in your garden is always a winner placed at strategic points around the garden or close to a window that you can smell this lovely flower.
Hibiscus
You'll find an abundance of Hibiscus flowers and colors in many homes, public gardens and hotels on the islands. With vivid and hot tropical colors and hues from yellows, oranges and reds, there is a full palette of colors that you'll find in hibiscus flowers. The pu alo alo is a showy yellow hibiscus that is also the state flower. As the state flower, it represents that delicate nature, beauty and also unity and peace as a floral symbol for the state. Beautiful and bold in their showy exuberance, the hibiscus flowers bloom daily and typically lasts just for the day before the petals close.
Growing Hibiscus flowers
This hardy plant is so carefree and practically kill proof and also comes in a variety of delicious tropical colors that range in hot colors to cooler and more subdued all depending on the look you want to add to your garden. Hibiscus plants are sun loving, easy to grow and not so fussy about soil conditions and adapts so well to any growing conditions in Hawaii.
Gardenias
There's an abundance of so many wonderful gardenia flowers growing on the islands with their subtle and lovely tropical scent. The Hawaiian version of Hawaiian gardenia or Na'u is quite fragrant used to be prevalent on all the islands but not as common anymore and found mostly in wild environments. Many other gardenia types with showy blooms are found in the typical home garden, hotels, parks and so many other places you'll find in Hawaii.
Growing your own gardenias
Easy to care for and relatively pest free, gardenias are sun loving and love well drained soils and watering and fertilizing to produce regular blooms in your garden.
Anthurium flowers
Lovely anthuriums add such a tropical and sexy statement with their vivid colors along with their center stamens. These heart shaped flowers also called flamingo flowers are glossy flowers cover the gamut of showy deep reds, pinks, coral to variegated versions and large scale anthuriums called Obake that really are show stoppers in the garden
Growing your own anthuriums
Anthuriums make a nice addition to the tropical garden and is easy to grow and maintain mostly in a shady area or filtered light which is the ideal growing conditions or even potted if you are not living in a tropical environment.
Plumeria or Frangipani
Scented plumerias are always popular to receive as a lei for any special greeting or event and you'll see plumerias planted along many walkways for the lovely scents you'll encounter along the way. The plant itself is pretty and having the flowers intact gives you both color and lovely aromas when you pass by them in the garden. Used primarily as a showy flower used in a lei for its gorgeous color and scent, the plumeria lei started a tradition of tossing old lei into the water from World War II when solders tossed their lei into the water to see if they go ashore ensuring another visit. But in Hawaiian tradition used lei should be returned to the earth, hung from a tree or buried.
Growing plumerias.
These plants love well drained soil and low water and sun to thrive and bring out their clusters of gorgeous hot to pastel-colored flowers. This plant can be a shrub form to a short tree that you can maintain easy to get the flowers for your leis or to just have them in your home.
Bromeliads
With so many different types of bromeliads to choose from and grow in Hawaii, you have unlimited choices of colors, leaf and patterns that create a nice pop in the garden. A showy plant when it is in bloom with vivid colors, patterns and even foliage, bromeliads are the perfect accent plants you'll always find in a tropical garden area on the islands.
Growing bromeliads in a garden
Bromeliads are typically easy and carefree tropical plants that grow in many environments. With a variety of cultivars ranging from Aechmea, it grows best in well-drained soil, partially shaded and fits in perfectly to the base or even trunks of many tropical trees. Bromeliad care is fairly easy but you do have to be careful with water that does accumulate into the throats and are an attractive breeding ground for mosquitos which you need to treat for in your garden.
Bird of Paradise
A showy tropical flower that is hardy and almost carefree and abundant in many tropical gardens, Bird of Paradise flowers are showy and colorful in oranges, blues and other rainbow colors in their bold spikes that jut out of the plants. They make wonderful cut flowers, so you will see these in wonderful floral arrangements in many hotels, restaurants and other public displays. Find these in nice bouquets in a farmers' market and you'll have this for your entire stay on the island.
Growing Bird of Paradise at home
Bird of Paradise plants are perfect for the gardener that doesn't like fussy plants and this plant delivers without much upkeep outside of trimming away some of the spent flowers or occasionally dying leaves. Bird of Paradise thrives in sunny, well-drained soil and just occasional deep watering to provide you with a bounty of wonderful flowers to cut or just leave on the plant for show. These tropical flowers can grow well in sub-tropical to tropical environments or even as potted plants
Bougainvillea
This shrub/vine plant is showy and carefree, always giving big flushes of flowering bracts in almost every hot to pastel shade you can imagine, bougainvillea is so easy to grow once established and is a good barrier plant to have with its spiky thorns to thwart any intruders into the garden space. Popular as shrubs grown on the edge or background to a garden offering a splash of color, bougainvillea in Hawaii is everywhere from hot and dry environments to even the wet areas of the Hawaiian islands.
How to grow bougainvillea plants
bougainvillea are almost carefree plants and love full sun and well drained soils. They thrive on neglect and even poor soils. Most need a little watering care at the start but once the roots are established, they can grow and create a nice shrub for for evening a vining structure depending on how you treat it.
Ginger plants
Ginger plants in Hawaii are abundant with many variations and flowers growing in the wild or in gardens. Popular gingers to grow include the Kahili, Yellow and red gingers that you can find in the wild, in farmers markets and in gorgeous floral displays wherever you visit around the islands. It is such an amazing experience to see and smell wild ginger plants growing in the wild and in very large areas because of their aggressive nature especially in wetter and shady environments around the islands. Outside of the beautiful flowers gingers are also grown for cosmetics, shampoo and edible food.
Plant ginger plants in your garden
There are a variety of ginger plants you can add to your garden to give both scent and lovely color in the garden. Ginger plants make sure a nice pop of color and lushness to a garden. Once established most ginger plants can be aggressive so it is good to keep them in a pot or area that is contained or one that you don't mind having them take over a neglected part of the garden.
Orchid flowers
What's a tropical garden without growing some orchids in your garden. Orchids in Hawaii are so easy and not fussy especially when you attached them to the trunk of a tree which is its perfect growing habitat and a nice surprise when you see them occasionally blooming their heads off. Just care in setting the orchid on the tree initially before the roots set and some light feedings will get you off to a good start on these wonderful perennials in the garden. Used in floral arrangements, leis and even as adornment accents on foods, orchids are always the perfect color accent used for a variety of purposes in a Hawaiian home.
Grow your own Orchids
Orchids so well in filtered light with well drained soils and love water and feeding schedules to keep giving off some blossoms. In Hawaii, they are almost carefree and growing attached to trees, pots or attached to other tall plants where they feed directly from the rain and nutrients they get from the air.
Heliconia flowers
Heliconia's are showy flowers and one of the most stunning plants and flowers with so many colors, shapes and sizes in this family of tropical flowers. Heliconia plants are all about with the real tropical vibe going on sporting hot colored flowers and huge banana shaped leaves that are also tall and showy along with the bold floral displays. Heliconia's love well drained but well-watered soil in neutral growing conditions that will reward you with so many vivid flowers that flush from spring to summer time frame and is still showy without the flowers the rest of the year. You'll find heliconia's use in many tropical flower arrangements or sold at farmers markets to make your own displays of these amazing flowers.
Grow your own Heliconia's
These plants do need space and sun to development and produce the dramatic stalks of flowers. Once established they do become aggressive and can take over a large area that they are growing in so it is good to find a place in the garden that you can keep in check.
Hawaiian flowers used for lei
Most Hawaiian flowers used for lei do have a wonderful scent and combined with gorgeous color and even texture. Most of the flowers that are commonly used for lei includes scented plumerias, orchids, tuberose, jasmine, gardenia and even ginger blossoms are used. There are flower farms around the islands that supply production houses that string the leis and sell them directly to stores, lei stands at the airports and various groups that provide a fresh lei experience at the airport.
Grow your own Hawaiian flower garden
Tropical Flowering plants are the perfect plant to have in the garden as an accent, maybe with a wonderful scent or vibrant color that just draws you into the garden immediately to explore more. You'll love having these wonderful tropical flowers to grow with little fuss when they are place in just the right environment and conditions to grow on your garden.
Even if you don't live in a tropical environment, some of these tropical flowers can grow in pots and indoors in a sunny and well-ventilated spot around the home.
Check out these videos on growing and maintaining a flowering tropical garden
3 easy tropical flowering plants to grow
Check out these other Hawaii garden and flower topics
Visit these botanical gardens in Oahu
Hawaiian tropical fruit to eat
Liliu'okalani garden in Hawaii
Have you been enjoyed any of these tropical flowers in Hawaii?
Any favorites you can share? Please share your thoughts and other recommendations in the comments below with your recommendations.
Thanks for visiting today and checking out this post on Hawaiian tropical flowers. I hope you are inspired to plan a visit and enjoy these wonderful attractions. If you enjoyed the images and post, could you please share it with any of the social media buttons located around the post.