What is Hawaiian culture and traditions on the islands? (updated 2023)
Learning a little about Hawaiian culture and traditions will help you in understanding many of the important factors about native Hawaiian, a little bit about their belief systems, what they value and how important cohesion and taking care of the Aina (land) is. Throughout the year, Hawaii celebrates a number of events, festivals and gatherings that celebrate these customs and traditions. They have enriched and showed the true essence of living in this modern and multi-cultural society and how important Hawaiian traditions are to living here while sustaining the true spirit of Aloha.
Here are some of the general beliefs and cultural values that will help you understand the rich history, tradtions and culture of the Hawaiian people and those that live on the islands to help foster these ideas.
A Kiss on the cheek
Greet each other by giving a kiss on the cheek is a traditional way of greeting family and friends or even new acquaintances. The more traditional Hawaiian greeting is called honi iku done by touching of the noses. This symbolizes an exchange of "Ha" or the breath of life and the importance of life forces in Hawaii
Giving a lei
Fresh lei given to friends, family or new acquaintances share the "Aloha spirit" to honor, love, give friendship, special events or even farewell. Made of fresh flowers and leaves and other natural materials, the lei is given to mark many special occasions in Hawaiian tradition. In more modern times the lei is given at many special events from graduations, parties, birthdays, anniversaries, weddings and special gatherings
Hula Dance
At a time where there was no written language, hula was the nonverbal way of sharing stories, traditions, geology, mythology and religion all wrapped up into the sacred dance along with sharing some entertainment and local Hawaiian culture. The art of hula is sacred and involves training, chanting and performance under the guidance of a kumu (hula teacher). Traditional hula was mostly a private affair unlike today's contemporary version which is mostly a showcase and modern interpretation and sensibility.
Ancient hula is called Kahiko and is the native style of dance which is more about chanting, telling stories with your movements and a ways of expression that matches the story telling, drumming or any type of music accompaniment.
Hawaiian Lu'au
The Hawaiian Lu'au is a gathering celebration with friends and family. The name Lu'au was accidentally termed (originally the name for the tops of the taro top which is a common ingredient for Hawaiian dishes) and stuck with modern interpretation. But the traditional name for lu'au actually was called a Paina (for a dinner gathering) or an ahaaina (for a feast). The special gatherings were a time to celebrate a special occasion and enjoy some delicious Hawaiian foods and local foods together.
Preparing Traditional Hawaiian food
Traditional Hawaiian food at its heart is food that was created for nourishment using ingredients and sourced foods from the environment. These included the various canoe plants and other meats and sources of food that were transported by the Polynesians to Hawaii and planted and maintained them for their own needs
Check out this post of the typical traditional Hawaiian foods to eat on the islands for inspiration and some actual reciptes.
Malama 'Aina
To Malama Aina or take care of the land resonates strongly with Hawaiian people and their native tradition because taking care of the land and sea that feeds you sustains a cycle that keeps the values and sustenance of the native peoples. It is a strong belief to kuleana (responsibiliy) of the land that sustains their people and provide in the islands resources by being careful stewards of the land and environment surrounding them.
To Malama 'Aina is one of the most important Hawaiian values and has deep meaning and appreciation for the indigenous people of Hawaii. These are the Hawaiians who practice these values every day and come to appreciate this way of being and Malama 'Aina.
Malama Aina is part Hawaii culture and traditions that is a very important part of daily life and awareness on an island with limited resources.
Share Aloha
This simplest of acts the Hawaiians gave to each other is that of sharing Aloha which covers every facet of greeting, sharing, loving, chatting or basically giving of your time and attention to someone you love or someone entirely new in your life. It is the embodiment of self and giving your attention and care to others that is the basis of this greeting and Hawaiian tradition.
This simple greeting or parting has deeper significance to native Hawaiians that draw spiritual, deep cultural meaning and energy that holds together the people, their traditions and existence in Hawaii.
Ohana and community
Hawaiian Ohana and community is extremely important in Hawaiian culture. The term Ohana refers to your family but also refers to close friends as well. Having an 'Ohana of family or friends on the island is a very important part of integrating into Hawaii culture and feeling like you do belong even if you are not related to anyone here on the islands.
Telling stories, chanting and hula are all about learning and passing culture and history
A very important aspect of learning and teaching the oral history and passing down the generations was centered around the story teller, the chanter and the hula dancer. This was the means of communication and sharing various segments of the environment, the people, mythology and the living on the island. Part entertainment, cultural awareness and passing the history and importance of these activities the three people share, this is still the process that happens and is important to the Hawaiian people.
Check out this fascinating talk about the importance of the story teller, the chanter and the hula dancer in Hawaiian culture.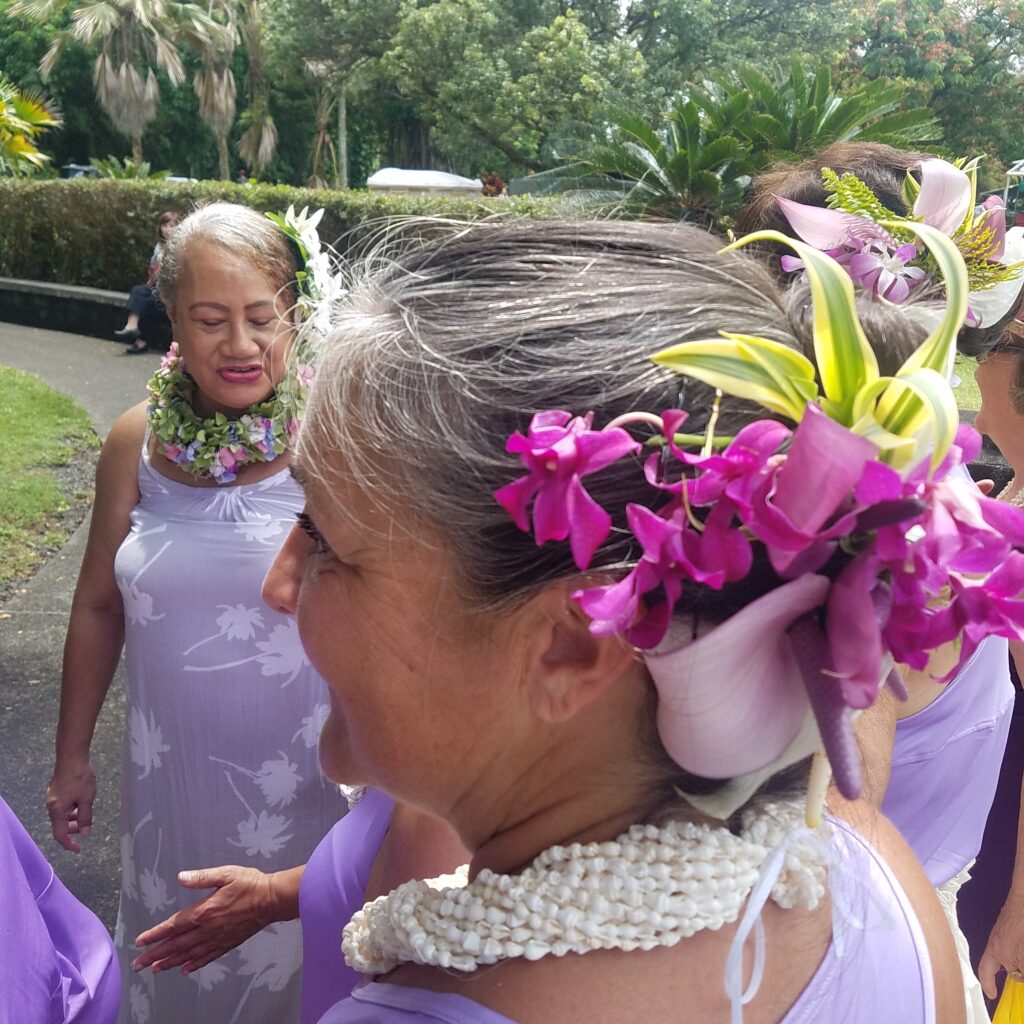 Contemporary Hawaiian culture and customs
With the influx of plantation workers coming to Hawaii to work and also share their customs, this melting pot effect has influenced the new generations to celebrate a variety of different cultural and world events and customs. This has created a new fusion and interpretation of what Hawaiian lifestyle and customs along with celebrations take place on the islands currently.
What's Hawaiian vs local people
Native Indigenous Hawaiians are the only ones that are called Hawaiians. Non -natives or those that have eventually come to the islands are referred to as "Locals" or "Kamaina" (child of the land) which are interchanged depending on who you talk to.
Pidgin English
The mixed English or broken English communication that started with the many plantation workers living on the islands transformed into an everyday vernacular for common folk to talk with some simple, funny and even unrecognizable slangs. It is best not to attempt Pidgin outside of simple terms or else locals will give you some really funny looks.
Check out this post on Pidgin for better understanding and a few fun video chuckles to view on the post.
Here's a fun primer with different Pidgin style
Daily life and normal life in Hawaii
These ideas and lifestyle values tend to be more local ways of living Aloha on the islands and add to the cultural and cohesive community vibe and multi-ethnic backgrounds.
Take off your shoes
It is standard practice to take off your shoes at the door before entering a private home. This is followed everywhere in Hawaii as a sign of respect and keeping out the bugs and things tracked in from shoes.
This was originally an Asian type of lifestyle habit and has been incorporated into typical Hawaii traditions and ways of life.
No flashy things needed
In Hawaii, fancy cars, clothes, material things and connections are not so important compared to a person's character, humility and sense of being here on the islands.
Don't take rocks or soil
Hawaiian customs and culture takes great pride in the land, the soil and rocks and treats them as sacred places, tools and for personal use. It is best to leave things as you found them and not take them as souvenirs even though many locals give that superstition to taking soil or rocks will leave you cursed.
It's better to just take pictures and no souvenirs from a place that you have visited on the islands.
No Car Honking
It is really rude to use your car horn in Hawaii except when actually greeting friends. People on the islands practice smiling, waving, throwing a shaka (local wave) or actually letting people cut into the line ahead of them as an act of aloha. This is our traditional Hawaii customs of treating everyone with respect and Aloha.
Also, get used to slow driving especially on one lane roads, there's no rush to get anywhere here on the islands.
No need rush
With limited roads to get you to your destination, most locals aspire to living day to day with Hawaiian time and lifestyle. Letting people cut into lines, giving shakas or smiles and living positively on the islands is addictive and gives everyone a better outlook in their daily lives. No need to rush when you take more time to get to your destination and just leave earlier or later which is typical for Hawaiian schedules.
Aloha Wear is standard in Hawaii culture and dress
Aloha Wear
Traditional aloha wear for both men and women are the appropriate garments used for almost all gatherings on the islands. It is relaxed, colorful and individual to wear things that suite your personality with tropical patterns, florals or even abstract representations. Men typically dress in fashionable aloha wear shirts and women dress with traditional mu'u mu'u and lei or more contemporary Hawaiian inspired outfits.
Hawaiian celebrations
There are many holiday and Hawaiian celebrations that are held yearly on all the islands that cherish local culture, customs and special occasions. Here are some of these important holidays on the calendar.
May Day is Lei day – the first day of May is the day that you make of purchase a lei and give it to them as a symbol of friendship, love or devotion to having that person in your life.
Kamehameha day celebration – the birthday of the first king of Hawaii is celebrated around the islands with parades, lei draping ceremonies and many private events that pay tribute to this important king.
Lili'uokalani birthday – the first and last queen of Hawaii, Liliu'okalani was well beloved and celebrated yearly on her birthday with a variety of events around the islands to share her legacy.
Aloha Festivals – an annual series of cultural celebrations around the state to showcase and preserve the unique traditions of the islands and the only unique statewide cultural festival.
Sashimi on New Year's Day – Eating Sashimi on New Years day in Hawaii is a sign of good luck and prospertity
Boys and Girls Day in Hawaii – long a Japanese tradition which has been incorporated into Hawaii with the importance of celebrating boys and girls on different days while they transition into adulthood.
Merrie Monarch Festivals – An important festival in Hawaii for a week and celebrates hula dance with the ancient Kahiko to modern Auana dance styles on the islands.
Further Hawaii topics to inspire you
Popular local food and Hawaiian style food
Fun and interesting facts about Hawaii
What's it like living in Hawaii
Conclusion on Hawaiian culture and traditions
This is a quick summary of some important Hawaiian culture and traditions on the islands and how that impacts today's culture and modern lifestyle.
We hope that this was educational and a learning tool to understanding the ancient and more contemporary ideas and new cultural norms on the islands. If you enjoyed the post, please do share it with any of the social sharing buttons below.
We love to hear your comments about this or any other observations you have experienced here in Hawaii.