When is the best time to visit Hawaii – find out now for the best deals, weather and activities to plan now
When is the best time of the year to visit Hawaii? Even though visiting Hawaii is enjoyable year-round, there are lots of considerations to the best time of year to visit Hawaii. 
Changing weather patterns are more typical with rainy season happing during the winter months of November through March and hurricane season which runs from June until November even though storms coming to Hawaii are rare. The dry season happens typically from April until October timeframe is usually the best time of the year to go to Hawaii.
So, what is the Best time of year to visit Hawaii now, check out all the details below to find what fits your timeframe and budget for visiting.
Here's some things to consider when you want to travel to Hawaii
The best time to visit Hawaii with good weather
Hawaii is blessed with year-round warm climates that range from 70 to 90 degrees or 26 to 31 C depending on location and elevation. Outside of the wetter rainy season and unpredictable hurricane season events the most consistent times for good weather are in the months of April to June, September and October. The dry season tends to be hot and humid and wet season varied daily and windier, rainy but cooler temperatures. With year round living and lifestyle on the islands for the entire year, you can enjoy visiting all year with fun outdoor, adventure and fun things to do rain or shine. The best time of the year to go to Hawaii really depends on your free time, budget and what you like to do on your vacation. But if you can avoid Hawaii rainy season in the winter months then you are off to a good start.
When is high season in Hawaii?
High travel season occurs in two different time frames usually Mid December to March, popular holiday seasons and summer from June until end of August when schools are typically out and family vacations are common for visiting the islands. During peak season prices for airline tickets, hotel accommodations, eating out and entertainment are more expensive and command premium prices. If you are planning on visiting during this time frame, make sure that you have booked your hotel, car rental and airfare early to get the best deals secured for your vacation.
When is the low season visiting Hawaii?
The low season in Hawaii usually is early spring, after school vacation and non-holiday time frames. That typically during the spring time from April to June and then from September to mid-December excluding all major holiday travel vacations. You will find better deals for flights, hotels, dining and entertainment and less crowds visiting during this time frame which is fantastic for those looking for should season deals when visiting Hawaii.
What is the worst month for visiting Hawaii?
Surprisingly December is the worst time of year to visit Hawaii and that is because the weather is always unpredictable, prices are expensive since this is the time visitors want to come from the cold areas and it is Holiday season which is also another factor in making it not ideal and more expensive to visit here. When it's more crowded, expensive and bad weather, most visitors don't expect that outcome for this month.
What are the Seasons in Hawaii and best Hawaii weather?
Basically Hawaii has two seasons for being in a tropical zone and the typical seasons in Hawaii. The dry season is late spring to early fall from April to October time frame. The wet season starts from November until March time frame. When it is Hawaii rainy season, there's a limited number of things you can really enjoy outdoors.
You can typically see that the best weather in Hawaii happens during the dry season is good and constant. Hurricane season also Happens from June to November time frame but is fairly rare on the islands when they do develop from more than a tropical storm depression.
Visit Hawaii in winter season
Many visitors to the islands love getting away from colder locations and choose to visit Hawaii in winter. What they should know is that winter in Hawaii from December until March is considered the wet season with cooler, windy and variable daily weather patterns throughout the islands. This Hawaii season in winter time brings big surf, cooler temperatures nights and early morning, lots of rain, more winter fishing opportunities and even snow on some of the highest mountains. Prices tend to be higher since this period is considered peak season on the islands.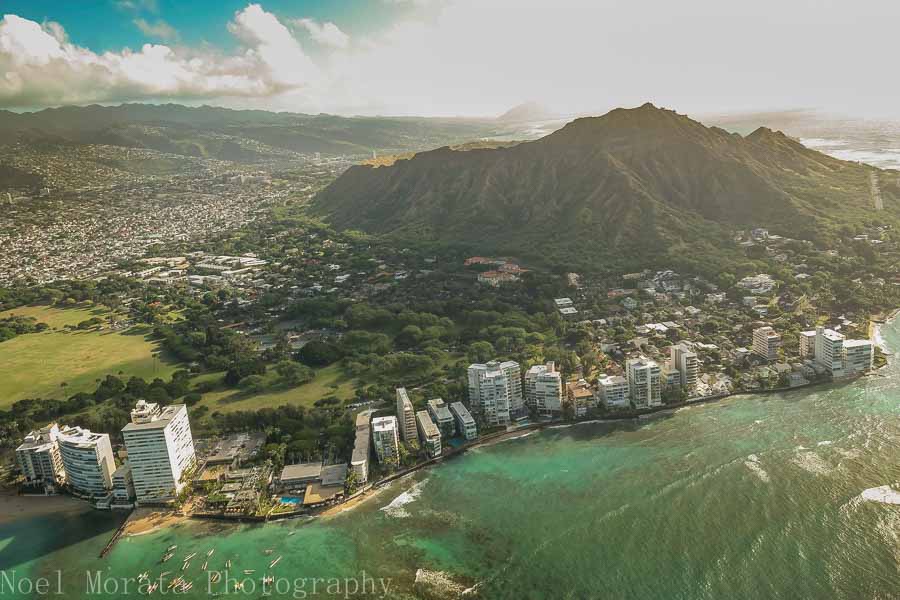 Visit Hawaii in Spring season
The spring time weather in Hawaii is consistent and mostly pleasant in the 70s to 90s around the islands with dryer weather in general. Late spring is a great time to visit Hawaii with many of the winter visitors gone, better prices for airfare and hotels and some of the best weather and fantastic outdoor conditions and activity you can enjoy in dryer and not so hot weather conditions.
Visit Hawaii in Summer season
Summer time travel to the islands is popular with family vacations from June until August making it more expensive again to visit the islands. Weather temperatures are typically hotter and humid with unpredictable hurricane weather that may occur throughout the islands, but is rare with tropical storms happening when hurricanes do arrive on the islands. July is typically the busiest month which most consider the best month to visit Hawaii to spend their vacation on the islands.
Visit Hawaii in Fall season
Fall time is enjoyable like spring with nice dry and warmer but not to hot conditions (depending on the location in each island). Fall time tends to be the most comfortable on the islands with nice weather, less crowds, better prices for visiting and minimal hurricane conditions that can wreak havoc on your visit.
How much is a vacation to Hawaii?
Visiting and having a vacation to any of the islands in Hawaii is not cheap but if you factor low season and better rates for airfare, hotel, car rentals and visiting the shoulder season, you can find better deals.
Prices tend to be at their peak during the high season time frame so if you work around those months, check for the best rates on the big-ticket items and even prepare or take out some of your meals you'll find a budget doable for visiting any of the Hawaiian Islands. For a quick overview, check out this post here for more details on what it would cost you for a Hawaii vacation.
What is the best time to watch big waves or enjoy surfing?
The wet season during the months of November until March brings big wave action to all the north shore locations of each island and best shown in Oahu at Pipeline where big surfing competitions happen. You'll find experts and more experienced surfers flock to north shore locations on each island and beginners to novice surfers can enjoy lesser waves and protected areas in the south shore locations of each island.
Visit the North Shore of Oahu for amazing big wave action and watching some of the fantastic surf webcams here for you to enjoy from the island.
What is the best time of the year to see the lava eruptions in Hawaii?
The current lava eruptions on the Big Island of Hawaii are active again at Volcanoes National Park where you can view the eruptions from Halema'uma'u crater in the heart of the giant caldera. Visiting is open 24 hours into the park and the best viewing times to see the eruption and ash/cinder/plumes is at night time when the activity and glow is more vivid and a fantastic experience to see and capture. Check out why you want to visit Volcanoes National Park now for more inspiration.
Tip – make sure that you dress in layers since the temperatures at the park change dramatically and are windy and cooler than the rest of the island.
What is the cheapest time to go to Hawaii?
Plan on visiting Hawaii during the low season during the spring and fall timeframe when holiday and family travel is low. You'll be able to find better deals on flights, hotels, dining and car rentals or opt for some of the combination packages that you can find offered through various travel search consolidators.
Best time for Whale Watching
Whale watching season typically occurs in the winter months when migrating humpback whales from Alaska head to Hawaii to breed and raise their offspring during the months of December to April timeframe. Most of the whale sightings occur on Maui's western side, but whales can also be found around all of the neighbor islands of Hawaii.
Check out this fantastic snorkel and whale watching cruise experience on the Big Island for more inspiration and details to enjoying a day on the Kona coastline.
What is the best time for deep sea fishing in Hawaii?
Fishing is a year-round activity on the islands and very popular with locals and visitors to the islands. Those that are looking for some deep-sea fishing activity in Hawaii will want to concentrate on visiting during the winter months when Ahi tuna, marlin, snapper and skip jack are more abundant. An extra bonus is seeing the migrating whales that are also around during this time of the year to mate and take care of their young calf for the time they are on the islands.
When is the best time to get married in Hawaii?
Getting married on the islands is a year- round activity depending on your timeframe, budget and best weather conditions. If you stick to not visiting during the wet season and unknown timeframes or hurricane season, then you can plan on the best conditions in April, May and June or September and October for consistent good weather. Most resorts and wedding venues will always accommodate for any inclement weather on the islands if you plan ahead.
Conclusions on the best time to visit Hawaii
Despite being in a tropical environment, the weather in Hawaii is always changing and not the same every month. Besides the dry season and wet season months in Hawaii, there are many other factors that come into play and consideration for the best time of year to visit Hawaii. If you want to find the best time to visit Hawaii, you need to factor your personal needs, budget and free time to visit. You'll discover that the best weather is often found in April, May, September, and October is also a great time for travel bargains. These months are perfect for better deals on flights, hotels, rental cars and even dining out in the various islands which are all factors in choosing the best time to go in Hawaii.
Check out these other Hawaii topics
Fun and interesting facts about Hawaii
Learn some Hawaiian slang or pidgin
Popular Hawaiian dishes you need to try
Traditional Hawaiian food favorite dishes

Save this Pin for later in your Hawaii Board
Thanks for visiting This Hawaii life and checking out this post on the Best time of year to visit Hawaii now. If you enjoyed reading this post, please do share it with any of the social media buttons on the slider.
Disclosure – some of the links above are to affiliate sites that are either reviews or recommendations if you book helps to keep our site running. We appreciate your supporting our website meanwhile