Hawaiian Petroglyphs and where to find them on all the islands
Visiting Hawaiian petroglyphs around the islands is a great way to understand the history and culture of the ancient Hawaiian people.
Hawaiians called their petroglyphs Ki'I Pohaku which can be found throughout the island chain and more prominent in certain historic sites around Hawaii. Ki'I Pohaku were carvings in stone with the largest concentration of ancient Hawaiian rock carvings located on Hawaii Island.
Most of these are carvings done on smoother and Pahoehoe lava flows and even in lava tubes and caves where the carvings are easier to do. Visiting Hawaiian Petroglyphs at this time around Hawaii is a unique way way to enjoy the culture and history for visitors to the island.
Most of the Ki'I Pohaku depicts daily life in the Ohana (family) and procreation with birthing and Piko (umbilical) ceremonies were held. Many are simple stick framed imagery and evolved later into more wide-bodied forms. The Hawaiian petroglyphs contain unique triangular forms that are unique to the area. The oldest of Petroglyphs were done around 840AD and even more recent to the 1900s.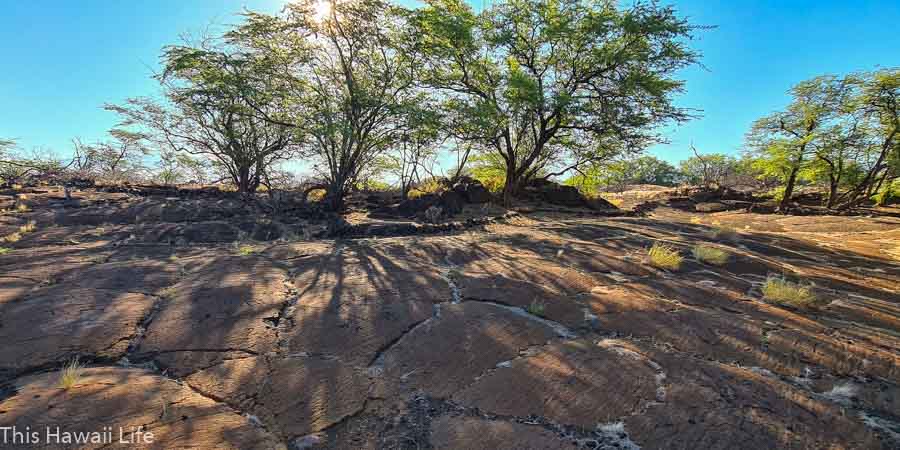 Where to find petroglyphs in Hawaii island
Petroglyphs on the Big Island
Most of the larger collections of Hawaiian petroglyphs are on Hawaii's Big Island, with more than 100 places where visitors can view them. At the Puako Petroglyph Archeological Preserve in South Kohala, you can see more than 3,000 carvings. Several nearby hotels provide informational brochures about these sites. There is also a substantial petroglyph field at the Waikoloa resorts area in what is Hawaii's oldest petroglyphs fields.
At the Pu'u Loa archeological site in Hawaii Volcanoes National Park on the Chain of Craters Road are more than 23,000 Hawaiian petroglyphs of stone inscriptions and carvings. Other sites are: Kahalu'u Bay near Kailua-Kona, Ka'upulehu near the Kona Village Resort and in Kaloko-Honokohau National Historic Park. Here, people ornate carvings of ships, canoes and sails. Following are the major fields that you can explore on your own.
Waikoloa fields at the Waikoloa resorts area
One of the largest petroglyph fields are the Waikoloa fields in the Waikoloa resorts area. There are over 10,000 petroglyphs alone in this condense area to explore. Many are small and insignificant with circles and dots or double circles and there are some human petroglyph drawings that are also visible from the rocky pathways.
Located at the end of the Kings' Shopping Center parking lot (right side of gas station), you can easily follow the signs and paved walkway into a rocky path directly into the lava fields.
Petroglyphs in Hawaii at The Puako Petroglyph Preserve
With over 3000 petroglyphs located in Mauna Lani resorts area, the fields are also in concentrated and shady spot just off the Mauna Loa resorts area. There is also a smaller collection of petroglyphs next to the resort and and golf course. There are more human representations of ohana, daily life and other rituals present on these petroglyph carvings.
Located towards the Fairmont Orchid, you follow N Kaniku drive towards the Fairmont and follow signs to get to the petroglyphs fields or drive into the beach parking lot and follow signs to hike into the petroglyph field.
Pu'u Loa petroglyph field at Volcanoes National Park
Located within Volcanoes National Park on the southern part along the Chain of Craters road, Pu'u Loa is accessible through a 1.4-mile round trip trail through rolling and rocky areas. Pu'uloa means 'Long Hill' and to Hawaiians 'Long Life'. When you reach the petroglyph areas you can walk across a wooden boardwalk to protect the fragile petroglyphs from being stepped on. What you will find at this unique petroglyph area is filled with thousands of holes to symbolize the piko or umbilical cords where families buried the cords of newly born children to prepare for their healthy and long life on the island.
Located down the Chain of Craters road, 16 miles from the entrance. Follow signs to the trail marker. Check out this easy day hike to visiting the Pu'u Loa petroglyphs in the national park now.
**please stay on the trail and on the boardwalk when arrive at the field.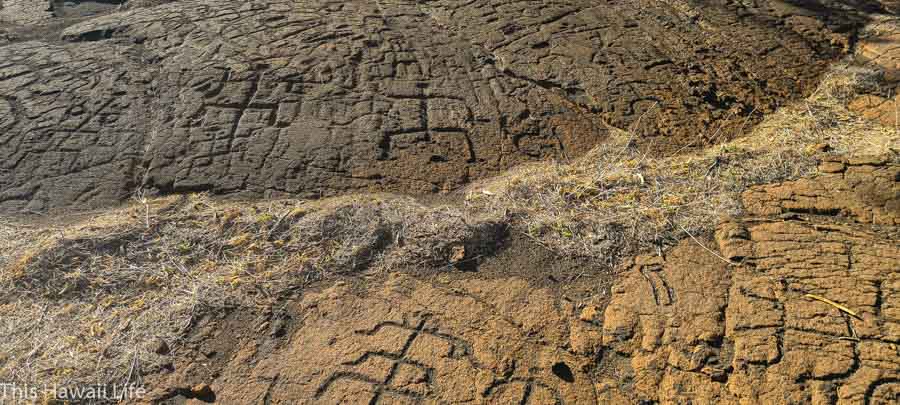 Other details and information about Hawaiian Petroglyphs
k'i'i pōhaku are cultural treasures that are many centuries old and extremely fragile. Take care to tread lightly around the fields and do not step on the petroglyphs. Rubbings and castings of the rock carvings are strictly forbidden
For optimal viewing of the k'i'i pōhaku or any of the Hawaiian Islands' sites—arrive just after dawn or just before dusk so you can see the carvings better in the exposed areas since many of the carvings are worn and shallow.
These lava fields are located in mostly open field areas in extreme heat so be prepared, wear very secure and comfortable shoes and bring plenty of water, hats for shade or even an umbrella for temporary shade. Also, please do not walk on the delicate petroglyphs and stay on the designated paths.
Visiting Hawaiian Petroglyphs around the Islands
Hawaiian Petroglyphs on Maui
In Maui there are petroglyphs in Haleakala National Park as well as in Lahaina, you'll find a few fields of petroglyphs. Also, you'll find more petroglyphs at the lava flows around Pu'u Maneoneo near Waiu Bay under Kaupo ranch management and the Olowatu petroglyphs which are easy to get to but has had some damage and vandalism done on the site.
Hawaiian Petroglyphs on Kauai
Kauai's petroglyphs are visible at the mouth of Wailua River and at Mahaulepu Beach called the Waiopili Petroglyphs. The petroglyphs are normally covered in sand but are occasionally exposed when tides and conditions are just right for viewing. Keoniloa beach petroglyphs are on a sandstone ridge on the western side of the beach and also exposed in low tide conditions.
Hawaiian Petroglyphs on Oahu
On Oahu, there are petroglyphs sites located all around the island including three main ones at Nu'uanu stream, Pupukea beach and the Shifting sands location off the Waianae coastal area. At Nu'uanu, petroglyph carvings are located….
On the Waianae coast, petroglyphs are found on the sandstone shoreline portion of Shifting sands with human carvings and features on the sandstone.
The trail to Nuuanu Memorial Park has three petroglyph locations within the park of which the elevated rock cave and following caves has the most prominent carvings.
The North Shore Petroglyphs are found carved on the bench of lava rock at Pupukea Beach. 70 carvings have been exposed from pounding surf that exposed the carvings of human figures and dogs. These glyphs are seen rarely due to surf that covers the carvings most of the time to make it difficult to spot.
Hawaiian Petroglyphs on Molokai
In Molokai has carvings have been found at Pala'au State Park on the iconic Phallic Rock located there. The remote valley at Halawa also contains petroglyphs on isolated rocks and rock faces.
Hawaiian Petroglyphs on Lanai
Lanai's petroglyphs are scattered all over the island. The Luahiwa Petroglyphs are an important cultural and historical resource with carvings found on the island.
Conclusions on Petroglyphs in Hawaii
You can visit and enjoy many of these historic sites to view intact Hawaiian Petroglyphs around all the islands in Hawaii. With so much to see around each island, it is inspiring to see some of these well preserved petroglyphs from ancient Hawaiians living in each of these regions
Check out all these other posts on Hawaii culture and travel
Fun and interesting facts about Hawaii
Learn some Hawaiian slang or pidgin
Popular Hawaiian dishes you need to try
Traditional Hawaiian food favorite dishes
Pin this later to your Hawaii board
Thanks for visiting This Hawaii life and checking out this post on the Visiting Hawaiian Petroglyphs at this time. If you enjoyed reading this post, please do share it with any of the social media buttons on the slider.