Easy to grow Vegetable plants in Hawaii
There's nothing like planting your own edible garden in Hawaii with fresh vegetable and fruits to eat.
You can find easy to grow vegetable plants can do very well in a tropical environment from lush wet zones to dryer and more arid conditions. Most of the vegetable plants grow well in Hawaii, depending on the area and how you take care of the various conditions to soil, fertilizing, maintenance and growing.
Although growing vegetables in Hawaii do come with many challenges and maintenance, the end result and personal gain makes it worthwhile for you to try growing your own either in a small container or even a small parcel of land to grow vegetables.
Consider these plants below for fast and easy to grow vegetables in Hawaii and producing your own food to eat on the islands.
Why grow your own food in Hawaii?
Not only does Hawaii import over 80 percent of food and products to the island but it is also expensive to by fresh in the local stores and markets around the islands. Growing your own vegetables and plants below will help your budget on the bottom line and also pump up your planting acumen to know that you can easily grow many of these plants well in Hawaii.
Can you grow your own food in Hawaii year round?
Yes in short, growing food on the islands can be a year-round effort to provide food and ingredients year round for you to cook and eat with family and friends. Choosing plants that do well in the winter and wet season and into the summer and dry/hot season is part of planning what does well in those two major growing seasons.
Similar to mainland growing conditions, winter crops cover a gamut of leafy greens, root vegetables and other green vegetables like cabbages and kale. Summer growing plants typically cover heat and warm weather plants that thrive in the summer time like tomatoes, peppers, herbs and corn.
Check out these inspiring plants to start off your edible foods here on the islands.
Starting from seeds or seedlings?
If you are up for more challenges and saving money in the process then starting from seed is the way to go but definitely takes a little bit more effort to prepare. Also, so many insects thrive on the little seedlings so you do have to monitor where the plants are staged.
If you want to grow with seeds, check out CTAHR's recommended seeds successfully grown in Hawaii here for their list of available seeds in their program.
Check out these non GMO and heirloom varieties of seeds to grow your favorite veggies
For faster head start to your vegetable planting, buying vegetable starts is an easy way to get going quickly. You can easily find vegetable starts at farmers markets, big box retailers like Lowes and Home Depot to specialty garden centers. Depending on how much area and the quantity you want to produce, you have to be aware of your growing area, spacing, maintenance and daily care to get healthy plants that produce well.
Winter and cool weather plants
For winter crops in December to spring- time frame, consider growing these plants in your garden in the cooler season.
Arugula, lettuce, katuk, collards and other soft greens
Kale, leeks and cauliflower
Beets, carrots
Spring vegetable planting schedule
Spring is when you can grow a lot of your seeds or starts directly into the ground. Popular veggies to start planting out in spring time includes:
Pole beans or bush bean
Cabbages and Kale
Pepper, onions, green onions and leeks
Kalo and sweet potato, yams, daikon
Radish, cucumber and cassava
Easy to grow herbs in Hawaii including: dill, mustard, basil, green onions, peppers, curry leaf, lemongrass, cilantro, parsley, oregano, lavender, chamomile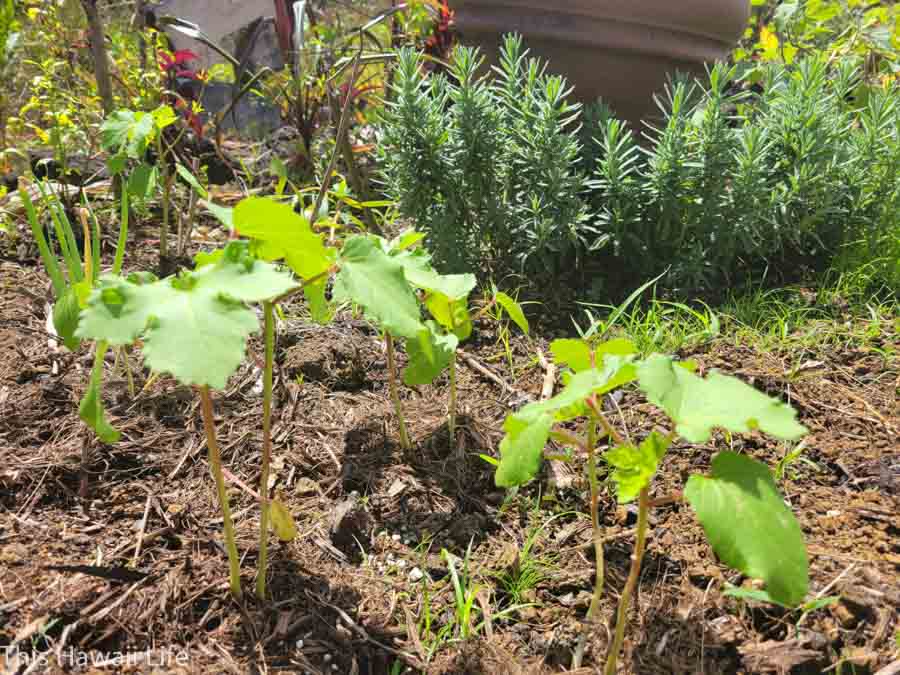 Summer vegetable planting schedule
Late blooming and producing plants come out quickly when planted in the early summer time frame and produce well in the Hawaiian gardens. This includes the following plants below:
Pumpkin kabocha, spinach, bok choy/pac choy, melons, crown, daikon
Okra, Tomatoes, Eggplant,potato, celery
Corn
Hawaiian chili pepper
Growing Hawaiian Root crops
Healthy and starchy crops are the foundation of edible plants grown in Hawaii. This include the popular canoe plants that were brought from Polynesia all the way to Hawaii. This includes popular Polynesian plants like the Hawaiian sweet potatoe, Ulu/breadfruit, awa. In addition, you can also include other local favorite plants like daikon, radish and cassava to add to your cooking menu. Typically planted in the spring to summer season, watering well during the dryer months will help the root crops grow well until harvest time.
Growing leafy greens crop in Hawaii
Leafy greens are always fast and easy to grow on the islands and these are probably the most popular plants to start growing here. This list includes plants that do well from fall to spring season including: lettuce, cabbage, kale and collard greens. Katok and the different species of bok choy.
Easy to grow Fruits in the garden
Depending on the types of plants grown, many can adapt and grow in various challenging environments on the islands.
Cherry and roma type tomatoes do well but need cover like overhangs or greenhouses to avoid pests and growth issues on a tropical environment.
Pineapple – Yellow and white pineapple grows very well and in the sunnier areas with fast draining soils
Papaya – can be grown and used green as casseroles or sweet and ready for a variety of sweet desserts
Banana – easy to grow but also love heavy feeding and nutrient rich soil, bananas are relatively low maintenance and produce well.
Avocado – Avo plants are typically low maintenance on the islands once established, avocado plants grow well in many environment around the island.
Fertilizing and maintaining your vegetable garden
Having a regular schedule for daily maintenance and fertilizing is crucial to having growth and faster production of your plants. Make sure you have your plants on a fertilizing schedule during the growth period and utilize organic or chemical fertilizers that work with your time, budget and effort.
Taking care of vegetable crops is a daily effort especially during the growth phase and into production.
Check out this information on using organic or chemical fertilizers and maintenance here in Hawaii
Check out the CTAHR page here for more detailed information on maintaining a vegetable garde
Online fertilizers
Check out these organic certified fertilizers with The Good Earth
Blood meal fertilizer mix with Down to Earth
Osmocote slow release fertilizer
Reference to related garden topics
Flowering fruit trees in Hawaii
Staying healthy and boost your immune system
Lessons learned living in Hawaii
Hawaii master gardeners programs
Learn about Rat Lung Worm Disease
CTAHR – College of Tropical Agriculture and Human Resources
Other garden tools tools, growing kits
These vegetable grow kits with seeds are easy, fast and an organized tool get your veggie garden growing
Check out this space saving hydroponic indoor growing system for faster results in an indoor garden
Conclusion to easy to grow vegetable plants in Hawaii
Easy to grow edible plants in the landscape make such a wonderful addition to a Hawaiian garden and lifestyle. Many of these are popular vegetables and fruits above can be successfully grown in tropical environments of Hawaii.
If you enjoyed the post please share with your friends or family and or use the social media buttons around the post.
Disclosure – This post may contain affiliate links which means if you click through and make a purchase I will make a small commission at no extra cost to you and you help to keep our site operating and updated – thank you!
Mahalo again for visiting This Hawaii Life.