Top 20 Must-Do Activities in Lahaina, Maui for an Unforgettable Vacation (update 2023)
Are you planning a trip to Lahaina, Maui and wondering what to do during your stay? Look no further! We've compiled a list of the top 20 must-do activities in this picturesque Hawaiian town. From exploring historic landmarks to indulging in delicious cuisine, and soaking up the sun on stunning beaches, Lahaina has something for everyone. Whether you're traveling with family, friends, or flying solo, these 20 experiences will make your visit to Lahaina truly unforgettable. So pack your bags and get ready to explore the best of what this beautiful town has to offer!
** Although Lahaina is no longer existing – you can still remember what used to be part of the history and culture of these monuments and buildings. The grand banyan tree of Lahaina was scorched but is coming back again from the ashes and helping to create a new Lahaina for everyone to enjoy and participate and visit again.
A little history on Lahaina, Maui
The touristy town of Lahaina, Maui was a major whaling port city during during the 1800s with the migration of humpback whales to the waters around Maui and the surrounding islands. With so many ships docking in port, there could be up to over 400 ships docked in the harbor and bay of Lahaina, the main city during this timeframe.
Soon after, missionaries where brought to Maui to tend and convert the islanders in the area and had tensions with the whaling industry and party oriented sailors that wanted to relax and have a good time in Lahaina. The Hawaiian royalty gave the missonaries access to Lahaina and start up schools, churches and initially work/study programs for the young native men to grow into responsible adults.
In 1834 the Baldwin home was built as a compound for the missionaries and hosting guests, royalty and other travelers to the area. The hoe is now a living museum with collections and artifacts showing day to day living in the compound and surrounding area.
What's the best time to visit Lahaina, Maui?
Maui is a year round destination and the main city at Lahaina, always a popular favorite city to visit and hang out. The peak season to visiting Lahaina and Maui in general is typically the summer season and winter season when vacations are accessible from mainland visitors. But the actual best time to visit Lahaina would be during the shoulder season of the year generally from April through May and September through November when the temperatures are nice, weather is great and high season is over so rates are great and tourist crowds are smaller in size.
Can you walk around Lahaina?
It's easy to walk around the main street of Lahaina at front street. Take in all of Lahaina's historic past as a whaling capital in the USA Also, you can visit many of the sites like the Banyan tree, Baldwin house and the other important landmarks around the city.
Is Lahaina worth visiting in Maui?
Lahaina has a strong historic past and it is fantastic to learn about this fabulous city by walking around and seeing many of the important monuments and buildings in town. You can enjoy some fabulous food, stroll downtown on Front street and enjoy the many gorgeous views around town. Lahaina has a really cool and small town vibe that is easy to do with family or with friends and enjoy a few hours or even a day around town.
Check out the best 20 things to do in Lahaina, Maui
Whether you are just day tripping around Maui or basing yourself close by, there's plenty to see and do around Lahaina and the surrounding areas for activities and fun attractions to explore.
1. Do a self-tour of Historic Lahaina, Maui
Once the first capital of the Kingdom Hawaii, Lahaina has 62 historic landmarks in this trail that you can visit on a self-tour of the important and historic sites around the city. You can check out the web tour here for more details on the places that you can follow directly on this trail and at your own pace.
Here's a video on the historic places to see around Lahaina below
2. Art Galleries of Lahaina, Maui
For Art lovers, it's easy to visit all the art galleries centered in Lahaina town for this pleasant art discovery tour. Covering a spectrum of art from glass, ceramics, jewelry, painted mediums to sculpture, you'll enjoying seeing all the local artists promoted at all these fantastic galleries in town and maybe take home a lovely piece of art from Maui.
If enjoying art is your thing in Lahaina then check out the top galleries to visit here for locations and fun gallery activities in Lahaina to explore in town.
Here's a video covering the Hawaii Arts Society and shop local
3.Take a glass blowing class in Lahaina
For a fun Lahaina activity why not try a glass blowing class in Lahaina? If you want to do something creative and a fun thing to do in Lahaina, consider taking a glass blowing class with an instructor from Moana Glass and you even get to go home with a sample glass that you help to create.
These glass blowing lessons at the workshop will be one of the most fun and creative thing you can do visiting Maui and you even get to choose what type of art glass you can work on. This is definitely one of the cool things to do in Maui and you get to bring home your own hand made souvenir.
4. Visit the Banyan tree of Lahaina
One of the historic Lahaina things to do downtown is to visit the Banyan tree. Planted in 1873, this famous banyan tree is huge at over 60 feet tall and has 12 major trunks that make it look like several trees but is actually just one tree.
Located on Front Street in Lahaina and covering an area of over 200 feet, it provides shade for over 2/3 of an acre and has many benches set so you can sit in the shade.
The Banyan Tree of Lahaina is a fun place to visit and take some cool selfies, you'll enjoying visiting and photographing this gorgeous tree.
Here's the amazing Banyan tree of Lahaina
5. Check out The Old Courthouse at Lahaina
Part visitor center and historic museum with the courthouse upstairs, this historic building fronts the Old Banyan tree in Lahaina. It is fantastic to visit and check out the visitors center and gift shop below. Then go upstairs to view the many exhibits on the history of the city, the court system and transition to western law in the time of the busy whaling season in the city. You'll also get magnificent views of the harbor and the old Banyan Tree from different vantage points from the courthouse.
**Check out their website here for more details to visiting the courthouse and museum upstairs.
6. Free Music performances and community Festivals in Maui
There are so many free festivals happening every week in Maui offered through the visitor's bureau and other organizations. You can check the local papers, the tourist magazines or even the tourism website here for an updated list of free events and festivals happening in Maui when you visit.
7. Visit the Lahaina Prison
The Lahaina Prison, also known as the Old Lahaina Prison, is a historic site located in Lahaina, on the island of Maui in Hawaii, United States. The prison has a significant historical background and serves as a reminder of Hawaii's past.
The prison was built in 1852 during the Kingdom of Hawaii era and was initially constructed to house rowdy sailors and other troublemakers who arrived at Lahaina's bustling port. It was a simple structure made of coral blocks and was designed to hold inmates temporarily. The coral blocks used in the construction were quarried from the nearby reefs and were abundant in the area.
The Lahaina Prison's design was rather basic, featuring thick walls and small, barred windows. The cells were small and cramped, reflecting the prison's original purpose as a temporary holding facility. The inmates were often sailors and seamen who found themselves in trouble while visiting the port town.
Over the years, the prison's role evolved, and it started to house more serious offenders. However, due to its limited capacity and outdated facilities, discussions about the prison's inadequacy grew. Eventually, in 1925, the prison was closed and replaced with a more modern correctional facility on a different part of Maui.
Today, the Lahaina Prison stands as a historic landmark and a popular tourist attraction, drawing visitors who are interested in learning about Hawaii's history and the evolution of its criminal justice system. The site has been preserved to showcase the conditions and environment of the prison during its operational years.
8. Enjoy sunset on the beach or Maui waterfront
Can anything be better and simpler than enjoying sunset on the beach or waterfront at Maui? Well maybe a nice cool drink and some pupu's (appetizers) but it definitely is a nice was to end a spectacular day on the beach then to watch the sun go down with those striking warm and golden colors and just witnessing another beautiful day in Maui.
Whether you enjoy sunset with an exotic drink at a bar or restaurant or just find a nice spot on the beach along the south side of the island, you'll enjoy the ever changing and dazzling sunsets you'll experience on the island.
** How about taking a gorgeous sunset cruise here and enjoying the views from a ship with sunset and those Maui coastline scenery behind you?
9. Free Hula Lessons, Hula shows and Ukulele classes
If you're musically inclined, head out to the Lahaina Cannery Mall which offers free hula lessons every Thursdays at 5:00 pm to learn some basic moves and free hula shows are performed every Saturday and Sunday at 1pm to popular Hawaiian songs.
If you want to try an ukulele class for free, head out the to stage area on Tuesdays at 5:30. Even if you just want to brush up on some new chords, put this on your calendar.
10. Maui Fridays
One of the best things to do in Maui is called Maui Fridays. Every Friday at a different location in Maui is part of Maui town Fridays with food truck vendors, art and crafts booths, food from local vendors and live entertainment programs sponsored by the County of Maui. You can check out this website here for more information and details to Maui Fridays
Check out the Friday events below
• 1st Friday of the Month, Wailuku (Central Maui) on Market Street
• 2nd Friday, Lahaina (West Maui) on Front Street
• 4th Friday, Kihei (South Maui) at Azeka Shopping Center Mauka
5th Friday, Lanai
Check out this Maui Friday tour in Lahaina for an overview
11. Check out the Pioneer Inn at Lahaina
The Pioneer Inn, situated in Lahaina on Maui, Hawaii, is a historic hotel that has played a significant role in the town's development. Built in 1901, the Pioneer Inn stands as one of Lahaina's oldest hotels, reflecting the architecture and ambiance of the early 20th century.
The hotel's design exudes a quaint and charming atmosphere, with its wooden construction, rustic aesthetics, and colonial-style architecture. Its location along Lahaina Harbor makes it a convenient and popular stop for visitors exploring the town and engaging in water activities.
The Pioneer Inn was initially established to accommodate travelers and merchants during the booming whaling and sugar industries in the region. Over the years, it has hosted numerous guests, including notable figures such as writers, artists, and celebrities, adding to its historical and cultural significance.
12. Go for a local shave ice treat
One of the best things to do in Lahaina is to go for some local shave ice. For a cheap and delicious treat try some local shaved Ice and the local favorite shop to try some of the exotic flavors. There's so many fantastic places to try shave ice on the island, but check out the local favorites here for more inspiration on where to go for the best of the best in Maui.
13. Go take a surfing class in Lahaina area
A fun Lahaina activity would be try take a surfing class on the island. What could be a more classic adventure than going surfing in Maui. If you're a beginner or just want to brush up on some water skills, think about a surfing class with these outfitters that head off from the Lahaina area.
You can choose a variety of surfing classes offering group lessons, private classes and even Sup touring classes for you to enjoy. Once your hooked, you'll enjoy spending a lot more time in the water on a surf board riding the waves in Maui.
Check out the surf classes offered below.
Group surf lessons in West Maui
Private lessons for one or small groups
14. Go to a local farmers market in Maui
You can go to a variety of farmers markets around Maui to get fresh produce and finished goods, take-out meals, arts and crafts and locally made products that you can take home. It's fun to see where the locals shop, hang out and support local vendors on the island and try some delicious made foods yourself.
Check out the following farmers markets available to visitors in these farmers markets on the island for where to find the local markets, timeframe and hours. You might also want to check out the regular Maui swap meet that sells produce, finished foods, flea market finds and arts and crafts that happens every Saturday in Kahului starting at 7am. Looking for what's fresh and the best thing to do in Lahaina, then head out to your local farmers market now.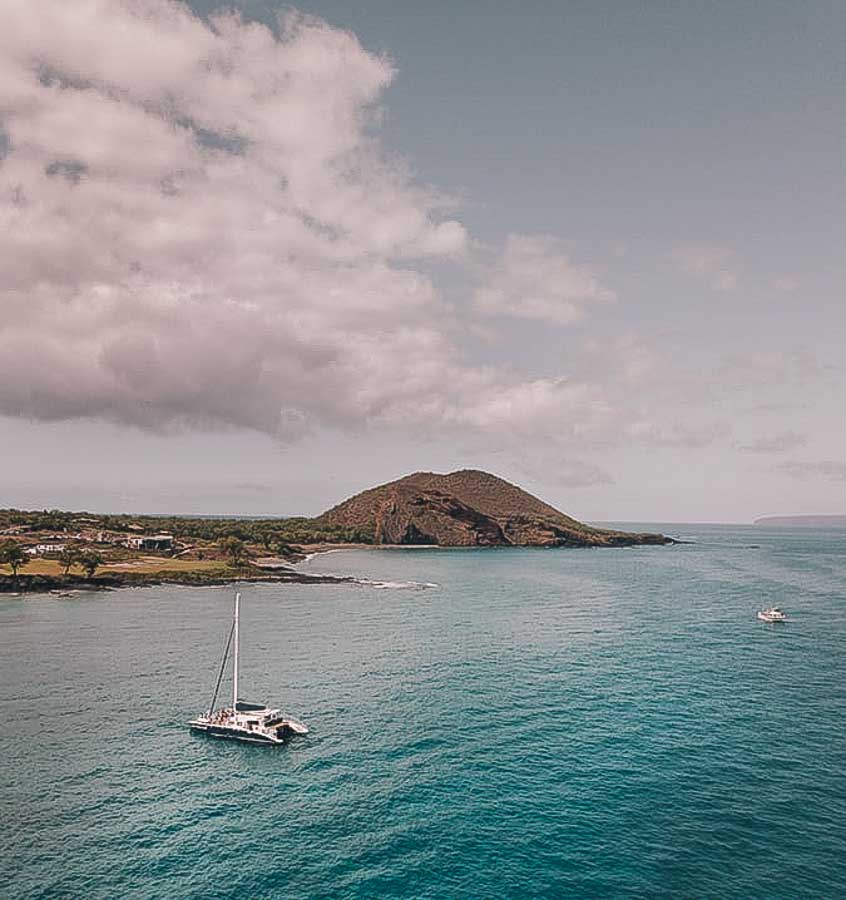 15. Sunset sail off Lahaina
Want a perfect way to end the day in Maui? How about a nice sunset cruise, with cocktails and maybe a nice dinner with gorgeous coastal views of Maui and an amazing sunset to boot?
You'll enjoy your choice of these sunset sailing adventures here to explore and enjoy a trip on the water and seeing Maui in a different perspective on a sunset sail.
16. Visit the Baldwin House Museum in Lahaina
Considered the oldest historic home in Maui, the Baldwin House was the home of Reverend Ephraim Spaulding who had this home built in 1834 to 1835 on Maui. After he became sick, Reverend Dwight Baldwin and his wife moved in and eventually raised 8 children in this home which he remodeled into a second story to fit the needs of this large family. The home was converted eventually into a living museum where you can see early settlement and the lifestyle of the missionaries on Maui.
Find out more about visiting this cultural treasure here and the efforts to restore and maintain the Baldwin house.
17. Enjoy a fabulous Luau in Maui
Want to enjoy a classic cultural experience with delicious food to eat. You can definitely can do both with any of the fantastic Luaus available in Maui to choose from with fabulous drinks, entertainment, food prep showcasing and of course all the delicious traditional and local style foods to sample at this luau.
Two fantastic Luau to choose from
You can experience a luau at the Kaanapali Sunset luau here more details and schedules that you can book directly from their site. Or take a look at the Te Au Moana Luau here for more details. The Maui Nui Luau located at the Sheraton Maui is a local favorite starting with a lei greeting and imu ceremony along with all the popular foods and entertainment experiences of a traditional luau. Right in Lahaina is the Old Lahaina Lu'au which is a classic location and experience.
(Make sure you book early, since shows are always full and a popular attraction to do in Maui.
18. Explore Lahaina's front street
A visit to Lahaina's front street is filled with fantastic shopping fun with tourist shops, boutique stores, art galleries, bars and a variety of food venues to enjoy. Front street is the major thoroughfare in Lahaina and fun to explore along with checking out the bayfront scene and all the historic sites of downtown Lahaina.
19. Explore Lahaina Harbor
Lahaina Harbor is a picturesque and historic harbor located in the town of Lahaina on the west coast of Maui, Hawaii. It has long been a central hub for maritime activities and trade in the region. With its stunning views of the Pacific Ocean and neighboring islands, Lahaina Harbor serves as a focal point for tourism, offering a range of water-based activities such as whale watching, fishing charters, snorkeling tours, and boat excursions. The harbor's significance also lies in its historical role as a key port during Hawaii's whaling era in the 19th century. Today, Lahaina Harbor continues to blend its rich maritime history with modern recreational and commercial activities, making it a popular destination for both visitors and locals alike.
20. Check out the Lahaina Chinese Temple
The Lahaina Chinese Temple, located on Front Street in Lahaina, Maui, Hawaii, is a historic and culturally significant site. Also known as the Wo Hing Temple, it was constructed in 1912 by the local Chinese community as a place of worship, social gatherings, and cultural preservation. The temple's architecture showcases traditional Chinese design elements and features ornate decorations and intricate woodwork. Today, the Lahaina Chinese Temple stands as a well-preserved historical landmark, offering insights into the role of the Chinese community in Lahaina's history and serving as a testament to the town's diverse cultural heritage.
More Cool activities around Lahaina
Try a helicopter experience above Maui
If you're looking for that once in a lifetime Maui experience, consider going on a helicopter ride through lush rainforests and waterfalls, gorgeous coastlines to explore or even fly all the way up to Haleakala and the stunning landscape from above.
You'll enjoy this circle island tour of Maui here to consider which one fits your needs and budget. Or check out this Maui and Molokai helicopter experience here for something with two island from above.
Or for something completely over the top, visit Hawaii Volcanoes National Park by Helicopter here for this one of a kind experience from Maui.
But definitely book early since helicopter tours are a popular adventure experience to do in Maui.
Go in a submarine experience off Lahaina
Want to watch some cool marine life and corals along with some fantastic tropical fish and not get wet, well you could have a fun experience in a submarine. This underwater experience is family friendly, fun and easy to do cruising up to 100 feet below the oceans cruising around the coasts of Lahaina and discovering some fantastic ocean scenes below the surface.
**Check out the details to doing a submarine tour experience here for more details and booking a tour
Here's a view of the submarine experience below
Here's more tips to visiting Lahaina
Traffic and parking is tough so, if you can grab an Uber or taxi to Lahaina and just walk around you'll have more free time to explore and not have the hassle of finding a parking spot.
There's lots of fun bars and places to eat in Lahaina, check out our recommendations below.
Sunsets are a fantastic time to enjoy a drink, meal and a gorgeous sunset in Lahaina
You can actually even go surfing around Lahaina, there are surfing schools above you can take at different levels
Make sure you visit the historic sites around Lahaina, many of them are free to explore!
Whale watching season is fantastic in the winter time, you can spot them on this side of the island or take one of the amazing boat tours offered.
Go on a whale watching tour
When its whale watching season in winter time, you definitely will see a lot of whales and the best way to do this up close is to take a cruising tour to some of the typical spots around the island that these outfitters typically know.
You can sign up directly with this whale watching outfitters departing from Lahaina area to book this wonderful cruise experience today.
Check out all these outfitters and tour schedules below
Whale watching from Lahaina harbor
Twilight sail and whale watching
Turtle town snorkel and whale watching experience
Go on guided snorkel cruise from Lahaina
Consider taking a guided snorkel cruise from Lahaina to explore the best snorkeling spots, receive equipment and safety guidance, learn about the area's history and culture, and enjoy food and drinks onboard. It's also a great opportunity to access parts of the ocean that may not be easily reachable otherwise especially with expert guides that will watch out for your safety and comfort during the tour experience.
Here are some of our recommended tour snorkel outfitters to choose from.
Snorkel sail to Lanai – half day
Turtle town snorkeling and whale watching from Lahaina
West Maui snorkel and cruise experience
Snorkeling tours for non swimmers
Here's a look at the snorkeling and cruise experience to Lanai Island below
Where to eat in Lahaina
** Check out our post on the most popular places to eat in Maui here for inspiration.
For more popular west side locations check out this video below
Or check out these favorite Lahaina eats below
Where to stay in Lahaina
Lahaina Shores Beach Resort – a very popular and great base to stay in Maui and well rated, this resorts located close to front street, has great views, fantastic service and walking distance to restaurants and shops.
Ka'anapali Beach Hotel – Oceanfront in Ka'anapali area with ample buffet breakfast, free entertainment shows and comfortable rooms with garden or ocean views.
Hyatt Regency Maui Resort and Spa – A gorgeous 40 acre oceanfront property with beautiful pools, gardens, cultural programs and luau, rooftop venues, friendly service and excellent restaurants.
Check out these highly rated hotels reviewed from Trip Advisor here for images and details.
Weather and best time to visit Lahaina area
Lahaina has a tropical climate with temperatures ranging from mid-60s to mid-80s Fahrenheit all year. For less crowds and favorable weather, the best times to visit are April to May and September to November. However, expect peak season crowds and prices from December to March and in summer. Keep in mind that Lahaina experiences occasional rain showers, so pack accordingly.
Enjoyed the post – Pin it
Check out these other posts on Visiting Maui
Visiting Maui with Free things to do
Experience Maui's best snorkeling spots
Visit Paia and Haiku in Central Maui
The Best Maui Luau's on the island
Experience the best things to do in Maui island
Conclusion on the top 20 things to do in Lahaina, Hawaii
In conclusion, Lahaina, Hawaii offers an abundance of unforgettable experiences for visitors of all ages and interests. The top 20 things to do in Lahaina include a mix of adventure, relaxation, and cultural exploration, ensuring that there is something for everyone. From taking a scenic drive along the Road to Hana, to witnessing the spectacular sunrise at Haleakala National Park, and enjoying the local cuisine and entertainment, Lahaina has it all. So, whether you're planning a short getaway or a longer vacation, be sure to include these 20 activities on your itinerary and get ready for an unforgettable adventure in one of Hawaii's most beloved destinations.
If you like what you see, come and check out my other social media channels for more updates, including Instagram, Pinterest and Twitter
Some links in this article on Top 20 things to do in Lahaina, Maui are affiliates which provide a small commission to support this site at no extra cost to you. Thank you for reading, and happy travels