Best things to do in Kihei, Maui
Maui is expensive to vacation but if you choose wisely to affordable and sunny areas on the South Side at Kihei, you'll find a variety of great options for hotels, condos, dining and activities. Check out all the best things and activities to do around Kihei here for inspiration to your Maui vacation.
Take a snorkeling sailing experience to Molokini
Just located off the coastline of South Maui, Molokini is a crescent shaped island that is a sunken cinder cone and the best snorkeling spot on the island. A marine preserve area, there are multitudes of tropical fish, corals and marine life to explore at the sheltered water areas. Access is allowed only with tour operators and there's some easy and fast tours you can take directly from close to the Kihei area.
Book a snorkel tour to Molokini here for updated prices and calendar
Learn to surf in Maui
On the south side of Maui, surfing is great and there are a few fantastic Maui surfing spots to check out. One of the easiest for beginner surfers is at the Cove, where there are a variety of outfitters that offer group or private lessons depending on your needs and level. On an introductory session, you'll be learning all the basics and enjoying the local surf scene here in no time with the easy waves and nice sandy beaches on the south side.
Check out the top beginner Maui surf breaks here for inspiration on where to surf and hang out for beginners.
Best Shave Ice experience at Ululani's
Probably the best loved Shave Ice on he island is at Ululani;s at their Kihei location and other areas in Maui. Ululani's prides itself with making fine shave ice and using the best ingredients like pure cane sugar and tasty home made sauces made with premium purees and concentrates to blend the best combination of sauces and toppings to choose from. Their Kihei and Lahaina locations are the always busy and filled with customers that love trying everything they create and love to share their favorite flavors from the shop. Check out all their cool flavors and toppings here for more inspiration to visiting Ululani's.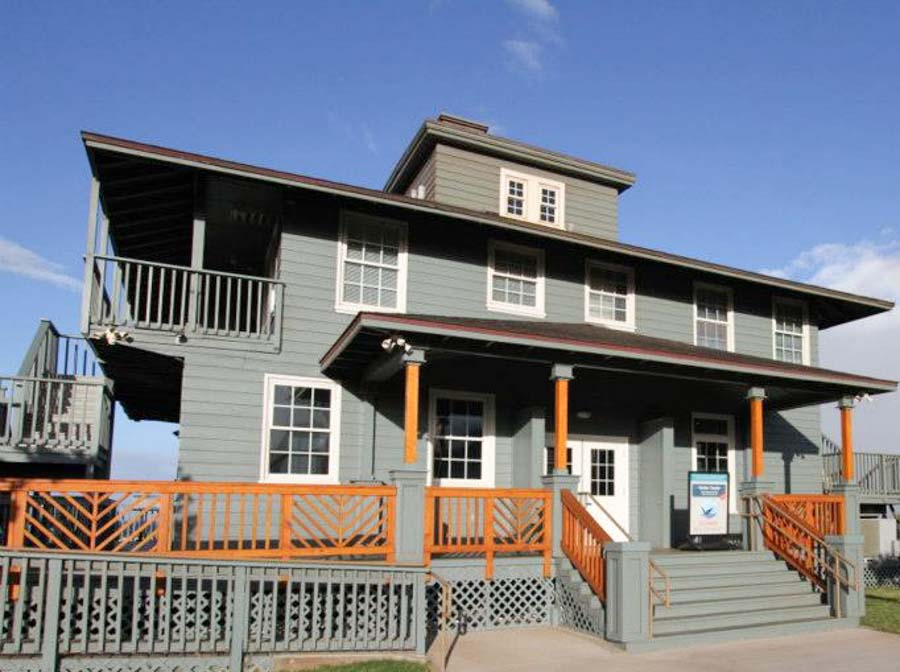 Visit the Humpback Whale National Marine Sanctuary Visitor Center
The Humpback Whale National Marine Sanctuary is located at Kihei is a perfect location to explore and learn more about the winter migration of Humpback Whales to Hawaii. From November through April, visitors to the sanctuary can see whales from shore and at sea through a variety of of outfitters. Coming to the islands to breed and care their newborn in a safe and shallow environment in the winter season, the whales visiting here are a very popular attraction to see them just off the sanctuary area. You can visit the visitors center to check out the interactive displays, exhibits and weekly programs for visitors to experience.
Check out a visit to the Humpback Whale National Marine Sanctuary Visitor Center here for more details to visiting the center now.
Find your perfect beach
The south side of Maui gets a lot of sunny and perfect days and you'll be happy finding some of the best sandy beaches in Maui along with snorkeling spots to enjoy on the Kihei side. This includes popular beaches like Kamaole beaches 1 – 3, Makena Big Beach and Little Beach, Secret Beach. If snorkeling is your thing, check out the best snorkeling spots to visit on the south side and rest of Maui here for more details to snorkeling fun on the island.
Enjoy some Maui Brews
When visiting South Maui, you can't miss a stop at Maui Brewing Company! Their brewery and tasting room is located in Kihei and makes some of the best craft beer on the island. After a day in the hot Hawaiian sun, a cold craft beer is so refreshing!
Stop in for a brewery tour to learn how they make their delicious brews. You'll get a behind-the-scenes look at their brewhouse, cellar, and packaging line. At the end, enjoy a guided tasting of four of their most popular beers! Tours are an hour long and offered three times per day on weekends.
If you don't have time for a tour, you can still order a flight of beers and enjoy them on Maui Brewing Company's sunny garden patio. You can't miss trying the Pineapple Mana, a wheat beer made with real Maui gold pineapples! It's refreshing, delicious, and just slightly sweet.
Make sure to stay for lunch and try some of their upscale pub-style food. The fish and chips and craft pizzas are the perfect way to wash down the array of beers you just tried!
Jen with Glasses and Boarding Passes.com
Enjoy a Luau on the south side of Maui
Nothing is more iconic then enjoying a traditional Luau experience in Maui with drinks, Hawaiian culture, crafts and traditions along with a delicious food experience. You'll enjoy the traditional songs, dances and storytelling of Hawaii's origins and culture while enjoying a Mai Tais and some traditional Hawaiian and local fare.
One of the popular luau on the South side is the Feast of Mokapu
Book a Luau here with Feast at Mokapu here in Wailea
Go whale watching on the south side of Maui
Whale watching is very popular and Maui is the place to be to experience humpback whales that love to relax in the warmer waters and birth new offspring in the safe ocean waters here. Whale watching season lasts from December through April and you can find a variety of local outfitters here to decide on what works with your time and budget. These cruises also have a naturalist guides on board to share the various habits and things the whales do around the Maui areas during their breeding season.
Boats typically depart from Ma'alaea harbor or Lahaina here and relatively budget friendly from the south side.
Splurge at a world class resort
The south side of Maui is where you'll find some of the best luxury resorts on the island and mostly on the luxurious Wailea and Makena areas of the south. Enjoy the extravagant pools, beach cabanas, restaurants and resort experience with luxury brands including the Four Seasons, The Andaz, Fairmont Kea Lani, Grand Wailea and the Hotel Wailea.
Why not enjoy Maui at its best at any of these luxury resorts and local amenities catering to all your needs.
Andaz Maui at Wailea – A gorgeous modern style resort with beautiful rooms and luxury amenities and beautiful grounds and public areas.
Fairmont Kea Lani – with three pools, six signature dining venues and only suites for the rooms with exceptional service.
Four Seasons Resorts Maui – Luxury standards spacious rooms and beautiful large bathrooms with Four Seasons Service that you expect.
Check out these top rated luxury resorts on the south side of Maui here for updated prices and availaility.
Golfing in Wailea
Golfing experiences on the south side of Maui is exceptional with world class resorts and golf clubs to enjoy here. This includes the Wailea Gold Course, Wailea Emerald Course and Wailea Blue Course. All of them are exceptional and if you are enjoying drinks, Mulligans is the place to be and Gannon's restaurant for Pau Hana and Happy hour time.
Go snorkeling on the South Side of Maui
Not only are the beaches golden and soft sand on the south side but quite a few of them are also perfect snorkeling spots to visit on the island. Popular beaches around Maui include: the Kamaole beaches I to III where the rocky outcrops separating the beaches are great snorkeling spots to check out all the tropical fish that live in the rocky areas of these beaches. Off the beaten is Maluaka beach better known as turtle beach for all the green sea turtles or honu as they are called in Hawaii love to congregate on the beach areas and ocean. The natural area reserve at Ahihi-Kinau is managed by the state and fishing and boating is not allowed so the coral reef is thriving with marine life and colorful tropical fish like parrot fish, surgeon fish, Morrish Idols and trigger fish can be spotted. At the end of the road at La Perouse Bay, jagged rock formations and outcrops protected a variety of colorful tropical fish and marine life that you can easily spot on shore or in the water areas of the this beautiful area in the south of Maui.
Sunset cruises on the south side
Sunsets on a ship and looking out to the horizon or back the coastline to Maui is a fun way to enjoy the end of day experience on the water. Boarding this gorgeous and sleek catamaran for a sunset sail with a four course dinner is extra special on the coastline of South Maui. Dinner with drinks to include wine, cocktail, beer or sodas and end your dinner with a sweet dessert to end the night cruise.
Check out this sunset cruise experience from Maalaea Harbor here for updated prices and calendar.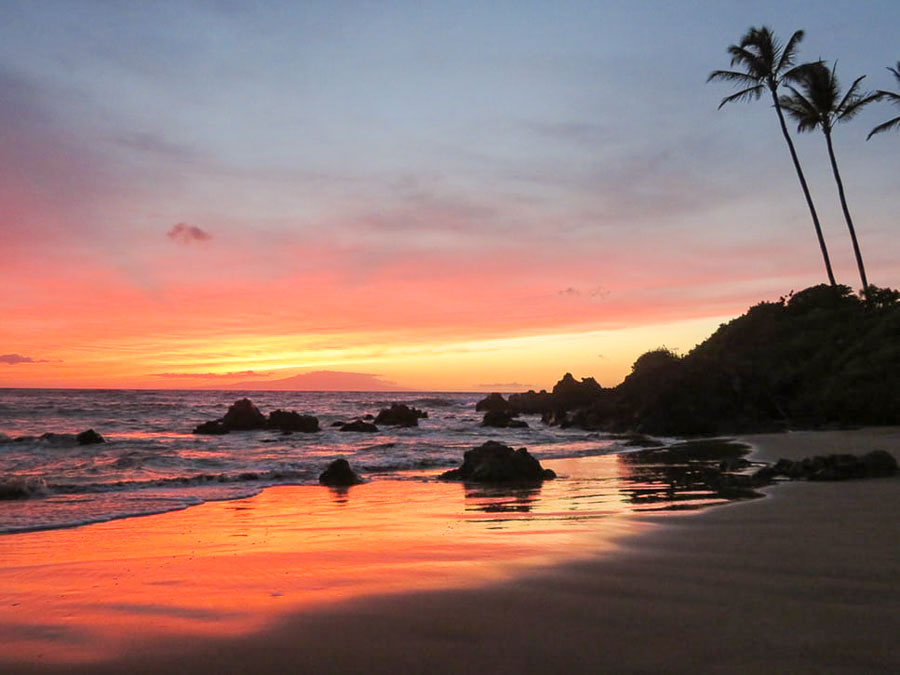 Sunsets on the south side of Maui
Grab a beach chair or towel or take a walk along any of the gorgeous sandy beaches and find your perfect spot to enjoy some quiet time to reflect the end of day. Maui sunsets are magical and watching the sun go down on the horizon with all the stunning reds, orange and yellows lighting up the skies is quite a show on this side of the island followed by some bright starry nights.
Kayaking on the south side
Take your workout to a new level by doing some kayaking experience on the south side. One of the best places to enjoy this activity is at Makena beach with golden sands and soft beaches that make it easy to launch from and even fall into the soft sandy waters. Paddling closer to the rocky outcrop area off Makena is more sheltered from wind and waves to make your kayak experience pleasant and fun from beginners to more intermediate work outs.
Check out this combo kayaking and hiking experience here to inspire you to be outdoors and exploring the south side of Maui.
Explore the Naval air Museum at Barbers Point
Aviation enthusiasts will enjoy the local air experience here and see the best of naval aircraft history from Oahu. You can experience the naval air museum with a guided tour and see some of the historic planes and even climb into the cockpit on some of them. Enjoy walking through the tarmac and see history come to life with these historic treasures
Location 91-1299A Midway St, Kapolei, HI 96707, USA
Check out this inspiring video flying about Kihei's scenic coastlines
Check out these other posts to visiting Maui
Explore the best snorkeling spots around Maui
20 things to do in Lahaina and surrounding area
Top things to do and see around Maui island
What to do and see around West Maui now
Conclusion of Things to do in Kihei
For Maui fun, you'll love explore all fun activities and attractions around this easy trips to explore around the entire island. Hope this gives you some great ideas of things to do and see around the town and outlying areas to visit for cheap and on budget. If you can think of other suggestions or tips, please share them in the comment section below, thanks.
Thanks for visiting This Hawaii life and checking out this post on the Things to do in Kihei. If you enjoyed reading this post, please do share it with any of the social media buttons on the slider.
Disclosure – some of the links above are to affiliate sites that are either reviews or recommendations if you book helps to keep our site running. We appreciate your supporting our website meanwhile