Chasing Waves and Sunshine: The Best Time to Visit the North Shore of Oahu!
The North Shore of Oahu is a slice of paradise that attracts visitors from around the world. With its stunning beaches, legendary surf breaks, and breathtaking natural beauty, it's no wonder that so many people flock to this part of Hawaii. But with so much to see and do, it can be hard to decide when the best time to visit is. From big wave season to calm summer days, each season offers something unique. In this article, we'll explore the best time to visit the North Shore of Oahu, so you can plan your trip and experience all that this tropical paradise has to offer.
15 places to Explore around the North Shore of Oahu
What is the best time to visit the North Shore Oahu, you may ask? The North Shore of Oahu is a popular gathering place for locals and tourists that want to get away from busy Honolulu to check out the local spots and fun attractions in the area. There's a full gamut of cool little towns, amazing snorkeling spots, surfing the North Shore beaches and lush tropical forests, exploring Haleiwa town and waterfalls like gorgeous Waimea Falls. The best time to visit the North Shore of Oahu really depends on whether you want beach time or just enjoy the big waves that occur at certain times of the year.
Why visit the North Shore of Oahu?
Visitors to Oahu that want to see a more local areas of the island should explore the North Shore of Oahu with beautiful azure ocean and white sandy beaches, a trendy and cool town of Haleiwa, delicious food venues along with visiting other local attractions.
Exploring the North Shore for the day or even longer if time permits will give you a better insight to local life, a slower pace, being outdoors and enjoying sun and fun in this wonderful area of the North Shore in Oahu.
When is the best time to visit the North Shore?
This depends on what your timeframe and interest are. If you want to see the big waves, surf competitions and watching the big drama, head out during the winter-time when the swells are huge from December to February time frame. If you are into more easy snorkeling, beach fun and small waves to try and get your surfing on, then try going to the north shore areas around the late spring to early fall when the conditions are smoother and calm around all the beach areas. The North Shore is a fun getaway from the busy Honolulu downtown area including Waikiki and a more casual and low key experience exploring the beautiful beaches, towns and landscape in the area.
What's the weather like along the North Shore of Oahu?
The weather on the North Shore is pleasant with sunny days and warm weather during different seasons of which there is typically two seasons on the island winter and the rainy season and then summer or the dry season. During the winter season, average temperatures range in the mid 70s to low 80s with the wettest month being December. In summer, average temperatures for the North Shore range from low 80s to high 90s with the hottest month typically August time frame. During the winter months, people flock to the North Shore to see the Big waves and watch the surf action and surf competitions that happen in the area typically from late November to March time frame.
For a updated weather on the North Shore, check out this website for updates for a 14 day forecast.
Top 15 things to do on Oahu's north shore
If you're looking for what to do on the North Shore, check out these cool attractions, beaches, lush landscapes and unique spots around Oahu's north shore area below. You'll find a lot of fun activities, adventure and outdoor experiences and some unique experiences to enjoy around this stunning coastal region of the island that everyone loves to explore.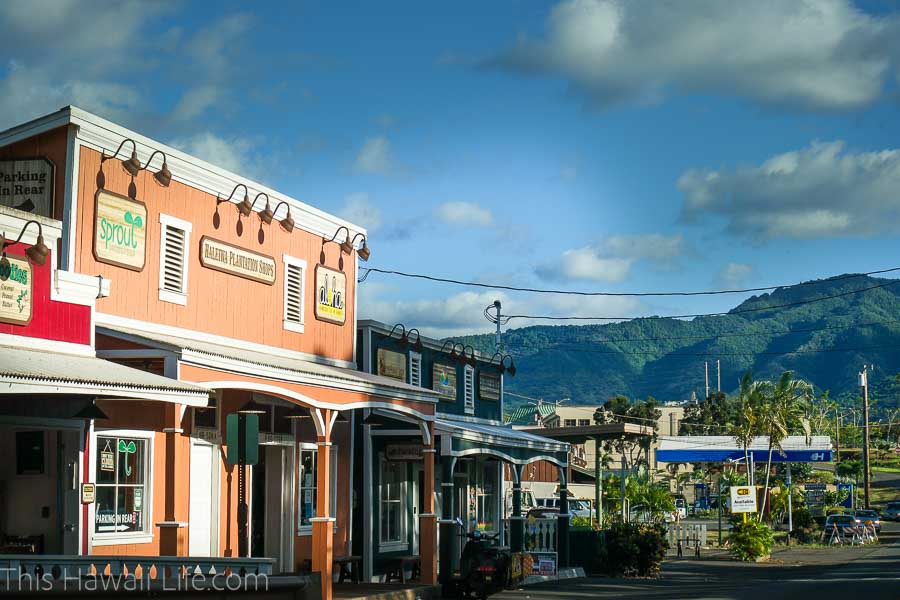 1. Visit the old and historic town of Haleiwa
The old cowboy town of Haleiwa on the North Shore of Hawaii has become more popular and upscale with indie shops, shopping centers and fun bar/restaurants to hang out in including all those surf/beach shops that cater to the surfing crowd here. Favorite places to hang out in include the local surf shops, boutique stores, The Red Dirt store and other cool art galleries on the main road. If you're hungry check out the food truck courts around town that are cheap and fun to eat at.
Tip – visit to iconic Matsumoto Shave Ice for a delicious treat for the day on things to do in North Shore Oahu
Here's a fun history and tour of Haleiwa area below
2. Hike through lush forests & waterfall at Waimea Valley
Waimea Valley is a lush and tropical oasis in the North Shore filled with lush tropical forests, beautiful gardens, various reconstructed temples and villages and at the end, gorgeous Waimea waterfalls that you can swim up to. It is a spectacular visit and hike through different parts of the valley and up to the main waterfalls. If you have more than a few hours to enjoy nature, this is the place to go visit just across from Waimea Beach park.
Address – 59-864 Kamehameha Hwy, Haleiwa, Oahu, HI 96712-8411
Here's a visit to Waimea Valley and falls below
3. Visit the Dole plantation gardens and tours
The Dole plantation is a fun tourist destination to visit and learn about the pineapple industry on Oahu and tour the gardens and smaller pineapple fields on the plantation. There is a fun maze and tropical gardens to explore along with large visitor center and souvenir shop on site.
Check out this tour of the Dole Plantation and a North Shore island tour here for more details and prices.
Address of the Dole plantation – 64-1550 Kamehameha Hwy, Wahiawa, HI 96786
Here's fun tour experience of the Dole Plantation below
4. Historic La'ie town and religious center
Located on the northeastern section of oahu is a beautiful Mormon temple and grounds open for the public to explore. You can visit the the La'ie Temple tourist center and ask for some guides to show you around the grounds and other areas of interest in these beautiful grounds and sharing the history of the local Laie community close by.
Address of the temple 55-600 Naniloa Loop, Laie, Oahu, HI 96762-2202
Here's a tour of La'ie and the Mormon Temple and Polynesian Cultural Center
5. Check out Big surf at Banzai Pipeline
No Oahu itinerary is complete without a visit to the famous Banzai Pipeline is active and a fun place to be in winter time. When the surf is up the surfing competition is at its peak, it's time to head out to Pupuke'a and Sunset Beach park to see the big wave action. Even during the non-peak time frame, it is fun to just go out and see the locals enjoying the ocean surf at this well-known attraction in the North Shore area.
Location – Sunset Beach Park, Pupuke a, Oahu, HI
Check out the Bonzai pipeline when it is very active in winter season
6. Enjoy some family friendly snorkeling at Sharks Cove
A popular and kid friendly snorkeling spot located right next to the Pupuke a beach park. With diverse sea life, corals and tropical fish, it is a perfect place for beginners or younger children to wade, swim or snorkel in a protected cove area of the North Shore
Located at 59-711 Kamehameha Hwy, between Waimea Bay and the Banzai Pipeline, Pupuke a, Oahu, HI 96712-9404
The family friendy snorkeling area of Shark's Cove is very popular below
7. Pupu'kea Beach Park
The main beach park that has Sharks Cove on the far side of the beach, Pupuke'a has a sandy golden beach is a great place for swimming, snorkeling, tide pool exploring and sunsets. There's even food trucks and super market across the street so you have easy take out food to bring with you to the beach.
Located at 59-727 Kamehameha Highway, North Shore, Haleiwa, Oahu, HI 96712
Here's a video highlight to visiting the beach park below
8. Jump off the big rocks at Waimea Bay beach park
One of the most popular and beautiful beaches on the North Shore, Waimea Bay has one huge rock outcrop on the far side of the beach that local kids love to climb and jump off and do some crazy dives. It's relatively safe if you start lower and do just simple jumps if you are looking for a fun and free adventure experience at Waimea Bay
Address – Kamehameha Hwy, Haleiwa, Oahu, HI 96712-1304
Here's a video highlght to visiting Waimea Bay below
9. Exploring Mukuleia Beach Park
The popular series lost was filmed here and during the week, you'll have the beach area mostly to yourself along with a slew of Honu (green sea turtles) to share the beach area with. On a windy day, you'll spot quite a few wind surfers or sky divers doing some initial training close by. There are picnic tables but no lifeguards or public facilities at the beach park area.
Address – Farrington Highway, Waialua, Oahu, HI 96791
Check out the quiet and beautiful beach area in the video below
10. Have your pick of the food trucks & shopping at Hukilau Marketplace
Located next to the Polynesian Cultural Center on the North Shore of Hawaii is the Hukilau Marketplace with lots of great food trucks, eating venues and shopping/galleries to explore and find some cool souvenirs. if you're in the area or exploring the Polynesian Cultural Center. Or just passing through and hungry, this is a perfect place to take a break and find some good grindz (food)
Address – 55-370 Kamehameha Hwy, Polynesian Cultural Center, Laie, Oahu, HI 96762-2113
Check out the food center at Hukilau at La'ie below
11. Check out Kahuku organic farms
A great place to visit for those interested in local farming and crops grown in the area, there is also tour that you can sign up for their grand tour by wagon on their farm to learn about the history of the farm and local community and serving the various markets around. There is also a nice café where you can order some wonderful smoothies or take out food or other farm goodies.
Located at 56-800 Kamehameha Hwy, Kahuku, Oahu, HI 96731-2302
Here's a video tour of the farms but no audio
12. Experience Waialua Estate Coffee and Chocolate
There's a cool old factory vibe at the Waialua estate and you can also sign up for a free tour that shares the coffee making and production process. They sell some delicious types of coffees and also try some local produced chocolate and other goodies that they sell on site.
Located at 67 Kupahu St, Waialua, Oahu, HI 96791
13. Have a shave ice at famous Matsumoto Shave Ice
Located in Haleiwa town on the North Shore of Hawaii, the shave ice here is famous and really good! There's always a line out the door so allocate some time to wait and then explore some of the cool galleries and main road shops at Haleiwa
Address – 66-087 Kamehameha Hwy, Haleiwa, HI 96712
Learn about the Matsumoto family history and imprint to shave ice in the area
14. Enjoy the Polynesian Cultural Center
One of the most popular attractions in the North Shore of Hawaii, the Polynesian Cultural Center is 42 acres of 6 authentic Polynesian villages of Tahitian, Samoan, Hawaiian, Tongan, Fiji and New Zealand, cultural programs, an expansive luau and a dynamic evening show. A great experience for families or first-time visitors to the island and enjoy a totally Polynesian experience.
Check out the admission to the Polynesian Cultural Center and luau here for more details and current prices.
Address – 55-370 Kamehameah Hwy., Laie, Oahu, HI 96762-2113
Here's a comprehensive look at the Polynesian Cultural Center
15. Eat at any of the delicious shrimp and food trucks
The North Shore is famous for the shrimp trucks that feature the local shrimp farmed in the area and create a delicious garlicky shrimp and rice plate lunch dish. The most famous called Giovanni's is the signature truck to visit, even though there are a lot of cookie cutter versions located all around the North Shore area. Stop here for some yummy grindz (food) and you're looking for something delicious to eat that is local. There are quite a few other food trucks congregated around a food truck zone in Haleiwa where Giovanni's is also located.
Address for Giovanni's truck – 66-472 Kamehameha Hwy, Haleiwa, HI 96712
CHeck out this truck food tour experience in the North Shore below
Here's some more tips to visiting the North Shore of Oahu
Spending some time exploring Oahu's North Shore will give you a slice of life and fun away from busy and crowded Waikiki and Honolulu. It's fun to explore the entire Shore Shore areas and we have some tips to make it even better below.
Timing is everything: The North Shore is famous for its big wave surfing, which typically occurs during the winter months (November to February). If you're interested in watching the surfers tackle the massive waves, plan your visit during this time. However, if you prefer calmer waters for swimming and snorkeling, visit during the summer months (May to September).
Rent a car: The North Shore is relatively spread out, and renting a car is the easiest way to get around and explore the area. Be sure to book your car rental in advance to avoid any last-minute price hikes.
Pack appropriately: The North Shore can be hot and humid, so be sure to dress in lightweight clothing and bring sunscreen, a hat, and sunglasses. If you plan to visit the beach, bring a swimsuit and towel.
Visit the food trucks: The North Shore is famous for its delicious food trucks that offer a variety of local cuisine. Be sure to try some of the shrimp trucks, acai bowls, and shave ice while you're there.
Respect the environment: The North Shore is home to many endangered species, including sea turtles and Hawaiian monk seals. Be sure to keep a safe distance and never touch or disturb them.
Be aware of the surf conditions: The waves on the North Shore can be dangerous, so be sure to check the surf conditions before swimming or surfing. If you're not an experienced surfer, it's best to stay out of the water during big wave season.
Overall, visiting the North Shore of Oahu can be an incredible experience, but it's important to plan ahead and respect the environment and local culture. With these tips in mind, you can have a safe and enjoyable trip to one of the most beautiful places in Hawaii.
How to travel around the North Shore area of Oahu
Traveling around the North Shore area of Oahu is a wonderful way to explore the island's natural beauty, charming towns, and iconic surf spots. Here are some transportation options for getting around this part of Oahu:
Rental Car:

Renting a car is one of the most convenient ways to explore the North Shore at your own pace. There are several car rental agencies available at Honolulu International Airport and other locations on the island.
The drive from Honolulu to the North Shore takes about 45 minutes to an hour, depending on traffic. The main highway, Kamehameha Highway (Route 83), connects the North Shore towns and attractions.

TheBus:

Oahu has a public bus system known as "TheBus." You can take various bus routes to get to the North Shore from Honolulu. The most common route is Bus 55, which takes you to Haleiwa.
TheBus is an economical option, but it may be less convenient than a rental car, as schedules can be limited, and travel times can be longer.

Bicycles:

The North Shore is a cyclist-friendly area with bike lanes and scenic routes. You can rent bicycles in towns like Haleiwa and explore at a leisurely pace.
Keep in mind that some attractions, like Waimea Bay, may require riding on roads without bike lanes, so exercise caution.

Shuttles and Tours:

Several tour companies offer guided tours and shuttle services to popular North Shore attractions. These tours often include stops at key points of interest, making it a hassle-free way to explore.
Some tours focus on activities like surfing lessons or snorkeling at Hanauma Bay.

Walking:

Once you're in North Shore towns like Haleiwa, you can explore on foot. Many shops, restaurants, and beaches are within walking distance of each other.
Be sure to wear comfortable shoes and stay hydrated, as the North Shore can get quite warm.

Taxi and Ride-Sharing:

Taxis and ride-sharing services like Uber and Lyft are available on Oahu. However, they may be more expensive than other transportation options.

Motorcycles and Mopeds:

Some rental agencies offer motorcycles and mopeds for those who prefer two-wheeled transportation. Be sure to have the appropriate license and safety gear if you choose this option.
When traveling around the North Shore, it's important to check the weather and road conditions, especially during the winter months when big surf can impact traffic. Additionally, plan your transportation in advance, considering your preferences for convenience, flexibility, and budget, to make the most of your visit to Oahu's beautiful North Shore.
Other fun North Shore Tour Experiences
If you are looking for more thrills and adventure experiences to the North Shore, check out all these fantastic group tours below.
North Shore tour with a snorkel swim in Hanauma Bay
North Shore Zip Line adventure and farm tour
A two hour shark dive in the North Shore
Where to stay in the North Shore area
There are nice hotels, Bnb's and air BnB's, hostels and camping available to cover different needs to stay in the area. Here are some of the recommended hotels and boutiques in the area with great ratings and reviews.
Courtyard Marriott Northshore – located adjacent to the Polynesian Cultural Center – check the reviews and photos on Booking here for more details.
Turtle Bay Resort – 4 star accommodations on the North Shore. Check the reviews and photos on Booking here for more details.
Kalani Private Lodging – boutique lodging located in the Haleiwa area. Check the reviews and photos on Booking here for more details
Check out these other posts on visiting Oahu
Enjoy a day on the beach at Waimea Bay
Top things to do in Waikiki now
Explore and Hike Waimea Valley
Visit Haleiwa town on the North Shore
Hike to Waimea Falls on the North Shore
Hang out in Hawaii Kai in East Oahu
Visit to Kailua Kona on the east side
Free or cheap things to do in Oahu
A Diamond Head Hike in Honolulu
Family friendly beaches in Oahu
Enjoyed this post – please pin it!
Conclusion on the best time to visit the North Shore of Oahu
In conclusion, the North Shore of Oahu is a true gem of Hawaii that offers something for everyone. Whether you're a surfer seeking the biggest waves, a beach lover in search of sun and relaxation, or a nature enthusiast looking to explore the island's diverse landscapes, there's no shortage of things to see and do on the North Shore. From the winter swells to the calm summer days, each season has its own unique charm. By following our guide to the best time to visit, you can plan your trip and make the most of your time in this tropical paradise. So what are you waiting for? Start planning your North Shore adventure today!
If you like what you see, come and check out my other social media channels for more updates, including Instagram, Pinterest and Twitter

Note – some links in this article on The best time to visit the North Shore of Oahu are affiliates which provide a small commission to support this site at no extra cost to you. Thank you for reading, and happy travels.