Enjoy the Poke sensation that everyone loves to eat on the islands
Poke isn't just an appetizer or side dish to enjoy on the islands, it is a big part of the lifestyle here in Hawaii. The raw fish pupu makes its appearances everywhere from birthday parties, pot luck get togethers, picnics to fancy dinners out with family. No where else on the world does Poke bring a sense of place and love of seafood and different flavors that crosses all culinary barriers.
The healthy food poke sensation that everyone loves is not a new thing and has always been popular on the islands as a snack or part of a larger meal. While traditional Hawaiian food has always featured poke as an essential side dish, places outside of the islands are starting up poke bowl shops all around with no understanding of how poke is made here on the islands.
Here's a few things about Poke in Hawaii that you should know about.
So what is poke
In Hawaiian poke means chunk (mostly local tuna) and the poke here is typically raw fish chunks of big eye or yellowfin (Ahi tuna) that are marinated and eaten that way. Other popular tuna used locally are Skipjack tuna or Aku and Albacore tuna or Tombo. Other poke style fish includes salmon and moonfish or Opah.
But poke was also more than raw fish and included meats and seafood that is marinated. People on the islands who have grown up with this comfort food and love poke made from raw fish and other seafood marinated is a way of like beyond the poke bowl shops sprouting up around the world with toppings. In Japan raw octopus called tako was also infused into the traditional style of poke eaten on the islands. Poke is one of the most popular Hawaiian dishes to try as an appetizer or over a bowl of rice like a donburi style and called a poke bowl.
How do you pronounce the word Poke
Basically you say (po'kay) and it rhymes with okay
Is there just one style of Poke on the islands?
If you visit the islands, you'll notice an abundance of poke versions beyond the basic style which is raw tuna chunks mixed in with soy sauce, sesame oil and onions. You'll find poke with octopus, scallops, black crabs, meats and other seafood with different sauces like mayonnaise or kimchee style sauce. There are stronger tasting and smelling and more subtle versions depending on your personal taste and palette for what is delicious.
Garnishes can include wasabi, tobiko fish eggs, seaweed, furikake, Hawaiian avocado and a variety depending on what is sold and mixed into the poke dish. Most of the poke is already made with the seasonings and toppings in place for quick take out.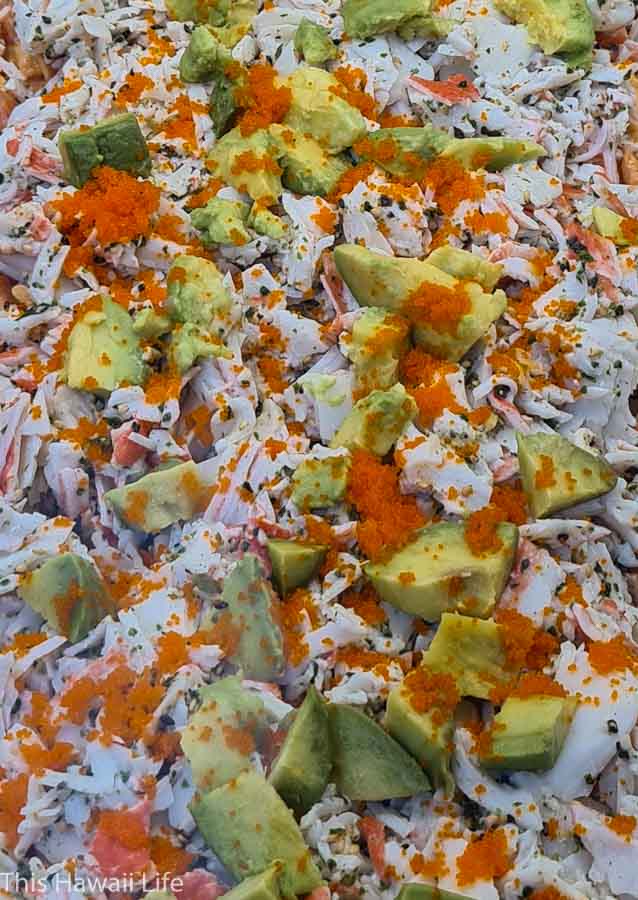 Do you get to choose your flavorings in Hawaii?
Most poke shops or grocery stores already create their own poke styles daily for purchase and quick take out food. Typically most are poke bowls with scoops of rice and the made poke that you choose and is common on the islands including:
Spicy poke
Poke with Wasabi
Poke with limu (seaweed)
Traditional poke with soy sauce, sesame oil and onions
Poke with sweet chili sauce
Poke in ponzu sauce style
Poke with spicy mayonnaise
Poke with some veggie added edamame, pickled cabbage or cucumber tobiko
You get to choose the poke type but not the condiments or separate toppings in Hawaiian stores or take out stands
Newer Poke shops
There are now some newer poke shops that you can create your own poke style with your mains to typically include:
Tuna, shrimp, scallops, octopus, salmon, tofu
Add your condiments
Corn, cucumber, cilantro, green onions, edamame, seaweed
Mixed with your sauce choice
Soy sauce, sesame oil
Ponzu
Spicy Mayo
Sweet Chili oil
Wasabi soyu
Similar Poke style dishes from around the world
Did you know poke or raw fish is celebrated around the world, here's some examples below.
Japanese created poke with octopus called tako and made their own versions of this dish, sashimi style or dressed up in a donburi rice and sashimi dish
Filipinos created a poqui poqui style with scrambled eggs or Kinalaw which is done ceviche style
Korean have their version with Hoe-deopbap done with sashimi style over rice bowls and Korean flavorings
Peruvians create their own versions with ceviche in lime juice and a variety of seafood and shell fish
Europeans have eaten tuna tartare and fish carpaccio
Tips on making your own poke
Use the best ingredients and as fresh as you can get of Big eye tuna or yellow fin that is typical of Hawaiian tuna and get it from a reputable source, store or fishmonger.
Make sure that you get sashimi grade fish which is the best quality.
Types of poke to make really depends on your personal preference, seasonings and toppings. Here are some fun recipes to follow below on how to make your own poke.
Check out these cool video recipes below
A classic Ahi poke recipe
How about Poke 3 ways
Hmmm yes Salmon Poke recipe that is easy and fast
More poke challenges – try poke 20 different ways
Check out these other food related posts from Hawaii
Traditional Hawaiian food favorite dishes
Hawaii chocolate making and tour
Hawaii love for Spam and recipes
Have you tried some Hawaiian Poke?
Which on is your favorite? Please share your thoughts and other recommendations in the comments below with your recommendations.
Thanks for visiting today and checking out this post on Poke. I hope you are inspired to plan a visit and enjoy these wonderful attractions. If you enjoyed the images and post, could you please share it with any of the social media buttons located around the post.