15 Hawaii Snacks: Irresistible Flavors and Delights from the Tropical Islands (updated 2023)
What do locals in Hawaii love to snack on the islands with a sweet or savory bite, or maybe a little bit of both? Locals love these tasty Hawaii snacks that are popular Hawaii food favorites on the islands in fact, most love to snack all day but they won't tell you that they just love to snack all the time. We have 15 must try popular snacks here and some sweets and dessert favorites to enjoy in Hawaii.
Check out the best snacks from Hawaii that everyone loves to much on between meals to enjoy on the islands. Find out which Hawaiian treats are the tastiest to try now.
15 Must try Hawaiian snacks that locals love to eat on the islands
Best 15 Hawaiian snacks and pupus to eat on the islands
You can find all these snacking treats at your local farmers markets, grocery stores or even street vendor selling their favorite foodie snacks for public purchase. Even local mom and pop shops will special in a few of these Hawaiian treats for you to snack on when hunger pangs happen before the main meals. Check out all these must try Hawaiian snacks below for you to try and take these Hawaiian snacks to bring home.
Many of the snacks are sweet to savory pupus that are popular to eat on the island and typically eaten all day or just to fill you up in between meals. Although, most locals on the islands love to snack all day long especially for people with active lifestyles.
Why Hawaii is a snacking society
Locals on the islands love to snack all day long and in between meals to tie them over. Hawaii's snacking culture is a vibrant fusion of diverse flavors, influenced by its multicultural heritage. With a relaxed, "Aloha" spirit, locals and visitors alike indulge in a wide array of snacks. From savory treats like spam musubi to sweet delights like malasadas, Hawaii's snacking society reflects its rich history and love for culinary exploration.
The abundant tropical fruits, fresh seafood, and unique island-inspired creations make snacking an essential part of the Hawaiian experience, offering a taste of paradise with every bite.
1. Malasada
Fresh Malasada fried and ready to eat is oh so good and even better if it has a delicious filling inside like popular cream, chocolate or tropical flavored jelly or fruit. You'll get addicted to malasadas fast and will want to try out all the different places that offer unique bites and flavors to try from their shops. You need to try this sweet Hawaiian snack when you visit the islands. Malasadas make the perfect Hawaiian snacks for parties or gatherings on the islands.
Check out our post on malasadas here and some of our favorite spots around the islands to buy these Hawaiian treats now.
Eat Malasadas fresh and hot like from the kitchen below
2. Sweet mochi snacks
A favorite sweet indulgence, mochi has always been a sweet treat to go for in Hawaii. You must try this Hawaiian snack if you like the traditional kind or more unusual new flavors with tropical tastes including mango, lilikoi, guava and whole variety that caters to every sweet tooth.
Check out this post on the best mochi on the islands here and some history about this delicious snack.
Find out why this mochi place is a local favorite on the islands
3. Spam musubi
One of the most popular snacks from Hawaii, Spam musubi is the typical go to Hawaiian snack on the islands and one of the easy Hawaiian snacks to make on your own if you have a craving for spam. You can easily find spam musubi sold everywhere from convenience stories, deli take out counters to even the gas station food sections.
Check out our post on Spam musubi which typically is spam slices rolled in rice and seaweed wrapper to give you an easy savory snack to tie you over between meals and it is cheap and easy to eat.
Spam musubi is an easy snack to make, check out how to juice it up with this fun Hawaiian snack recipe video below.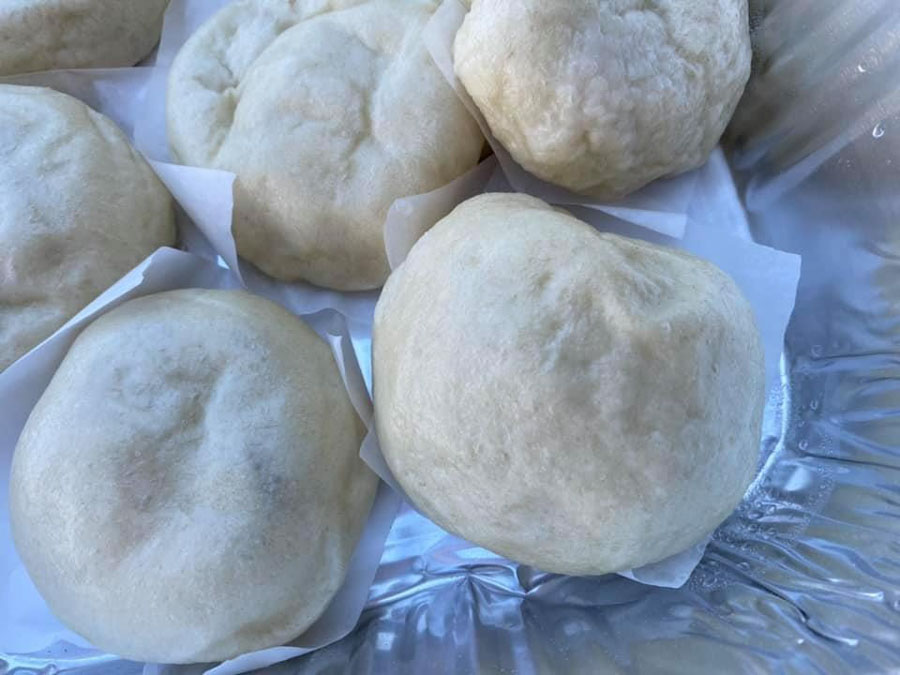 4. Manapua
One of the most popular Hawaiian snacks are tasty manapua. For those looking for hot, kind of sweet meat and savory in a steamed pork bun, then fresh from the steamer, manapua will hit the spot. You can get manapua or the equivalent of a Char sui bun. These steamed buns come in a variety of fillings including: chicken, kalua pork, sweet potato, curry and even veggie versions for a nice hot take-out food to tie you over between meals.
Can't find a place to buy manapua in your area, why not make it yourself?
5. Shave Ice
Who doesn't love a shave ice on a hot day when smooth and melt in your mouth spoonful of tasty and flaky shave ice filled with flavorful tropical inspired juices from Mango, Coconut, lilikoi, Guava and almost unlimited combinations that you can ask for in one cup depending on the size and flavors you are craving. One of the most popular snacks in Hawaii, there's nothing like a big cup of shave ice to satisfy your cravings on a day between errands or just taking a nice break to snack on something broke da mouth (delicious).
Who has the best shave ice? Check out the top favorites on this post showing all the local favorites around the islands now.
See who has the best shave ice on Oahu, what do you think?
6. Boiled peanuts
Who knew that boiled peanuts are a popular favorite Hawaii snack food on the islands and so easy to do or just buy from a roadside stand or market. Problem with boiled peanuts is that they are addictive and very easy to eat up in one serving, so you have to make a lot to share with friends.
You can easily make your own boiled peanuts here for making your own to snack on now.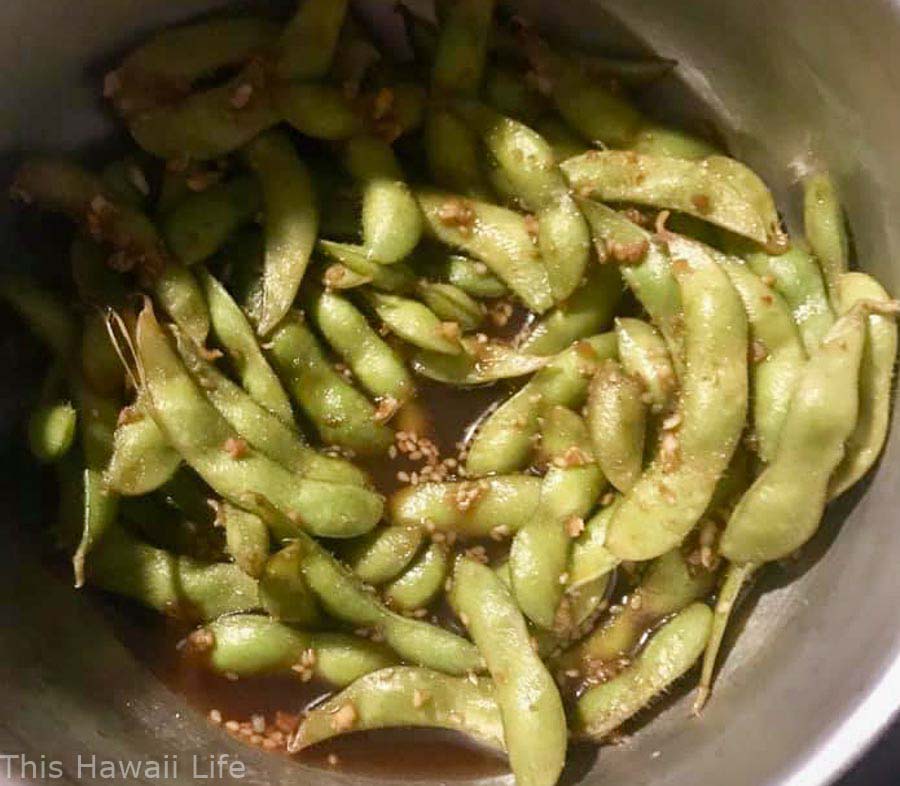 7. Edamame beans
Another popular favorite food that typically is served in their shell and slathered with lots of garlic and shoyu type dressing is edamame, although so many different versions of this dish make this an addictive snacking food.
Try these recipes for simple edamame done two different ways in this video below.
8. local jerky and other tropical versions
Beef jerky snacks are big on the islands with regular and local brands offering tradition beef jerky to more tropical tastes of local flavors or spiced meats to include: Beef, local fish, pig, cuttle fish varieties.
One of the best Hawaiian snacks to bring home or keep in your car for any snack cravings, local jerky hits that spot as a delicious Hawaiian snack to eat all day long.
9. Japanese Arare crackers
You'll find Japanese arare crackers a delicious snack for those looking for soyu, seaweed or spicy crackers with a kick to include wasabi, pepper and the standard soyu type of crunchy snacks. Popular versions include the arare peanuts with mixed blends of this savory and crunchy combinations and is one of the best Hawaiian snacks to eat all day long.
You'll find arare available in many local markets, convenience stores to popular stores like Longs Drugs that carry a wide variety of local snacks and an extensive selection of arare type crackers.
10. Hurricane popcorn
One of the popular Hawaiian snacks for movie night or any gathering is Hurricane popcorn. You can't get enough of this savory snack made basically with fresh hot popcorn, warm butter with arare crackers and lots of furikake flakes.
This favorite salty and savory treat fills all the snacking requirements that local peeps really go for when they start getting some hunger pangs.
You can easily make your own hurricane popcorn for a quick snack, check out the recipe video below.
11. Taro chips
Taro chips are the alternate to typical chip brands but with a healthier snack product. Made of taro root the chips are sliced thin to with the purple root and baked. Tossed with sea salt, this is a healthy and addicted local version of chips that will satisfy and salty snack cravings in anyone.
Can't find tara chips for sale in your area, how about making it on your own with this easy to follow instruction below?
12. Chinese pretzels
One of the most popular Hawaiian snacks are Chinese pretzels. You'll always find a street side vendor frying up some hot and sweet Chinese pretzels for sale and made to order.
These delicious deep fried dough pretzels and sprinkled with powdered sugar are so good when eaten fresh, but just as delicious when the mood hits and you have a bag ready for an instant snack.
13. Panadillas
Another popular Hawaiian snacks are Panadillas. These Puerto Rican versions of the popular empanadas are a favorite snack food on the islands. Typically made with pork or beef, garlic, onions, cilantro and wrapped in a tender crusty dough that is oh so good when it is freshly deep fried and ready to eat.
You'll find panadillas sold at roadside stands, farmers markets to small mom and pop deli stands that have fresh take away that you can easily heat up and snack away on your own.
Can't find them for sale, make them yourself and here's an easy to follow video below
14. Li hing on anything good
Li hing powder is sprinkled on everything snacky it seems, the most popular think to have with Lin Hing is Margaritas or Mai Tais, popular gummy bear type jellies, dried or pickled fruit, shave ice and even pop corn for a savory flavored snack that's distinctively Hawaiian.
One of the favorite Hawaiian candy and snacks Li hing flavor jellies and powder used on everything is so ono or delicious.
A popular take out food usually served with rice in a rice bowl with your favorite poke topping. This hearty dish is a snack to a hearty meal depending on what time of day and how much you order. This delicious local snack can be quite filling and could take the place of any meal, but without rice works very well as a snack or appetizer dish.
Check out our post on Poke here for more inspiration and different types of poke made on the islands.
It's all about eating poke bowl
More inside tips to eating these 15 Hawaiian Snacks
Explore Local Snack Shops: Venture beyond mainstream stores and explore local snack shops in Hawaii. These hidden gems offer a wide variety of authentic Hawaiian snacks that you won't find elsewhere. Ask locals for recommendations or do some research to discover these culinary treasures.
Try Local Tropical Fruits: Hawaii is renowned for its tropical fruits, and they make for delicious and refreshing snacks. Grab a fresh pineapple, papaya, or juicy mango from a local market and enjoy the burst of tropical flavors. Don't forget to try unique fruits like lilikoi (passionfruit), rambutan, or lychee if they're in season.
Explore Shave Ice: Shave ice is a beloved Hawaiian treat and a perfect snack to cool down on a warm day. Seek out local shave ice stands that offer a variety of flavors and toppings. Don't forget to try the classic combo of sweetened condensed milk and azuki beans for a truly authentic experience.
Embrace Local Snack Mixes: Look for snack mixes that combine local ingredients like macadamia nuts, dried fruits, and even bits of mochi. These blends offer a delightful combination of textures and flavors, perfect for on-the-go snacking or enjoying during outdoor adventures.
Visit Farmers Markets: Farmers markets in Hawaii are not just for fresh produce; they also offer an array of local snacks. From homemade cookies and pastries to artisanal chips and dips, these markets are a treasure trove of unique snacks. Enjoy browsing and discovering new treats to tantalize your taste buds.
Experience Japanese Influence: Hawaii has a strong Japanese influence, which is evident in its snack culture. Explore Japanese-inspired snacks like rice crackers (arare), senbei (rice crackers), or mochi treats in various flavors. These snacks showcase the fusion of Japanese and Hawaiian flavors.
Pack Snacks for Outdoor Adventures: If you're planning outdoor activities like hiking or beach excursions, pack a selection of Hawaiian snacks to fuel your adventures. Portable options like dried fruit, trail mixes, or spam musubi are convenient and delicious choices for on-the-go snacking.
Try Local Bakery Specialties: Hawaii is home to numerous local bakeries that offer unique treats. Don't miss the chance to sample specialties like malasadas (Portuguese-style doughnuts), haupia pie (coconut custard pie), or poi mochi (mochi made with poi).
Share the Aloha: Hawaiian snacks make excellent souvenirs or gifts. Consider bringing back a selection of local snacks to share the flavors of Hawaii with friends and family, spreading the aloha spirit wherever you go.
Go for healthy Hawaiian fruit grown locally as your go to snacking alternative. Check out all the popular Hawaiian fruit in season here for inspiration
By following these tips, you can fully immerse yourself in the delightful world of Hawaiian snacks. Indulge in the unique flavors, embrace local specialties, and experience the rich snack culture that makes Hawaii a culinary paradise.
Check out these other Hawaii topics
Popular Hawaiian dishes you need to try
Traditional Hawaiian food favorite dishes
Fun and interesting facts about Hawaii
Learn some Hawaiian slang or pidgin
Where to find these 15 Hawaiian snacks around the islands
All these specialty snacks are found many grocery stores, mom and pop shops, farmers markets and even snacking aisles at popular venues like ABC stores, Longs Drugs and even big box retailers like Target, Safeway and KTA grocery stores.

Save this Pin for later in your Hawaii Board
Which of these Hawaiian snacks sound ono?
There's so much variety of sweet to savory snacks that's popular on the island. Did we miss any more favorites – please add them to the comment section below.
Conclusion on Locals love these tasty 15 Hawaii snacks
Indulging in local Hawaiian snacks is not just about satisfying your taste buds; it's a flavorful journey that immerses you in the rich cultural heritage of the islands. From the iconic spam musubi and mouthwatering poke bowls to the delightful shave ice and delectable malasadas, these snacks offer a glimpse into the unique flavors and culinary traditions of Hawaii. By embracing these local treats, you not only support local businesses and artisans but also connect with the vibrant spirit of the islands and the warm aloha hospitality.
So, whether you're a resident or a visitor, make sure to treat yourself to these delightful Hawaiian snacks and experience the joy, diversity, and deliciousness that the local cuisine has to offer.
Thanks for checking out all these popular local Hawaiian snacks, hope many of these favorites snacks were on your list to try some day. Did we miss any other popular snacks in Hawaii? Please share your favorites in the comment section below. These are all the best snacks from Hawaii.
I want to hear from you!
So which of these tasty snacks sound good enough to try? Please share your thoughts and comments below.
Thanks for visiting This Hawaii life and checking out this post on Locals love these tasty Hawaii snacks.
If you enjoyed the post, please do share it with any of the social media buttons around the page.