Kamuela Farmers Market at Pukalani Stables – a celebration of delicious and local foods at Waimea
Kamuela Farmers Market at Pukalani Stables is one of the most colorful farmers markets in Waimea is held twice weekly on Wednesdays and Saturdays around the courtyard and other parts of the stable area.
When are the farmers market days at Kamuela Farmers Market?
Held mid-week on Wednesdays 9am to 2pm or Saturdays 7:30am to 1pm at the Pukalani Stables with a fantastic market of various stands selling fresh bread and pastries, fresh produce and plants, take out foods, jewelry and hand crafts and ointments and other herbal products
One of the most colorful and well -oved farmers markets in Waimea is at the Pukalani Stables. Held in the main courtyard and adjoining areas the market is fun to explore and pick up the freshest produce and ingredients, seedlings and tropical plants, delicious baked goods, breads and pastries along with some of the tastiest take-out food from food trucks and vendors selling popular local food from the area.
A little history on the Pukalani stables
The Pukalani stables is part of the Paniolo Preservation Society and museum that showcases the history and lifestyle surrounding the Hawaiian Paniolo, farming and living in Waimea and during the hey day of the Parker Ranch. The center celebrates all things cowboy with a rich collection and museum quality showcase of memorabilia, displays and a fun museum to explore. The center comes alive during the Kamuela farmers markets held twice weekly and is fun to explore all the current displays and other revolving shows at the museum. Check out the latest information on their website here for more details.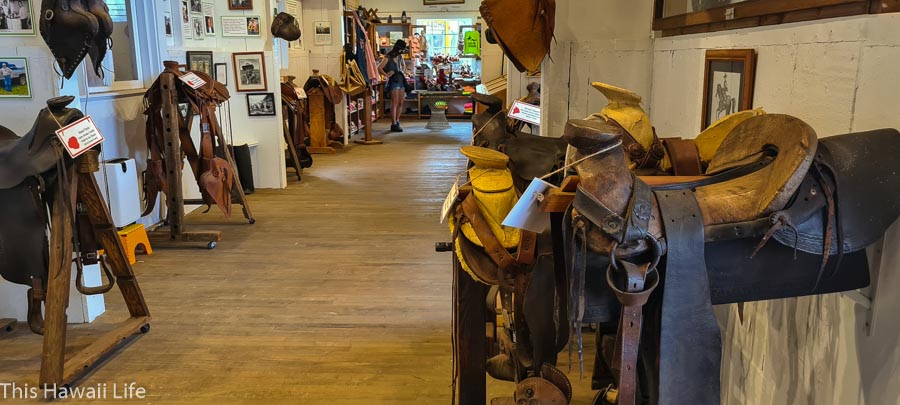 Check out the highlights below on what you'll find available at the market
What to eat at the Kamuela farmers market?
Plenty of choices to eat and buy some delicious food and specialty food products at the market
Delicious Indian food at Cuco Indian Food
Cheese's yogurts and mac products with Big Island Creamery
Desserts and yummy cupcakes at Cupcakes n' Things
Delicious Nikki's Thai Food
Sweet Life with small batched mini pies
Red Barn with delicious soups and local favorites
Where Kamuela Farmers market located?
The markets are held at Pukalani Stables at Address 67-139 Pukalani Road
Check out the latest information on their website here for more details.
Places to explore around Waimea and the Hamakua coast
Visit Honoka'a town on the Hamakua coastline
Enjoy and hike Waipio Valley
Explore Akaka Falls
Stroll around Honomu town
Visit the area of Lapahoehoe Point
Have you visited Kamuela Farmers Market at Pukalani Stables?
Enjoyed your visit here or any other tips to share? Please share on the comments below.
Thanks for checking out this post on visiting Kamuela Farmers Market at Pukalani Stables. Hope the post was informative and a must read article – if so please do share it with any of the social media buttons around the page.