Eating out in Hawaii is very expensive. If you are on a tight budget, you need to plan carefully and know the cheap venues that will save you big time visiting the islands. Check out these top tips and ideas on how to eat cheap in Hawaii and you will enjoy all the wonderful Hawaiian cuisine and local flavors cheap, cheap!
Here's how to find cheap eat in Hawaii
Go to farmers markets in Hawaii
Farmers markets are a perfect place to sample local prepared foods, food trucks and other specialty vendors very cheap. You can buy local produce, finished goods and other cooked/prepared foods from food vendors that will save you big time with your wallet.
To find where the local markets are, look at the various free food magazines at your airport kiosk or check online for these local farmers markets on each island.
Eat at the malls in Hawaii
Malls are very popular foodie venues with food courts that offer a variety of specialty and local flavors for you to try. Inexpensive local fast food venues like Zippies, L&L foods and Blanes are local favorites throughout the islands along with on Island specialty food venues.
Go to your local Hawaiian grocery store
Outside of finding foods that you can prepare yourself, check out the local deli departments and over the counter take out food departments that are cheap and offer easy to buy prepared foods that you can take home or do a picnic at the beach or a favorite venue.
Food truck venues in Hawaii
Many of the islands offer food truck venues at different locations and times that a very cheap alternative and tasty option that will satisfy your need for delicious and inexpensive dining
Cheap Happy Hour venues in Hawaii
At a fraction of the price of an entrée in many popular restaurants and most hotel eateries, going at happy hour (typically ranging from 3 to 6pm) is a great way to save some bucks. Offering cheap drink specials and pupus or appetizer selections, you'll taste some yummy foods and drinks for a fraction of those outrageous dining venues at an earlier time frame.
Pack a picnic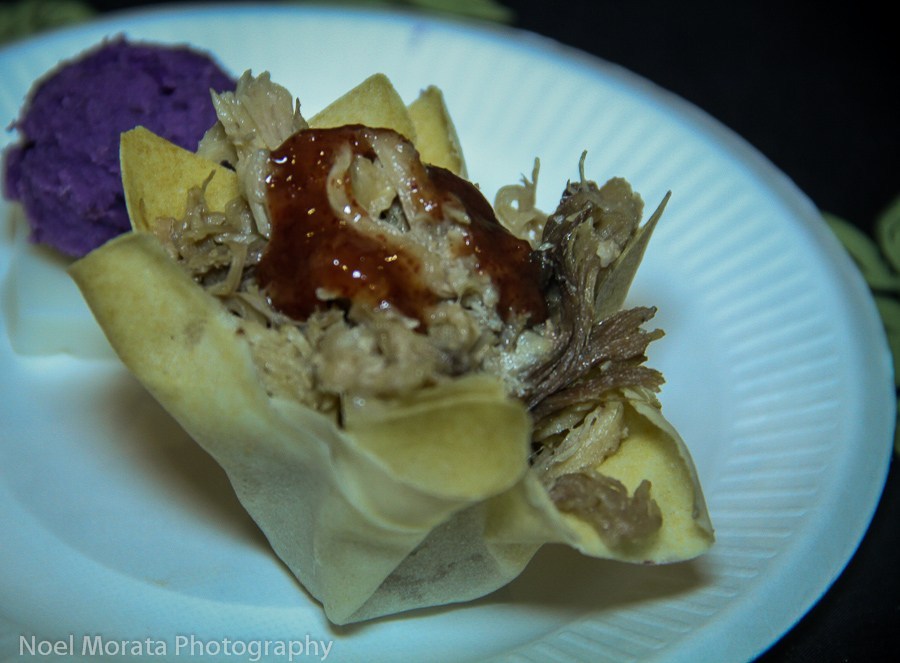 From any of the venues above at farmers markets, grocery stores or specialty food purveyors, you can create a unique one of a kind picnic in some of the most scenic locations for a dime (or at least cheaper). Buy your favorite dishes or take out food and you'll be saving on the per plate mark up, taxes and tips with a nice view (hopefully) at your picnic.
Make your own meals
If you have a condo or timeshare, you will typically have a full kitchen or grilling area that you can take advantage of making meals, preparing your own food for each meal, snacks or even your own happy hour cocktail and pupu time.
Use coupons or two for one dining offers
You can find coupons online or even with popular tour magazines offered at tourist kiosks in many venues. Take advantage of these coupons or popular coupon sites like Groupon to to get a discount on your meals
Shop at the big box stores like Costco, Walmart or Target
Many visitors to the island make Costco or Target their first stop to fill their carts with drinks, snacks and prepared foods or ingredients cheaper for those on a strict budget to save from expensive dining venues. Look for these mega store options to take advantage of the bulk rates and save big time on your favorite food items to prepare and enjoy.
Cheap local take out or local Hawaii food venues
One of the cheapest dinging options would be to look for local food cafes or fast food brands that are popular with local taste and flavors. Favorite local venues include places like L&L food chains, Blanes foods, Zippies, Daichi Ramen and other brands which offer inexpensive local style food to try and enjoy. Many of these venues are located in malls so there is plenty of parking and options to find exactly what you are craving.
Dining at ethnic restaurants in Hawaii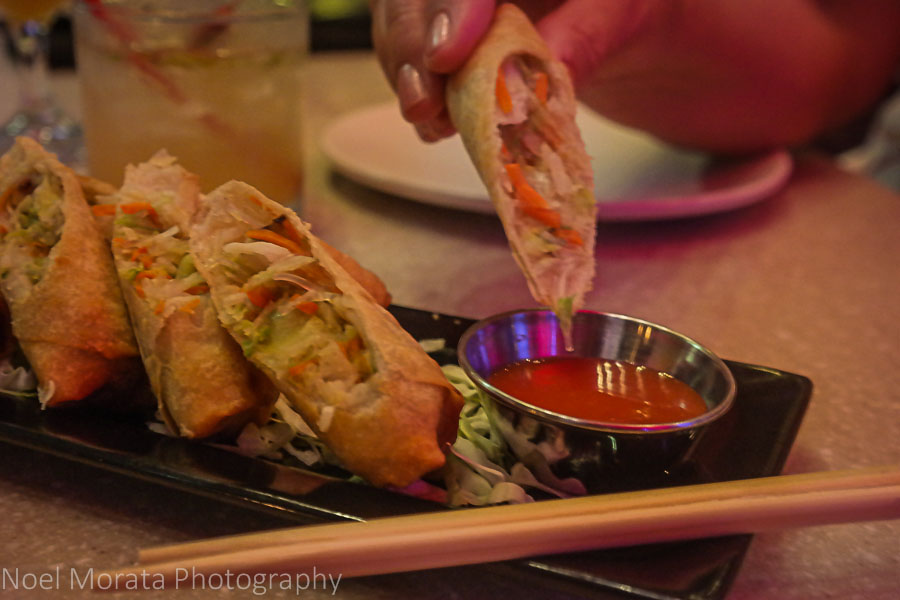 Since Hawaii is home to many nationalities and specifically of Asian heritage, you'll find inexpensive food venues catering to these ethnic groups. Typically cheap Asian cuisine from Chinese, Filipino, Japanese, Korean, Thai and even Mexican food are the most popular and cheap alternative to cafes and restaurants. Eating family style and trying out all these different flavors is the way to go when you crave something ethnic and local.
Eat at lunch time, but splurge at business lunch menus
Breakfast and dinners eating in will save you big time, but if you want to splurge do it during lunch when many places offer lunch specials to cater to local business/government workers who are looking for cheaper business lunch special.
A sampling of local favorite dishes and specialty food you can find around the islands
Bento boxes – You can find these Japanese inspired bentos with different types of local foods and not strictly Japanese at fast food eateries, mom and pop stores to even grocery deli counters
Spam musubi – A staple snack with sticky rice and spam wrap with a seaweed cover like a burrito, it's fast and cheap and sold in a variety of take out places to grocery stores
Plate lunch specials – Many cafes, deli counters and grocery stores have plate lunch specials with an entrée, macaroni salad and typically two scoops of rice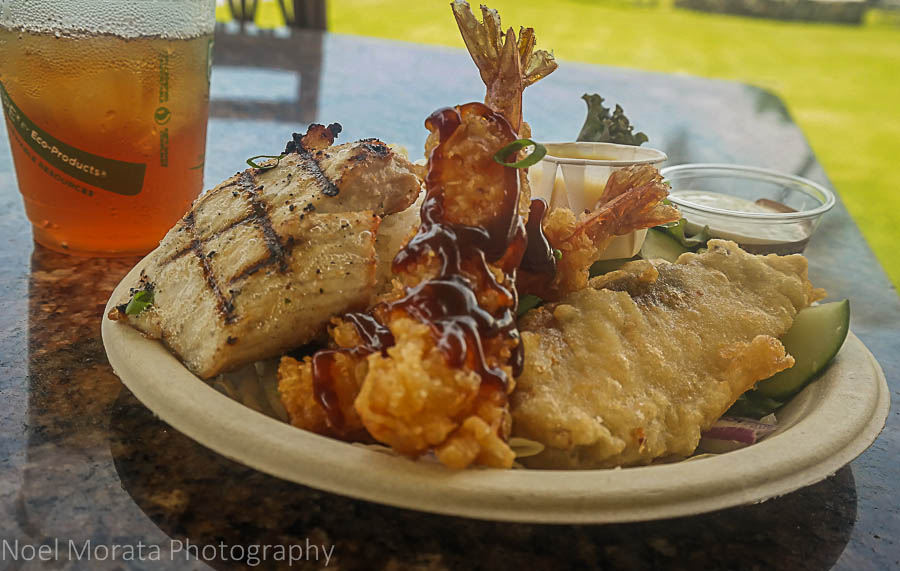 Shave ice – a favorite dessert with fluffy shaved ice with a multitude of concentrate tropical juices that is poured over them and sinfully delicious.
Japanese snacks – you can find a variety of popular Japanese snacks including arare, Japanese crackers, nuts and other spiced yummies at many mom and pop shops, Longs drugs stores and grocery stores for sale typically in the Asian sections. Pick up a few that look interesting to try out and enjoy
Moco Loco – Another local favorite with many different toppings but the classic is scoops of rice with a country fried steak or meat patty with gravy and topped with a fried egg
Kalua pork – A traditional Hawaiian staple with pulled pork in sandwiches, plate lunches or an entrée with other Hawaiian food
Huli Huli chicken – Rotisserie style chicken that is moist and tasty that satisfies those with a need for really delicious local chicken
Ramen soup dishes – Ramen is a popular favorite food for take out or do it yourself with the core ingredients that make this comfort food easy and delicious
It takes a little bit of planning and research to save money when you eat out in Hawaii, but these options will give you a sense of eating out and tasting different local markets and flavors for a fraction of the cost to dining and save you big time. Enjoy all the local flavors of Hawaii and do try out all the mom and pop shops in all the islands and your taste buds and wallet will love your well earned choices.
Check out these other food related posts from Hawaii
Popular Hawaii dishes you need to try
Traditional Hawaiian food favorite dishes
Hawaii chocolate making and tour
Hawaii love for Spam and recipes
Save this as a pin for later!
Thanks for checking out this post on How to eat cheap in Hawaii. Hope the post was informative and a must read article – if so please do share it with any of the social media buttons around the page. This post may have affiliate related links to brand offers which helps our site keep operating – we appreciate any purchases through this link and your supporting Travel Hawaii Now.