The sweet hamlet at Honomu, the gateway to Akaka Falls
Sweet Honomu is like a small village, sleepy, quiet and just busy with some tourist dropping by to eat or browse the small strip of shops before or after visiting Akaka Falls. The town used to be a bustling sugar mill town with businesses, schools and shops supporting the village, but now it is mostly tourist driven with curio shops and galleries that keep the town alive and running.
Where is Honomu Located
Located 11 miles west from Hilo town on Hwy 11, make a left on route 220 into town and onward to Akaka Falls State Park. From Honokaa it is approximately 31 miles east to Akaka Falls and Honomu.
A little history on Honomu
Once a bustling plantation town that serviced the sugar industry and was established in 1876. The town was filled with many different nationalities of workers working the sugar plantation with a variety of shops, theater, bakery, eateries, churches and other sundry shops. After the sugar plantation closed, the town started to also close down but eventually became more of a tourist destination gateway to Akaka Falls and visitors stopping at Honomu to sightsee, grab a bite and explore the galleries and tourist shops in town. On the way up to Akaka Falls, you'll also find a variety of local fruit stands to stop and try some of the delicious local fruit from the area.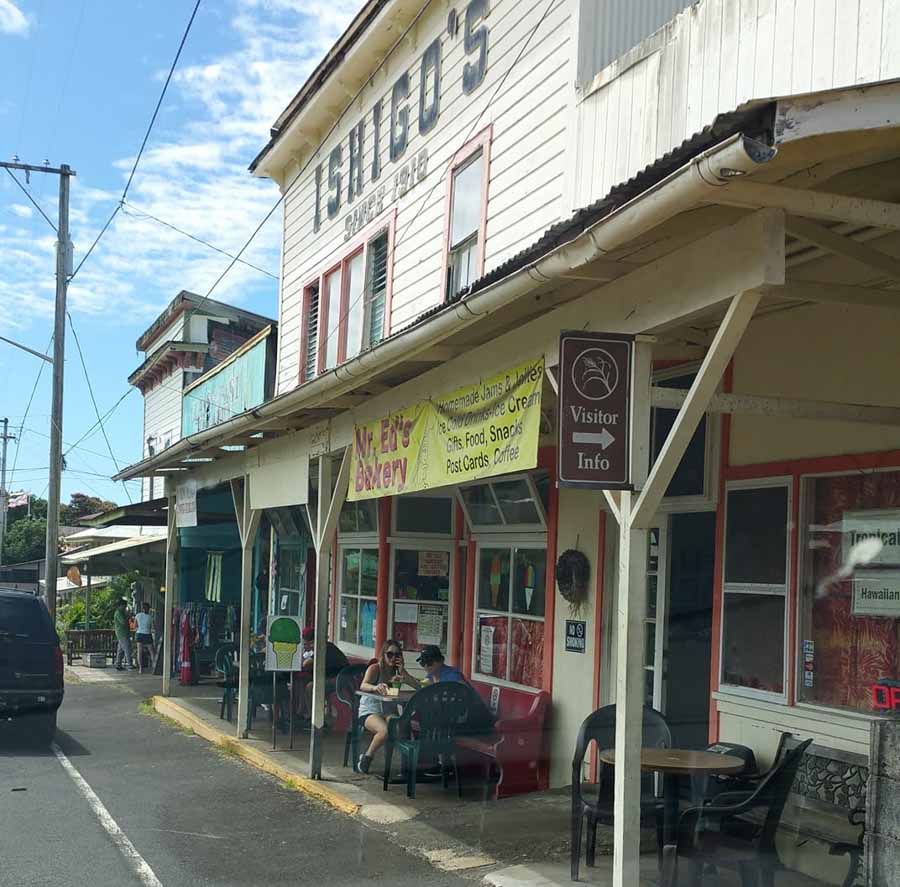 Visiting Honomu
If you love visiting little towns, Honomu maintains it charms with art galleries and boutiques, bakeries and antique stores and some delicious local style food venues to try out if you are hungry. The Western style Hawaiian architecture is colorful and fun to walk through and catch all the small details that make the town click. You should definitely try some of the local coffees, delicious pastries and look for local arts and crafts made from artists in the area.
The town really maintains an eclectic and small-town vibe that is casual and friendly with shop owners easy to talk with and not pressure selling things from their stores.
Shop and stroll around Honomu Village
Places to eat in Honomu town?
There are a few spots to eat for a snack or bigger meal if you are hungry
Sharks Coffee Shop – the only spot for a good meal with local style food and great coffees from their coffee plantation to enjoy
Mr. Ed's Bakery – serves delicious home-made pastries, huge turnovers with local fruit, delicious breakfast donuts and pastries and local jams, jellies, chutney and butter to take home for souvenirs.
Fruit stands on the way up to Akaka Falls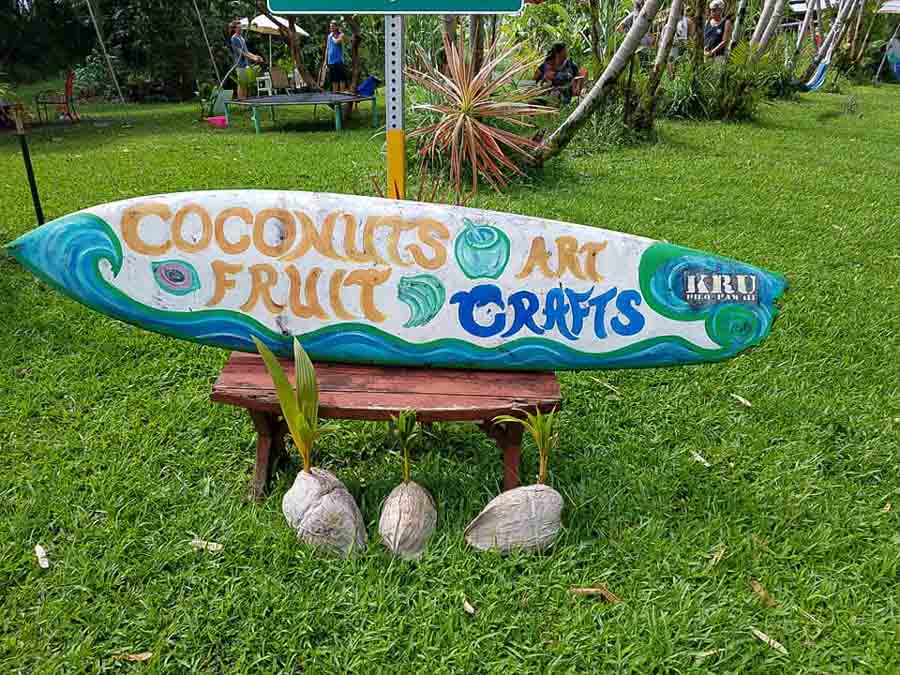 Things to see in the area
The main attraction is visiting Akaka Falls up mauka on Hwy 220, along the way are some delicious fruit stands worth a visit if you are thirsty or want to try delicious and fresh local fruit from the area
Akaka Falls State Park – This is the must visit site around the Hamakua coast with the state park that is made of two beautiful waterfalls and a botanical garden to explore
Akaka Falls fruit stands – there are a few fruit stands driving up towards Akaka Falls that are fun to stop and buy some local fruit or go for a smoothie shake made on site
Onomea coastal drive – the scenic Onomea coast drive is old, slow with one lane bridges and is fun to explore
Hawaii Tropical Botanical gardens – An extensive tropical garden with waterfalls, views of Onomea bay with lush gardens and grounds to explore.
Lapahoehoe Point – this gorgeous point in the lower part of Lapahoehoe is a park with gorgeous views of the coastline and cliffs along with a popular park to relax and enjoy the views here.
Honolii beach park – the main surfing and boogie boarding beach area along the Hilo coastline that locals and visitors flock to for surfing fun.
Honoka'a town – at the gateway to Waipio valley
A visit to Kalopa State Park
Have you been to Honomu, Hawaii?
Please share your thoughts and other recommendations in the comments below with your recommendations.
Thanks for visiting today and checking out this post on Honomu, Hawaii. I hope you are inspired to plan a visit and enjoy these wonderful attractions. If you enjoyed the images and post, could you please share it with any of the social media buttons located around the post.