Honolulu Food Tours: Indulge in a Gastronomic Adventure through the Flavors of Hawaii (updated 2023)
Embark on a tantalizing culinary journey on a local Honolulu Food Tour, where every bite tells a story. Get ready to immerse yourself in the vibrant flavors of Hawaii as we guide you through an array of mouthwatering dishes. From traditional Hawaiian delicacies to fusion creations and international influences, our expertly curated tours offer a delectable adventure for your taste buds.
Discover hidden gems, learn about the rich culinary history of Honolulu, and savor the unique creations of talented local chefs. Whether you're a seasoned foodie or simply seeking to explore new flavors, Taking a fun Honolulu Food Tour that we feature below will leave you craving more delicious bites you can do on your own.
Why take a local food tour in Honolulu?
Doing a food tour in Honolulu is a delightful and enriching experience that offers a multitude of reasons to indulge in the local culinary scene. Here's why you should consider doing a food tour in Honolulu:
Discover Authentic Local Cuisine: Honolulu's food tour allows you to savor the authentic flavors of Hawaii. From traditional Hawaiian dishes to fusion creations inspired by the island's multicultural heritage, you'll have the opportunity to taste a wide variety of unique and delicious local cuisine.
Explore Hidden Gems: The food tour takes you beyond the popular tourist spots, unveiling hidden culinary gems known and loved by locals. You'll venture into lesser-known neighborhoods and establishments that offer a truly authentic dining experience.
Gain Insight into Hawaiian Culture: Food is deeply intertwined with culture, and a food tour in Honolulu provides valuable insights into the rich heritage of Hawaii. Learn about the historical influences, traditions, and stories behind the dishes you sample, as your knowledgeable guide shares fascinating information along the way.
Engage Your Senses: As you journey through Honolulu's diverse food scene, you'll engage all your senses. Indulge in mouthwatering flavors, inhale enticing aromas, admire beautiful presentations, and appreciate the vibrant colors of the local cuisine. It's a sensory adventure that immerses you in the culinary tapestry of the island.
Support Local Businesses: By participating in a food tour, you contribute to the local economy and support small, independent restaurants and food vendors. These establishments often showcase the true essence of the local food culture and provide an authentic experience for visitors.
Skip the Guesswork: With so many dining options available in Honolulu, it can be overwhelming to choose where to eat. A food tour eliminates the guesswork by curating a selection of top-notch establishments, ensuring you taste the very best the city has to offer.
Meet Like-Minded Foodies: Joining a food tour gives you the opportunity to connect with fellow food enthusiasts who share your passion for culinary exploration. It's a chance to swap recommendations, share memorable experiences, and make new friends who appreciate the joys of good food.
Check out these delicious food tours available in Honolulu
Join us as we venture to the hidden gems of the island, where the true essence of local food awaits. While we appreciate your research and the popular places you've discovered, our goal is to take you to our favorite spots. Experience the authentic flavors and eat like a local, at the very places where locals dine.
About Immerse yourself in an all-inclusive Hawaii food tour like no other. Indulge in the most sought-after dishes from local restaurants. Skip the lines and be embraced as a local on this unparalleled food tour of Hawaii.
Highlight Food Stops:
Manoa Chocolate
Onos Steak and Shrimp
Oahu Grill
Waiola Shave Ice
Duration – 7.5 hours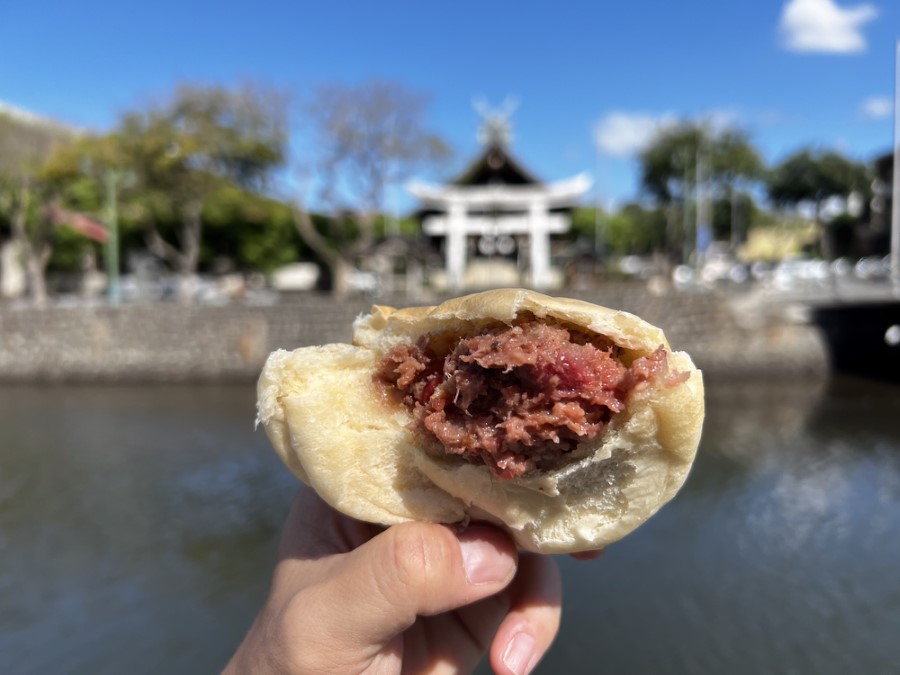 Join us for an unforgettable culinary and cultural adventure as we guide you on a walking tour beyond Oahu's popular tourist destinations. Discover the unique cultures and flavors that make Hawaii a true melting pot of the world.
On this walking tour, spanning less than 0.5 miles and featuring 5-8 stops with 13-16 tastings, you'll not only indulge in mouthwatering delicacies but also immerse yourself in Oahu's architectural and historic character. Experience the distinct sense of time and place as you engage your senses – from the vibrant fresh fish and meat markets to the enticing aroma of ethnic and exotic foods, and the fusion restaurants that blend modern flavors with traditional influences.
This all-inclusive food tour goes beyond satisfying your taste buds. It provides a deeper understanding of Hawaii's diverse history and multicultural heritage that has shaped its unique culture, cuisine, and language.
Savor the flavors of savory Manapuas, delicate Sashimi and Tako, tantalizing Vietnamese cured pork snacks, delightful pandan cake, Filipino favorites like adobo and lumpia, locally grown tropical fruits, delectable Chinese dim sum and roast meats, authentic Hawaiian Poke, and much more. Our Off the Beaten Path tour is a must-do when visiting Oahu.
Please provide your hotel or Airbnb address in the booking notes. Come hungry, as drinks and food are all included. Your guide and fellow foodie will pick you up between 9:00 and 9:30 am (depending on local traffic conditions) from your hotel lobby or Airbnb within the Honolulu city area. For those staying outside of Honolulu, please inform us, and we will provide you with the meeting point.
After your food adventure concludes, you will be dropped off at your hotel lobby. Please note that this is a walking food tour covering approximately 1 mile. Dress comfortably for walking, wear sunscreen, and come prepared to indulge in an unforgettable gastronomic experience.
WHERE
Honolulu's Chinatown
6 to 8 stops and 0.5 mile of walking
16 Tastings
Duration – between 2-3 hours
Your guide and fellow foodie will pick you up between 9:00 am and 9:30 am (depending on local traffic conditions) from your hotel lobby or Airbnb. Pick-up is limited to the Honolulu city area. Please provide your hotel or Airbnb address in the booking notes. Come hungry, as drinks and food are all included.
On this tour, we will treat you to some of the best authentic local food beloved by locals. Experience traditional Hawaiian cuisine and local fusion dishes inspired by Hawaii's rich and vibrant history. Along the way, our guide will point out landmarks and share historical insights.
First, we'll take you to sample a variety of fresh Poke (pronounced Poke-kay) from one of Hawaii's oldest seafood markets (in business for 80 years!). Discover the array of options for this local staple that has recently gained popularity. In addition to various types of Ahi (bluefin tuna) poke, you'll also have the chance to try other poke varieties made with fresh local ingredients, such as Tako (octopus), O'io (raw bonefish paste mixed with limu/seaweed), local fern, and even Ake (raw cow liver poke, pronounced as "Ah-kay").
Next, your taste buds will be delighted with Garlic Shrimp infused with an Asian twist. After savoring the flavors of garlic and butter, we'll refresh your palate with Hawaiian Shave Ice. Experience the wide range of flavors and topping combinations available, and indulge in local snacks like "li hing mui/crack seed."
Finally, we'll visit the island's best bakery, where you'll sample delightful local pastries.
Times and Duration:
Monday – Friday and starts around 9:00AM (You will be picked up around this time from your hotel lobby or AirBNB residence)
4 Hours
You will be picked up by your guide and driver (and fellow foodie) around 9:00 am from your hotel lobby. Please note your hotel name or AirBnB address in the notes section of your booking.
Discover the enchanting beauty of Oahu's Northshore with our NS Food & Waterfall Tour. We've meticulously handpicked the finest locations, ensuring an unforgettable experience. Delight your taste buds with local coffee and delectable chocolate sourced from the region. Indulge in mouthwatering delights from the best food trucks in the area. And, of course, immerse yourself in the refreshing waters of one of Oahu's top waterfalls. Hi5 guarantees an adventure that encompasses both culinary delights and breathtaking natural wonders. Join us as we take you on a journey to the heart of the Northshore, where unforgettable experiences await at every turn.
NS Food & Waterfall Itinerary
Wailua Chocolate & Coffee Farm
North Shore Macadamia Farm
Waimea Waterfall & Botanical Garden
Famous Lunch Trucks
Rum Tasting
What's Included
Comfortable Vehicles
Pick up from your Hotel/Rental
Fresh flower Lei
Waterfall admission
Malasadas (Portuguese Donut)
Rum tasting
Duration – 8 Hours
Looking for a more exclusive experience? Consider booking a Private Photo Tour for you and your family or group. Enjoy the freedom and comfort of having the entire tour dedicated to your party at each location. To capture your precious moments, a professional guide will accompany you throughout the day, taking candid photos of you and your group. After the tour, you will receive a download link to access these memorable photos.
The price of our private tours varies based on the group size. We offer three price levels to accommodate different numbers of participants. Choose the private tour option and create lasting memories with your loved ones in a personalized and intimate setting.
Hawaii Food & Photos Embark on an all-inclusive food tour of Hawaii that showcases the most beloved dishes from local restaurants. Skip the lines and immerse yourself in a truly authentic culinary experience, where you'll be treated like a local.
Join us as we venture to the island's best-hidden gems for exceptional local cuisine. While we appreciate your research and trendy food finds, we're excited to take you to our personal favorite spots. Indulge in the flavors that locals savor and dine where the locals themselves eat.
Get ready to eat like a true islander and discover the true essence of Hawaiian cuisine on this unforgettable food tour.
Don't miss out on the hidden gems of Hawaii while spending most of your time in Waikiki! Join us on this tour as we take you to some of our favorite breweries on the island, often overlooked by visitors. Our knowledgeable guides are not only passionate about brewing but also deeply invested in the history and culture of the Hawaiian islands.
Our mission is simple: to share an afternoon or evening of delectable beer and food while providing insights into what it truly means to live and be a part of Hawaii. Rest assured, all beer and food are included in this unforgettable Beer and Food Tour through downtown Honolulu.
Duration – 3 hours
Indulge in a culinary adventure as we embark on a journey to explore the finest restaurants on Honolulu's south shore. Our tour takes us to Diamond Head, renowned for its iconic silhouette, stunning beach parks, a wide range of activities, and its proximity to the world-famous Waikiki beach. Below the legendary Diamond Head trail lies a vibrant eatery area that we'll explore as a group. Immerse yourself in the beauty and prosperity of the Diamond Head community.
Our tour begins at a local gathering spot, where we'll introduce ourselves and dive into the delectable food samples awaiting us. Prepare for a delightful walk as we visit hand-picked local favorites, each offering their signature dishes. There's no better way to learn about local cuisine than by savoring it yourself. Our vendors have specially selected and prepared servings just for you, ensuring a truly unforgettable experience. Come with a hearty appetite and leave fully satisfied! Our normal tour includes generous lunch servings and mouthwatering desserts.
Join us to discover original restaurants exclusive to Honolulu, bypassing the waiting game and any uncertainty about what to order. Book your spot today and get ready for an afternoon filled with delicious Hawaiian food, joyful laughter, and lasting memories.
Duration – 1-2 hours approximately
More inside tips to doing a food tour in Honolulu
aking a food tour in Honolulu is a fantastic way to explore the city's diverse culinary scene. Here are some inside tips to enhance your experience:
Choose the Right Tour: Research different food tours in Honolulu to find one that aligns with your preferences. Consider options like street food, fine dining, or specialty cuisine tours.
Small Group Tours: Opt for smaller group tours. They often provide a more personalized experience and allow for better interaction with guides and fellow food enthusiasts.
Come Hungry: Skip a big meal before the tour. You'll want to have an appetite to fully enjoy the variety of dishes you'll be sampling.
Ask Questions: Engage with your tour guide. They can provide insights into the local food culture, history, and traditions.
Bring Cash: While many places may accept cards, it's a good idea to carry some cash for small vendors or if the tour includes places that prefer cash payments.
Dietary Restrictions: Inform your tour guide of any dietary restrictions or allergies in advance. They can often accommodate special dietary needs.
Be Adventurous: Be open to trying new foods and flavors you may not have encountered before. Food tours are a great opportunity for culinary exploration.
Take Notes or Photos: If you come across a dish you particularly love, take notes or photos so you can remember it and potentially recreate it at home.
Hydration: Bring a reusable water bottle, especially if the tour involves spicy or salty foods. Staying hydrated is essential.
Comfortable Shoes: Wear comfortable walking shoes. Many food tours involve walking between different food stops.
Sun Protection: If your tour includes outdoor stops, bring sunscreen, sunglasses, and a hat to protect yourself from the sun.
Enjoy the Experience: Beyond the food, savor the local atmosphere and culture. Take time to appreciate the surroundings, architecture, and history of the area.
Tipping: Don't forget to tip your tour guide if they did an excellent job. A gratuity of 15-20% is typically appreciated.
Local Insights: Ask your guide for recommendations on other great local places to eat or visit during your stay in Honolulu.
Review and Share: After the tour, leave reviews online to help future travelers and share your delicious discoveries with friends and fellow foodies.
By following these tips, you can make the most of your food tour in Honolulu and fully immerse yourself in the culinary delights of the city. Enjoy your foodie adventure!
Check out these other food tops and Oahu attractions below
Tour the historic downtown Honolulu district
Top things to do around Honolulu area
Popular adventure experiences in Oahu
Conclusion on Honolulu Food tours
In conclusion, Honolulu Food Tours offers an unparalleled culinary adventure that explores the vibrant food scene of the city. From hidden gems to popular local eateries, our tours provide a unique opportunity to indulge in the authentic flavors of Hawaii. Whether you're tasting traditional Hawaiian delicacies, fusion creations, or international dishes with a local twist, our expertly curated tours promise a gastronomic journey like no other. Skip the guesswork and let our knowledgeable guides lead you to the best culinary experiences, all while sharing insights into the rich cultural heritage of the region. Join us on a Honolulu Food Tour and create lasting memories through the love of food and exploration.