Guide to Hawaii Kai on the windward side of Oahu
Hawaii Kai is that Hidden gem that most visitors to the island just pass through to get to popular attractions like Hanauma Bay and the Makapu'u lighthouse and even Koko Head if they are looking for a real workout with fantastic views. But this hidden area tucked into the windward side of the island and just a short 25-minute drive from Waikiki is also a great place to base yourself and immerse in local activities, attractions and fun things to do outside of downtown Honolulu and Waikiki area. There's fantastic dining venues, shopping and fun outdoor activities and natural places to visit in the area.
A brief history to Hawaii Kai
Formerly a fish pond and wetland area in East Oahu, the area was developed into Oahu's first planned community in the 1960s and boasts a shopping center, dining venues, schools, a harbor and recreational activities for locals and visitors alike to enjoy in the area with over 6000 acres of development in the subdivision. This includes three shopping venues with large scale retailers like Costco, theatres, a gym, clinics and a business center to make this one of the most desired places to stay and live on the islands in a nice mix use of condos and subdivisions in the area.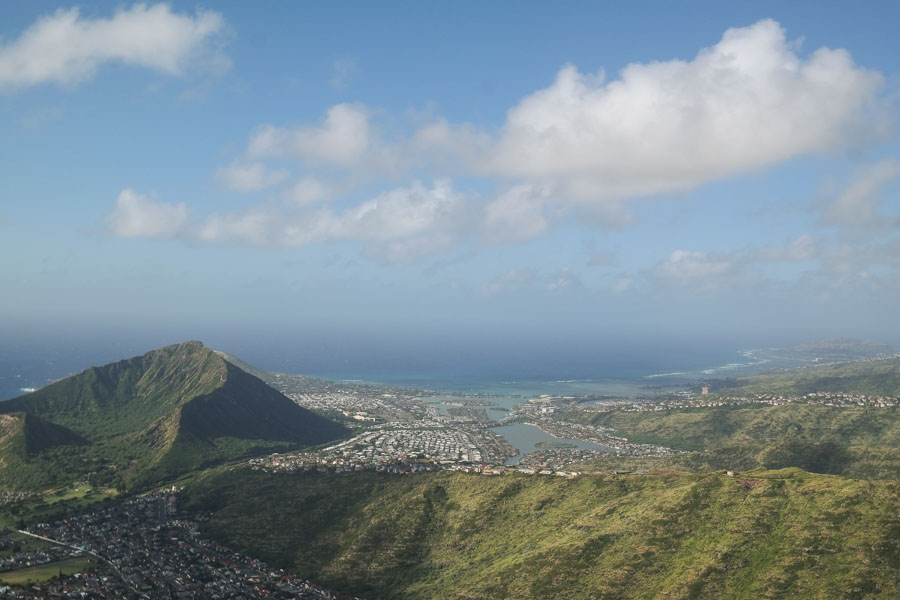 Things to do around the Hawaii Kai area
Halona Blowhole Lookout
As you pass through the Kalanianaole Highway, you'll see the blowhole on the ocean side and which mimics the spouting of the Humpback whales that travel through the area in between the islands. Halona means "Lookout" in Hawaiian for the scenic lookout points in the area where popular movies and films were actually made. Turn off at the lookout point signs for the Halona Blowhole and stay within the boundary areas and awhile from the direct path of the blowhole.
Beach fun at Sandy Beach and Maunalua Bay Beach park
The most popular beach area for surfing and boogie boarding fun is what most people like to do at this beach in the Hawaii Kai area or Maunalua Bay Beach park for kayaking, paddling or boating activities.
Hawaii Kai Shopping Centers
There are three popular shopping centers in Hawaii Kai at Koko Marine Shopping Center, Hawaii Kai Town Center and Hawaii Kai Shopping Center. The centers are all gathering spots for local dining, shopping, bars, movie theaters and coffee shops to relax and enjoy a meal or just hang out in one of the cafes at the center. You'll enjoy some fantastic meals, views and cool shopping in the area.
Koko Head Crater
After stuffing yourself with pastries and coffee, it's time to work it off at the KoKo Head Crater trail which is a set of railroad tracks that goes up the side of the crater a total of 1048 steps to the top where you can check out the amazing views and pillboxes in the area and take a more relaxing hike back down from the trail.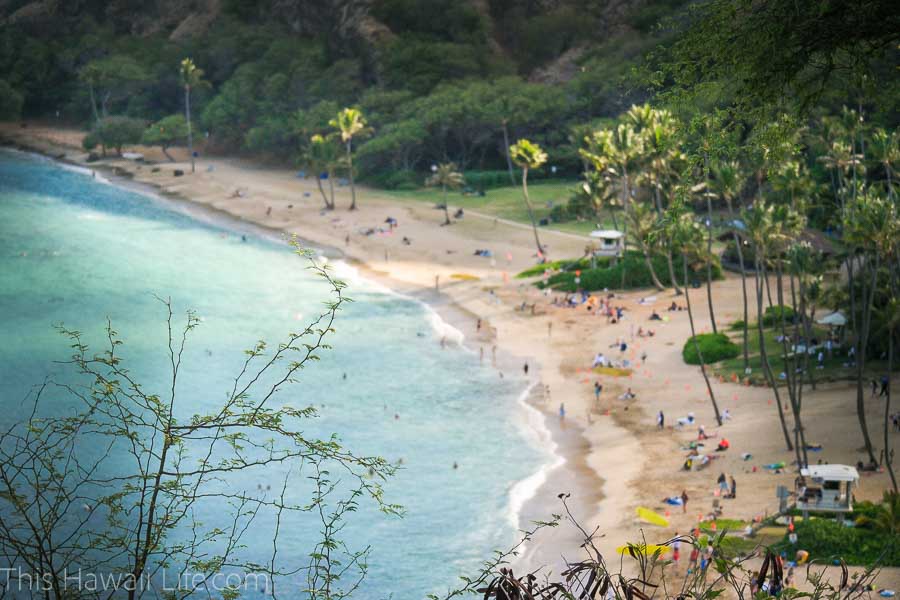 Hanauma Bay
One of the biggest attractions in the area is Hanauma Bay with its protected bay lined with cliffs and a nice white sandy beach to lounge on in between the snorkeling fun around the bay. Hanauma Bay is world famous as a protected sanctuary where the corals and fish thrive in this area in spite of the massive amounts of visitors that come here to snorkel this beautiful place.
Makapu'u Lighthouse and trail
Probably the 2nd most popular trail to do in Oahu after Diamond Head, the Makapu'u Lighthouse and trail is relatively easy to moderate and on paved road from the bottom to the top which is about 2 miles roundtrip
Makapu'u tidepools and blowhole
Just off the main trail to the lookout point on top of the Makapu'u trail, is another side trail down to the tidepool areas and a hidden blowhole that is something you can experience from a distance.
Visit the Sea Life Park
A short drive to Sea Life Park which a popular family friendly marine park to enjoy with aquatic shows, marine mammal exploration areas, bird sanctuary and aquarium. Enjoy the sea lion and dolphin experiences or enjoy the feeding time hour with the various marine animals in the park area. Check out the details to visiting here for more information.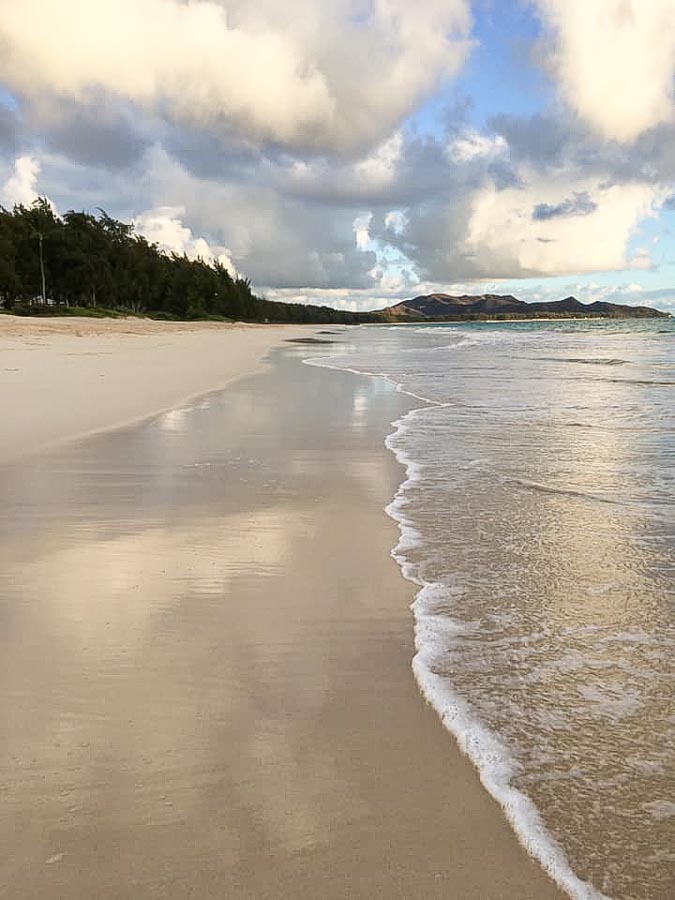 Beach day at Waimanalo
One of the most popular local beaches to enjoy on the east side and not so crowded is Waimanalo beach with a slower vibe, nice powdery white sands and gorgeous ocean aqua to blue water to swim in. No major development and commercial venues make this a low key and easy place to enjoy the outdoors and some fun beach time on the east side.
Explore the Koko Crater Botanical garden
One of the fantastic botanical gardens of Oahu to explore, the Koko Crater botanical garden is over 60 acres of beautiful gardens carved out of the inner slopes of the Koko Crater. With gorgeous Xeriscape concepts covering dry, cactus to mediterranean plants that can survive this hot and dry area to explore. Check out the details to visiting the garden here for more information.
Road trip to Lanikai area and Kailua town and beach
The two popular beach areas on the windward side of Oahu are side by side at Lanikai and Kailua which is where trendy and hip meets old school and local. There's a lot to do around Kailua along with outdoor fun in the area. Check out the top things to do in the Kailua area here for more fun things to do in the area from shopping, eating to outdoor fun in the area.
Where to eat around Hawaii Kai
There's a lot of fantastic eateries from waterfront to local style food to eat in the area. Check out these highly rated Hawaii Kai foodie venues below for your eating discoveries.
Kona Brewing Company – American style burritos, fish tacos, pizza and other bistro type food with craft beer
Moena Cafe – breakfast brunch, eggs benedict, omelets, short ribs and local style food
California Pizza Kitchen – Artisanal pizza, chicken, spaghetti and other popular favorite California style food
Roy's Hawaii Kai – Fine dining al fresco with Pan Asian inspired and modern farm to table dishes
Hawaiian Island Cafe – local style food, plate lunches and breakfast specials at affordable prices.
Ono Shrimp and Steak shop – hole in the wall cafe with local style coconut shrimp, steak, fish tacos and affordable local style food.
Where to Stay around Hawaii Kai
If you are looking to stay around Hawaii Kai, most of the accommodations tend to be smaller inns and mom and pop boutique hotels or more close by in Waikiki. Check out these housing options below.
Kahala Hotel and Resort – a close drive to Hawaii Kai with this luxury resort with world class services and luxury accommodations.
Manoa Valley Bnb – a victorian charmer in Manoa Valley, local style, comfortable rooms, quiet and easy access to Hawaii Kai area.
Queen Kapiolani Hotel – located across from the park with Diamond Head and ocean views, walkable to many parts of Waikiki and upgraded rooms.
Check out all these top review sites through TripAdvisor here with current prices, availability and booking calendar.
Other cool things to do around Hawaii Kai and East Oahu
Explore Kailua town and beach area
Visit Lanikai beach in East Oahu
Exploring the North Shore of Oahu
Free or cheap things to do in Oahu
A Diamond Head Hike in Honolulu
Family friendly beaches in Oahu
Explore and Hike Waimea Valley
Enjoyed the post – Please pin it!
Conclusion on Visiting Hawaii Kai and top things to do around the windward side
For Hawaii Kai fun, you'll love explore all fun activities and attractions around this low key and popular district in East Oahu. Hope this gives you some great ideas of things to do and see around the town and outlying areas to visit.
Thanks for visiting This Hawaii life and checking out this post on the Hawaii Kai. If you enjoyed reading this post, please do share it with any of the social media buttons on the slider.
Disclosure – some of the links above are to affiliate sites that are either reviews or recommendations if you book helps to keep our site running. We appreciate your supporting our website meanwhile