Free or Cheap Things to Do on the Big Island: Budget-Friendly Adventures Await
There's no denying that Hawaii's Big Island is a paradise on earth, with its stunning beaches, lush forests, and towering volcanoes. But you don't have to spend a fortune to enjoy all that this island has to offer. In fact, there are plenty of free or cheap things to do on the Big Island that will allow you to experience its beauty without breaking the bank.
Whether you're looking for outdoor adventures, cultural experiences, or simply a relaxing day at the beach, the Big Island has something for everyone on a budget. So, grab your sunscreen and let's explore the best free and cheap activities that the Big Island has to offer!
You'll have a fantastic visit to the Big Island and know that you can have an affordable and budget friendly vacation to Hawaii island.
Best time to visit the Big Island for better weather and deals
The Big Island of Hawaii is a year round destination and the peak seasons tend to happen around the winter break from December to February and then summer from June to September.
The shoulder season is probably when you will find less crowds and better prices for hotels, events, tours and dining out. Shoulder season in Hawaii in spring typically is from March to May and then October to November excluding major holidays that happen during those time frames.
The weather is also pleasant in Hawaii depending on the location but averages around the island in springtime from the low 80s to mid 80s. During the fall season, average temperatures range in the mid 80s.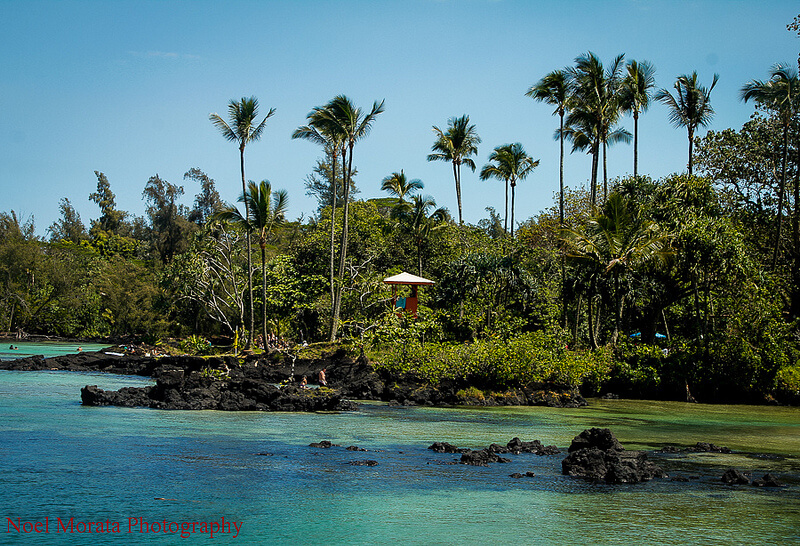 Fun things to do in Kona, Hawaii for free
If you are basing your stay around the Kona area, there are plenty of free things to do on the west side of the island. Check out all these cool and fun things to do for free or cheap while exploring the Kona side.
Beach day on the West Side
The west side of the Big Island have many of the best beaches in all of the islands with a variety of different types of beaches that are perfect for family fun, surfing and snorkeling fun and other water activities. You have your pick of popular beaches like Hapuna Beach, Kua Bay A Bay and the isolated but beautiful Makalawena Beach or find more secluded and lonely stretches of sand that only a few visitors get to check out. Closer to Kona town, you can visit Magic Sands beach and Kahalu'u beach area for Kona beach fun.
There are so many gorgeous beaches in Hawaii and some of the beautiful gems are located around the Big Island.
If you are basing yourself in Kohala and the Waikoloa area, there's so many gorgeous beaches to discover from Hapuna, Kaunaoa, Spencer beach park, Beach 67 and 69, Puako, Anaehoʻomalu Beach which are the popular beaches to hang out in the Kohala area.
Go on a cultural tour of historic monuments
The west side hosts many important historic sites that are quite impressive and worth visiting. Starting with the massive Heaiu (temple) in Kawaihai called Pu'ukohola, the national historic park, the Place of Refuge or Pu'uhonua O Ohaunau, Kaloko Honokohau National historical park, the petroglyphs at Puako and even an ancient healing and fishing village at Lapakahi Historical state park. If you are into Hawaiian history and culture, take some time to explore these wonderful places on the west side of the island.
Walking through the old town of Kailua Kona, there's so many cool things to do around Kona that are free and cheap to do in west side of the island. It's an easy walk along the waterfront district and passing through the historic landmarks and into the shopping venues around town.
Here's a video tour of Captain Cook and the Place of Refuge at Pu'uhonua O Ohnaunau
Fresh Portuguese bread, demo and sale at Greenwell farms
Located in the South Kona area at Greenwell Farms, you can check out the weekly oven bake sale of fresh Portuguese breads. Volunteers and members of the Kona Historical Society sponsor these Thursday morning bake demonstrations in an authentic stone oven. There is a free demo and oven display of how the breads are made that you can see and then try some really delicious breads made locally and benefits the community activities. The breads are typically sold that afternoon in a small pop up by the roadside for locals/tourists to try and purchase.
Snorkeling fun at Kahalu'u
Probably one of the best snorkeling beaches just a few miles outside of Kona town is Kahalu'u beach park. A family friendly beach with a lifeguard station and public facilities. Kahalu'u is well loved by locals that also volunteer to share coral and tropical safety, awareness and ocean care for the environment. With a protected cove area, it doesn't take to far outside of the beach to see some amazing sea life, corals and tropical fish at Kahalu'u which makes it a very popular place to go to snorkel on the west side of the island.
Enjoy some local brews on the west side
The Kona area is home to two popular brew pubs with fantastic venues for dining and tasting some delicious beers and also ciders. Kona Brewing Company is a fantastic pub with indoor and outdoor dining and tasting at its best. The pub offers a nice tasting sampler along with pupus and a popular happy hour time frame for cheap fun.
Ola Brew Company also has fantastic locally inspired brews along with some really delicious tropical infused ciders that are very popular with the local crowds.
Check out this video highlight visiting Kona Brew
Or check out this video tour of Ola Brewery
Hike down Polulu and a big swing
A fun Big Island activity is to hike down Polulu Valley or even visit the next valley after at Honokane Nui valley. Take a hike down gorgeous Polulu Valley on the far northwest end of Highway 270 along the Kohala coast of the Big Island.
With its stunning panoramic views of the cliffs and canyons from Polulu, a well-marked down-hill gravel/dirt trail is moderate and about 20 minutes to get to the bottom of the canyon. You can explore the main river, lots of cool forest trails and a big swing along with the expansive black sand beach at Polulu, almost untouched since the early 15th century when early settlers came and settled in the area.
If you are up for the challenge you can even visit the valley beyond at Honokane Nui at the viewpoint or down to the valley floor below.
A look at Polulu and the valley beyond in this video experience
Hike down to the Captain Cook Monument
A Big Island activity that's a real challenge is to hike down to the Captain Cook monument in South Kona area. If you are looking for a real adventure hike, do the trail going down to the Captain Cook monument and enjoy the gorgeous snorkeling in the bay which is a snorkeling destination for many of the tour outfitters on the island.
The real hike happens when you go back on the uphill climb and it is a challenge on the trails heading back up (Make sure to have plenty of water especially on the trek back up)
Check out the First Friday art fun in Holualoa
First Friday in this sleepy art village above Kona really comes alive with food trucks, fantastic entertainment and all the art galleries and shops open to host First Fridays.
It's a great time to enjoy the cooler climates and support local artists from the community that create some really amazing work of art from ceramics, furniture, fine art, prints and photography – so many fantastic art mediums are on display to check out on First Fridays at Hulualoa and their website for updated details.
Enjoy an amazing sunset on the beach
Pick any beach or a quiet cove along the west side of the island and take a moment to enjoy the end of day. Sunsets are truly magical on the Big Island's west side enjoying the golden light time and into sunset.
The simple things in life like sunsets on the beach are really treasured moments here in Hawaii. It doesn't matter if its on a sandy beach or lava rock coastline, just being on the waters edge and being present to witness sunset is a magical time on the west side of the island.
Popular sunset views include Kahalu'u, Magic Sand Beach, Kona waterfront and harbor and all the fantastic resorts on the Kohala coastline area. Sunsets in Hawaii are magical and spending some time on the west side of the island is a must if you want to enjoy some amazing sunsets here.
Lot's of places to see a fantastic sunset and here is one of our favorite spots below
What to do for free or cheap on the Hamakua coast and Waimea
From Waimea through the Hamakua coastline you can enjoy the outdoors, activities or visiting towns and farmers market free or cheap if you want to try some delicious local foods, snacks or pick up a souvenir to take home.
Check out these fun and free things to do along the Hamakua and Waimea areas of the island.
Go to a paniolo rodeo on the island
One of the fun Big Island activities is to visit a rodeo which are big events. All around the Big Island of Hawaii are rodeos with equestrian oriented activities for all of the family to enjoy on the island.
The big rodeos happen mostly in Waimea and at Panaewa in the Hilo area with a full roster or rodeo-oriented displays and all day shows that are really unique for island fun. Check out their website for Waimea here and Panaewa here for more details.
Rodeo's are fun and a cheap experience here on the island
Visit Waimea town
So, what is there to actually see and do in Waimea? The original ranch area community of Parker Ranch fame is filled with western appeal and you can visit the shops and eating venues at Parker ranch.
You can visit the Paniolo Heritage Center at Historic Pukalani Stables, or visit the Parker ranch historical ranch and museum, do some fun thrift/antique shopping in town, or check out many of the local farmers markets that happen all week in town.
The farmers markets in Waimea are really fantastic
Antique shopping in Honokaa in the Hamakua area
There are so many cool and fun antique, consignment and thrift stores in Honokaa to explore if you are looking for interesting memorabilia and unique finds from Hawaii.
The entire main street of Honokaa has quite a few places that you can easily walk through to find some cheap and amazing finds so get your walking feet on and explore the entire town to look for those treasures.
Visit the Lookout point at Waipio Valley
The stunning vistas at the lookout point to Waipio Valley truly inspires to the valley floor, HI'ilawe waterfalls and the surrounding hills in this ancient gulch where taro farms, wild horses and a large black sand beach fill in the landscape. This is a real Hawaiian adventure if you're willing to hike down to the valley and explore the beach areas that are draw even though swimming is not advised due to strong waves breaking on the shoreline. The areas leading to the waterfall and back are all private lands so please do not trespass into those back areas.
There are a variety of tour operators that also lead groups down with horse drawn carriage, horseback and simple shuttle rides to the bottom and back out for those that still want to see the black sand beach below.
** Currently the road to Waipio valley is closed but you can still get spectacular views from above at their observation lookout point
Here's an aerial view of Waipio from above
The beautiful Akaka Falls
Akaka falls is one of the most gorgeous waterfalls is set in a lovely botanical garden and is an easy loop trail through lush surroundings with beautiful vistas. There are two waterfalls to check out on the tour at Akaka Falls State Park which you walk past bamboo groves, thick dense forests and past a variety of gorgeous tropical plants and flowers.
Entrance is free for Hawaii residents but $5 parking or $1 per person entry to the park and waterfall hiking area.
Check out beautiful Akaka falls below
Visit Honomu town
Along the way to Akaka Falls is the sleepy town of Honomu – a one strip downtown with western Hawaiian storefronts of art galleries, takeout food shops and other local boutique stores to explore.
If you love looking around, digging for small treasures or just need a snack to try some local favorites, check out the town on the way to the falls.
What to do in South side for free or cheap on the Big Island
The rugged south side of the Big Island is expansive and typically a drive through area, but in between are some hidden gems and fantastic places to visit for free below.
Visit a rare green sand beach in South Point
One of the more unique and unusual beaches to explore on the Big Island is the Green Sand beach or Papakolea. Located near the southern most point of the island, the trip is easy from either Hilo or Kona area with a hike to the beach – a secluded green beach surrounding by cliffs in a small isolated bay. From the main parking area, you can either hike or take a casual taxi roundtrip on a back of a pick-up truck for a suggested donation.
Here's a video hike to the Green sand beach
Jump or check out the cliffs at the tip at South Point
While in the South Point area, check out the fantastic cliffs and if your game for an adventure. Jumping off the cliffs is a popular local activity with small ladders that you climb back up to the top.
Or you can just check out the fantastic views and do some fun selfies in the area.
Try some delicious Malasadas in Punalu'u Bakery
One of the favorite local treats is at Punalu'u bakery in town which serves up the best Malasadas or Portuguese style fried donuts on the island. With so many choices of malasadas to choose and sample, you'll get a big sugar rush from this delicious foodie experience.
Visit the turtles and black sand beach at Punalu'u
The famous black sand beach at Punalu'u is fun to drive to in the south area of the Big Island and check out the green turtles that love to hang out at the beach.
This expansive black sand beach is always a fun stop along the way to Volcano for a picnic or just a quick visit to the area to check out the views.
Here's a video tour of Punalu'u black sand beach
What things to do in Hilo or the East Side of Hawaii for free or cheap
The east side of Hawaii or the HIlo side is lush, tropical and filled with waterfalls, great hikes, botanical gardens and a lot of free things to do while exploring the area. Check out all these fun and free things to do here on the east side of the Big Island.
Check out the new black sand beach at Pohoiki
After all the recent lava destruction of homes and land in East Hawaii just in 2018, a newly created black sand beach was left in the aftermath at Pohoiki.
A new gravel road has been constructed to allow the public to enjoy the beach for the first time along with some hot ponds in the area to enjoy. The expansive black sand beach is beautiful but also dangerous at times, so caution should be taken to see if the surf is too rough for entry.
Beach area and hot ponds at Pohoiki beach area in East Hawaii
Take a scenic drive along the Red Road in Puna
The coastal drive on the East side of Puna from Kalapana to Opihikao and through lush forests opening up to raw lava rocks and fields is striking. The raw beauty of the area passing through tree tunnels, secret beaches and beautiful coastline views is truly what unspoiled Hawaii is all about even to a new black sand beach created by lava pouring to the region just in 2018.
It's a fun and spectacular loop drive to experience on the island. At the end of the road is Pohoiki beach – a gorgeous and long black sand and gravel beach with some hot ponds that you can also explore in the area.
Visit the Hilo Farmers Market
One of the best farmer's markets is located in downtown Hilo at the Hilo Farmers market and held daily with the major market days on Wednesday and Saturday. You can check out all the seasonal produce of tropical fruits and locally grown veggies or try some local snacks or prepared food for take-out. There's also a lot of small food vendors and restaurants in the area if you are hungry and want to eat some local foods from the area.
Another popular market on Sunday is the Maku'u Market close to Pahoa and off Hwy 130. This lively market has fantastic food stalls, a crafts and souvenir section, fresh fruits and perishable products, finished goods and snacks and a lively swap meet area. Entry parking to the Maku'u market is $2 per carload.
Here's a quick look at the new farmers market in Hilo
Walk around old Hilo town
The waterfront of old Hilo town and back streets are fun to explore in this old Hawaiian town that doesn't seem to change. With fun local art galleries and boutique stores to check out, you can easily do a loop around the town and get a real flavor of the early western vibe and charm of the downtown area.
Enjoy some sweet Hilo beaches
The beaches are smaller and more family oriented on the Hilo side of the island with coves, small lagoons and pools that are family friendly and fun to enjoy with a beach day in Hilo.
The string of beaches worth spending time includes Reeds Bay, Coconut Island, Carl Smith Beach, Richardson's and Onekahakaha beach park. For a fun and relaxed day on the beach, check out the cool little beaches around Hilo area.
Check out Rainbow falls and Boiling Pots
An easy drive from downtown Hilo takes you to one of the oldest neighborhoods and hospital area at Rainbow falls. You'll actually see rainbows around the bottom from the water spray to the pool below. Make sure you climb the stairs to the top for lovely views and continue into the forest for a peek at the largest Banyan tree on the island.
Boiling Pots is just a short drive down through a quiet neighborhood and features the churning boiling pots and Pe'epe'e Falls in the distance.
If you are in a hiking mood then hike to Narnia where you'll see five waterfalls all flowing into the canyon area below which is pretty spectacular.
Explore a lava tube just above Hilo area
A fun and easy Big Island activity is to visit the Kaumana caves. Located just above Hilo Town on the way to the Saddle Road is the lava tube at Kaumana Caves Stave Park with easy parking just on top. There are no guides and lights so be prepared, wear good shoes and bring flashlights if you want to explore this free lava tube DIY tour you can do on your own.
Sunday Maku'u Farmers market
On Sundays, the largest farmers market on the East side happens just outside of Pahoa area at the Maku'u farmer's market. You'll find some of the best locally grown produce of tropical fruits and veggies, local snack favorites and a variety of delicious food vendors selling some favorite prepared dishes from the area.
There's also souvenir stands, massage tables and free entertainment in the dining areas to keep you entertained. After go check out the other popular attractions and venues around the Puna District in East Hawaii.
Check out the Maku'u market highlights below
Enjoy a night market at Uncle Roberts in Kalapana
The popular night market at Uncle Roberts in Kalapana is free (parking is an additional $2) and a fun time at this local style market Saturday markets. You can go visit the bar area and Wednesday live music nights.
Filled with local vendors that sell crafts, herbal remedies and delicious foods, it's fun to explore all the unique booths and food offerings along with the lively music in the bar/dining area. A popular local activity, visitors really get a flavor of how a community celebrates Saturday markets in Kalapana.
Other free venues
So many free events happening year-round throughout the Big Island with things happening weekly all around the island. You can check out the calendar of events here for more details on what's currently happening on the island now.
Other ways to saving and staying on budget for your Big island vacation
Aside from the free and cheap activities that you can enjoy on the Big Island, there are also some tips and tricks that can help you save even more money during your visit. to the island.
For starters, consider staying in budget-friendly accommodations such as campsites, hostels, or vacation rentals that offer kitchen facilities. This way, you can cook your own meals and save on dining out expenses.
Another way to save money is by taking advantage of happy hour specials at bars and restaurants, which often offer discounted drinks and appetizers during certain times of the day. You can also save on transportation costs by renting a bike or using the island's public transportation system instead of renting a car.
When it comes to activities, consider joining free walking tours, attending local festivals and events, or visiting cultural sites such as museums and art galleries that offer free admission. You can also explore the island's natural wonders by hiking, beachcombing, or stargazing without spending a dime.
By following these tips and taking advantage of the free and cheap things to do on the Big Island, you can enjoy a memorable vacation without breaking the bank.
Check out these other posts on Visiting the Big Island of Hawaii
Why Visit Volcanoes National Park now
Must visit Big Island Waterfalls
A family friendly visit to the Big Island
Kona snorkel and cruise experience
Final Thoughts
The Big Island offers a variety of free or cheap activities that can make your trip both fun and budget-friendly. From exploring the island's natural wonders and beaches to visiting historical sites and cultural attractions, there are plenty of options to choose from. Whether you're traveling alone, with friends, or with family, you can easily find activities that fit your interests and budget.
So why spend a lot of money when you can have just as much fun for free or cheap? With a little planning and research, you can create a memorable and enjoyable experience on the Big Island without breaking the bank. So pack your bags, grab your camera, and get ready to embark on an affordable adventure in one of the most beautiful places on earth!
Pin this on your Hawaii board
Anything we missed of things to do on the Big Island that are free?
In conclusion, the Big Island of Hawaii is a stunning destination that offers a wealth of free and cheap activities for travelers on a budget. From hiking to beachcombing, stargazing to visiting historic sites, there are plenty of ways to explore the island's natural beauty and cultural heritage without spending a fortune. By following our tips and taking advantage of the many free and affordable things to do on the Big Island, you can have an unforgettable vacation while still staying within your budget. So, pack your bags, grab your sunscreen, and get ready for a fun-filled adventure on the Big Island!
Conclusion on Free or cheap things to do on the Big
In conclusion, the Big Island offers a wide range of free or affordable activities that allow visitors to explore and enjoy the island without breaking the bank. From stunning beaches and hiking trails to scenic drives and cultural experiences, there are plenty of budget-friendly adventures awaiting you. Take advantage of the island's natural beauty by snorkeling, swimming, or simply relaxing on the pristine beaches. Embark on hikes to discover breathtaking waterfalls, lush rainforests, and volcanic landscapes.
Explore local markets, attend cultural festivals, and visit historical sites to immerse yourself in the rich heritage of the island. With careful planning and a sense of adventure, you can create an unforgettable Big Island experience while staying within your budget.
Thanks for checking out this post on Free or cheap things to do on the Big Island. Hope the post was informative and a must read article – if so please do share it with any of the social media buttons around the page.
This post on Free or cheap things to do on the Big Island may have affiliate related links to brand offers which helps our site keep operating – we appreciate any purchases through this link and your supporting This Hawaii Life.