Thriving Farmers Markets in Hawaii Serve Fresh Delights and Support Local Agriculture
Farmers markets in Hawaii are very popular and fun venues to explore on the islands with different stalls offering fresh produce and Hawaiian fruit, snacks and specialty foods including take away foods for you to enjoy on your own or eat on site. Check out what to try at a local farmers market in Hawaii from the obvious to more unusual foods and things you'll see for sale.
What to try at a local farmers market in Hawaii
Abundance of tropical fruits and vegetables.
One of the first things you will definitely see a local farmers market in Hawaii are all the amazing tropical fruits and vegetables for sale fresh and harvested that day. When fruits are in season, you'll find a big range of colorful fruits and vegetables that you maybe haven't seen from the basic apple bananas, pineapples, mangoes, coconuts and even exotic lilikoi fruit. Check out some more of what's in season now for inspiration and maybe you'll get a chance to sample some of these exotic seasonal produce before you buy.
Tropical fruits grown in Hawaii
Fruit and vegetable vendors tend to congregate in certain spots around the market and you'll see them easily with all the colorful fruits and veggies for sale and placed in beautiful arrangements.
So, what's to try beyond the typical bananas, pineapples, papayas, fresh mangoes and coconuts, check these other exotic fruits below. Be on the lookout for in season lychee, Lilikoi, Mountain apple, guavas, white pineapples, chico or sapote, breadfruit and yellow mangosteen just to name a few of the more exotic fruits you can buy at the farmers market.
Here's what's in season in spring to summer season in Hawaii
Have you tried any of these before? Make sure you can ask for a sample to see if you really like the fruit. More unusual fruits tend to cost a little more so you can just buy in small amounts to see if you really like it at first
Check out all the beautiful veggies grown in Hawaii
You'll see that veggies are also well represented along with some unusual varieties of veggies grown to cater to more local or exotic ingredients to dishes that are made on the islands. Check out all these displays and some of the more unusual greens below, avocados and breadfruit in season is the best to try on the islands.
What else can you find at a local farmers market here
Vendors at your local markets also make snacks, specialty food products and even take out food that they for quick and cheap meals. You'll find lots of good choices for local foods to try when you visit these markets.
Maybe some breads or desserts might pique your interest?
There's always someone selling some delicious breads, banana breads and pastries and various Hawaiian desserts at a farmers market. Just out of the oven, fresh and delicious to take home or even eat on the spot for those that can't wait another second. How about some locally made banana or mango bread or some sticky Filipino mochi style desserts for sale below. Of course there's always a lot of delicious Hawaiian snack foods that locals just love.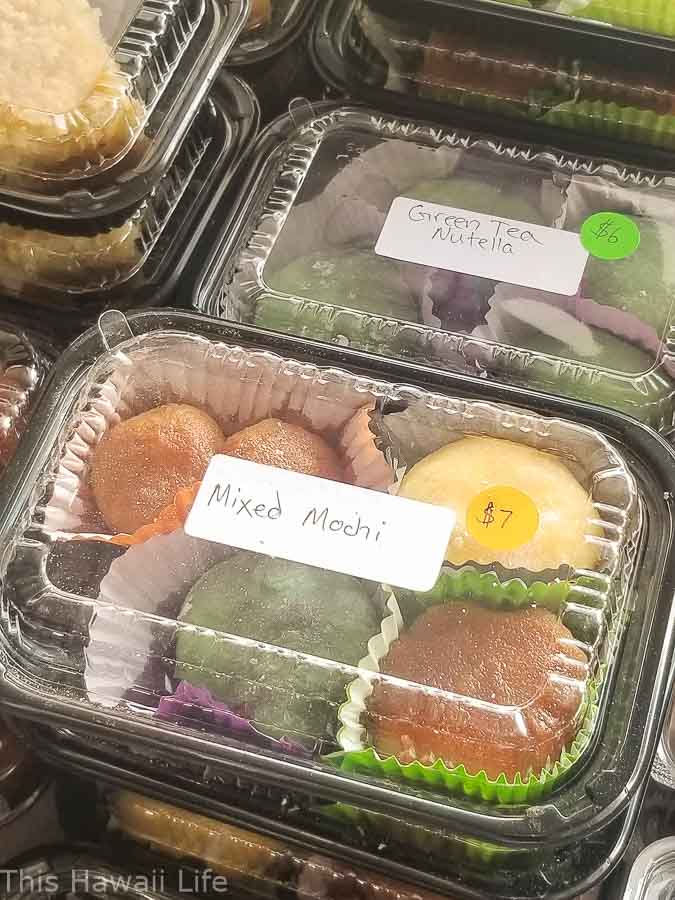 Made in Hawaii products to eat
There will be some vendors that sell prepared foods, snacks and desserts to go and you will definitely enjoy some of the specialty foods made from the the area. How about some delicious locally made mochi in a variety of flavors?
Specialty food vendors also can sell some finished goods or made in Hawaii products like honey, jams, juices, locally made chocolates from cacao and local nuts like macadamia, cashew or peanuts used into cookies, candies and or snacking items.
Some beautiful tropical flowers or tropical plants for sale
As you can see farmers markets are very colorful with all the plant and flower vendors selling beautiful arrangements of tropical flowers, fruit trees and fragrant plants. It's fun to check out all the exotic plants and maybe take home to enjoy or even give as gifts. Fortunately flowers from Hawaii can be mailed or hand carried with you to take home as a souvenir or gift with a simple inspection process from the ag department.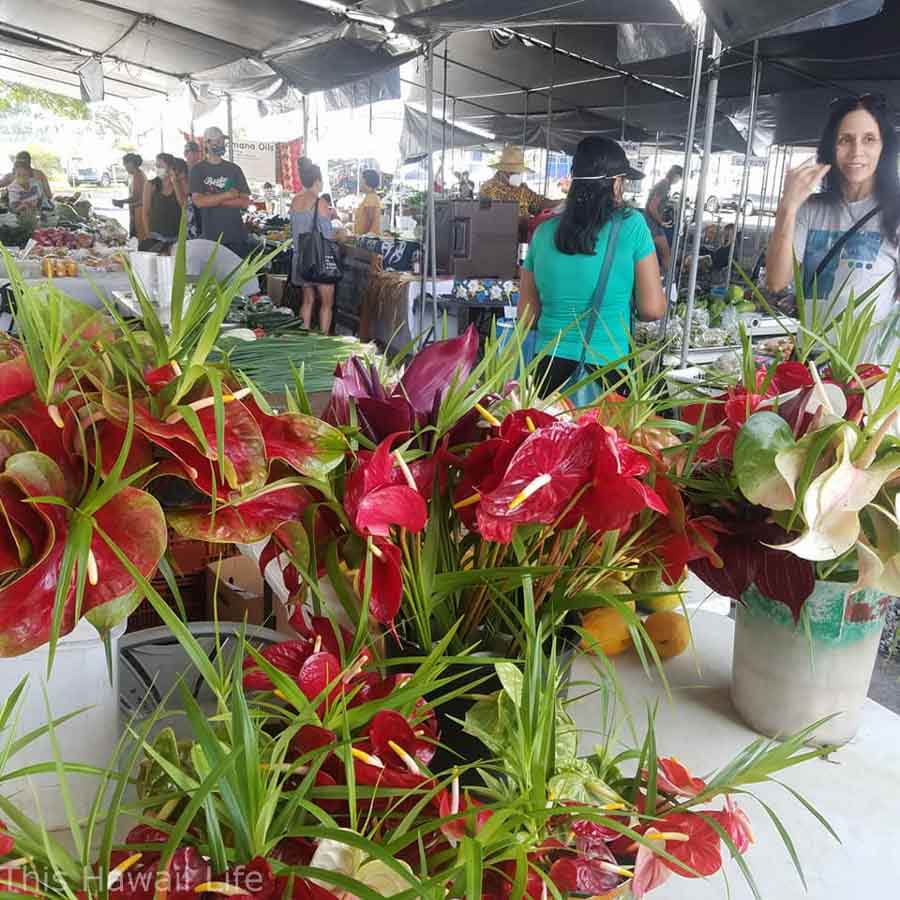 Delicious local food to go at the farmers market
Of course you'll find some food trucks or local vendors selling some delicious Hawaii style foods for take away, bento boxes or plate lunches for sale at the farmers market or if you are craving something to eat right away. Some vendors also might be selling you food made to order and hot.
There's always variety of take-home foods to go with food trucks, food stalls and other small stands selling a variety of local food favorite dishes from the area. Check out some of these specialties below on what you may find for sale at the local market.
How about trying some delicious Spam musubi and cheap!
Where to find a local market in Hawaii
Every island has farmers markets selling at different days and locations on each island. Many of these markets are open daily or just on certain days of the week, but if you visit different parts of each island, you are bound to find a local farmers market to shop at.
Check out where to find your local market based on the island below.
Local farmers markets on the Big Island
Local farmers markets in Kauai
Local farmers markets in Molokai
Share or pin this for later
Looking for more fun inspiration about Hawaii and things to do here, check out these other topics below for you to discover and enjoy.
Learn some Hawaiian slang or pidgin
Conclusion to visiting the Farmers markets in Hawaii
To sum up, a visit to the farmers markets in Hawaii is a rewarding venture with numerous advantages. These markets provide a unique chance to immerse oneself in the local culture, relish the freshest produce, and contribute to sustainable farming practices. With a diverse array of tropical fruits, organic vegetables, homemade preserves, and artisan crafts, these markets offer a wide selection of top-notch goods. Furthermore, interacting with the friendly vendors and passionate farmers fosters a sense of community and deepens one's understanding of the island's agricultural traditions. Whether you are a food enthusiast, a supporter of local enterprises, or simply seeking an authentic Hawaiian experience, exploring the farmers markets is an essential activity that guarantees delightful encounters and enduring memories.
Thanks for checking out this post on Farmers market in Hawaii. Hope the post was informative and a must read article – if so please do share it with any of the social media buttons around the page.
Note – This post may have affiliate related links to brand offers which helps our site keep operating – we appreciate any purchases through this link and your supporting This Hawaii Life.