Family-Friendly Fun on the Big Island: Discover the Best Activities for an Unforgettable Visit (update 2023)
Visiting Hawaii is a fantastic place to visit with family and share so many wonderful family activities Hawaii experiences. Exploring the Big Island with kids is filled with lots of cool and fun places to visit with the entire family. There's lots of kid's activities in Hawaii to enjoy and exploring adventures around the island with family fun and activities in mind that everyone can enjoy. I
f you are looking for the best things to do with kids in Hawaii, check out all these wonderful tips and suggestions on what to do around the island now.
Quick Plan your West side Big Island Itinerary
Are you in a rush on a last-minute trip to visit the West Side, Big Island? Well then, try our jump start guide to book the best tours and hotels below.

Pro Tip – Since you are planning to visit take this Full circle island tour and enjoy fantastic views along your BIg Island tour

Top Tours to Try in the West side
Volcanoes Naional Park tour – Day Trip Tour
Private Helicopter tour– Top Rated
Manta Ray Dive – Easy tour classes

Where to Stay in around the West Siden
Hilton Waikoloa Village – Family Friendly in Waikoloa Village
Fairmont Orchid – Kohala Coast Resort
Mauna Lani Auberg resort– Kona Resort
Big Island with kids
Why visit the Big Island on a family vacation?
The Big Island has a low key and casual vibe that really attracts families to come and visit Hawaii. Whether you look for a resort visit or more Air bnb DIY style, the Big Island offers so much diversity of experiences being outdoors and recreation, exploring unique towns and landscapes and family friendly activities you can do around the island that would interest everyone in the family.
Many island tour activities and adventure outfitters, attractions and even restaurants cater easily to family needs that make it easy to explore, relax and fit fussy tastes. You can do general attractions and activities or visit some of the off the beaten path Big Island experiences depending on your type of travel interests and style of travel.
Flying into the Big Island
With two major airports to service visitors at Kona International Airport (Ellison Onizuka Kona International Airport) and Hilo International Airport, flights from the mainland can be direct or layover various neighbor islands before they reach the BIg Island. Major air carriers from Delta, American, Hawaiian, United, Southwest and Alaska fly to Hawaii on a direct basis or with layovers from hub locations.
Transfer to your destination is also easy with rental cars, taxi/uber, shuttle service or private transfers easily arranged through your hotel or searching the web for information on transportation around the island. For rental car situations, check out our post on renting a car in Hawaii here for more information.
Family friendly activities on the Big Island of Hawaii
Things to do with kids on the Kona side of Hawaii Island
Definitely kid friendly vacations in Hawaii especially on the Kona side is filled with fun beaches, sun, activities and exploring around the west side of the island.
Have a beach day in Hawaii on the West Side
What's a more fun kids activity on Hawaii than having a fun beach day on the west side of the island. With many of the best beaches located here on the Kona side with a variety of different activities and water sports on the Big island to enjoy, with kid friendly snorkeling, swimming, boogey board, kayak or do a variety of fun water activities that are perfect for family fun, surfing and snorkeling fun and other water activities. You have your pick of popular beaches like Hapuna beach, Kua Bay and Spencer Beach or find more secluded and lonely stretches of sand that only a few visitors get to check out. Check out all these amazing beaches on the Big Island for more inspiration and planning your perfect beach day.
Fun snorkeling adventure at Kahalu'u Beach Park
Probably one of the best kid friendly snorkeling on Big Island spots is Kahalu'u beach park located just a few miles outside of Kona town. A family friendly beach with a lifeguard station and public facilities. Kahalu'u is well loved by locals that also volunteer to share coral and tropical safety, awareness and ocean care for the environment.
With a protected cove area, it doesn't take to far outside of the beach to see some amazing sea life, corals and tropical fish at Kahalu'u which makes it a very popular place to go to snorkel on the west side of the island. A visit to Kahalu'u for snorkeling is very popular and one of the top things to do in Kona area on the west side of the island.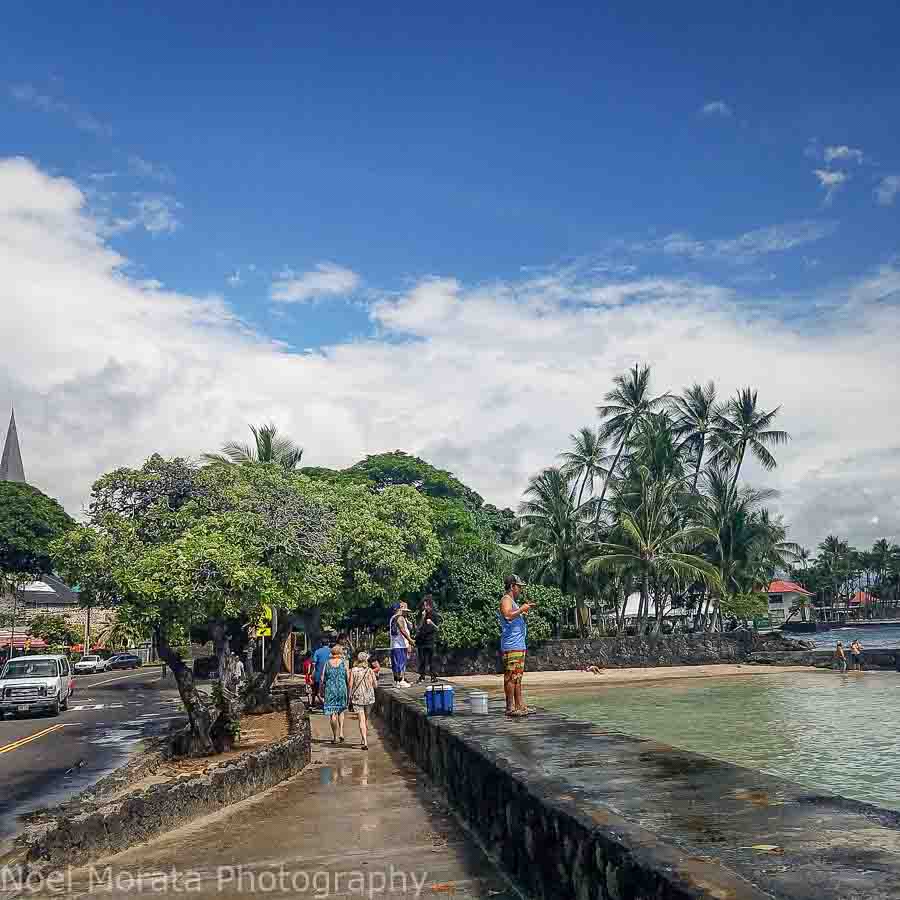 Walk through historic Kona town
The waterfront area of Kona is compact and easy to walk through and see the major attractions in town including the shops, historic monuments and harbor area. You can pass through the main drag, drop into a local farmers market and see some of the historic places to visit in town. Check out our comprehensive list of things to do in Kona town here for more information on visiting Kona town and images around town.
Taste Fresh Portuguese bread, demo and sale at Greenwell farms
Located in the South Kona area at Greenwell Farms, you can check out the weekly oven bake sale of fresh Portuguese breads. Volunteers and members of the Kona Historical Society sponsor these Thursday morning bake demonstrations in an authentic stone oven. There is a free demo and oven display of how the breads are made that you can see and then try some really delicious breads made locally and benefits the community activities.
The breads are typically sold that afternoon in a small pop up by the roadside for locals/tourists to try and purchase. Definitely on the of the fun things to do in Kona with Kids if you plan on exploring the area around South Kona and local attractions.
Go to a Luau with children
A fantastic way to really enjoy a traditional meal along with culture and education is to participate in a local Luau. Most luaus are kid friendly and an easy way for the family to try local food and entertainment that is fun, friendly and even participate in a hula or learn a craft at these events. You can check out the various Luaus on the island here to choose and plan your next Luau venue.
If you plan on going to a Luau, check out all these local favorites on the island for your next Luau event here.
Go on a submarine tour on the west side of Big Island
For something unusual and fun kid friendly activity on the Big Island would be to do a submarine tour around the scenic coastlines around Kona. The submarine tours with Atlantic Submarine caters to families with their educational program and tour leaving from Kona harbor and exploring the unique and colorful coral areas and tropical fish along Kona's beautiful coastlines. You can check out the details to the submarine tour here for more information and booking a tour with your family.
If you plan on going to a submarine, check out all This site for prices and updates on your next submarine tour here.
Go on a cultural tour of historic monuments on the west side of the Big Island
The west side hosts many important historic sites that are quite impressive and worth visiting. Starting with the massive Heaiu (temple) in Kawaihai called Pu'ukohola, the national historic park, the Place of Refuge or Pu'uhonua O Ohaunau, Kaloko Honokohau National historical park and even an ancient healing and fishing village at Lapakahi Historical state park. If you are into Hawaiian history and culture, take some time to explore these wonderful places on the west side of the island.
Fluming the ditch
Originally set up as a irrigation system to bring water to the fertile agricultural parts of the island, the ditch systems are still used but also fun to flume the ditch. Basically this outfitter sets you off on a guided tour on rubber rafts through the main ditch on a fun and entertaining experience in the Kohala region, an easy drive from Kona town. You can check out more details Fluming the Ditch here for information and booking your next adventure tour with your children.
If you're planning on doing the fluming the ditch experience, check out all the details ad information for prices and updates on your next fluming the ditch tour here.
Go on a road trip through the scenic and historic western kohala district and coastline
One of the easiest things to do with kids is to take a road trip through different parts of the island. One of the most scenic and easy to do trips on your own time is to drive through the coastal roads on the west side and visiting the old western towns of Hawi and Kapa au all the way to the end at Polulu Valley overlook. You can even hike down the canyon to the stunning black sand beaches at Polulu or just take a picture from the overlook if you don't have that much time to explore the valley floor and beaches. For something unique, you can visit the birthplace of Kamehameha (first king of Hawaii) and check out the heiau (temple) and grounds where the king lived.
Go to a paniolo rodeo on the island
Rodeos are big events all around the Big Island of Hawaii with equestrian oriented activities for all of the family to enjoy on the island. The big rodeos happen mostly in Waimea and at Panaewa in the Hilo area with a full roster or rodeo-oriented displays and all day shows that are really unique for island fun.
Check out their website for Waimea here and Panaewa here for more details.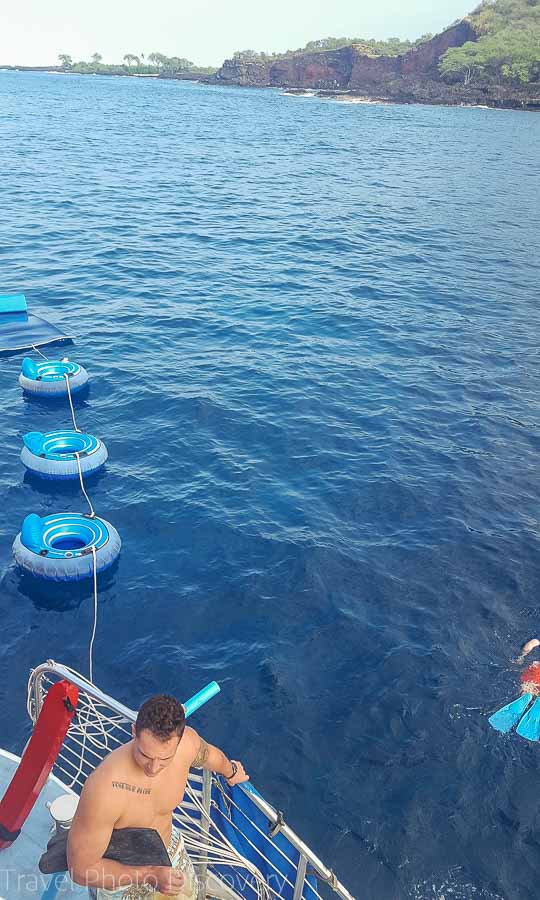 Go on a snorkel sail experience
One of the best things to do with children with an easy adventure built in is a snorkel sail experience from Kona. These outfitters provide some fantastic tours that are kid friendly an inclusive experience with whale tour, snorkeling instruction and equipment and a nice buffet lunch after all the water fun. You can pick and choose from any of these local outfitters that can fit your time and budget to book your next adventure experience with your kids in mind.
If you're planning on doing a snorkel and sail experience, check out all the details ad information for prices and updates on your next snorkel cruise tour here.
Family friendly fun on Hawaii's sunny south side
Visit a rare green sand beach in South Point
One of the most unique parts of the island to visit is the green sand beach in the South Point area. The hike is about an hour and a half in one direction and if this is too much to do with children, there are also casual cabs in local pick up trucks that will take you on a round trip to the green sand beach and pick back up on scheduled return.
One of the more unusual and cool Big Island activities for families to enjoy, you can spend a few hours or just visit and take pictures if your timeframe is limited. The Green sand beach called Papakolea is definitely worth an experience to see this beautiful beach and coastline.
Even though this experience is for mostly older kids or adults (and only if the conditions are right), it's easy enough to just do the drive from Green sand beach area to the southern tip of the island at Ka Lae. South Point is fun to explore the cliff areas, check out the ancient heiau (temples) and enjoy the views and crazy cliff jumpers into the ocean from a 20 foot drop to the ocean.
Although this is not recommended for most children, it's easy to walking along the scenic cliff areas of the South Point area and enjoy the stunning views along the coastline.
Delicious Malasadas in Punalu'u
One of the most popular bakeries to visit on the island is the wonderful Punalu'u bake Shop in Naalehu. A local favorite, you have to try all the wonderful malasadas here ( Portuguese style donuts) in original sugar or filled with tropical flavors for a delicious Hawaiian dessert you should try. They bake local breads, desserts and other café style foods for a nice eating break to this area of the island.
Try some of the free samples before you decide on what you want to order for take away or eat onsite. This is definitely one of the best places in Hawaii for families to enjoy a tasty sweet local treat on the island.
Visit the turtles and black sand beach at Punalu'u
One the scenic coastline and black sand beach at Punalu'u, you'll see the famous sea turtles that hang out on the beach. This wonderful sandy beach is picture perfect even on cloudy days and definitely walk the entire length to the pretty lagoon at the end of the beach.
You'll find the mostly green turtles all along the black sand beach warming along the entire stretch of beach. Please do stay at safe distance from the turtles and just take pictures of them while they are relaxing on this wonderful black sand beach in Hawaii.
Big Island family friendly activities on the Hilo or east side
Lots of family friendly beaches in the Hilo area
Many of the best beaches for kids on the Big Island are located on the east side of the island. The smaller beaches and inlets around Hilo are perfect for family with protected lagoons, beach areas and shallow swimming holes. You'll find plenty of easy and cool kid friendly beach areas to explore and enjoy in the hilo area.
You can visit family friendly beaches around Hilo including beautiful and safe places like Coconut Island, Reeds Bay, Carlsmith Beach park and Richardson Ocean Beach. These are along the string of beaches in Hilo's east side and popular family friendly beaches in the area.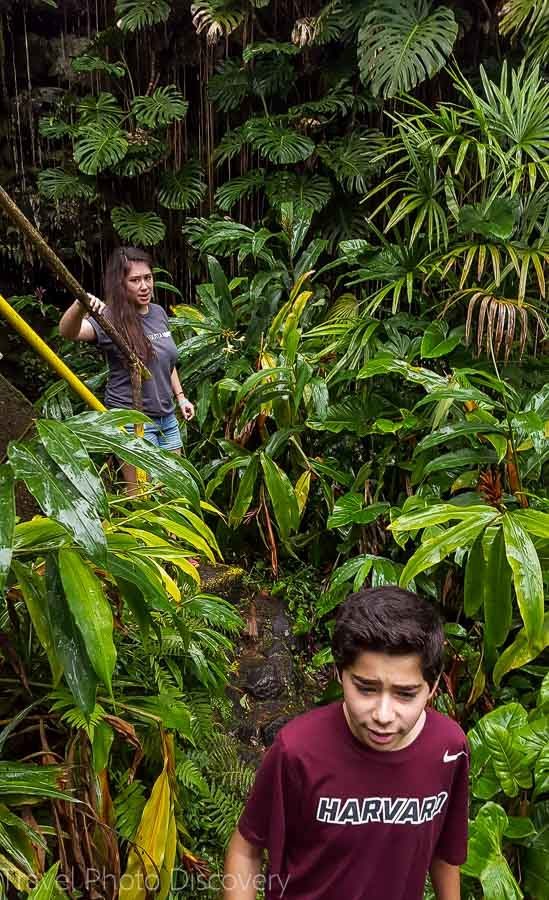 Go into a lava tube just above Hilo area
A unique and fun visit to an actual lava tube just above Hilo at Kaumana Caves which is descends into a dark lava tube created by Moana Loa. From the parking lot, you go down a series of stairs to the opening of the Lava Tube which has no illumination so you need to bring flashlights.
There are no trails once you enter, so you will be crawling over lava rocks which is a challenge and fun at the same time. The lava tube is long and very dark so it is up to you do decide how far you want to go into the tube or just take a shorter walk around after checking out the waterfalls and downtown Hilo in a DIY city tour. One of the most unique and free things to do on the Big Island with kids is definitely worth a stop at Kaumana caves and do some exploring in the dark.
Visit the famous lava activities at the Hawaii Volcanoes National Park
The national park at Hawaii Volcanoes national park is reopened with trails and observation areas open for the public to explore. First drop by the visitors center to see the movie or listen to a ranger give a nice history and cultural observations of the park and other Hawaiian legends and "Talk Story" with guests. You'll love visiting all the attractions at Volcanoes National Park and even staying up at night in Volcano Village to see the live lava, steam and gas for a red fiery show to enjoy from the many observation areas around the park.
Check out the waterfalls around Hilo town
There's a series of waterfalls coming down the main river called Wailuki starting with Rainbow falls closer to downtown and further uphill to the boiling pots with Pe'epe'e falls and even the smaller waterfalls in front of the old bridges crossing the river downtown. You can easily do all three waterfalls in an easy morning exploration and short road trip. Both Rainbow Falls and Boiling pots have easy walks to the observation areas and you can walk up to the top of Rainbow falls to check out the top and areas below. There's also a cool forest further up with some immense banyan trees that look very magical and story like.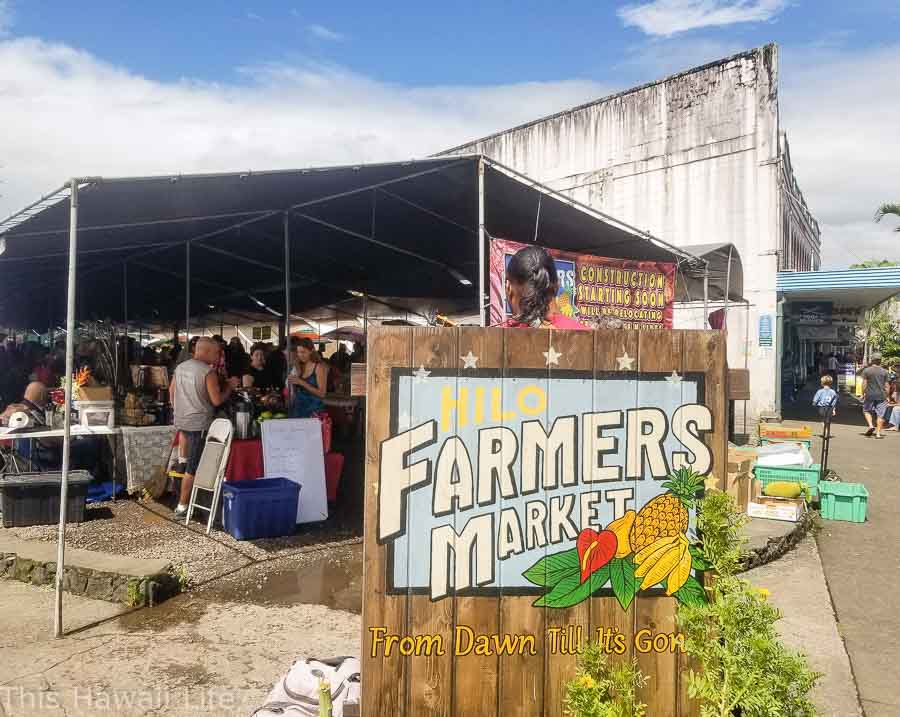 Hilo Farmers Market
Visiting a farmers market in Hawaii is a must and the Hilo Farmers market is the biggest on the island to experience. The main downtown market at Hilo is daily but the big markets are on Wednesday and Saturday and spreads through various market areas in town. The rest of the week has a daily market on the areas around Mamo Streets to shop and explore the market.
One section is tropical fruits, vegetables and prepared foods, Hawaiian snacks and delicious Hawaiian desserts to try in the produce area. Close by, there is section is mostly locally made, souvenirs and cheap products right next to the produce market.
There's also a food eating court area with food trucks and other standalone vendors selling local comfort food like spam musubi for take out service.
Sunday Maku'u Farmers market
On Sundays, the largest farmers market on the East side happens just outside of Pahoa area at the Maku'u farmers market. It's kid friendly with local foods to try, local produce, entertainment and cool thrift, collectibles and even souvenirs that you can buy from locally made products or cheap imported merchandise. The Sunday Maku'u market is lively towards noon time with all the food venues in full swing and free entertainment in the seating area.
If you have more free time to explore the east side of the island and the Puna district, check out all the fun things you can do here with kids on the link.
Check out the new black sand beach at Pohoiki
After all the recent lava destruction of homes and land in East Hawaii just in 2018, a newly created black sand beach called Pohoiki Black sand beach was left in the aftermath. A new gravel road has been constructed to allow the public to enjoy the beach for the first time along with some hot ponds in the area to enjoy. The expansive black sand beach is beautiful but also dangerous at times, so caution should be taken to see if the surf is too rough for entry.
If you are into heated ponds, then Pohoiki has over 5 hot ponds to explore in the back side of the beach areas. (ask the lifeguards on where to spot most of these fantastic hot ponds)
Enjoy a night market at Uncle Roberts in Kalapana
The popular night market at Uncle Roberts in Kalapana is free (parking is an additional $2) and a fun time at this local style market. Filled with local vendors that sell crafts, herbal remedies and delicious foods, it's fun to explore all the unique booths and food offerings along with the lively music in the bar/dining area. A popular local activity, visitors really get a flavor of how a community celebrates hump day Wednesdays in Kalapana.
Saturday's is also popular with a lively farmers markets that last most of the morning with local vendors and artisans and crafts in the parking lot area of Uncle Roberts.
Free events around the island
There are so many wonderful events around the Big Island happening every week. Many of these events around the island are free or inexpensive to bring your children. You can check out the calendar of events here for more details on what's currently happening on the island now.
With so many fantastic choices and activities to do around the Big Island with kids, you'll keep busy exploring different parts of the island. You definitely can be as active as you want or have a more laid back experience while visiting the island. Hopefully these ideas and tips will help you to plan all the fun things to do with kids on the Big Island in your own interest and time frames.
Places to stay around the Big Island
Hotel accommodations, small inns and condos are available around the island and you can easily base yourself around the west side in Kailua Kona, The Waikoloa area or on the east side around Hilo or Volcano areas. Check out these top rated and reviewed places below for planning your next trip to the island.
Destinations on the west side of Big Island
Top reviews and ratings for locations in the Kailua Kona area here for updates, availability and current prices.
Top reviews and ratings for locations in the Waikoloa area here for updates, availability and current prices.
Destination on the east side of Big Island
Top reviews and ratings for locations in the HIlo area here for updates, availability and current prices.
Top reviews and ratings for locations in the Volcano area here for updates, availability and current prices.
Weather and best time to visit the Big Island
The Big Island of Hawaii boasts a diverse range of climates and landscapes, offering a unique experience for visitors. Understanding the weather patterns and identifying the best time to visit can help you make the most of your trip to this captivating island.
The Big Island has two primary climate zones: the wet side (eastern side) and the dry side (western side). The wet side, including areas like Hilo and the Hamakua Coast, receives more rainfall, resulting in lush rainforests, majestic waterfalls, and vibrant green landscapes. The dry side, encompassing regions like Kona and Kohala, enjoys more sunshine and less rainfall, featuring stunning beaches, lava fields, and arid landscapes.
The best time to visit the Big Island depends on your preferences and the activities you wish to engage in. Generally, the months of April to October offer more favorable weather conditions with less rainfall and plenty of sunshine. These months are ideal for exploring the island's beautiful beaches, embarking on outdoor adventures, and indulging in water sports like snorkeling and diving.
If you're interested in witnessing the majestic humpback whales, visiting between December and April provides a higher chance of spotting these incredible creatures during their annual migration.
It's important to note that the Big Island's weather can vary significantly from one area to another due to its diverse microclimates. The island's volcanic terrain and mountainous regions also contribute to weather variations. For example, the summit of Mauna Kea experiences cooler temperatures, sometimes even below freezing, while the coastal areas remain pleasantly warm.
Check out these other posts on Visiting the Big Island of Hawaii
Why Visit Volcanoes National Park now
Must visit Big Island Waterfalls
Free of cheap things to do on the Big Island
Kona snorkel and cruise experience
Popular snorkeling areas around the Big Island
Pin this for later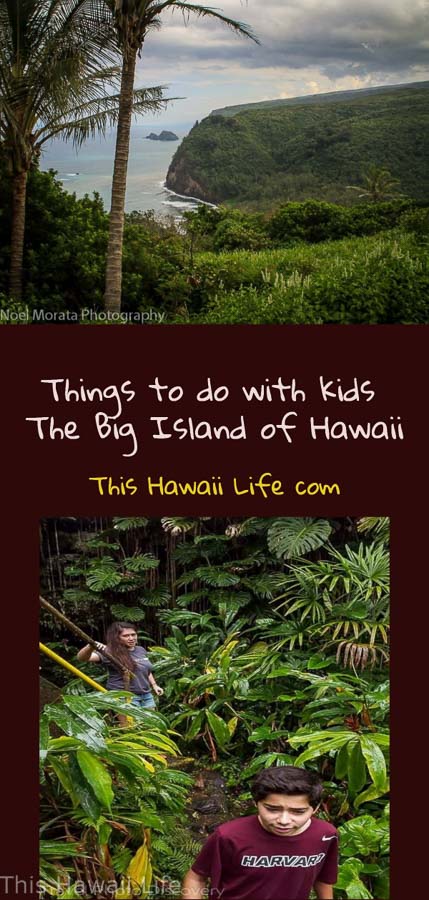 Conclusion on Family friendly activities in Hawaii
The Big Island of Hawaii is a perfect destination for a family-friendly vacation. With diverse landscapes, stunning beaches, and rich cultural experiences, there is something for everyone in the family. From exploring rainforests and waterfalls to snorkeling in coral reefs and enjoying local traditions, the Big Island offers endless opportunities for adventure. Family-friendly accommodations and amenities ensure a comfortable stay. Create lasting memories on the Big Island with your loved ones.
Thanks for visiting today and checking out this post on Family friendly visit to the Big Island. I hope you are inspired to plan a visit and enjoy these wonderful attractions. If you enjoyed the images and post, could you please share it with any of the social media buttons located around the post.
If you like what you see, come and check out my other social media channels for more updates, including Instagram, Pinterest and Twitter
Disclosure – Some links in this article on Family friendly visit to the Big Island are affiliates which provide a small commission to support this site at no extra cost to you. Thank you for reading, and happy travels