Easy to grow tropical fruit trees in Hawaii
Growing some tropical fruit in Hawaii is part of the enjoyment of living on the islands and enjoying the bounty of fruit you can grow on your land or even a rental property with just a few large pots. Without major effort, you can also grow some amazing fruit trees and reap the benefits of island weather, water and easy to grow tropical fruit trees in Hawaii.
21 Hawaiian fruit trees you must grow
Every backyard gardener should grow any of these fantastic fruit trees that grow easy and fast on the islands. Some are carefree and easy to grow and others that might need a little more pampering to get started and set their roots.
1. Papaya trees in Hawaii
One of the easiest and carefree trees to start growing right away on the island are papayas which can easily be started with seeds from a fruit that you find is full of flavor. Papaya trees. Even though papaya trees grow in many different environments, they grow best in lower elevations and planted in sunny areas with well drained soil.
It is an ideal fruit tree that produces fruit year round with minimal care. Most papaya plants are GMO plants, but you can probably find non-GMO papaya plants at farmers markets or some specialty growers to grow more organic and non -GMO varieties.
2. Grow some bananas in Hawaii
Banana trees are also easy and almost effortless, although recently many varieties including popular apple bananas are developing Bunchy top issues and eventually banana plants are space hogs and love water and lots of nutrients to give them a boost and develop nice bunches of bananas for harvest. Banana fronds can grow up to 10 feet with roots that cover 30 feet in length so they do need space to grow and develop a nice cluster of stalks.
The most popular types of bananas that grow very well on the islands tend to be apple bananas which are about half the size of regular bananas you typically find at the markets around the world.
It takes about a year for the stalk to grow and then a flower spear which eventually develop the small bananas that will eventually bear a cluster of fruit.
Another staple fruit tree found in every backyard garden, avocado's are loved and produce bumper crops in the garden. Avocado trees need space and can grow up to 80 feet tall unless you look for a dwarf variety that can fit in smaller areas around the garden.
Although, avocados can grow from seed, it doesn't guarantee bountiful fruit so grafted trees are typically grown from productive stock and can adapt easily to a variety of landscape and be productive.
4. Guava trees
Guava trees are almost invasive growing on the island with an abundance of trees that naturalize easily in many wild areas around the islands. But there are a variety of Guava trees that are more tame and yield better tasting fruit with not so many seeds.
Consider planting 'Philippine Swirl' with pink and yellow fruit combined, 'White Indonesian' with large sized white fruit, ' Ruby x Supreme', a juicy pink variety with lots of flavor. Guavas do range in sweet to acidic taste and year round harvests make this a viable fruit to grow all seasons of the year.
5. Coffee trees in Hawaii
Hawaiian grown Coffee is thought to be the of the finest flavor in the world and grown in volcanic rocks with perfect sunny weather. You can get high quality beans growing 'Kona Coffee', 'Cattura' or an Arabica bean, or 'Coffee Libera' with large leaves and tree structure.
The coffee plants can grow in most Hawaiian climates and offer a distinct flavor of the land it is grown in. They tend to do well in cooler but dry environments and need plenty of sun to flush out growth and fruit.
6. Various citrus plants are almost carefree
Citrus plants are so easy and carefree to grow in Hawaii with almost no care outside of harvesting the fruit in season.
You'll always find lemon and lime trees in a backyard garden since they are care free and are popular in the Hawaiian landscape. Lemons, oranges and limes do well in sunny areas with well drained soil and should be spaced around 20 feet apart to spread out in the garden.
Citrus trees do well all around Hawaii and typically are producing in the late winter to spring. You can easily grow lemons, limes, oranges, grapefruit, pommelo, tangerine and many other culinary citrus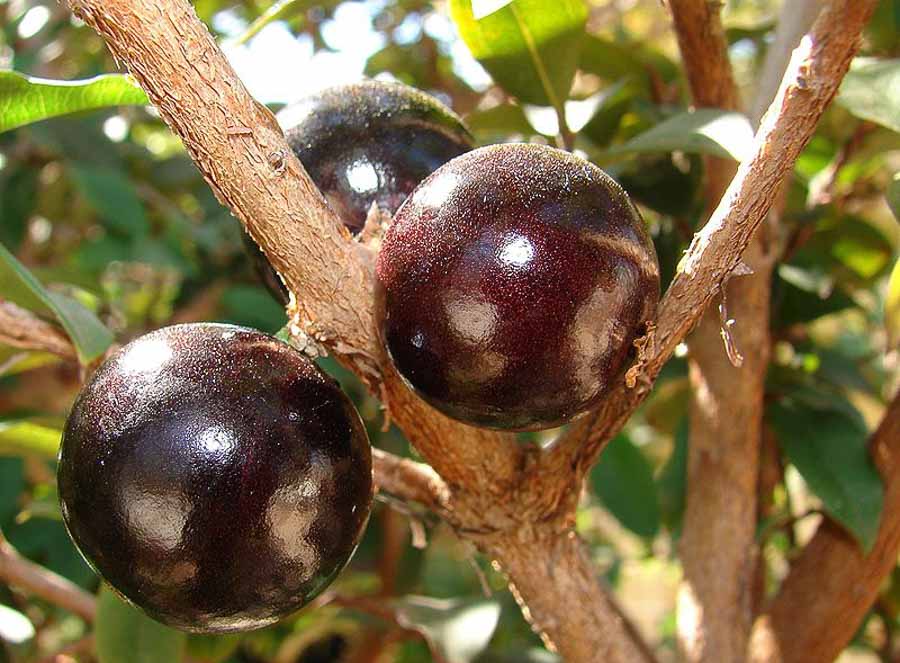 7. Jaboticaba
Native to Brazil these trees are manageable to maintain and growing to an average 15 foot height. The sweet dark fruit develops on the stem of the tree and is similar in taste to a grape and can bear fruit two to three times yearly. Harvest is easy with the fruit coming out of the trunk and other large sized branches.
The tree seems to adapt well to different environments around Hawaii and easy to maintain if you keep it to a size that works for you.
8. Star fruit in Hawaii
Star fruit also known as Carambola is another fruit once you plant and it is established can almost be maintenance free and develop fruit for a long time. The star fruit is best chosen with grafted varieties to include: Dwarf Hawaiian, Golden Star and Kari.
9. Grow a Soursop tree
Soursop trees grow best in a variety of conditions from humid and moist to dryer conditions and is drought tolerant. Relative fast growers, you can expect to get fruit to harvest in about 5 years. Growing to a level of 3 to 14 meter, once established produces fruit that is tangy to sweet and similar to pineapple and cherimoya combination of flavors.
10. Coconut trees
An easy but longer term growth period before any fruit can start to develop, coconuts are a staple tree grown on the island which do well in full sun and well drained soils. Don't expect any fruits from young trees until they turn around 10 – 15 years in age and start to develop flowers and fruit clusters.
The shorter dwarf coconut varieties are easier to harvest with fruit that can produce in under two years for coconuts.
11. Figs in Hawaii
Fig trees can grow from lower elevation to 3000 feet and cover so many different microclimates. The most common fig types you can find on the islands are "White Kadota"," Brown Turkey" and "Black Mission" varieties. in lower elevation areas, figs can produced constantly and in cooler elevations can fruit at least twice yearly.
Figs are a good in fiber and a good source of vitamin B6, Potassium, good for lowering blood pressure and reducing cholesterol.
12. Grow a Malabar Chestnut tree
An underrated tree that grows well in a back yard garden is the Malabar Chestnut tree which does well in full sun to partial shade. Relatively maintenance free the tree requiring sporadic watering once established, the tree grows an average of 10 -15 feet in height.
The fruit that you eat in a Malabar chestnut are the seeds and are edible raw or cooked. The raw seeds have a soft texture and mild peanut-like flavor.
Everyone's favorite fruit grown on the islands especially when they are in season in May through September on the islands. Lychee trees are adaptable and can grow anywhere from sea level to up to 2000 feet in elevation.
They grow best in well drained and acidic type soils and thrive on rainfall or regular waterings. The trees grow to an average height of 40 feet so give them plenty of room to grow in your yard.
14. Rambutan fruit trees
An exotic fruit that originates from Malaysia but are now grown in Hawaii and does well in tropical environments. The rambutan tree have unique and unusual fruits that are sweet, flavorful and juicy like lychee and longan combined.
The best conditions to grow Rambutan trees in Hawaii well draining and deep soils and partially sunny conditions. They can grow in full sun but prefer to be in shade part of the day and should be grafted plants to produce the best tasting fruits.
15. Jack fruit trees
Jack fruit in Hawaii is a great tree to produce fruit quickly in under three to four years. It is popular eaten raw or as an ingredient to cook with and especially popular with vegans substituting the fruit for protein.
Thriving in moist, humid environments, the Jack fruit tree grows up to 40 feet or taller, so if you want to be able to get the fruit, keep the tree branches trimmed so they can spread out instead of upwards.
16. Macadamia trees in Hawaii
Macadamia trees are a very popular nut grown on the islands and in farms for commercial purposes. You can also grow your own in the back yard and the plant loves deep and well drained soil. Growing well in varied areas from sea level up to 2500 feet, macadamias love to be watered constantly. It is slower producing and taking up to 5 -10 years but with the more 15-20 years for regular production.
Macadamia nuts can be eaten raw or cooked and have a mild and buttery flavor. It is a healthy nut that is high in monounsaturated fat, helps lower cholesterol, inflammation and heart disease.
17. Growing Pomegranates in Hawaii
Originating from India and the middle east, pomegranate trees were brought to the islands around the 1820s. There are two main pomegranate varieties grown, the "Granada" and "Wonderful" cultivars. Very drought tolerant and able to grow in many different conditions, trees need at least 20 foot distance and need full sun to produce good fruit.
Pomegranates are vigorous growers and produce fruits on the tips of new growth. High in fiber, the fruit is full of anti-oxidants, prevent hardening of the arteries and full of nutrients.
18. Surinam Cherry
Surinam Cherry also called a variety of names including Brazilian Cherry, Pitanga and pumpkin cherry. It grows as a small tree or shrub and part of the Myrtaceae family.
A durable plant that can grow from sea level to 5000 foot elevation, the plant thrives in full sun, partial shade and produces in well drained, loamy soils. The fruit is a good source of Vitamin A and C, iron, antioxidants, iodine and a variety of healthy nutrients.
19. Grow Longan fruit
Longan fruit here in Hawaii are typically grown from seed and are a small to medium sized tree. These subtropical trees grow best in full sun and well drained soil but once established can survive off the typical rains we get in Hawaii.
The fruit can grow upwards to 40 feet so if you keep it trimmed then you can harvest the fruit easier. The typical Longan trees that do well here in Hawaii includes the cultivar Egami, Kainaliu and Mauka varieties.
Of course, everyone loves to eat mangoes when they are in season on the islands but these mature mango trees can grow up to heights from 40-60 feet mature.
The Mangoes in Hawaii grow anywhere from sea level to over 1500 feet but are most productive in sunny and dry areas around the 1200 foot elevation with less moisture and humid conditions.
Mangoes where brought into Hawaii from India and the Philippines and the best varieties grown here on the islands are Rapoza, Hayden and Pirie varieties from grafted stock.
A Hawaiian staple fruit tree that can be eaten raw or used for savory or sweet dishes, the starchy fruit is very versatile and healthy to eat. Breadfruit on the islands is also known as Ulu and is considered both as a fruit and vegetable.
Brought over as a canoe plant from Polynesia this versatile plant is a Hawaiian staple starchy food and is also considered a super food.
Breadfruit trees in Hawaii grown from seed can produce fruit from 5 – 10 years and thrive in well drained soil and are heavy water feeders.
Check out these other Hawaii related posts
Conclusion to Easy to grow tropical fruit trees in Hawaii
Thanks for checking out this post on Easy to grow tropical fruit trees in Hawaii. Hope the post was informative and a must read article – if so please do share it with any of the social media buttons around the page.
This post may have affiliate related links to brand offers which helps our site keep operating – we appreciate any purchases through this link and your supporting This Hawaii Life.