Visiting Church Row in Waimea, Hawaii
Church Row in Waimea is where the city embraces diversity with all these wonderful churches celebrating a diverse religious culture. This is evident with the prominent number of churches located at Church row and surrounding the grove of cherry trees with the expansive grass lawn. Religions from Christian, Buddhist, Hawaiian language are celebrated.
What are the churches on Church Row?
There are five active churches located at Church Row to include: Ke Loa Mao Ola Church, New Hope Christian Fellowship, 'Imiola Congregational Church, Kamuela Hongwanji Mission, and Calvary Hillside Church.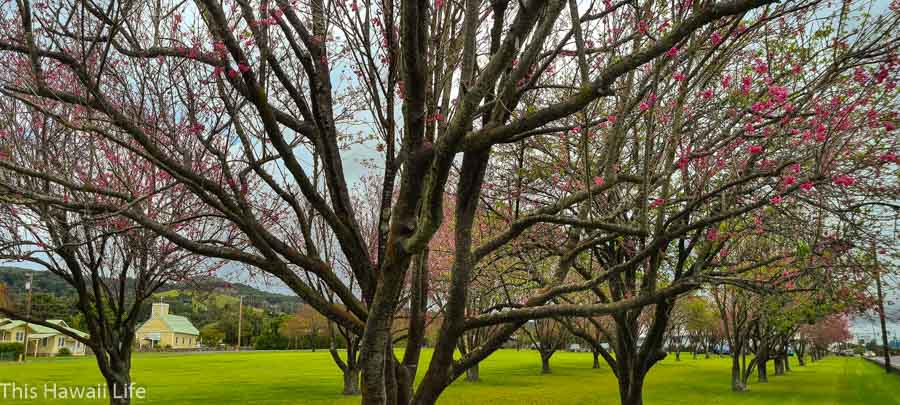 A brief history of Church row in Waimea
Originally begun with John Palmer Parker, a civic and religious leader who arranged for a small chapel to be built in the main or original headquarters area for believers and this eventually led to the establishment of Church Row with the support of the Parker Ranch and family. It was the mandate of the Parker family and ranch to instill a place of worship for the workers and families at the ranch beyond the spiritual beliefs of the family. The first church built on site was the Imiola Church completed in 1830 with a gorgeous Koa interior that is stunning to visit, the church as completed in 1857. The Buddhist temple followed after with a dedication on Church Row in 1954 and consecrated as Honpa Hongwanji Mission of Hawaii.
Ke Ola Mau Loa Church known as the Green Church was built in the mid-1800s and is one of the most photographed churches on Church Row especially with the Cherry blossoms blooming in springtime and framed around this striking church and offers a variety of community-based services, workshops, classes and even fitness programs.
Cherry Blossoms at Church Row
The Cherry blossom trees were planted in Church Row and donated through various civic organization and Japanese groups to foster peach and nature among the celebrated churches church row. There are over 75 trees located around the grass lawn and a large community lead Cherry Blossom festival is held on the grass and church areas for a festive day celebrating all things Sakura on the Big Island.
Other things to do around Waimea and surrounding area
Visit the Waimea Farmers markets around town
Cherry blossoms in Waimea town
Enjoy the Kamuela Farmers Market in Waimea
Visit Honoka'a town on the Hamakua coastline
Enjoy and hike Waipio Valley
Explore Akaka Falls
Stroll around Honomu town
Visit the area of Lapahoehoe Point
Have you visited the Church Row Waimea?
Enjoyed your visit here or any other tips to share? Please share on the comments below.
Thanks for checking out this post on the Church Row Waimea. Hope the post was informative and a must read article – if so please do share it with any of the social media buttons around the page.